Week 6 on the Camino
Day 36
Around 10am I make it to a small village where I see an albergue that has a café open.
And there's 15 pilgrims!
I guess there really are bubbles…

Early in the afternoon I make it to Burgos, where I stop.
The albergue municipal is huge and there are quite a few people here.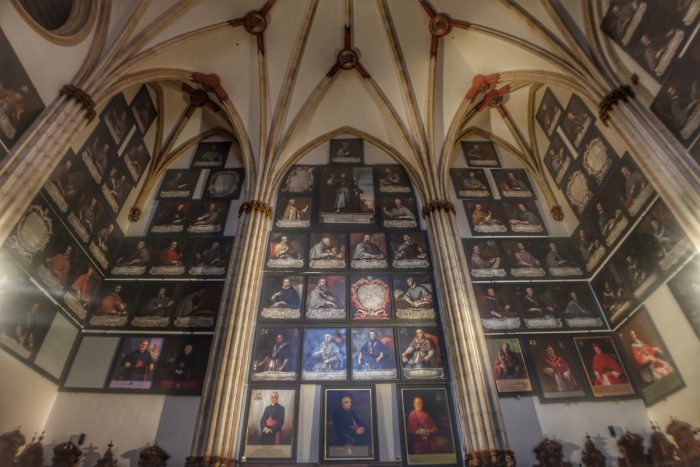 I go for a walk around the city and visit the famous cathedral.
It's BIG.
I mean, I've travelled quite a bit around Europe and seen a few cathedrals, but this has to be the biggest I've seen.

I go back to the albergue and meet a trail family that's again, very international and again, seems to have its fair share of micro-dramas. Camilla, a nice Italian lady goes on and on about it.
She says she has a very intense relationship with a girl in the group, even though they just met recently.
"She decided of matching tattoos we should both get, that's ridiculous!"
It is indeed, but pretty funny too.
Getting matching Camino tattoos with someone I just met is not on my list and I'm still very happy with not sticking to a group and bumping into new people everyday (but yesterday) to hear that kind of stories.
---
Day 37
I was ready to leave the albergue early but the door doesn't open till 7am so I have to wait a bit.

I lost my beanie yesterday and of course it's starting to get pretty cold.

When having lunch I see at least 20 pilgrims passing by, which is definitely more than the past week.

I walk at a good pace and somehow arrive where I was thinking to stop at 2.30pm.
The albergue is not open and there's no bar open to wait, so I decide to push to Castrojeriz, making it a 40km day.

I walk with a Spanish guy for a while and arrive in town before 6pm.

Doing my grocery shopping, I'm thinking that inflation has hit Spain really bad.
Everything is more expensive than in France, which is crazy.
And I remember the prices from my GR 11 walk just 2 years ago, that's pretty bad now…
Beer is still cheap though.
---
Day 38
It has taken a while, but autumn is finally here.
The last few days have been chilly and today it's pretty windy.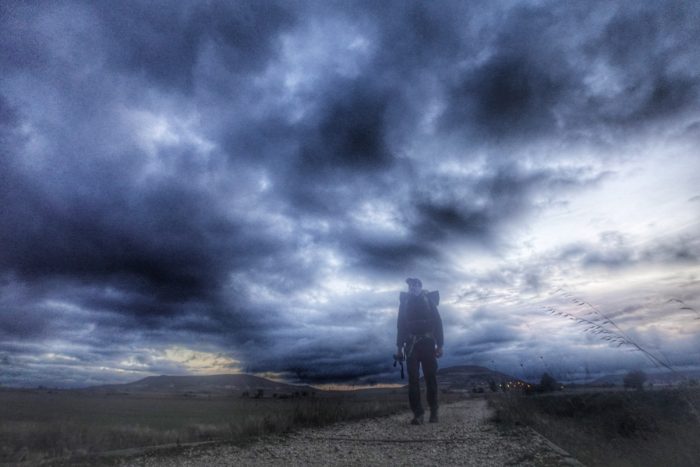 After walking through a couple of ghost towns (a lot are at this time of year), I wonder if I should stop in Fromista, making it a 25km day, or keep going.
It doesn't look there are any open albergues after that for a while, and seeing how cold and windy it is, I don't feel like camping.
I check the forecast and there's rain coming, so I call it a day.
I arrive in town at 2.30pm and it feels good to have some down time.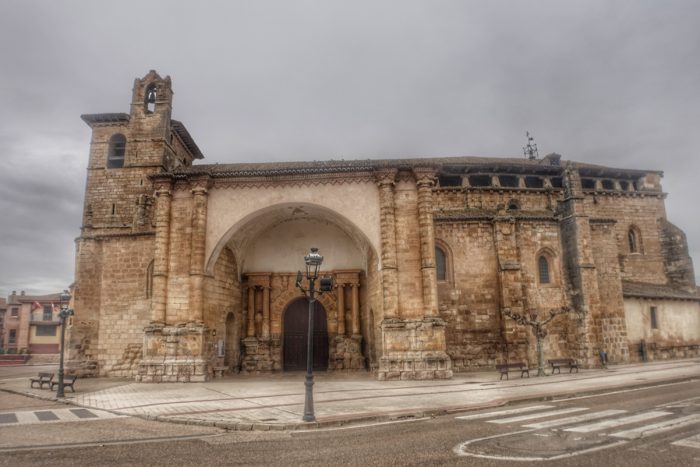 ---
Day 39
Man it's a boring day…
It starts drizzling in the morning but gets sunny around noon.
I'm not going to lie, for a second there, I considered pink blazing today. But I guess it's not really pink blazing if you actually don't make an effort to adjust your hike so you "randomly meet again"? It was more wishful thinking.
Didn't work out anyway.

I spend the morning walking along a road and the afternoon on a long as flat dirt road with absolutely nothing in sight.
If the albergue was pretty packed yesterday, most pilgrims stop in Carríon de los Condes, 19km in.
It's way too early (not even noon) for me to stop, so I walk till Calzadilla de la Cueza.
I was thinking to hike a bit further, but the dullness of todays walk kind of killed my motivation.

And I see two pilgrims, Mexican and Spanish, having a beer, so I join them and call it a day.
---
Day 40
A much nicer day.
Mist and tree colours give a nice and strong autumn vibe to the day.

I walk through a few more ghost towns on the way, strangely I kind of enjoy it.
Though I'd be also curious to see those villages in summer when thousands of walkers pass through every day.

I contemplated stopping in Sahagún, but I arrive there before lunch and I'm not really inspired to stay.
And thinking about it, I could be in León tomorrow evening, and that could be nice to be there for the weekend.

So I keep hiking till El Burgo Ranero where for some reason I imagine I'll be alone in the donativo, but it's very busy.
I share a beer with three Korean guys, who are surprised when I say thru-hiking in Korea is at the top of my list.
I spend 8 months in Korea, and it was my first very big trip, so the place definitely has a sentimental value to me, and I'd love to go back there on a thru-hike.
When researching it, I found out that there's a trail going the length of South Korea, the Baegdu-Daegan, that can be combined with the Jeju Olle Trail, going around the beautiful volcanic island of Jeju.

Anyway, the Camino is very popular with Koreans, more than with any other non-European, it seems.
I originally thought it's because it's a very Catholic country, but I recently heard that a lady wrote a book about her looking for love on the Camino (spoiler, she didn't), and it became a best-seller.
But when I ask them, they say they heard about it from YouTube videos, which seems to be the way now.
---
Day 41
It's a very sunny day but also a pretty boring one, mostly spent on the side of a road.
Arriving in Mansilla in the morning, there's a food market and I try not to get carried away and buy more good stuff than I can eat.

I arrive in León, where I booked 3 nights in a hostel.
2 nights because I'm taking a zero, and an extra one because I'm walking the section after León twice, so I can put an alternate on the app I'm working on.
---
Day 42
Nice to have a zero.
I visit the town and its cathedral and think about going to the movies in the afternoon.
But when checking the schedule, the only movie not in Spanish is a Marvel one and I'm not that desperate to see a movie.

I meet some other pilgrims at the hostel.
A Danish lady who's just fresh off the PCT, that she was unfortunately unable to complete because of fires (like most people this year I guess) and had to stop in Snoqualmie.
And Camilla, the Italian lady I met in Burgos and that is trying to escape the drama going on with an other Italian pilgrim.
It quickly turns into daytime drinking before meeting up with some other hikers for dinner.
Affiliate Disclosure
This website contains affiliate links, which means The Trek may receive a percentage of any product or service you purchase using the links in the articles or advertisements. The buyer pays the same price as they would otherwise, and your purchase helps to support The Trek's ongoing goal to serve you quality backpacking advice and information. Thanks for your support!
To learn more, please visit the About This Site page.