Zpacks DupleXL Review: An Ultralight Tent for Tall Hikers
For tall hikers, waking up to a wet sleeping bag as your footbox has been pressed up against the bottom of your tent can be an all too familiar feeling, especially if you've not got a tent that is long enough for you. When we set off for the PCT we considered pulling the trigger on a Zpacks Duplex. We decided against it in the end as online reviews said stated that it wasn't ideal for taller hikers unless you opted for the three-man Triplex or were sleeping diagonally. Therefore, when we heard that Zpacks had produced the DupleXL, an ultralight tent specifically for tall hikers, we were super stoked to see how it measured up.
MSRP:  $749
Weight*:  20.6 ounces (583 grams)
Number of Doors: Two
Dimensions:

Vestibule Area:  20.75" (53 cm)
Floor Size:  44" wide, 96" long (114cm x 240cm)
Peak Height:  42"

Number of stakes required for setup: Minimum 8, 10 recommended
Type of tent: Trekking pole tent
Materials:  Bio-Based Dyneema® Composite Fabric
Manufactured in: USA
*Not including stakes: Ultralight titanium stakes from Zpacks (0.2 ounces, $2.25 each).
Circumstances of Review
We've had this tent since December but have held off writing this article as we didn't feel that we were giving it a fair shake in the middle of winter, something this three-season tent isn't designed for.  The tent has seen a variety of different conditions, from blustery nights to, more recently, fairer conditions. Joal is six foot four inches (195cm) and Jenny is five foot two  (158cm).
What are the main draws of the Zpacks DupleXL?
As our hiking style has evolved we've been able to get a lot lighter in the gear we've brought with us. We started with a three-person Banshee Vango tent, which weighed 6.2 pounds (99 oz), and moved on to the Tarptent Double Rainbow right before the start of our PCT thru-hike (42 oz).  Our decision to upgrade again to a trekking pole tent was based on the following factors:
Packability: One of our bugbears with the Double Rainbow is that due to the non-removable poles, the tent didn't pack down that well in our bags, normally ending up being stored vertically. Sometimes we ended up strapping it to the sides or top of our pack, so we thought getting a trekking pole tent would help us keep our gear inside our packs.
Weight: The Zpacks Duplex has been one of the best-selling tents on the Triple Crown trails due to its extremely light weight. We were keen to cut the weight of our shelter in line with the upgrades to our packs and sleeping systems we had made.
Ease: After a long day, the last thing you want to be doing is sorting out rain flies and color-coded poles. We wanted something easy to pitch and pack away.
Liveable space: When the weather turns, having somewhere that doesn't feel like a coffin can do a world of good to your morale. It was also important to us that we could keep our bags inside the tent, not in the rainfly or vestibules.
Zpacks DupleXL Key Features
Long footprint: If you're buying this tent, you're probably a tall hiker or someone who wants to store their pack at the end of the tent. With an eight-foot floor length, the DupleXL can accommodate hikers up to seven-foot tall. At 6"4', Joal can attest to the roominess of the shelter. That said, once you hit 6"8', it would start to get very snug if you were sharing this tent with another hiker.
Riser rods to improve headroom and footwell: One of the key differences between the Duplex and the DupleXL is the riser rods that allow for elevated headroom and footwell in the XL tent. These risers do a good job of keeping the tent off your face.
Bio-Based Dyneema® Composite Fabric: Known for its incredible strength to weight ratio, DCF has been the market-leading fabric for ultralight packers for over a decade. The material is also fully waterproof and does not absorb water like traditional materials, reducing pack weight when wet. Just giving the tent a shake normally gets rid of the majority of the water. As an added bonus, Zpacks has switched to a Bio-Based polyethylene fiber that is sourced from renewable, bio-based feedstock.
Storm doors: The four storm doors can be rolled back for maximum ventilation/star gazing or clipped down for rain protection. The storm doors also create a vestibule that can be used for storing shoes or your pack.
The Positives
Weight: While I think it is a little sly to not include the tent pegs in the weight when a minimum of eight stakes are required, there is no getting around the fact that this is one of the lightest two-person tents on the market for tall hikers.  Combined with our other gear, this has brought our base weight down to 9.3lb each (see our lighterpack list here). More on how we have achieved this can be found in this article about how to save money and weight hiking as a couple.
Easy set up/pack down: To set up the tent you stake out the corners, prop up the hiking poles, stake out the side doors and riser rods and you're good to go. With the two of us we can easily get the tent set up in less than two minutes and one of us can break down the tent from pitched to pack in even less time. The tent fits snugly into its bag without it being too onerous.
Strength: This tent is incredibly tough and water-resistant with no need for seam sealing. We found at first we were super delicate with this tent as it is so light, but it is one of the strongest tents we've used.
Roominess: This tent feels like one of the roomiest tents we've used. There is enough headroom for both people to sit up in the tent at the same time, something that can't be said for a lot of other designs.
Breathability: This tent really comes into its own in fair weather. The ability to roll the storm doors up for stargazing and ventilation allows for a cowboy-camping-esque experience, but with protection from bugs.
Nobody's Perfect
Weather resistance: As I mentioned in the Circumstances of Use section of the review, we have tested this tent in the dead of winter, and more recently, in the spring. Due to the fly being elevated quite high off the ground, wind and occasionally water in the form of splash-back can make its way into the tent. We found this tent was a lot cooler than we were used to as gusts of wind drew heat away from our bodies. In our previous tents, the flies pretty much touched the ground, so they stayed much warmer. This tent would do perfectly on a hike like the PCT, but in an area where the weather is a bit more blustery and wet, we'd think twice about making this our shelter.
Packability: One of the main reasons for moving to a hiking pole tent was packability. Unfortunately, the non-removable riser rods mean that it isn't as packable as we'd initially hoped. While it fits fine at the top of Joal's 50L Atom Pack, the same can't be said for Jenny's pack, which has a slightly smaller frame. Therefore, the tent may need to be packed vertically if you've got a smaller-volume pack. It is definitely more packable than our previous tents, but it is a shame that it can't fit snugly at the bottom of our packs.
Headroom: While the floor length of the tent is longer than the standard Duplex, the height is the same. What this means is the angle of the walls is not as steep, meaning that you need to take care when going from lying down to sitting up, especially as touching the wall could spell trouble for condensation dripping into the tent.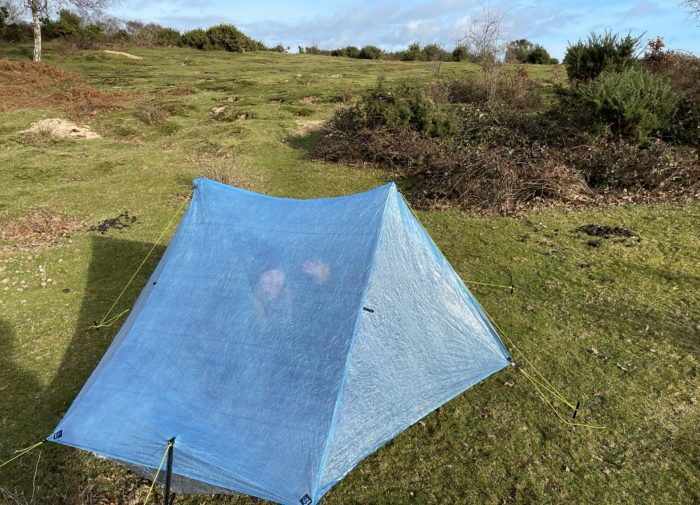 Transparency: While not a problem if you are in the backcountry, we did take this tent to a few established campgrounds where the DupleXL does lack a bit of privacy. One of our neighbors chuckled, "please can you wait till it gets dark" in reference to the fact that these walls are pretty much see-through in the daytime.
Let's Talk Condensation
This is a single-walled tent, so it is pretty much inevitable that you will get some condensation. Due to the airflow in the tent, this is very manageable, even with two people breathing all night. Most of the condensation will run down the walls and out the sides of the tent. One tip though is to make sure the tent is taut between the two hiking poles. Any sag can result in the tent dripping onto the middle of your sleeping bag, which happened to us the first time we used it.
Overall Impressions
The DupleXL has a specific target audience in mind (tall, ultralight hikers), and it caters well to that population. It is one of the lightest two-person tents on the market, even with its generously long floor length. It's durable enough to last a full thru-hike, easy to set up, and built for tall hikers. We've enjoyed the additional freedom this tent has given us, its two-minute pitch time, and the fact that it's reduced our pack weight. If you are looking for an ultralight three-season tent with increased headroom, the DupleXL should be one of your top considerations.
Comparable Tents for Tall Hikers
These options are similar to the DupleXL. All have a floor length greater than seven foot.
MSRP: $679
Weight: 20.4oz
Floor length:

 

90 in (230cm)
Tarptent Double Rainbow Li (freestanding)
MSRP: $699
Weight: 28.6oz
Floor length:

 

88in (224cm)
MSRP: $729
Weight: 28.6oz
Floor length:

 

86in (218cm)
The Zpacks DupleXL tent was donated for the purposes of review. 
Affiliate Disclosure
This website contains affiliate links, which means The Trek may receive a percentage of any product or service you purchase using the links in the articles or advertisements. The buyer pays the same price as they would otherwise, and your purchase helps to support The Trek's ongoing goal to serve you quality backpacking advice and information. Thanks for your support!
To learn more, please visit the About This Site page.