25 More Gorgeous Appalachian Trail Photos to Help You Get Through the Week
We asked for your favorite AT photos, and we got them.  Welcome to the second installment our readers' favorite pictures from the Appalachian Trail.  Hiking responsibly might be challenging right now, but dreaming isn't.
Check out the first installment below.
Have a favorite AT photo you want to share? Submit it here.
This photo was taken outside of Rutland, VT. It was the quietest moment on the trail and of my life. The soft pine needles under my feet and no breeze made it so quiet it was loud. I remember stopping to look up at the towering pines above me and take it all in, a moment I hope to never forget.
My sister and I thru hiked in 2017. On the day we were scheduled to go over Franconia Ridge in the White Mountains, the forecast called for possible rain and thunderstorms in the afternoon. Not wanting one of the best views on the trail to be clouded out, our small tramily of 3 decided to wake up early and leave our campsite by 3:30 AM to make it to Franconia Ridge by sunrise. One of the best decisions we made.
Golden evening by Lake of the Clouds Hut before a Mt. Washington summit. With her quick and uncertain weather any clear glimpse is a gift to admire.
This image was taken in Shenandoah NP. It has become a tradition for my two sons and I to do a summer section hike together. Thanks to a conversation with a Ridge Runner earlier in the day, we decided to camp out at this location to enjoy the show.
Max Patch for a snowy sunrise hike! One of my favorite spots to camp on the AT. If you think Neyland looks upset in this picture- you should have seen her when I woke her up at 3am.
Walking as far as we can in one day to get as close as we can to Bojangles. Taken before Daleville, VA northbound.
Enjoying the Maine Sunshine. Sometime in the last week of my AT journey.
I took this photo in the early fall when the weather is perfect, in Becket, MA. The brook underneath this bridge just as you get on the trail feels like you're entering a magic forest.
Big Cedar Mountain, mile 21.9 NOBO. It rained most of the morning, but when I got to this mountain, the sky broke open. I'd never seen a sky like this before. The lens I was using wouldn't capture the whole thing, so I turned it on its side and took about 7 pictures, moving a little each time. I stitched them together on the iPad in my pack.
Shiver making the climb up Mt. Washington from Lake of the Clouds on a rare clear morning, after an amazing work-for-stay experience. People we were with worked at night so they could get up early for a better view, and ended up socked in. We worked the morning shift, and after an amazing breakfast, we had this spectacular, clear experience! Sometimes patience pays.
Smoky mountain national park in 2018
McAfee Knob; perhaps one of the most photographed places on the trail, yet this specific moment is where many find the comfort of solitude that they have been seeking since their first mile.
Roam Mountain, in between North Carolina and Tennessee. The mountain far away, above the clouds is Mount Mitchell, the tallest mountain east of the Mississippi River.
Picture taken on Franconia Ridge during my 2019 SOBO thru-hike.
Shenandoah National Forest VA.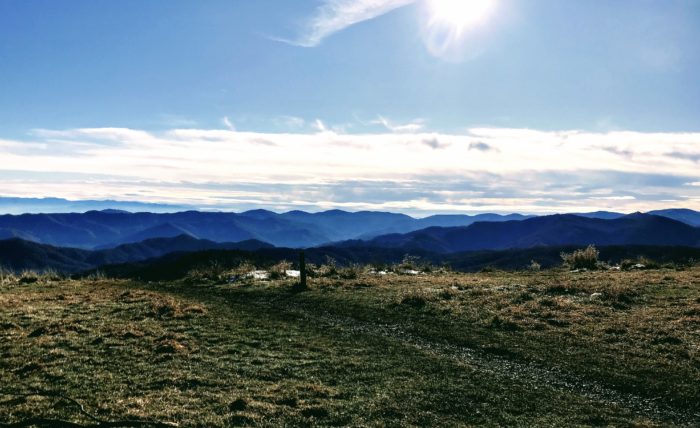 A Max Patch morning.
Knife edge.
'Headshot' in the sunrise on MacAfee Knob. 2016 Thru-hike.
On the AT near Clingman's Dome, July 18, 2019. It was the first time my sis-in-law (pictured) had ever gone backpacking. There was so much rain, but clouds don't last forever and the sun eventually broke through. It was such a magical place for these gals from the desert!
"AT = Love" Taken at the Chestoa AT trailhead in Erwin, TN.
Taken June 2019 on Grassy Ridge Bald. This section of the AT in the Roan Highlands explodes with rhododendrons every spring and is a highlight of the trail – not only for the blooms, but for the expansive views from each of the balds along the way.
From Cole Mountain in Virginia. This picture was at a point where I stopped and turned around to see the views behind me. Everything can be so different looking in the opposite direction!
It was long ride to the top of Mt Kathadin, by knife Edge, but just wow! Must do it more than once.
This picture was taken the day after I hiked out of Erwin TN on my 2018 AT thru-hike. The hike out of Erwin had been grim and rainy, and I was in a crummy mood from having that clean town feeling become a distant memory so fast. The next morning was more of the same, but when I got up to this pine forest, the trail transformed into a mystical fairytale world! It changed my mood completely. This happened so many times on trail – when I would struggle or have a hard time, nature would reward me with some incredible sight like this and it would all be beyond worth it!
Rocky Top, Smokies, late March just before I had to leave the AT.
Affiliate Disclosure
This website contains affiliate links, which means The Trek may receive a percentage of any product or service you purchase using the links in the articles or advertisements. The buyer pays the same price as they would otherwise, and your purchase helps to support The Trek's ongoing goal to serve you quality backpacking advice and information. Thanks for your support!
To learn more, please visit the About This Site page.