Aftermath of a Storm: Bear Mountain, Reroutes, and Washouts
Aftermath of a Storm – Video Link Click Here
Day 113: Hudson River to Taconic Parkway (25.6 miles, marker 1436)
After another weekend off, getting back to the trail was quite a project. Sabrina had picked me up from the Bear Mountain bridge area the previous Friday. I spoke with a co-worker, Marty, who wanted to be involved in my hike, and arranged for him to assist me with a slackpack on Monday and pick me up at the end of the day.
After dropping off my gear at his work, I headed for the Bear Mountain bridge, oblivious to what was waiting for me. I hadn't turned on the news and wasn't aware of the wreckage the massive rains had caused. The drive from Hackensack New Jersey to the Bear Mountain bridge usually takes 45 minutes, but today it was closer to three hours. I was constantly redirected due to closed roads, still not really aware of how bad things were.
I eventually got as far as Fort Montgomery, though the bridge for 9W leading from town to the Bear Mountain Bridge was closed and they weren't even allowing pedestrians to cross. I walked down to the Fort Montgomery Museum and eventually found a side trail with a smaller footbridge across this feeder river.
After crossing and climbing back up to the height of the Bear Mountain Bridge, I crossed and then ducked into the woods with a steep ascent, where all the trails had turned into rivers.
Most of the day was a matter of walking through water. I did take a road walk when I reached Dennytown Road parking area, and there was a journal stating the upcoming section was impassable, and to walk the road to the Route 301 crossing. I eventually got to my final destination, where the trail passes under the Taconic Parkway. Marty was waiting for me there, and after a drive back to his place and a hot shower, he took me out for a delicious dinner and then back to his place for a little time to catch up before sleep.
Day 114: Taconic Parkway to Stealth Site just after NY22 (20 miles, marker 1456)
Woke up around 6:30 a.m. and Marty gave me a ride back to the trailhead, stopping along the way for a bagel breakfast. The trail was still extremely wet as I hiked along. Almost immediately came upon a cooler full of trail magic, Snickers bars, Gatorade, and PBR.
Just as I was arriving, I ran into Bittersweet, whom I had hiked around close to the halfway point. We discussed the section I skipped. Just passed Dennytown Road the day before, which he did not see the trail register, and walked through that section. He said the water was at least up to his waist and moving, making it the most treacherous part of the trail for him yet. I've crossed enough fast-moving bodies of water in my life that I was glad to have skipped this one.
I had heard about the damage along old Route 55 in Pawling, NY, and decided to take a short road walk to see what things look like and to get dinner in town. Portions of the road were washed out to the degree that it would be months before residents could get their cars out.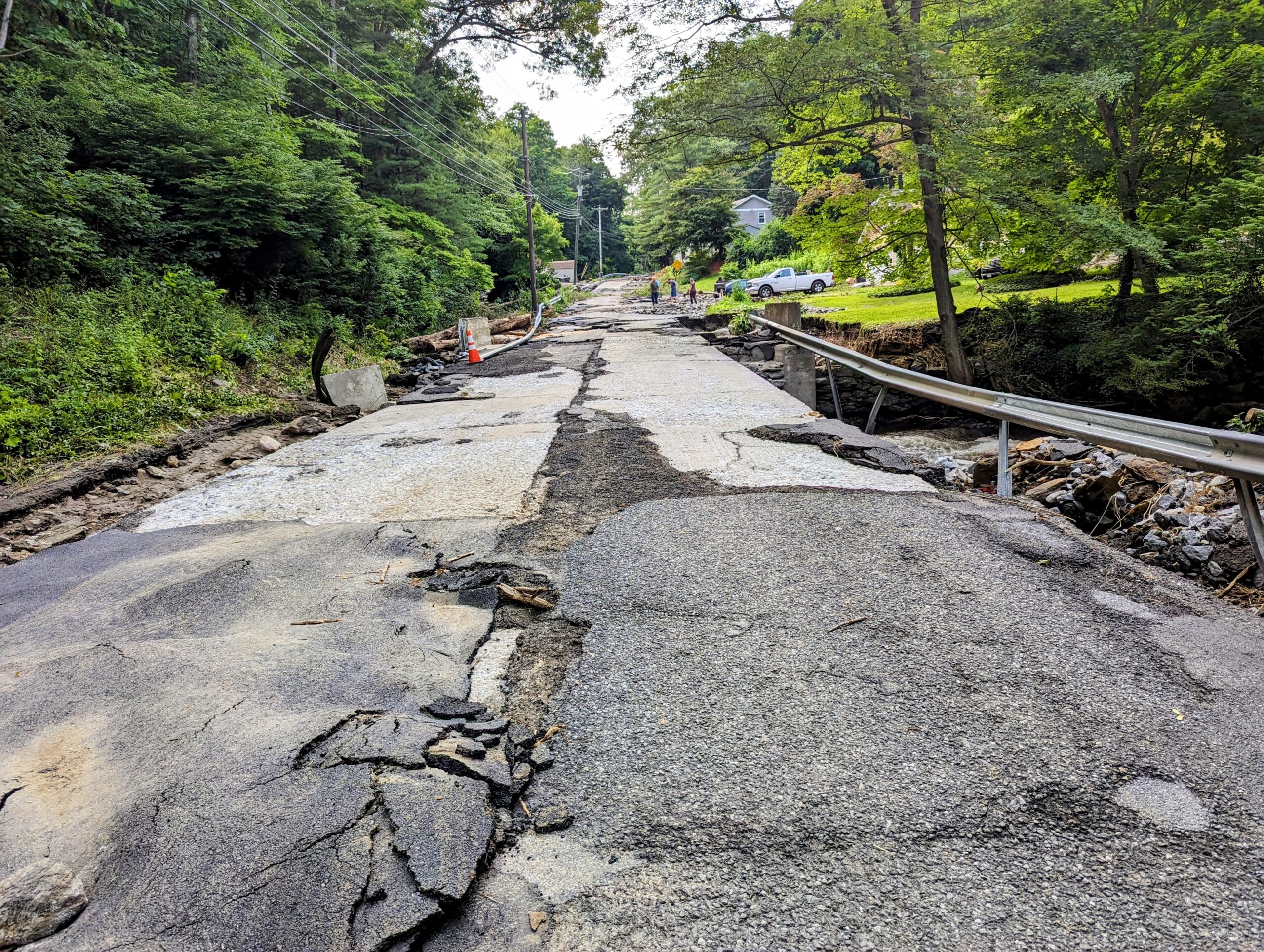 I walked along and spoke with a few of the residents before coming into town and enjoying a good meal and a couple of beers at the local tavern. Hey then walked back to the trail, and found a nice stealth site not too far in, and set up for the night.
Day 115: Stealth Site just after NY22 to
Silver Hill Campsite
(28.6 miles, marker 1484.6)
Today was a very nice hike with a couple of breaks with the opportunity to eat out. It ended up being my biggest day yet, which I would not have been able to pull off without a nice long river walk near the end. The ground had begun to dry a bit, and I was actually able to keep my feet dry for most of the day. My first stop was about five miles in at a shelter where I enjoyed breakfast with Bernie.
I then ended up hiking about two hours in the morning with Wrong Way, and had the joy of company as we left NY and entered Connecticut.
I stopped for brunch at the Bulls Bridge General Store, a very short blue blaze off the trail. The store was just after a very interesting 19th-century covered bridge.
I then continued my hike a good distance further, eventually stopping in Kent for an early dinner before hiking on. Most of the rest of the day was a river walk along the Housatonic River before a steep ascent up to the Silver Hill Campsite.
I set up camp and enjoyed the company of another hiker from Tennessee who had nothing good to say about the northeast. Seems we are a bit too expensive up here. I called it an early night and crashed before 9:00 p.m. 
Day 116: Silver Hill Campsite to Limestone Spring Shelter (19.5 miles, marker 1504.1)
I had considered trying to stay with Pigeon, Stealth, and Ronin the evening before but since all the beds were booked where they were staying, I just stopped at the campsite one mile shy of Cornwall Bridge, CT. I spoke with the group in the morning, and we decided to all meet up at The Mountainside Cafe in Falls Village, CT for lunch and finish our hike together in the afternoon. The food at the cafe was fabulous, all farm-to-table and deliciously put together.
We then journeyed together, crossing the 1,500-mile marker, and moved on to the Limestone Spring Shelter, set up, relaxed, and spent a couple of hours catching up on our hikes and group dynamics. We were simultaneously fed upon by the mass of mosquitoes that all this rain has brought on.
Day 117: Limestone Spring Shelter to Sheffield-Egremont Road (23.1 miles, marker 1527.2)
Today was originally planned as a 17-mile day, to the twin shelters just a tenth of a mile apart. Somehow this became a 25-mile day, that was changed, likely for the benefit of my feet, to a 23-mile day. After a long night of thunderstorms and tornado sirens, I awoke with a minor lack of sleep. We headed out pretty early, and as usual, I was the last to break camp at about 7:30 a.m.
We passed the Giant's Thumb after just a mile of walking and then continued to Bear Mountain, the highest peak in Connecticut. Interestingly, while the highest peak, this is not the highest point in Connecticut which is at the border of Massachusetts on the slope of Mt. Frisell, which is 64 feet higher. The weather cleared just in time for me to get beautiful views from the summit.
I then summited Mt. Everett and Mt. Bushnell, two impressive climbs with tricky ascents and descents. This marked our entry into another State, Massachusetts.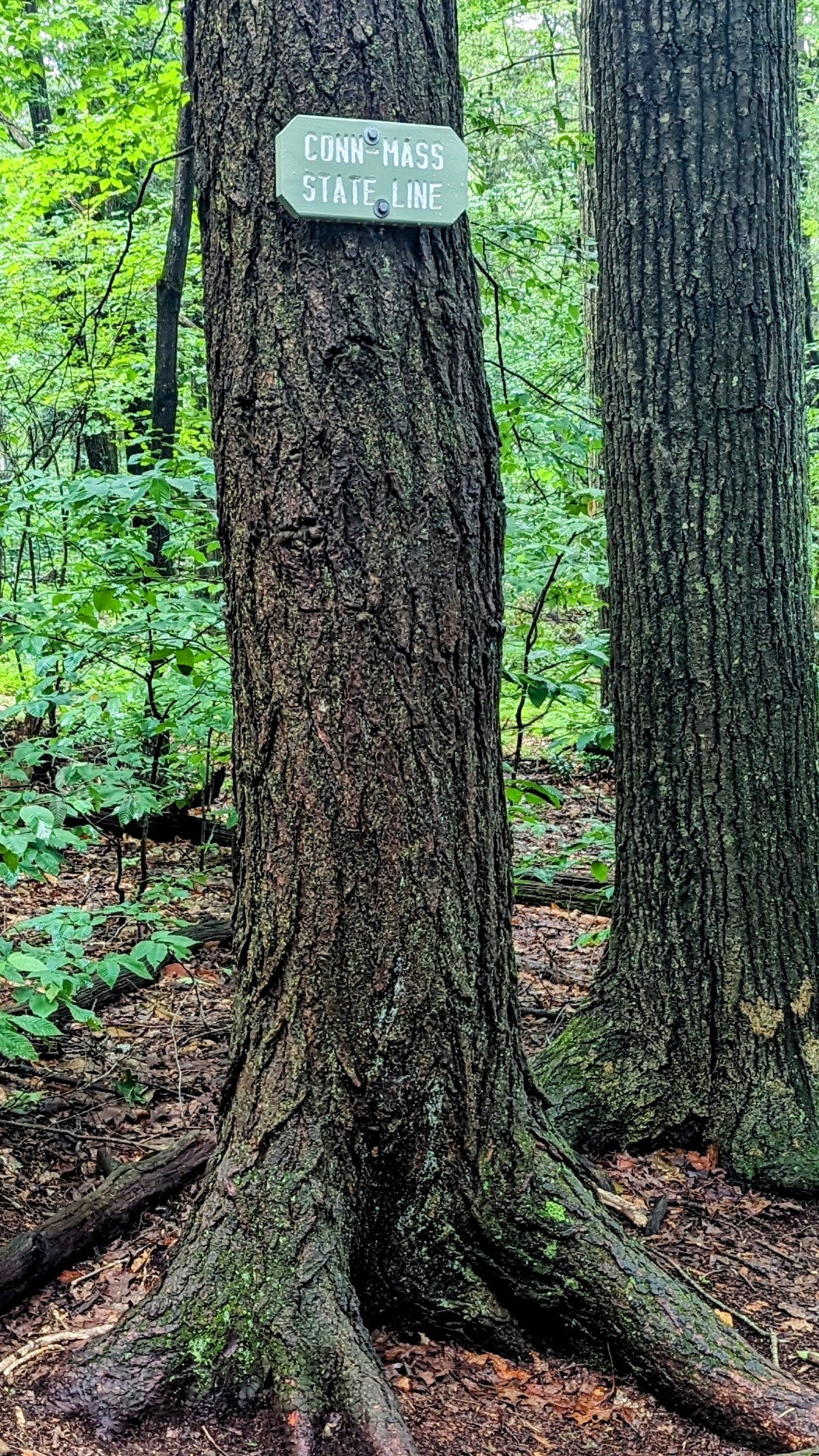 I took a small spill on my way down Mt. Bushnell, cutting up my elbow a little, but other than some torn skin, no real damage.
Matt has reached a road crossing about an hour before me and decided that even though it was almost two miles shy of completing the section, we should get a ride from there. A nice person at the trailhead gave us a ride to the Barrington Brewery, where we had a great dinner with Gregg and Jeromi, and then we got a shuttle to our hotel, where I passed out post-haste.
Day 118: Sheffield-Egremont Road to US Rt. 7, Great Barrington, MA (1.8 miles, marker 1529)
Very nice day that is essentially a zero. Got up and had a nice breakfast and then hung out while Ronin rented a car for his next couple days exploits. We drove to the laundromat, and while laundry took place, he was kind enough to take me to the trail to finish up the 1.8 miles of this section I was missing. Now to load the next section of maps in Far Out… Great Barrington to Hanover.
Affiliate Disclosure
This website contains affiliate links, which means The Trek may receive a percentage of any product or service you purchase using the links in the articles or advertisements. The buyer pays the same price as they would otherwise, and your purchase helps to support The Trek's ongoing goal to serve you quality backpacking advice and information. Thanks for your support!
To learn more, please visit the About This Site page.