Hiking My Own Hike
Day 119: Zero in Great Barrington, MA (0 miles, marker 1,529)
Woke up this morning to pouring rain and reports of possible tornadoes. I was rooming with Stealth, so we called Pigeon to discuss and everyone was in agreement, there was no need to go hike in this weather. We are doing great timewise, and we are here for the fun, not to suffer the elements more than we need to. Had a great day enjoying the local restaurants and watching movies on HBO. Tomorrow is another day.
Day 120: Great Barrington, MA to Stealth before Webster Road (22.3 miles, marker 1,551.3)
Nice hike today. Lots of mud and water to walk through. Based on the amount of rainfall and the green tunnel not really giving things an opportunity to dry out, I think I will have wet feet until I go above treeline in the White Mountains of New Hampshire.
Our original plan was to camp nineteen miles into our hike. Around 3:30 p.m. Stealth texted that he arrived at the intended destination and decided to push on. Then, Pigeon and I arrived at said destination around 4:30 p.m., and it was a mosquito haven.
I needed to eat something, so I made dinner as he pushed on. I begrudgingly pushed on, and eventually he texted that he found a good spot about three miles ahead. Sounded like a plan, and I rolled in around 7:30, set up, and crashed quickly.
Day 121: Stealth before Webster Road to Dalton, MA (25.9 miles, marker 1,577.2)
This morning was really, really rough. The mosquitoes were relentless from the very start, my feet hurt from pushing so many miles yesterday, I awoke with a headache, and I was just feeling down. As I slogged through the mud, I called my beloveds to at least feel some love and support. There are moments on this trail where you really just want to go home, curl up, and cry. The problem with crying while you hike is it blurs your vision, and I swear the mosquitoes are attracted to the moisture. I got over the heavy emotional swing and hiked on, distracting myself with the amazing and interesting mushrooms all along the trail.
Just before arriving at the cookie lady, I saw my first bear of the trip. As I was on a dirt road, a medium sized black bear ran out into the middle of the road about 50 feet ahead of me. He paused for about half a second to look at me and then was gone again. I continued to the cookie lady, where I met back up with Pigeon. The cookie lady is a very nice woman and fellow hiker who owns a pick your own blueberry farm. She serves cookies and cold lemonade to hikers and trades meals for labor (picking blueberries). I arrived too late for a meal, but enjoyed the free treats and sitting on a comfy rocker on her porch. The original plan was to camp on her yard (she allows this if you ask nicely), however, Pigeon decided he wanted to push on another ten miles to town, which would make today a twenty-six-mile day. I decided I would push on as well and just go as far as I could, after all, there were a couple shelters on the way to town where I could call it a day. It was during this ten-mile stretch that I rediscovered my desire to hike my own hike. I have pushed hard to catch up to the people I enjoyed hiking with early on. I am enjoying their company, but they are pushing some miles that don't work for me. I need to return to being a solo hiker as my mindset, and if our hikes align, that will be lovely. So ten miles later, when the trail crossed Housatonic Street, it joined with Depot Street and made its way up to the center of town. As I was heading to the Public House for dinner and to assess where I would sleep, I run into Stealth sitting at a picnic table with another hiker named Legs. He mentions he and Legs are staying in the yard of trail angel Tom Levardi. Stealth introduces me to Tom and I get the rules.
Once my tent is set up, I head to the community center for a shower and walk back to the Public House for dinner with Stealth and Legs. Then back to Tom's yard for a good night's sleep.
Day 122: Dalton, MA to Mt. Graylock (17.1 miles, marker 1,594.3)
I got up casually, enjoying some coffee from the local gas station while I packed my bag. I met up with Pigeon at the local diner, and then we headed out. We mostly hiked together, chatting as we hiked. We passed through the town of Cheshire, where we stopped at the Dollar General for some minor re-supply as the plan is to stop in Bennington in two days, so I don't need much.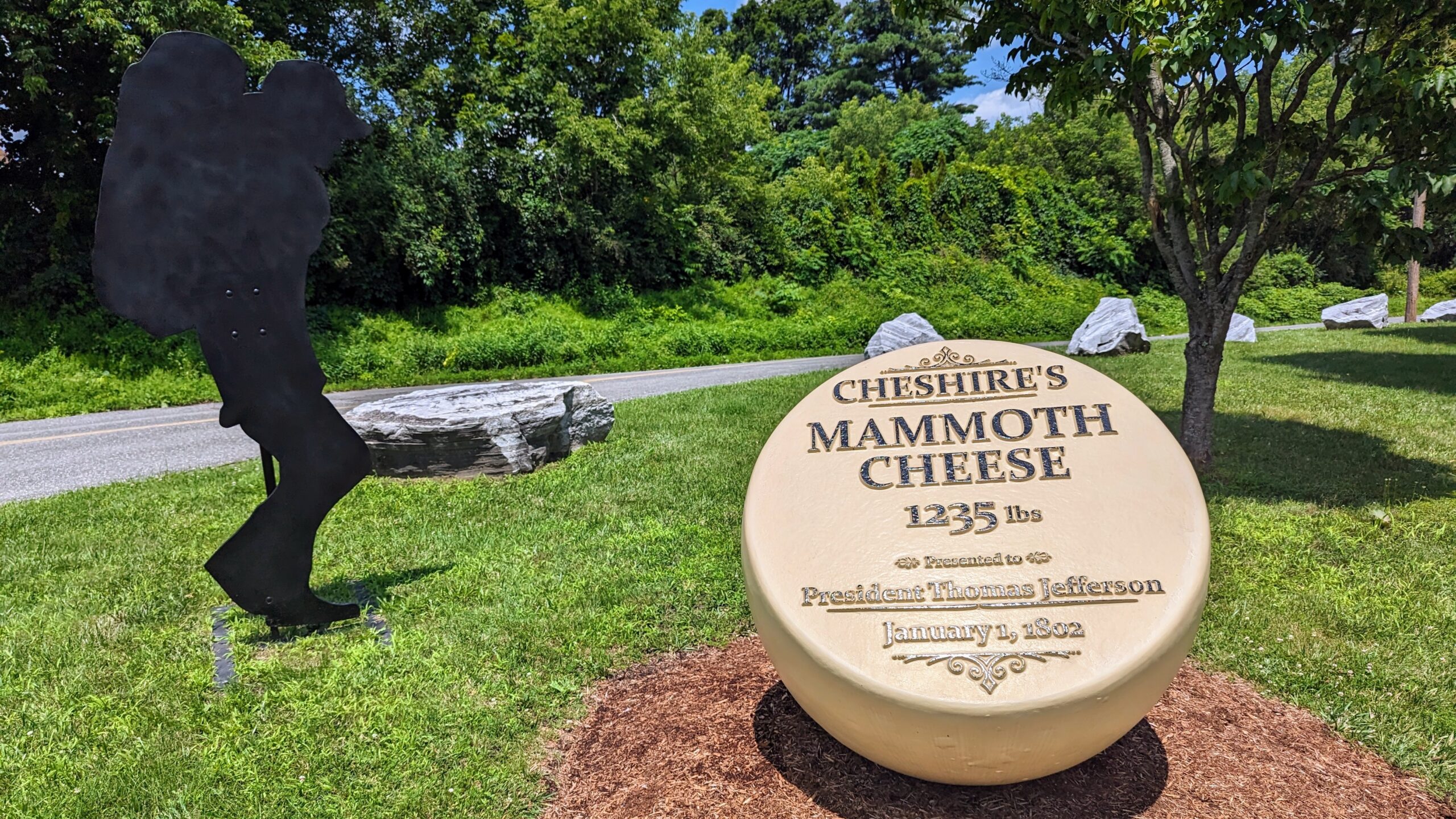 We continued on through beautiful woods until we finally got to Mt. Greylock. At the top of Mt. Greylock is Bascom Lodge, a historic lodge built by the CCC in the 1930s. Stealth was waiting and since Pigeon expressed a desire to push on a little further, he jumped on the last bunk available. Stealth and I enjoyed an excellent dinner there (the company and conversation better than the food). I relaxed in the lounge there until sleep finally was my only choice around 11:00 p.m.
Day 123: Mt. Graylock to Seth Warner Old Shelter Site (13.2 miles, marker 1,607.5)
Woke up this morning around 6:30 a.m. and noticed that stealth had already gotten up and headed out. I slowly got up myself, wandered out, and made myself some coffee by the tower and did a little bit of yoga to start my day.
I then returned to the lodge and enjoyed breakfast there and a casual morning before hanging out around 9:30 a.m. My casual pace combined with stopping in North Adams for some resupply and lunch made today's hike pretty short. Just before reaching North Adams, I crossed the 1,600-mile marker, and then soon after I resumed hike for the day I entered into the state of Vermont.
I got to the old shelter site where the shelter and privy had been removed, but there were plenty of good tenting sites and a water source, the two things the new shelter lacked. It was already closing in on 6:00 p.m., so I made dinner after setting up my tent and chatted a little with Shepherd, who had rolled in about a half hour after me. By 8:30, I was already very tired, and sleep took me soon after.
Day 124: Seth Warner Old Shelter Site to Rt. 9, Barrington, VT (11.5 miles, marker 1,619)
A relatively short hike into town today, with rain on and off. Once in town, I left my bag at the Catamount Hotel and headed over to the Angry Egg 2 for a fantastic breakfast. By the time I finished breakfast, the room was ready and I took some time just relaxing before Pigpen and Ronin arrive, and we will all go out for dinner and beer.
Affiliate Disclosure
This website contains affiliate links, which means The Trek may receive a percentage of any product or service you purchase using the links in the articles or advertisements. The buyer pays the same price as they would otherwise, and your purchase helps to support The Trek's ongoing goal to serve you quality backpacking advice and information. Thanks for your support!
To learn more, please visit the About This Site page.