Appalachian Trail: Why Hike?
"The journey of a thousand miles must begin with a single step." ~Lao Tzu, Chinese philosopher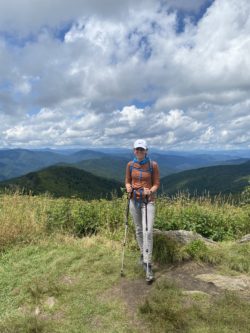 Hiking the Appalachian Trail is equated to moving into the woods. Supposedly, somewhere around mile 700 in southern Virginia (if hiking NOBO – i.e. northbound from Georgia to Maine), hikers establish a routine and life on the trail begins to feel quite "normal." Yes, that seems a bit wild, no pun intended. And, no, there are no hot showers in the woods or porcelain toilets on the trail. 
Soon I will take my own first step to embark on a 5-7 month adventure through the eastern part of the US by attempting to thru hike the Appalachian Trail—all 2193 miles of it. This is a journey through nature complete with dirt, stink, blisters, sore muscles, extreme weather, wildlife, questionable strangers, lyme disease-carrying ticks, poisonous snakes, mice in shelters, and varied trail conditions. I am willfully signing up for this expedition and you might be wondering—why in the world would anyone do this?!
Why Hike the AT? 
For each hiker the reason to embark on this long-distance journey is as unique as a fingerprint. My why is also a why not? Nature has always lured me in. Rain or shine, there is something about walking through a wooded forest that fills my soul and rekindles my spirit. It's the small things like the sound of birds chirping in the morning, leaves rustling high in the wind, raindrops tapping against my tent, or the complete silence of the night, which bring about an awareness of being truly alive. 
Four years ago, I stumbled on a documentary about the Appalachian Trail by a hiker with a trail name Dixie (real name Jessica Mills). I was instantly drawn in. I could hike long-term?! People really hike for months? How did I NOT know about this? The idea was planted. I knew that I would attempt a thru hike in the future. It wasn't a question of if, it was a question of when. 
The next few years of working remotely and filling my days with back-to-back Zoom calls transformed that idea into a strong desire to hike sooner than later as I racked my brain for ways to liven up my two-dimensional existence. Not being the sedentary kind, I stayed fairly active to balance out my virtual world—trying everything from short trips to the mountains to trail running in the Florida swamps on the weekends. Yet these brief attempts to bring more dimension to my virtual existence only served as temporary fixes. Within one or two days of being on Zoom, I would start to day dream of being immersed in nature again. 
The thought of hiking for a prolonged time became my dreamy north star as I yearned to fully recharge and replenish my soul. As months and days went on, my casual research became a must-do experience, but the dates to go remained uncertain. When is a good time to leave a busy career, spouse, friends, and family? I left the door open to potentially get on trail in 2022–maybe I would, maybe I wouldn't—at least I would be ready. I registered with the ATC 'just-in-case' in December, but didn't mentally commit to going. Hiking still remained a bit of a dream. Uprooting in mid-life is an act of congress, am I really ready? 
Quick Facts and Insights
For those who are just starting to research the AT, below are a few fun facts and some trail lingo that I've come across at the beginning of my own research. 
Many hikers will refer to the Appalachian Trail as the Green Tunnel. From northern Georgia through Virginia, the heavy rains create a lush forest environment. In the Spring and Summer, the trail is covered in bright green vegetation—from moss and ferns, to big leafy trees. The section of the forest that spans more than 700 miles through the Appalachian mountains is considered a rainforest. Hikers will experience a lot of rainy days and wet conditions on the trail. Being prepared with rain gear is a must for every member of the hiking community. Check out my gear list here. 
Trail Magic and Trail Angels
This is the good kind of wizardry. Many locals from surrounding communities frequently help the AT thru hikers with everything from rides into town to leaving cold beer in coolers on a hot day. Kindness is transformative magic and there is no shortage of Trail Magic on the Appalachian Trail. Trail Angels are the locals who support the hiking community and preserve the trail. If hikers receive trail magic, it is customary to return it through kindness and following all the Leave No Trace Behind principals.
Zero Days (zero-miles-hiked)
Each year an elite few hikers will attempt to hike the entirety of the trail without stopping a single day to rest. However, 99% of thru hikers will stop in towns along the trail every three to five days to resupply, shower, and do laundry. Any day spent off trail, not hiking, is called a Zero Day for zero-miles-hiked that day. 
For safety, fun, and hiking tradition many hikers won't use actual names while hiking. Hikers will either pick their own trail name or fellow hikers will bestow upon them a name befitting of them on the trail.
Each year approximately 3,000 hikers will attempt to thru-hike the Appalachian Trail in its entirety, compared to 3,000,000 who will only hike a section of the trail. But, only 20-30% of thru hikers will finish the 2200 mile journey. As of early March 2022, at the start of the peak season, 2958 hikers were already registered with the ATC. Class of 2022 might be a very busy hiking season. 
Many hikers will quit hiking because of injuries, money issues, mental fatigue, and family/personal reasons. No surprise that more than half of the injuries are associated with feet and legs, according to the 2017 Long-Distance Hiking survey. Foot care on this footpath is critical and keeping pack weight down is a major contributor to injury prevention. 
White Blazes – Maps Be Gone?
Approximately 165,000 white trail markers navigate hikers up and down the trail. They are 2×6 inch white rectangles, painted on trees and rocks, and placed approximately 70 feet apart as waypoints. Who needs a map? If only they glowed in the dark. 
Today's hikers just use the Guthook App (now rebranded as FarOut) for GPS and/or AWOL AT  Guide for insights about trail sections, but navigating by map is mostly obsolete on this well marked trail.
Ibuprofen is a must for sore muscles and body aches, particularly in those first few weeks of building up your trail legs. 
College Educated – 72% of Thru Hikers Hold a Bachelor's Degree
According to the 2019 Hikers Survey of Appalachian Trail, nearly 3 in 4 hikers had a four-year college degree. That's a lot of brain power out in the sticks. 
No, not the blues of the mountain ridges in the Smoky Mountains. Virginia's loooong 554 miles of trail, nearly a quarter of the entire trail length, lead many hikers to quit as the mental fatigue crushes their spirit from the daily grind. The long miles feel as though there is a lack of progress and spending nearly a quarter of the hike in one monotonous forest is a bit "Groundhogy." Harper's Ferry in West Virginia is a common exit point. It's a great pinnacle to reach before throwing in the towel.
NOBO, SOBO, Flip-Floppers
NOBO – Hikers heading north to Maine from Georgia are referred to as NOBO hikers for trekking northbound. In 2019, 86% of 3,000 thru hikers started in Georgia attempting to finish in Maine. (2019 The Trek Survey)
SOBO – Hikers heading south from Maine to Georgia are called SOBO because they are southbound on the trail. Only 3% of thru-hikers start in Maine heading to Georgia. This is an elusive bunch.  
Flip-floppers – Start either in Main or Georgia, hike half way, fly to the opposite endpoint and hike the other half of the trail from a flipped direction. They can also start in the middle and hike to Maine or Georgia and repeat in the opposite direction. Approximately 11% of 2019 thru hikers flip-flopped. 
No, not the trash left behind by poor trail etiquette. It's the actual dirty, grimy, smelly hikers who roll into town to resupply. If you are a thru hiker, you will become part of this elite group. 
By the Numbers

2193.1 Miles of Trail

165 Days on foot (approximately)

14 States (Georgia to Maine)

16x Mount Everest gain in Elevation 

More fun facts can be found on the

Appalachian Trail Conservancy

website. 
Class of 2022
I am excited (and nervous and anxious!) to join the thru hiking community as the AT Class of 2022 and be a part of all the quirky trail customs, from eating a gallon tub of ice cream in Pennsylvania to doing the 24-hour-hiking challenges (I will be skipping the "hike naked" day). I look forward to the hard and easy days, to just walking, walking, and walking, and to simplifying life to the basic needs of living on the trail. Ready or not, I am giving it a go. Nature, here I come. 
Affiliate Disclosure
This website contains affiliate links, which means The Trek may receive a percentage of any product or service you purchase using the links in the articles or advertisements. The buyer pays the same price as they would otherwise, and your purchase helps to support The Trek's ongoing goal to serve you quality backpacking advice and information. Thanks for your support!
To learn more, please visit the About This Site page.
Comments
5
Hiking, is physical and mental therapy.
And a Lot of Fun!

Pick whatever reason you need. Hike the AT or anywhere really, because you want to. Hike as far as you want, go home when you want to. Every single person's reason for being/staying on trail is unique.
I would like to add, try and leave any outdoor space a little better than you found it.
Peace!

Kate, well-written, including the thoughtful shout-out to Dixie!
SOBO hikers comprise only 3%?
That does make them rare and elusive, but not "illusive" [sic]. 😉 Enjoy your time on trail — and off trail — zero days exist for a reason! HYOH 👍🥾⛺️🌲🍔 🍟 🍕🥤

Max – thank you kindly, tomatoes are not tomátoes, and autocorrect is the devil. I appreciate you looking out!

Or is it tomatoes-tomahtoes?