Ascent Into the Clouds
Ever since our first week in Georgia, the Smokies had loomed larger in our imaginations than any other part of the trail, larger even than Katahdin. We referred to them frequently, often in hushed tones with a mix of excitement and foreboding. "But what about the Smokies?" and "we'll figure that out in the Smokies" and "we just won't know until the Smokies" became common refrains. That they are bigger mountains in a physical sense is not why (although, indeed, they are). That they are particularly deadly is not the reason either (Clingman's Dome has nothing on Mount Washington's list of lives claimed). Rather, we believed the Smokies to be the AT's true proving ground- the place where the trail separates the wheat from the chaff,
---
the real thru hikers from the wannabe LASHers and weekend warriors. We had heard sensational statistics proclaiming that 35% of hikers will drop out at Newfound Gap and that by the time a hiker reaches Hot Springs 60 miles north of the park, half of those who started the trek with her will have given it up in favor of 9-5's, soft beds, and regular showers.
We hardly ever said the word 'Maine' in the beginning. There was no point. If you wanted to make it there, you had to first make it all the way through the Great Smoky Mountains.
"Is this the stairway to heaven?"
That we even made it to the Smokies in the first place seems like a miracle, considering how hard it was just to get there. The terrain we had traversed since Franklin had been manageable enough, save for the final steep, rocky descent into the Nantahala Outdoors Center. But the first two days of the climb out of the NOC, for reasons of sheer difficulty, were the most hellish days of hiking that I have ever experienced in my entire life.
Dabba Doo had warned us that it was going to be tough. In fact, many people said the same. The admonition was noted, but it hardly seemed like anything to dwell on that lazy Saturday afternoon as we tore into our half pound angus burgers and drank craft brews by the banks of the Nantahala, waving at the kayakers as they passed by. No matter- I doubt that anything could have mentally prepared us for the physical agony that awaited.
On a dreary Sunday morning, we set out on what seemed for the first mile or so to be a perfectly normal hike. We soon found out, however, what people meant when they said this one would be a doozy. Over and over again, the trail would take sudden sharp, vertical turns- I'm talking 75 degree angles- that would torture our glutes, quads, hamstrings, and calves for miles on end. Sweat and profanities poured out of us in lavish quantities. I had hardly any breath to spare, but I still managed to scream "son of a bitch!" at the top of my lungs every time we reached a false summit. At one point, Foxy Shazam asked me if we were climbing the stairway to heaven, and I told her we had better be, for I was certain we were going to die.
The sky constantly threatened rain and made good on its threats intermittently throughout those first 22 miles of anguish. Fortunately we never got truly soaked, but the distant rumbles of thunder, gray skies, and suffocating humidity did little to lift our spirits.
#retirementgoals
The worst part of all this was that the trail's most senior citizens were putting us to shame. At the top of Cheoah Bald, we met a small 66 year-old woman who immediately became our idol. Her trail name is Immram- an Irish word meaning 'journey to another world and back'. She told us she is originally from Boston, but now resides up in Bartlett, NH when not hiking the AT. We also learned that she is a working musician, contractual software engineer, sailor, Bretton Woods ski instructor, and Woodstock attendee. In addition to being cooler than we could ever hope to be in our wildest dreams, she takes on mountains in a way that I would not have believed unless I had seen it with my own eyes. As we clumsily picked our way down the huge boulders on the other side of Cheoah, we stepped to the side to let Immram fly past us at a full run in heavy leather boots. We had to pause our pathetically slow descent for a few moments to let our jaws hit the floor in sheer awe and amazement.
Then there was the 80 year-old Kentuckian named Bucky that we had met at the last shelter before the NOC. Bucky told us that he had thru hiked the Appalachian Trail in 2002 at the age of 65, and vowed when he finished that if he and his wife were both in good health when he turned 80, he would do it again. Well here was, moving in slow motion over the exact same terrain that was pushing our youthful bodies near their breaking points. When we asked him what his secret was, he said that he had made keeping his body in shape a priority his whole life. He ran his last of 23 marathons at the age of 72. And now he was hiking 2,200 miles for the second time, taking what seemed to us a concerning number of spills, but always managing to get to the same place as us, night after night. All the while he complained of nothing (though he was always eager to show off his latest battle wound).
The Hilton 
We decided to wake up as early as possible Tuesday morning to finish the remaining six miles of our journey from the NOC to Fontana Dam once and for all. We packed our tent up at 5am under a dark, lightly raining sky and then took off with our headlamps up the trail. As the sun rose, so did the fog. We were treated to a spectacular show as the light reflected off the water and clouds. It was just what we needed. Our spirits soared higher with every step.
Our destination was the Fontana Dam shelter, famously known on the AT as "the Hilton". With showers, flushing toilets, trash bins, solar phone chargers, and an overpriced general store a mere two miles away, it is easily the nicest shelter on the entire trail. We spent the morning cleaning, drying, and organizing our gear, then took the shuttle into Fontana Village to resupply our food. We were able to restock almost entirely out of the hiker box at the Fontana Lodge, which felt like quite a victory. We stayed up way past hiker midnight drinking beers around the campfire and slept like babies in the shelter when it was all said and done.
Forrest returns
The next day, we decided to take a full zero at the Hilton so that our bodies could really rest before heading into the Smokies once and for all. We lounged outside by the water all morning and made phone calls to friends and family. Then we caught a ride to the general store with a nice older woman from Washington state named Cathy who was driving her van across the country with her Scottish terrier. We sat on the porch with Ladypants eating ice cream sandwiches and drinking Busch Light while we listened to Teardrop talk about his YouTube fame and explain his thoughts on trail life and the necessities for a successful thru hike (this is his fourth attempt in three years).
Just as we were about to leave the porch and make our way back to the Hilton, a little silver car came zipping into the parking lot with none other than Forrest in the passenger seat. We both ran over and leapt into his arms. The driver of the car was Zen, proprietor of the Gooder Grove hostel in Franklin where Forrest had been working for the last couple of weeks. He kindly drove us back to the Hilton.
Once we were there, Forrest said he would like to find a nice spot in the grass where we could all sit together and break bread. We chose a spot overlooking the trail and Forrest handed us each a Yoo-hoo. Then he produced a cinnamon raisin bagel he had picked up at a gas station and broke us off two small pieces. We said "cheers" and partook of the little feast. Forrest whipped out his baby Taylor guitar and played a song he had been working on while he was in Franklin. It was called "Ruby Cosmo."
Later in the evening, a girl named Tinkerbell, who has attempted the trail twice, came by bearing trail magic in the form of hot dogs, cole slaw, and potato salad. Foxy Shazam and I decorated her brand new cooler with some multi-colored Sharpies I had picked up in Franklin. We went to bed soon after sunset, but I found it hard to sleep. I wound up taking a shower at 4 in the morning and washing some of my clothes while I was in there. I hung my underwear off my pack to dry out, which at the time was probably the most hiker trashy thing I had done so far.
Living in the clouds
When we woke up Thursday morning, it was time to face the music. We were headed into the Smokies at last. Forrest played some James Brown from his speaker to pump us up as we walked across Fontana Dam and made our way towards the little metal box where AT hikers drop off their backcountry permits. Then the ascent began.
Looking at the AWOL guide ahead of time had filled us with dread. We had a ten mile climb to look forward to that first day. It turned out to be a cakewalk compared to what we had suffered through on our way to the Hilton. Rather than taking us straight up the hillsides, the trail consisted of long gentle switchbacks with spectacular views. We pushed on farther than we had originally planned, past Mollie's Ridge to the shelter after it. The miles seemed long once we were inside the clouds, but our legs felt surprisingly strong (especially seeing as we had had nothing to drink over the two preceding days apart from beer).
We walked through gray skies and heavy mist both Thursday and Friday, but the rain mercifully held off each night till we were already safe inside the shelters. There was an eerie kind of beauty to the trail as we walked along the ridges lined by dark, twisted old trees and tall yellow grass. I wondered as we went along how many horror movies have been shot in these mountains.
High points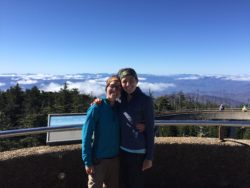 Saturday morning, Foxy and I woke up early hoping to catch the sunrise from Clingman's Dome. The morning sky was overcast and the air was bitter cold, so we decided after a few miles to stop at the next shelter to enjoy a hot breakfast and pray for the clouds to burn off. There we saw Old Dirty Bastard (ODB) and his 13 year-old son, Jaws, who were cooking breakfast as well. We chatted with them for awhile, but once our hot oatmeal and Ovaltine were gone, the cold became unbearable and we pressed on.
As we made our way up, the clouds began to scatter. Brilliant rays of light shone down through the mossy pine forest. We reached a clearing high up on the ridge and saw that we were up above the clouds. We walked the rest of the way to the summit under bluebird skies.
We took our time once we reached the top of the highest peak in the East. We snapped approximately one million pictures while up on the tower and received all manner of trail magic. A couple of lovely Ohioans visiting their daughter, a thru hiker named Chimes, left Little Debbie snacks on our packs for us to find when we came down from the tower. When we were in the midst of trying to book last minute accommodations in Gatlinburg for Saturday night and finding nothing but $150 rooms at places like the Motel 6, ODB and Jaws came out of the woods and offered us space on the floor of their room at the Days Inn (later on the phone, Foxy Shazam would tell her boyfriend, Ben, that we were spending the night on Old Dirty Bastard's floor and he would reply "What could possibly go wrong?").
Finally, after improvising an Appalachian Trail blues song with Forrest and ODB, we decided it was time get to Newfound Gap. It took a good five hours to descend from Clingman's Dome to the midpoint of the AT through the Smokies, but we finally arrived around 5:30pm and were greeted immediately by two other thru hikers who handed Forrest, Foxy, and me each a can of Bud Light. We celebrated the end of our long day by downing the beers and dancing around in the grass to some funky music. Then Forrest procured us a ride with a friend of his who drove an Astrovan and the next thing we knew, we were outside of the national park in the middle of what has been called by many the tackiest town in America: Gatlinburg, Tennessee.
Affiliate Disclosure
This website contains affiliate links, which means The Trek may receive a percentage of any product or service you purchase using the links in the articles or advertisements. The buyer pays the same price as they would otherwise, and your purchase helps to support The Trek's ongoing goal to serve you quality backpacking advice and information. Thanks for your support!
To learn more, please visit the About This Site page.