AT Days 12-15: Rocksylvania Shows Up, No Room in That Hamburg Joint
I'd spent the last eight days hiking in Pennsylvania, encountering manageable rocky terrain at times.  Things got tougher in this stretch, including my efforts to find a place to take a zero day.  The four day summary:
Day 12 – Rausch Gap Shelter to William Penn Shelter (14 mi)
Day 13 – William Penn Shelter to Eagles Nest Shelter (19 mi)
Day 14 – Eagles Nest Shelter to Port Clinton Pavilion (9 mi)
Day 15 – Port Clinton Pavilion to Blue Rocks Campground cabin (6 mi)
Out of the Rain, Into the Rocks
It continued raining throughout the night at Rausch Gap, with more expected the next morning.  As a result, I'd make a morning decision to stick with wearing my already-wet socks.  This would not turn out well, as you will soon find out.
The first point of interest that morning was crossing a section of the trail that beavers had flooded.  The new rain made the crossing quite challenging. If it appears that the log bridge below is headed straight to deep water, it did.  I managed to avoid any mishaps in this section.
Rausch Gap was apparently an 1800s coal mining outpost.  No people or industry remain, only this sign.
The bird activity in the foggy morning forest was amazing!  Thrushes, towhees, and even a few ovenbirds poked around on the ground.  Then the trail offered up treacherous stretches of rock to cross.  Note the boulder field below: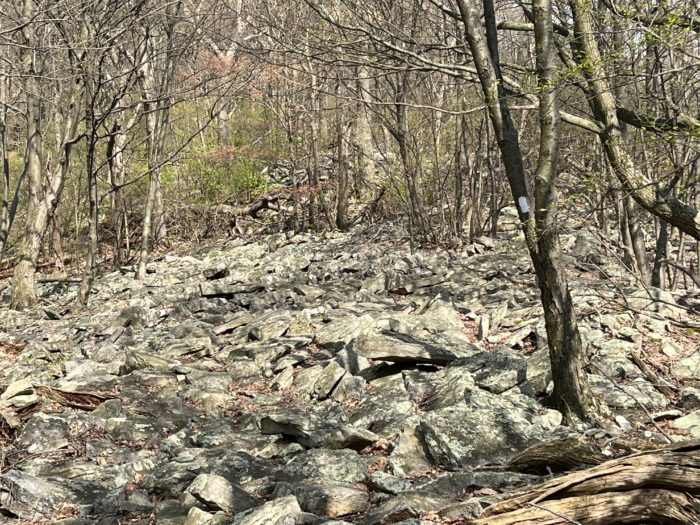 Crossing these rock patches is even worse than the photo appears, since about one out of every three rocks that you step on moves!  It's a high-concentration effort that requires full focus for each step.  There is no opportunity at all to look at the forest surroundings.  Bigfoot and his entire family could have been standing within 15 feet of the trail on this day – I wouldn't have noticed.
Around noontime, I felt like I had a hot spot on my left big toe, so I stopped to check.  The hot spot was there, but my small toe needed more immediate attention.  I had a huge 180-degree blister there.  My first thought was that it looked like Tina the Tech Writer from the Dilbert comic strip. (Yes – my brain has some strange wiring!)
Tina's tiny face is how my small toenail looked in front of that ballooned mass – which resembled her unique hairdo.  It was one of the strangest things I've ever seen below my ankles.  I'm learning that you shouldn't take shortcuts out here on the trail (like re-wearing wet socks).  It tends to backfire.
My Day 12 MMM (Most Memorable Moment) was discovering this beautiful stretch of white wildflowers.  It must have run for a quarter-mile, with small purple ones in some places.  Quite a pleasing contrast to the rock-filled sections of the trail.
A Day Filled with Surprises
I needed to cover 19 miles on Day 13 to do a planned resupply and rest day in Hamburg. Cue the Steely Dan, because "Hey 19" played in my head most of the day!  The trail would offer up many surprises and twists:
– A short side trail to a spring led me to two stone tablets and a wonderful history lesson about 18th-century missionaries.  The spring is named Pilger Ruh (Pilgrim's Rest).  I was amazed to learn that travelers had been drawing water here for 280 years!  It was the day 13 MMM!
– Ascending a rocky ridge crest I flushed seven black raptors out of their nests.  They rose quickly to the sky and circled above me.  I believe two of them were turkey vultures, with white feathers on the rear part of their wings.
– I was giving thought to this trail section having lots of snakes. Less than a minute later I turned a corner and watched a huge two-foot plus all-black snake slide across the trail.  The snake's thickness was incredible:  somewhere between a garden hose and a vacuum hose.  I believe it was a black racer, which is not dangerous to humans.  I actually found it fascinating to watch, as it slickly exited over a large log to my left.
– I navigated a frightening road crossing at PA Route 183 with four lanes of traffic going 60 mph or more.  Made a mental note to write the ATC about that one. There needs to be some signage, flashers, or better yet a hiker bridge!  Once I loved to play the arcade game Frogger, but I'm not loving the human version!
No Room in Hamburg for a Tired Hiker
I had been planning to take my next rest day in Hamburg PA.  I called a highly rated Bed and Breakfast in the town center and was surprised that they were booked on an early May Wednesday and Thursday.  When I arrived at the shelter there was more bad news:  fellow hikers told me that the only motel in town (Microtel) was also booked solid. What? Apparently, there was some big reunion happening in town.  Oh well, I'm learning that flexibility is a vital AT skill. Since I had no food in my pack I'd need to visit Hamburg to resupply – but where to stay for a day off?
Resupply and a Place to Rest
On Day 14 I hiked the nine miles down to Port Clinton, a tiny little town tucked into the dark stone hills of Pennsylvania.   The small town had very little in terms of hiker services, but it did have:
– The Pavilion (below), a church-sponsored location where AT hikers can stay overnight
– A free shuttle to a Cabela's outdoor store, near a Wal-Mart and several restaurants
I took advantage of the shuttle, accompanied by a flip-flop thru-hiker from Japan named Shingo.  We really enjoyed our lunch trip to Red Robin, where we each got a massive burger and fries.  I washed mine down with a 22-ounce draft of Troegs Perpetual IPA, a craft classic.  That was my Day 14 MMM!
My luck changed in terms of a place to rest, as well.  I'd found that Blue Rocks Campground, just a mile off of the trail ahead, offered cabins to hikers.  Most importantly, they had shower and laundry facilities.  Shingo and I each booked a cabin for two nights.  After a noisy night at the Pavilion (which was basically located 30 feet below a very busy state highway), we looked forward to some real rest.  On Day 15, we climbed together to reach the campground. Here's a shot of my cabin:
My Day 15 MMM was the hot shower that I took at the campground that afternoon. So much trail grime being washed away!
State Rock Quiz!
One of the ways I entertained myself while focusing on rocks all day was to find rocks shaped like US states.  I will soon reveal five pictures of a rock.  Simply guess the state that I thought it looked like.  Answers are at the end of this section.
You will notice that each picture has my boot in it so you know I just didn't lift these off the internet.  'Cause you know, it's a thing, this döppelgeology – there's probably thousands of people taking pictures like this.  Or at least, maybe it will be a thing after my loyal blog audience starts an online frenzy!
State Rock #1 – An Easy Starter
State Rock #2 an AT state
State Rock #3
State Rock #4
State Rock #5
Was I on target with my state shapes?  Do you want to see more döppelgeology in this blog?
Quiz Answers!!!  1. Nevada  2. Vermont  3. Ohio  4. California (though we've lost some land north of the Bay Area – earthquake?) 5. South Carolina
Affiliate Disclosure
This website contains affiliate links, which means The Trek may receive a percentage of any product or service you purchase using the links in the articles or advertisements. The buyer pays the same price as they would otherwise, and your purchase helps to support The Trek's ongoing goal to serve you quality backpacking advice and information. Thanks for your support!
To learn more, please visit the About This Site page.