AT Days 128-131: First days in Tennessee
The weather and scenery improved markedly during my first four full AT days in Tennessee.  Here's the day by day breakdown of this timeframe:
Day 128 – Double Spring Shelter to Vandeventer Shelter (14 miles)
Day 129 Vandeventer Shelter to Stealth site, Dennis Cove (18 miles)
Day 130 – Stealth site to Mountaineer Falls Shelter )16 miles)
Day 131 – Mountaineer Falls Shelter to Route 19E and Mountain Harbour Hostel (9 miles)
A brief tramily reunion (and a Bear joins us)
On Day 128 I awoke to the sound of cuckoo birds, I believe, around the shelter.  Now I've never heard a cuckoo bird in the wild – so I'm just speculating.  But the call seemed to fit.
After a foggy wakeup and some light rain at 8:30,  my first full day on Tennessee was looking very Virginia-like.   But after 8 miles on the ridge that started to change.
For one thing, there were views off the ridge to mountains beyond, and then to Lake Watauga.  These were things that Virginia didn't offer from the recent section of ridge.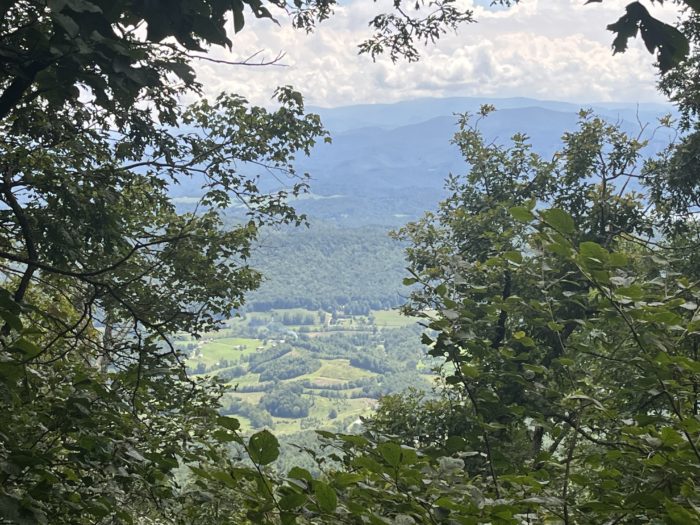 When I arrived at the Vandeventer Shelter I was delighted that my friend and fellow tramily-member Strawberry was already there.  We had summited Katahdin on the same day, July 15th, and had spent many post-hiking days at the same shelters in Maine.  She also was doing a flip-flop hike, but chose Georgia to West Virginia as her second leg, so we were headed in opposite directions.  It took a bit of planning, but we worked out this location to meet up.
It was so great to see a familiar face and to swap notes on our future routes.  Good luck Strawberry!
Later that evening a former thru- hiker named Thirsty Bear joined us at the shelter.  We had some great conversations about hostels, towns, and thru-hiking.  It was so great to have hiker company at a shelter!
A watery day
When Day 130 broke, I was overjoyed that Thirsty Bear departed camp about 15 minutes ahead of me.  He could take all of the insect webs ahead of me on the trail.
I know I've mentioned "taking web hits" during my Northern leg, but the insect web activity in the South is even more intense.  I estimate if I'm the only hiker through an AT section in a day that I'll take between 50 and 80 webs in the face, head, and mouth areas.  And that's conservative !  I've had many cases of taking 6 webs in 5 trail minutes!
So I was positively giddy when Thirsty Bear took off first.  The Trail would descend from the 4000 foot level down to Watauga Lake.  Here are a few photos: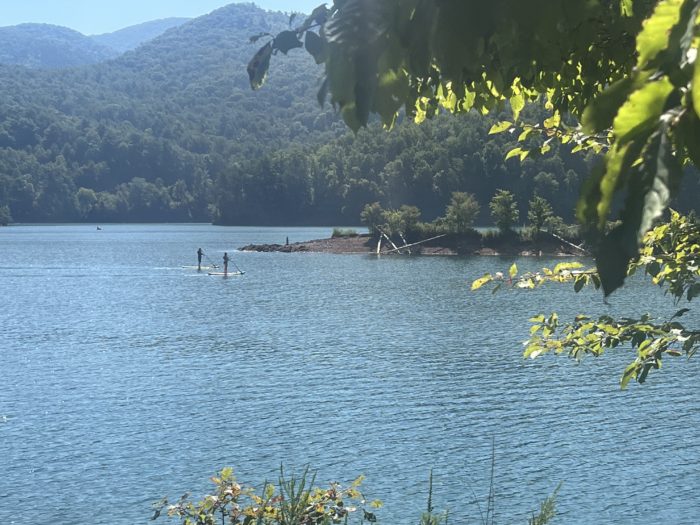 As you can see, there were plenty of views to take in along the way.  The water surroundings didn't let up until we reached Boots Off Hostel, where Thirsty Bear was getting off trail.
After a rough up and down climb over a steep peak I encountered the Laurel Fork Falls area.  Lots of day hikers were out to see these spectacular falls: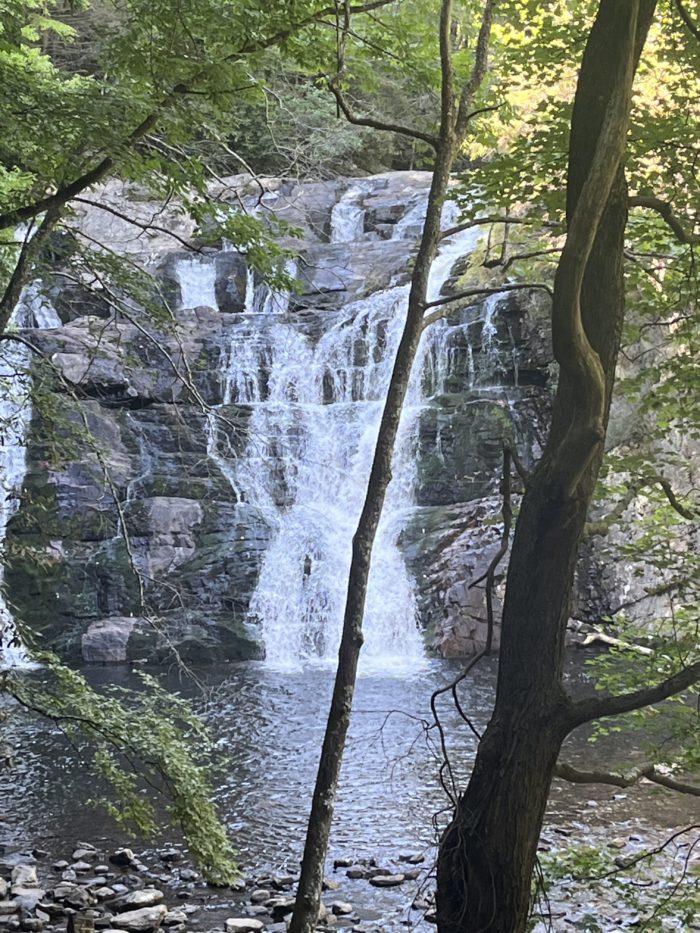 And the next day was more beautiful!
In earlier posts I've mentioned days in which the Trail shines even without any "notable" peaks or attractions.  Day 130 was just such a day.  In the morning I had a challenging climb of three peaks of White Rocks Mountain.   There were lots and lots of what I call "old Boston Garden views" – always a little obstructed, but excellent!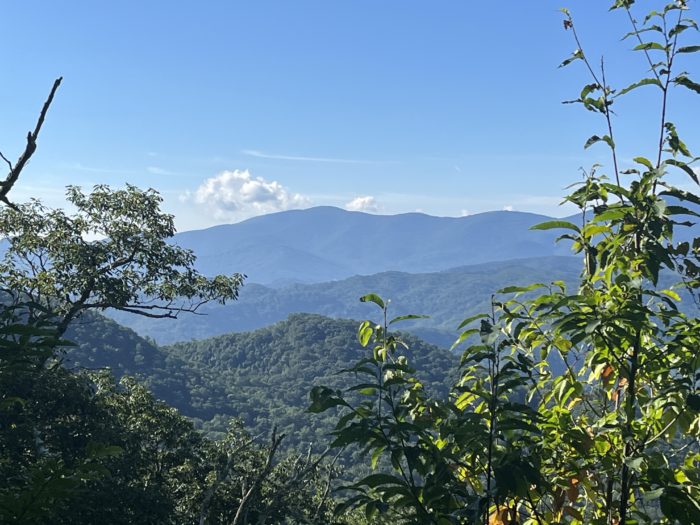 I then hit some varied terrain like Hardcore Cascades, where I ate lunch.  And several miles later I ran into even more beautiful (unnamed) cascades:
The wonderfully maintained trail was shady and cool.  Around midday clouds provided even more cooling.  Later in the day I ran into beautiful tall forests, some even with my beloved evergreens!
After taking in this nice view of Hump Mountain, I settled into my campsite hammock without a tarp and watched the stars.  Another perfect "journey is the destination " day on the AT!
Tennessee's shabby shelters
One negative thus far in Tennessee has been the sorry state of its overnight shelters.   This picture below is typical of these old, cramped structures:
Doesn't it look like a bomb shelter?  You can't even stand up inside it! What's worse than the structure itself is the fact that Tennessee is not providing a privy or bear-proof food storage.
I noticed along the trail in Tennessee that there were huge numbers of stealth sites, some of them large enough for a dozen or more tents.  I have to think that the lack of amenities at the shelters has driven this.  If hikers still have to dig a hole to poop and have to hang their food from a tree, why even consider an ugly shelter?
I used to think New York had the worst shelters on the AT, but Tennessee is really lacking here too.
A stay at Mountain Harbour hostel
I was really excited to be headed down to the nearby highway on Day 132.  I'd made a reservation at the Mountain Harbor Hostel, but first had lunch plans to walk 0.6 miles along the road to The Station, a place known for its craft beer and great food!   The morning walk took me through some beautiful meadows:
Unfortunately, the sign below is all I'd see of The Station.  It was a Monday, and the hours listed on the door (which did not match their website) indicated they were closed on Mondays and Tuesdays.
Ultimately I'd head back downhill along the busy highway and relax a bit at Mountain Harbour with a few local beers that they had in their store:
Tennessee Brew Works' River Drifter IPA
State Street Brewing High Hopes IPA
Green Man Porter
The River Drifter and the Porter were actually quite good.  I sure enjoyed the porch off of the bunkhouse in my loaner clothes!
I had a good night's sleep thinking about my upcoming morning breakfast at the hostel – often called "the best breakfast on the Trail".  I'll share more about that in my next post!
Affiliate Disclosure
This website contains affiliate links, which means The Trek may receive a percentage of any product or service you purchase using the links in the articles or advertisements. The buyer pays the same price as they would otherwise, and your purchase helps to support The Trek's ongoing goal to serve you quality backpacking advice and information. Thanks for your support!
To learn more, please visit the About This Site page.