AT Days 68-71: Making Strides in Maine
After tough days in the Mahoosuc range I'd be hiking in unfamiliar and beautiful territory further up the Maine AT.  Here's the summary:
Day 68 – Speck Pond Shelter to East B Hill Road (15 miles), shuttle to Andover ME
Day 69 – Zero Day at Pine Ellis Lodging (0 miles)
Day 70 East B Hill Road to Bemis Mountain Lean-to (19 miles)
Day 71 – Bemis Mountain Lean-to to Piazza Rock Lean-to (19 miles)
A plan comes together
Advance planning for rest and resupply is one thing I believe  I've done well on this AT hike.  But when I slid into my hammock after a long Day 67 I wasn't sure of my next steps.  I knew I needed to stop in Andover, Maine to get food – but with rain predicted to start at 4am I didn't know if I'd cover 15 miles to get there.
In a surprising twist I awoke at Speck Pond Shelter to a cloudy but dry morning.  The rain would be delayed for at least a few more hours.  At that point I decided to push to reach town that day and take a zero day after to recover from the rough Mahoosuc days.
After a rugged morning climb up the exposed ridge of Old Speck Mountain I phoned the Andover hostel and booked my space.
Unexpected Difficulties
Steady rain start falling around 9 AM as I descended Old Speck to Grafton Notch.  At the parking lot I said farewell to Jason, a section hiker from Tennessee who I'd sheltered with the past two days.  Then I crossed the road and started the steep ascent on the other side as the rain continued:
As the sign notes, I'd be tackling two peaks of Baldpate Mountain.  I have to admit that I'd not done any advance reading on these smaller peaks that followed the Mahoosucs.  But I was about to become educated very quickly!
The west peak of Baldpate stood at the top of a seemingly endless steep rock staircase.  By the time I reached the summit I was soaked and breathless.  But little did I know that I'd spend the next mile plus of trail climbing lichen-covered exposed ledges in the clouds!  Baldpate is wide open rock across most of the summit path.  Some of the scenes looked like I was traversing Middle Earth:
Thankfully I'd manage to navigate the wind and slippery ledges without incident.   However, the constant rain had my hands looking like prunes by midday:
The rain finally subsided around 2 PM, and I boarded a hostel shuttle late that afternoon.
Recharging in Andover
I found the tiny town of Andover Maine (population 752) to be rustic and charming.  My place to rest was Pine Ellis Lodging, run by kindly 84 year old Ilene Trainor:
The town had a single convenience store, Mills Market,  that thankfully stocked some tasty Maine microbrew: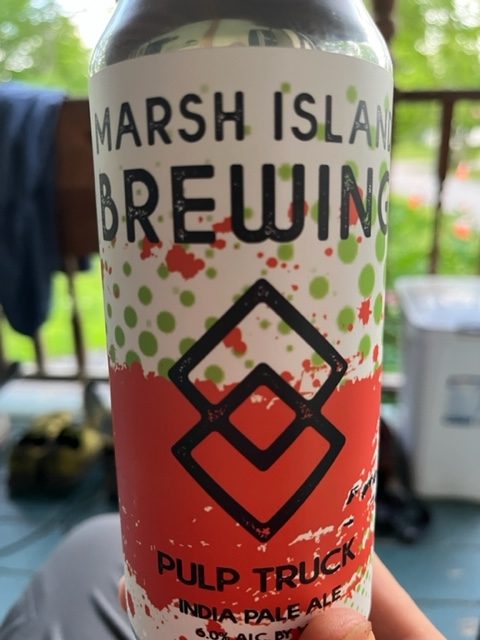 And it had a full restaurant inside the store that served lunch, dinner and big delicious breakfasts:
As a blogger who was falling behind a bit on his posts (!!!), I really appreciated the tidy and bright town library.  Rumor had it that a famous local horror novelist had provided generous contributions to help convert this former church into a wonderful space for the town's readers.  They also had eight shiny modern computers:
Back to the Trail
I'd resolved to rack up some significant miles on Day 70 as the terrain would be a bit easier on paper.  As I prepped my pack at about 6:30 AM, however, I'd get a surprise MMM (Most Memorable Moment).  My daughter Christina called to tell me she was engaged!  Her fiancé is a wonderful guy, and I am so happy for them!  The exciting news kept me fired up the whole morning on the trail.
The first six miles were relatively easy terrain, and judging from the amount of scat I saw, it was a local moose hangout.  I didn't see a live one, though it was clear from chewed logs like this one that they'd recently been here:
Later, the ascent of Moody Mountain would prove steep and challenging, as these iron bars would attest:
I had an Aerosmith head medley playing in the afternoon, and tunes like "Last Child" and "Walk this Way" got me over Moody and on to the oddly named Old Blue Mountain.
How did this peak get to be called "Old Blue Mountain"?  It's not like calling something "the old warehouse" or "the old turnpike road", because those happen when new versions are built.  I doubt any of the locals saw a new Blue Mountain rising out of the terrain.  Or did they all just not notice some mountain for a long time, then started talking it up – so this one became "Old Blue"? Again – these are questions that a hiker with a lot of trail time gets to think about.
A frazzling finish to Day 70 on Bemis Mountain
Anyway, "Old Blue" took the stuffing out of my legs about thirteen miles into my nineteen mile day.  But I had just one climb left over a similar sized Bemis Mountain before reaching camp.  How hard could that be?
Well it turned out that Bemis Mountain was no ordinary peak.  It was a ledgy, multi-headed nonstop monster ridge of peaks.  Check out this sequence:
I scaled Bemis Mountain West Peak about 2 miles from my destination at the lean-to.
The trail then proceeded down a steep slope of rocks about 150 feet, then immediately back up another 100 foot rock wall.  At the top of this bump I was apparently standing on Bemis Mountain East Peak, an entire 0.1 miles away from the West Peak.
Then things really got crazy in the next mile as the trail wound in sharp twists and turns over a ledge called – wait for it – Bemis Mountain Third Peak!  The worst part about this mile was expecting a downhill trail to the shelter (per the topo map), and doing more uphill than downhill!
This wasn't an AT Mountain, it was a vulgar cartoon version of one!  What would I climb tomorrow, Bumhead Mountain?  Welcome to the Vulgar Range of Maine comprised of Bemis and Bumhead in the north as well as nearby South Park Mountain!  (Author note:  OK, that was a long way to go for a 90's cartoon reference but I found it pretty funny!)
Anyway, it was an exhausting finish to a long day.   I got in so late that I didn't cook a dinner, going only with ready-to-eat stuff.
Ultimately glorious Day 71
Light rain would fall overnight, leaving my hammock tarp and the upcoming trail a bit wet.  The morning on the ridge was foggy as the again winding trail next brought me to Bemis Mountain Second Peak and First Peak. (Honestly, I couldn't make this up!)
After a rough downhill descent down to a river, I emerged from a steep climb up to Maine Highway 17 to see the weather breaking.  Near the road, the day's MMM was this view of an evergreen, a Maine symbol, set against an impossibly blue sky: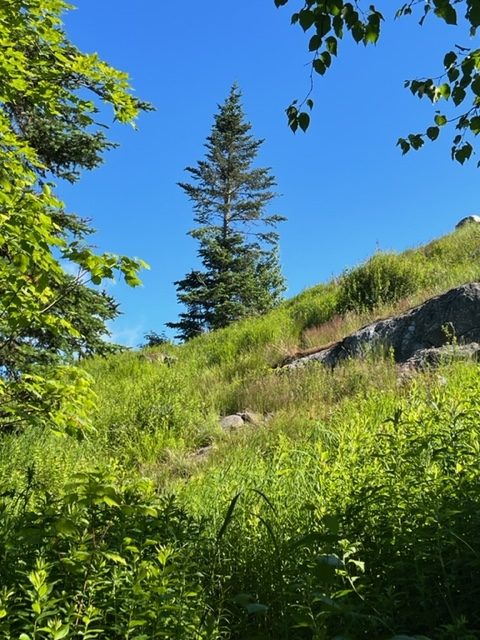 I had a strong feeling at that point that the rest of the day would be a special one – and I was right.  It was one of those "the journey is the destination days", as it would have:
No major mountain peaks
No "must see" AT attractions
Only AT hikers, not a single day hiker
Virtually no cell phone signal the entire day
The scenery was incredibly beautiful and varied, from towering forests:
To the wind-blown waves of pristine Long Pond:
Add in some gently rolling, not too rocky terrain similar to Vermont, and it became a rejuvenating day for me.  Instead of struggling to camp late, I arrived early and upbeat.
And, oh yeah – there was plenty of wonderful wildlife to see and hear with birds, a couple of small snakes and even a grouse:
Probably the only disappointment of the day was passing by so many mountain blueberry bushes that weren't yet filled with fruit. Unfortunately I think I'll be departing Maine before the blueberries are ripe.  Here's one I found with some green berries:
I'd also like to give a shout out to the MATC, the maintainers of the Maine AT.  They do a fantastic job keeping the trails in great shape!
And so I was off to a great start in post-Mahoosuc Maine.  Mount Katahdin gets closer with every mile!
Affiliate Disclosure
This website contains affiliate links, which means The Trek may receive a percentage of any product or service you purchase using the links in the articles or advertisements. The buyer pays the same price as they would otherwise, and your purchase helps to support The Trek's ongoing goal to serve you quality backpacking advice and information. Thanks for your support!
To learn more, please visit the About This Site page.