Between the Flip & the Flop: ER Visits and the Cost of the Trail
Emergency Room visits!
I am lucky enough to know someone in Maine who was able to pick me up from Baxter State Park. Remember how I mentioned that I noticed a swelling, hot, and painful feeling in my cheek in one of my last posts?
Well by this point, I was convinced it was an infection. So instead of heading home, I was taken straight to the ER from Katahdin.
The doctor in the ER diagnosed it as an abscess which needed to be cut opened and drained. 
The now hole-in-my-cheek was then stuffed with a packing and bandaged.
Two days later I returned for the packing to be removed, and given the instructions to keep the wound clean and dry and covered
Post-Katahdin Adventures
I then proceeded to hang out in Maine for 4 days letting my face heal. My family friend took me down to her sister's house in Bay Harbor, from where we could explore Acadia (I had been told it was an absolutely beautiful National Park). We spent some time hiking and biking and we drove around a scenic road, but unfortunately the weather while we were there was less than ideal (a storm was coming in), so I did not get the views I was hoping for. I still had a great time though (evenings were spent playing cribbage, having ping-pong tournaments, trying my very first lobster rolls, and eating ice cream).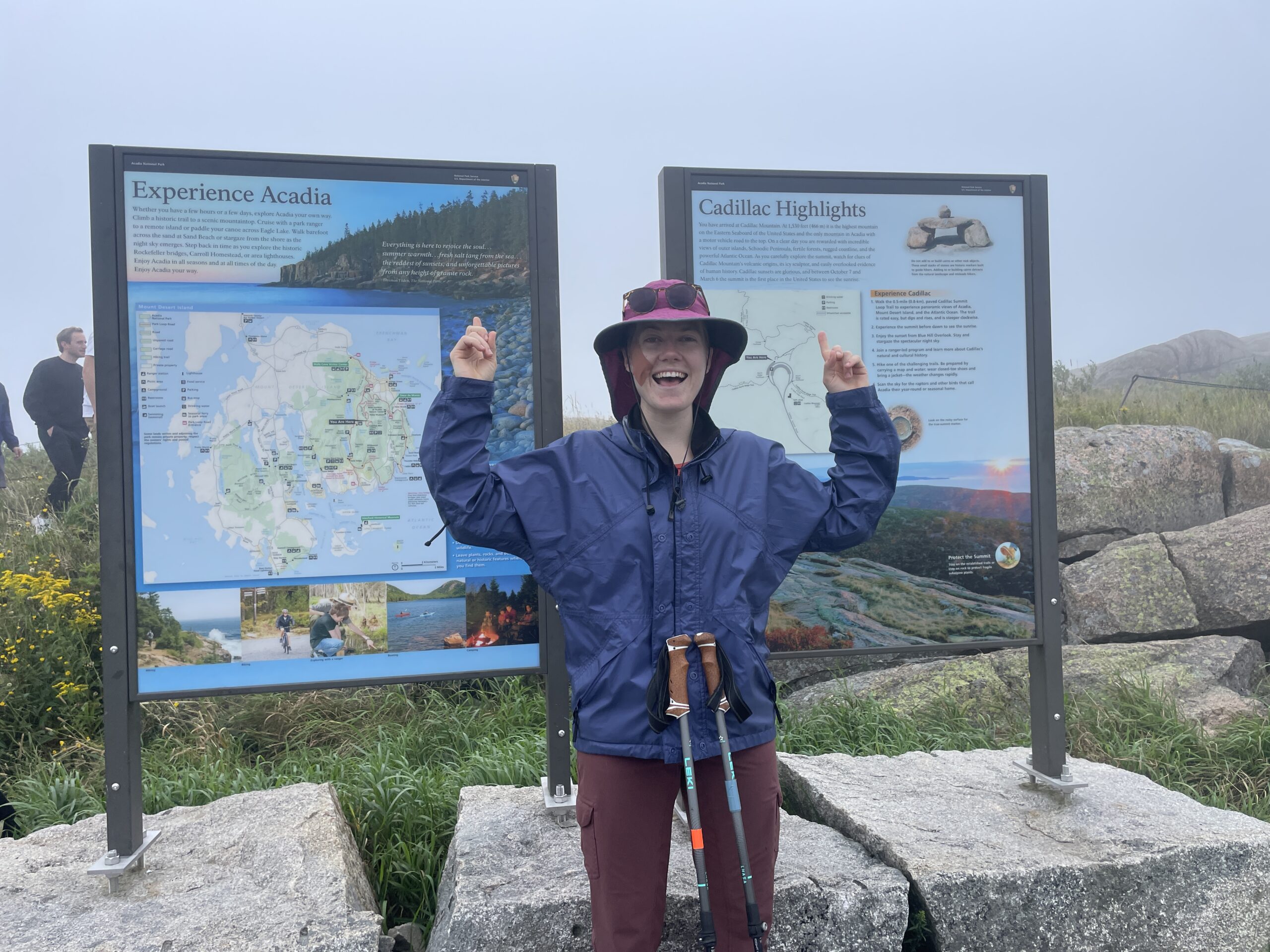 Eventually the time came for me to begin my journey back to Harpers Ferry, where I would begin the second half of my hike.
How to get from Maine to Harper Ferry
The easiest way I found was to catch a bus out of Bangor, ME (you can get a shuttle from Millinocket to Bangor) to Boston, then take a train from Boston to Washington DC, then a train from Washington DC to Harper's Ferry.
Washington DC
Instead of going straight to Harpers Ferry, I stayed a few extra days in Washington DC, visiting friends and letting my cheek heal some more (trying to lessen the odds of reinfection upon return to the trail).
Comically, even though I stayed in DC to try and stay healthy, while I was there I was stung by a bee on my finger (I am allergic so I had to immediately run to the store for antihistamines)
and then the friends whom I was staying with tested positive for Strep, so I had to go to the doctors again to get tested (luckily, I tested negative).
Costs of the Appalachian Trail After my 1st half
For fun, I decided to start calculating how much the trail has cost me thus far, and while these are calculations I made on the back of scratch paper in a public library (and this, there is definitely human error in them and I rounded them to the closest $5), it is still eye opening.
Cost groceries/resupply thus far: $1,560
Gear costs for repair/new items while on trail: $920
Gear purchased before leaving for the trail: $1,905
Cost of mailing items: $125
Lodging costs: $145
Transportation Costs (primary expense thus far is the cost of getting myself to the trail from CA, and getting from ME back to Harpers Ferry): $650
As you can see, the primary costs on the trail for me so far have been gear, food, and travel. I have tried saving money by avoiding hotels/hostels as much as possible and staying with Trail angels, doing work-for-stay, or simply camping on trail, but things still can really add up!
As a result, I came up with some ways to raise money, which I posted on my personal website and sent out to family and friends. So far, the one which has proved most popular is for any donation of $10 or more someone may pose a "challenge" for me to do while on the trail, which I then video tape and post on my personal website or on my AT Instagram for the world to see.
It has proved quite fun so far, I've only had the chance to do a couple, but some of the ones I have completed already have included me dancing on the trail or doing handstands on McAfee Knob. For me, not only has this helped me with the costs of the trail, but as I am ahead of the SOBO bubble and thus the trail is relatively lonely, it is a way that I am able to spice up my days. I'm excited to see what challenges people come up with so, feel free to check out the videos if you want some entertainment!
Affiliate Disclosure
This website contains affiliate links, which means The Trek may receive a percentage of any product or service you purchase using the links in the articles or advertisements. The buyer pays the same price as they would otherwise, and your purchase helps to support The Trek's ongoing goal to serve you quality backpacking advice and information. Thanks for your support!
To learn more, please visit the About This Site page.