BYOT (Bring Your Own Tramily)
Day 1: (Approach Trail: 1,150ft ascent, 4.4 mi) + 1,380 ft ascent, 9 mi
Day 1 started with the final climb up Springer Mountain to the summit. We quickly took pictures and set off down the trail for a pretty uneventful day.
As we set up camp at the end of the day, we noticed a haze in the air. It continued to thicken and we realized it was smoke from a fire. What we didn't know was where the fire was located. We frantically started searching the internet to find any information about active forest fires in the area. We even called the local fire department to see if they knew anything (they didn't). We made plans about what we would do if we woke up in the middle of the night to an inferno at our campsite. Of course nothing happened. We learned the next day that an uncontrolled forest fire in Tennessee had caused the smoke in the area.
Day 2: 3,130ft ascent, 14.6 mi
We encountered our first trail magic- an older couple passed us on the trail and after asking where we were from, he handed each of us a Hershey kiss.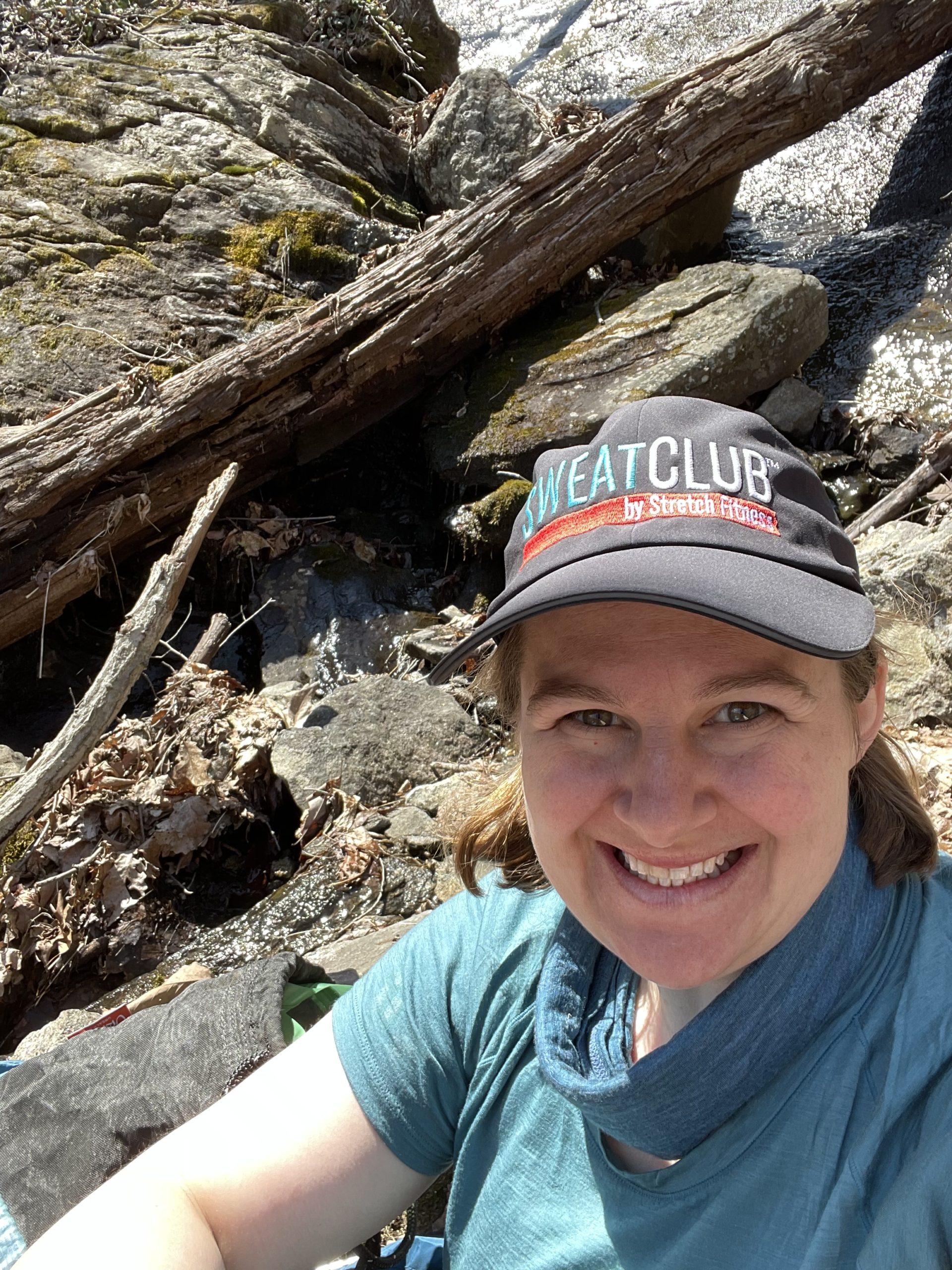 We camped at the Lance Creek Restoration Area and ran into our first ridge runner. Moxie was a ball of energy. That night was the first night we camped until the same area as others. We went away from the group and found some spots on an old road bed uphill from the other campers.
Day 3: 2,045ft ascent, 7.4 mi
During our base camp orientation, we were warned about Blood Mountain being a climb. I had heard about Blood Mountain being the first big climb off of the trail. I was mentally prepared for the suck. As we started walking it started sprinkling. We had forgotten our rain gear at home, so we wouldn't have any until we picked it up at a resupply later that day. Luckily heavy rains stayed away and we stayed dry 
We started climbing up and up and up in the clouds. Next thing we knew we were at the top! All three of us later said it wasn't as bad as we had mentally anticipated. The cloud ceiling was below the mountain so we didn't get any views at the top, but we had been having near perfect weather before then so it was hard to complain.
Next up: Mountain Crossings. I didn't know there would be an option for pizza at this resupply/outfitter literally on the trail (the trail runs through the buildings), but as soon as I found out I knew that was going to be lunch. That pizza was My Precious as I kept my arms around it until it was quickly gone.
With thunderstorms overnight in the forecast, we decided to get a cabin at Blood Mountain Cabins that night. They had one pet-friendly cabin left when we arrived that we snagged. We spent the afternoon in luxury sitting on the couch while charging our devices. It's amazing how warm water, electricity, and laundry services can feel like you're at a Hilton! We were pretty sure there were bats in the fireplace and squirrels in the walls. Luxury is different after sleeping in tents for days.
First 3 Days Observations:
1. You quickly get excited to see trash cans.
2. Most people on the trail seem happy.
3 I love watching sunrises from the trail.
4. Everybody seems to be rushing to meet people and buddy up in a Tramily (trail family). I'm very content with having brought my own with me.
Affiliate Disclosure
This website contains affiliate links, which means The Trek may receive a percentage of any product or service you purchase using the links in the articles or advertisements. The buyer pays the same price as they would otherwise, and your purchase helps to support The Trek's ongoing goal to serve you quality backpacking advice and information. Thanks for your support!
To learn more, please visit the About This Site page.