Springer Bound: Sight Set Firmly on Goal, Feet Forward, Just Do It!
Ah, my friends, what drama was packed into the final two weeks of finishing the southern half of the AT!  Even now, several days later, I can fully feel the combination of excitement, anticipation, and anxiety.  Let's look at what happened.
When I last left you, I was departing Fontana Dam, with 14 days left till my projected summit day of Nov. 10. Suffice to say that it's never fun starting out with a newly replenished bear canister.  There's always a big hill leaving a gap (a dip between hills or mountains, often with a road, parking lot, or stream).  But you just put your head down, think about something else (but not the grandkids, so you don't get sad) and do it, because you've got to. The temperatures were comfortable, the sun was shining, and the Smokies were behind me.
As I trudged up and down the hills and ever-present steps and boulders, I reflected on how much I had learned so far.  I know I can always learn more, but I felt I had already obtained so many skills for taking care of my needs.  This was very satisfying.
My first lodging in this section was darling:  a miniature cabin tucked up against the main log cabin inhabited by the owners, "Cabin in the Woods." With adjustable heat, two beds, a compact kitchen, shower, bathroom and satellite TV all to myself, I was living in the lap of luxury.
A delicious breakfast the next morning completed the picture.
My next day, another beautiful fall day,  basically consisted of seven miles uphill, seven miles downhill, and a stop in the middle at a shelter for a lunch break.
Beautiful shelter and setting, but what a disappointment.  Shelters that are relatively near towns are often visited by groups of local teens, who leave all their trash behind for others to worry about.  This proved no exception.  After writing a scolding note in the shelter journal ("This isn't your teenage bedroom.  Grow up and take responsibility."), I decided it was my turn to haul the trash out.  Luckily, some of it included garbage bags.  I doubled them up, filled them up, and tied them up.  They were now a part of my load the rest of the day, about three to four extra pounds.
This next lodging, Nantahola Outdoor Center, a huge complex with many branches in the region,  specializes in outdoor adventures for groups.  I was able to enjoy watching a kayaking class taking place as I approached.
My private room was basically a wooden cell that inmates would have if they were granted short outdoor stays (I hesitate to use the word "escapes.").
But, with heat, a foam pad, electricity, and a communal kitchen and bath nearby, my needs were nicely met.  This was another case in which my handy-dandy bandana served as a bath towel.
After doing my daily yoga in the communal dining hall, I was off to the trail, which had the usual: long uphill, log steps (oh, my favorite!), boulders.
I recalled hearing that the AT is basically like a hammock, with a lower center and steeper ends.  These inclines were proving this to be true.  In the afternoon, I began to feel some of the rewards of hundreds of miles on my legs, though:  faster speed on the flats and downhills.   I was still really enjoying my hiking, overall, and regretted that I'd soon have to end for the year.
At a fire tower, I only made it up six steps before I remembered why I never climb open towers.  Too much open space under me.  I'll be able to scramble up boulders and rebar ladders on rock faces in the future, but will pass on fire towers.
Passing by my planned shelter because it was only 4:15, with three more hours of light available, I went on another hour (two miles) to a great spot where a couple of seldom-used fire service roads joined.  Setting up my tarp in the sparse woods, I knew it would be more comfortable sleeping here than harder packed sites because of the softness and insulation of the duff beneath me.  I really enjoyed my lovely solo camping spot that night.  Slept like a baby.
This next day was a biggie:  superb views from two different balds.  Wayah Bald was conveniently right on the trail, with a stone tower that I WAS able to climb.
Going to the top of Siler Bald involved an optional extra mile round trip, but so worth it.  It was where I was able to legitimately celebrate 1,000 miles total completed on the AT.  Woo-hoo!  That number sounded really great to me.
When I arrived at the gap where I was to be picked up by the owner of my hostel (in a town ten miles away) for the next two nights, I had to wait quite awhile for him.  Finally a guy pulled up at the side of the road where I sat waiting on a guardrail.
In a deep Southern twang, he said, "You wanna ride into town?"
Explaining that I needed to first call my expected ride and see if he was actually on his way.  No answer to my call.
"Sorry, I can't desert my driver.  I know he'll come."
"Surprise!  It's me!  You passed the loyalty test!"  My host opened the trunk of the car (covered in AT stickers) for my backpack and offered me a small bag of potato chips as a Halloween treat.  Strange sense of humor and inappropriate behavior with guests, which would reveal themselves again several more times.
This hostel was the man's home, with only a small bedroom reserved as his personal space.  My feeling was that he was getting burnt out on this business and needed his space back.
Even though I had been promised a private room for two nights, I ended up sharing a small bunkroom with another hiker, an extremely weary thru-hiker.    He had lost more than 50 pounds during the past five months (not unusual), and was feeling like he had completely run out of gas.  Part of it was the megamiles he covered daily (20 or more),  few zero days, and the substandard diet that seems to be the routine fare.  It reinforced my good fortune that my trip had turned out to be a  section hike and my diet was extremely healthy.
Despite my repeated requests in advance, my host hadn't tried to arrange a massage for my zero day.  But it was still a really fun day.  The mother of my hiking friend, Amy, was spending several weeks in a lovely rental vacation home in this town of Franklin, NC.
She picked me up for a get-to-know-you gabfest (quite successful) and lunch at a surprisingly excellent French bistro in this town of 5,000.  After a bit of shopping for supplies and a tour of her  vacation home, she returned me to my hostel (with yet another male roommate in my "private room").   I began my usual zero day PM work on my blog about the Smokies.  The house was full of guests, and it was hard to find a single quiet corner.  This was projected to be my final zero day, so I wouldn't be doing another blog post for some time.
In order to return to the trail early the next morning, many of us had to pile into the owner's big old hunker of a car.  In his usual disorganized manner, the owner didn't really explain who was going where and when, just get in the car! All I know is that two of us got out at the correct  AT trailhead for us and went out at our own speed with our own day's goal in mind.  This host had a lot to learn about running a business.  I was happy to be on my own on the trail, after sleeping in a house spilling over with people and disorganization.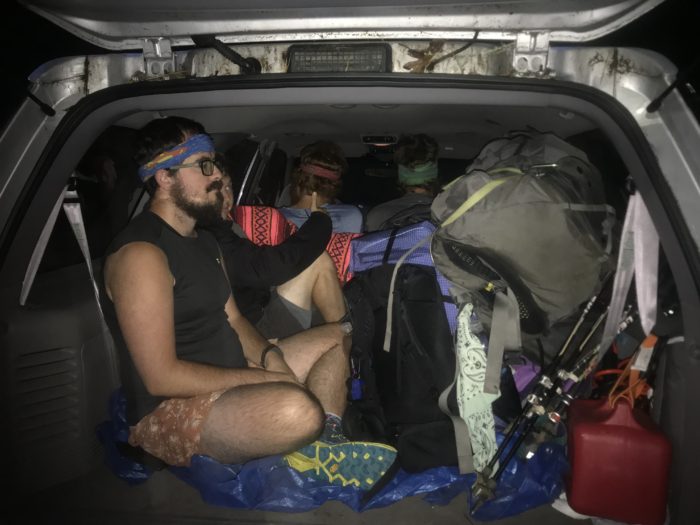 Although it rained off and on all morning, there was no wind, so that was OK.  At the top of Mount Albert, I met two guys my age, one of whom had worked in forestry for his entire career.  He was able to explain the various controlled forest plantings in the hills below.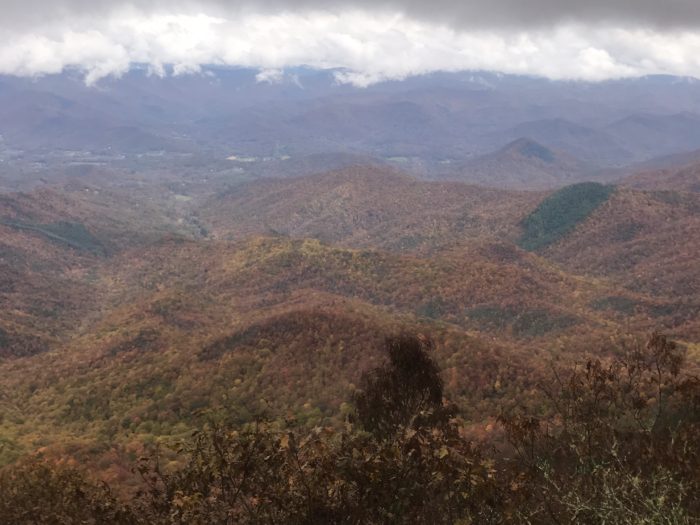 The other fellow took the photo of me with yet another tower I couldn't climb.  I'll be able to hike the entire 2,180 miles of the AT, some of which involves climbing up rock faces and rebar ladders, but I won't do a fire tower.
These guys chose to spend the night at the top of this mountain, one with his tent at the top of the tower (oh, horror!).  I continued a few more miles to a lower mountaintop, where I tucked my tarp under some bare, scrubby little trees, hoping for shelter from the mounting wind.  I made sure to mount the tarp so that the wind would hit one of the broadsides of the shelter, not funnel down through my lodging.
Well, that worked out, but it rained and was cold, cold, COLD, surely in the mid-20s. I woke to ice on the outside of my tarp, guylines frozen stiff and difficult to release from the tent pegs, painful hands the minute they came out of gloves.
Starting out my hike in multiple layers of clothes, all of which I had slept in, my hands and toes eventually thawed.
I tried to call a hostel ahead of me for a pickup on a forest service road for perhaps a more comfortable night's lodging that night.  But it would have involved a 90-minute ride and $90, plus the same fee for a return to the same spot the next day.  I decided to suck it up and stay at the shelter I had in mind.  I could do it.  The previous night was my last night of camping in my tarp for this year's expedition.  Go out with a (frigid) bang!  I hung out my tarp  to dry at my next shelter, after having been bundled on the back of my backpack all day, an icy bundle.
After a super frigid night in the shelter that next night, I headed on with the knowledge I was about to enter Georgia, my seventh state, and to a warm bed at the Top of Georgia Hostel.
I would now be only six days and 69 miles away from Springer Mountain. But I felt that I was starting to lose some of my concentration, diligence, and routine habits, knowing I was closing in on the end.  During this one day, I lost my favorite gloves (perhaps during a pit stop in the woods?) and my dear bandana (maybe in the extremely strong wind that blew me around?).
Two things of mine were lost along the trail, but that's not nearly as serious as a misplaced person.  I came upon a fellow who looked frantic.  He had gone ahead on the trail as he left a novice hiking friend who was readjusting his boots.  Very dumb, leaving a novice hiker who had no map or knowledge of the trail.  When his friend didn't catch up with him, he went back and couldn't find him.  He was afraid he had wandered down a side trail.  Could I please keep my eyes out for him?  He was of Indian origin and would be looking confused.  If I found him, send him on his way northward two miles, to the next shelter, where he'd be waiting for him.
And he was right, his friend had wandered down a side trail till he came to a sign that said no trespassing. He somehow returned to the AT and fortunately recommenced in the correct direction on the AT.  Within a few minutes, I ran into him, and he was overjoyed.  When I told him his friend Dave was looking for him, he was immensely relieved and repeatedly called me his savior.  Ironic use of words, since his name included the word Buddha.  Because the poor guy was gasping for breath, first I had him dump out one of the four liters of water he was carrying (three too many).  Water weighs 2.2 lbs per liter.  No wonder he was gasping.
"Oh, no!  Dave will be angry with me!  We need enough water to get to Fontana Dam!"  (about 100 more miles).  This guy would never make it that far, if even one more day.  I promised to take full responsibility for reducing the weight of his load by dumping some water.
"Please, can I buy your hiking poles?  I have cash!  Any price!   I broke one pole and need it for my two artificial knees!"  After firmly refusing this request, I insisted he buckle up the hip belt of his overloaded backpack, although he said it hurt his belly.  I gave him no choice.  He had no idea what he was doing.
Because my mileage that day was not an extremely long, I decided I could give this pair up to an hour,
"You go ahead of me, Buddha, and walk whatever pace is comfortable for you.  I'll walk with you till we meet up with Dave."  I sincerely hoped Dave had not continued on to the shelter, which would take this fellow forever to get to.
Thank God, Dave soon appeared around a bend in the trail, heading toward us.  Relief and anger were visible in his face, but he kept it together while I was there.  With many thanks, the two headed north and I headed south.  What a relief it had all worked out.  This scenario could have had much more serious results.  My guess was that they'd be home by tomorrow.
An hour later, I walked through a gap at one point where there was a busy road where I could have easily caught a ride to my hostel, skipping several miles. The devil on one shoulder said, "Go ahead,  no one at home will know." The angel on the other shoulder said, "You'll know. You don't cheat and you don't lie so let's get moving."  Despite the strong temptation, I sighed and moved forward.
My night in the hostel was comfortable, clean, friendly, warm, all that I had hoped for, except just one night.
What was ahead of me were some of the biggest challenges Georgia had for me.  The owners offered to shuttle me to a gap 18 miles farther south so that I could slackpack back to the hostel, with a light daypack.  But this would involve several extremely steep mountains, three too many miles than I could possibly do (even with a light pack), and now with one hour less of daylight.  I refused their offer.  I couldn't subject myself to that, with the risk of finishing by headlamp, which would be pure terror for me.
So the next day I headed out in my usual manner… plod, plod, plod, with a newly replenished bear canister.  And I got some of those mountains done, my own way.  On the steep ups, I just took my usual slow baby steps and thought about TV shows such as Naked and Afraid and Married at First Sight, good, mindless entertainment.
At last, the most wonderful moment of every long day arrived:  the sign for the shelter!
Turning in, I wondered if I'd have company, which would be nice.  Well, yes and no.  When I walked up, there was a single guy sitting in the shelter, with his stuff strewn about as if he had been there multiple days.
"Do you know who I am?" he immediately asked?
"No."
"I'm Christ, and the end of the world is fast approaching."
Pause for me to collect my thoughts.
"Look, I completely respect your right to have your own beliefs, but I am already Christian, so I'm OK.  I don't like to be preached to.  Are we cool with that?"  All said very calmly, since I didn't know if he was both loony and dangerous.
"OK," was the surprised reply, and he went back to reading his Bible.
"I'm going down to the spring to get some water and will be back soon."  Keeping my backpack and poles with me, down I headed, where I was elated to find that I had full Verizon service.
"Hello, 911?  I just want to report that I'm alone at the Tray Mount Shelter with a homeless guy who says he's Christ."
"Well, ma'am, there's not a whole lot we can do about this situation.  But I'll let our officers know and it'll be noted in our logbook."
"Thank you, officer.  I knew you couldn't come up, but I just wanted someone to know about this."
Texts were then sent to both Bill and my daughter.  I wished afterward I hadn't notified her, because she was extremely concerned, asking if the next road crossing or shelter was nearby.  Nope, both were several hours away, and dusk was approaching, as were projected heavy thunderstorms.  I felt trapped with no other choice but to stay in the shelter.
But then Providence sent the best gift I didn't even have the sense to ask for.  As I rounded the corner of the shelter, I found a male hiker sitting on his sleeping bag on the opposite side of the shelter from "Christ," with his eyes as wide as silver dollars.  When he saw me and that I wasn't a crazy, he looked as relieved as I felt.  In fact we stayed at the same hostel a few nights ago, and a friend of his would soon be joining us.  Salvation!  I set up my sleeping gear between the two sane guys, as "C" minded his own business on his side of the shelter.
In fact, he turned out to be a nice guy who tried to participate in the conversations we had.  The other hikers spoke to him kindly and I gave him some food, and he was extremely grateful.  It all turned out fine. We were all tucked into our sleeping bags by 6:30 (dark by 6 p.m., light by 7 a.m.), as the screens of our smart phones glowed as we lovingly told them goodnight.  Modern camping!
In the morning, hiker one asked me quietly if I was OK if they both left earlier than me, and I said I was totally fine.  "C" was calm and very supportive of me for dehydrating all my own food and for achieving what I'm doing on the trail.  Whew!  What a wide range of emotions I had had during this shelter stay.
What I wasn't excited about was getting out in the strong wind and rain again.  However, things calmed down as the day progressed and I was able to enjoy what turned out to be a (chilly) beautiful fall day.  But I was concerned because my gut was starting to feel "off."
I had this next night at a shelter on my own, which didn't bother me.  It was a lovely setting, with the water source being a sweet, flowing stream running right beside the shelter.  But my belly continued to bother me, and I found that I couldn't finish my beef and veggie soup without feeling sicker.  But what to do with the food?  If I poured it out, it could attract unwanted nighttime visitors. If I forced it down, I was sure I'd upchuck and later run for the bushes.  Finally, I decided to go farther downstream away from the shelter and pour the remaining soup into the running water.  It was the best thing I could think of at the time, and worked out, based on no midnight visitors.
The previous week, I had told Bill that I liked to test myself.  The next day, I got my wish.  With moderate dizziness, a headache, no appetite, loose guts, and weak, spaghetti legs, I had nearly 12 hilly (why change now?) miles to get to the next hostel.  What drove me on was the decision to stay two nights at the Mountain Crossing Hostel, to give myself time to heal.  I normally don't like to use the word "blessed," but I feel this was applicable this morning.  A vivacious young traveling nurse and her hiking dog were went sent by fate to be my hiking companions early in the day, to the top of the toughest incline I'd have for the day.  Her stories of her travels and joy of life saved the day and sent me on my way, feeling much better.  I felt deep gratitude.
And it was also with gratitude that I finally arrived at my hostel.  This place is a very well-known establishment, where 25 percent of the aspiring northbound thru-hikers decided to drop out.  The trail actually goes right through their breezeway between buildings, but some hikers don't even make it that far, as evidenced by the tree out front that is loaded with boots tossed there by disgusted hikers.
I fell into my bunk, desperately needing Pepto-Bismol, which wasn't available at the hostel's outfitter store.  A group of other hikers were placing an order for fast food from a town 20 minutes away, to be delivered by a delivery service.  After asking them three times to ask for the company also to bring some Pepto-Bismol, I retired to my bunk.  An hour later, no Pepto-Bismol.  The guy calling in the order felt it was getting too complicated to ask for that too.  I thought to myself, "What will be complicated is washing out my pants when I get back on the trail the day after tomorrow."   I said nothing, but felt terrible physically and hurt emotionally.  Most fortunately, another hiker, who had arrived by car to begin her hike the next day, very kindly took me into that very town, where I got the medication that I knew would help, as well as neutral rice cakes that I thought I could handle.  I was so appreciative of her kindness.  I would now heal.
The two nights and day off really helped, as did the naps and watching old, classic movies (Sundance Kid and Little Big Man).  I knew I could get myself 31.1 more miles to Springer.  I sent home some extra weight (bear canister, net tent, stove and cooking pot, excess food I couldn't stomach) and hiked on without many breaks, to cover 15+ miles the next two days.
Again, I had to dig so very, very deep.  The first day back on the trail had me going up Blood Mountain.  Anything with a name like that can't be all good.  It wasn't, with lots of boulders on the ascent, spiced up with horizontally blowing frigid rain.  I chose to do this, feeling this way?  I got through it.
I was sure to bring plenty of TP, drank lots of water, and ate rice cakes and a noncooked dinner at my final shelter.
Again, I was blessed with the presence of other hikers, this time a lively group of guys from the Deep South who good-naturedly let their leader know in no uncertain terms how much they hated the freezing cold weather.  "The nights will be cool, he said!"   They were humorous, inclusive in the banter, and made my last outdoor night fun.  I could have done without the mice, though, that ran over my body through out the night.  One even tried to get into the tiny opening I had made for my face with my sleeping bag liner.  I flicked him away from the interior, with a single gloved finger.  Only room for one of us in here, fella!
And my final day arrived.  I had felt the temperature lowering during the night, and found yesterday's wet socks frozen into L shapes.  It was very hard to force myself away from my down sleeping quilt, but this was Springer Day!
15.7 miles to the Southern Terminus of the AT!  But the most important figure was 14.7 miles, which would take me to the parking lot just a mile from the top of the mountain.  My dear daughter and two granddaughters would be waiting for me in their warm Jeep, having driven several hours from Nashville.  They would accompany me up my final mile, and I could not subject them to night hiking.  So I did my very best to maintain a brisk pace the next eight hours, even though I was starting out in nearly all of my clothing, due to the freezing temps.  But, no rain!  No wind!
Because of the frigidity, however, my Guthook maps app wouldn't work all day, a first-time event for me.  This was vital for finding my way on the trail when it was covered by a thick layer of leaves.  Often there were no white blazes on the trees, and it was almost impossible to see where the trail was.
I had three different incidents like this, and had to spent five to ten minutes each time, searching for my way.  But I had my paper AWOL guide (not a map) as a general backup, and kept myself calm and just repeatedly retraced my steps and looked in a careful, organized manner, a technique I had learned from a comment of a reader of this blog (thank you!).  Luckily, this eventually worked each time, but I could feel my stress building as less time was available for getting to the girls by 4:30, my darkness deadline.  When I resumed hiking, I found that I could crank up the speed each time.  I did it for my girls.
But I also forced myself to savor these last few miles. I'd never have this monumental countdown to Springer Mountain again in my life. The colors were beautiful in some places.
Towering Georgian pine trees and rhododendrons alongside a wide, groomed trail in a very popular section of the trail made an almost cathedral-like setting. Pine needles carpeted the firm path below. The setting was reverential.
But onward, onward!  Get to the girls before dark!
And then, then, the most wonderful thing happened!  A medium-sized pink blob and a taller one with a white ponytail peeking out from her hood came running up to me.  My granddaughters!
I had made it right where I needed to be, right when I needed to be there.  And shortly behind them was the videophotographer, my dear daughter.  After ten weeks of hiking and eight hours of the fastest hiking I've ever done, I was right on time.  I just couldn't let go of the girls, and I was sobbing with relief.  I had made it!
All that remained was our victory mile up the mountain.  The three of them proved to be good hikers, although the two who take gymnastics, dance, basketball, and cheering proved to be a bit more adept at hiking than the one who runs marathons, plays tennis,  takes barre and yoga.  She good-naturedly accepted our ribbing and did just fine on this mountain.
And then, there we were, at the Southern Terminus of the famed Appalachian Trail.
I was surprised to be presented a lovely, handmade gold medal for completing half the Appalachian Trail.
At my previous request, we all toasted the accomplishment with the chocolate of our choice.
Names were signed in the trail journal that is stored in a metal compartment under the plaque and photos were taken.
The return trip back down to the car went well, without need for the flashlights, as the sun dipped below the horizon.
Now I could stop thinking and planning and being alert at all times.  I was in Becky's capable hands, who took me to what had to be the most inviting sleeping situation I had seen in years.
Resting a few days in Nashville and now at home has been a good start in my recovery and readjustment.  My tummy still feels a bit off, and I awake with a start at 2 a.m. when nature calls,  trying to figure out where I am and how to get to the bushes or the hostel bathroom.  I'm enjoying having different clothes to wear, and both pairs of my long johns are now in the trash can, despite two washes
It was an amazing experience, one in which I had to dig so deep so many times.  Being extremely goal oriented definitely proved to be in my favor, along with my experience with various long-distance endurance activities in my past.
I felt myself growing spiritually as the trip progressed.  I know I was not alone out there.  I know from whom my power came.
And, at the risk of sounding irreverent or sacrilegious, how could I fail, with both Buddha and Christ cheering me on?
P.S.  See you next May.  1,000 miles remain up north.  God help me.
Affiliate Disclosure
This website contains affiliate links, which means The Trek may receive a percentage of any product or service you purchase using the links in the articles or advertisements. The buyer pays the same price as they would otherwise, and your purchase helps to support The Trek's ongoing goal to serve you quality backpacking advice and information. Thanks for your support!
To learn more, please visit the About This Site page.