Though the Highs and Lows of the Smokies
I wasn't looking forward to the 72-mile trek through Great Smoky Mountains National Park.  I had heard plenty of warnings about the steep ups and downs, inclement weather,  awkward spacing of shelters, and the prohibition of camping elsewhere.  And I found my concerns were well grounded.
However, let's back up and mention briefly the pleasant interlude  between my time with hubby Bill at Hot Springs, NC, and the entry to the Smokies.
I could feel that my legs were gradually getting stronger,  although now I was adjusting to the additional weight of several more pieces of warm clothes in preparation for autumn and higher elevations in the Smokies.   I find I still prefer days that don't involve mega mileage. My sweet spot is generally between ten and 13 miles a day, although I can happily go one to two miles less or forcibly go one to two miles farther if necessary for getting to a shelter, good  camping spot, or hostel.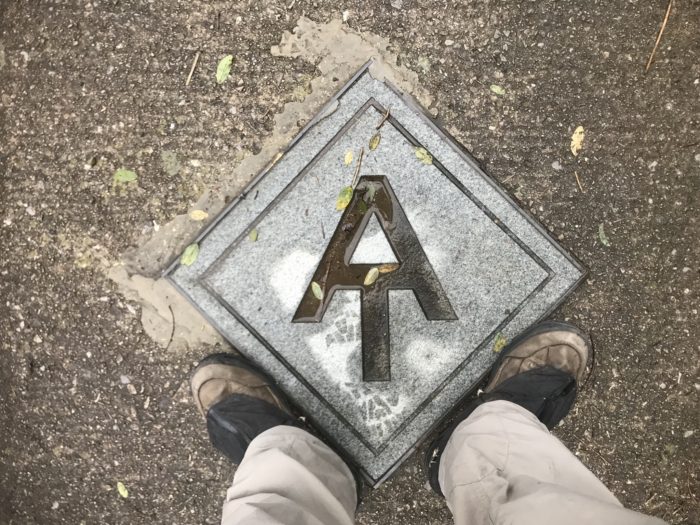 My first night away from Bill was 13 miles out, where I planned on staying at a small  mountaintop shelter. However, I found the shelter kind of gloomy and the wind quite strong there because of  its high position on the mountain.
Going slightly downhill to the nearby spring, I found that area to be  nicely protected from the wind, private, and attractive.  So that was where I chose to stealth camp.  (Photo shows site before I set up camp)
Even though I was off the beaten track, I knew I was not lost in the woods, being right by the shelter's spring. I  surprisingly had Verizon coverage, so I was able to let Bill know exactly at what mile marker on the AT I was located.  Even with the temperatures in the high 30s or low 40s, I slept like a baby for nine hours, thanks to my multiple layers of warm clothes, down sleeping bag, sleeping bag liner, and a thick insulating layer of duff and leaves beneath me.
The next morning, after doing my usual 30 minutes of stretching/yoga under my tarp, eating breakfast,and packing up my pack, I left camp at my usual 8:30 a.m., after two hours of prep.
The next day's hike took me up a mountain for several hours (as they almost always seem to do) to Max Patch. This wide, grassy bald is one of the favorite spots on the AT because of its expansive 360 degree view of the surrounding mountains.   I couldn't help but look with trepidation toward the southwest, at the towering Smokies  that were now all the closer.
A kind local left trail magic for long-distance hikers.
But close at hand was a surprise. A man's voice called out my name. It took some reminders for me to remember who he was. A year and a half ago I had camped at Versailles State Park in Indiana for one night to do some training on their hiking trails. Next to me in the campground were two friendly guys,  Tom and a friend, with the same plan in mind. So we joined forces on the trails the next day. Since then, he has followed my blog. This day, with his wife (happy anniversary!) by his side, he immediately recognized my face and voice on Max Patch.   What a great surprise for me. You just never know what will happen on the AT.
That afternoon, I was tempted to stop early and camp before Groundhog Creek Shelter, where I planned to stay. But something kept me pushing onward to my destination.
And I soon found out why I was supposed to go there:  a new friend awaited.  There were just two of us camping by the shelter that night: me and a very friendly German woman. We hit it off quite well and had many enjoyable conversations and similarities. It was a real plus to the trip.
Before she left, I insisted she take half of my neon orange scarf to attach to her pack during this deer and bear hunting season.   See below a photo of me with all my orange gear, taken ten days later. (Stocking cap either worn on head or used as holder for raincoat on top of pack)
The next day was to be a nero, nearly a zero, with low mileage (seven miles) and a chance to prepare for the Smokies.  I was seeing some more fall colors starting to appear.
As I approached another bald, I wondered what I might see at the top.
Something quite unexpected and surprising.
I had been looking forward to staying at  the infamous Standing Bear Hostel, the last lodging before the AT's northern entrance into the Smokies. And it didn't disappoint. I'd call  this place fun and funky.
I had a bed in the bunkhouse (just me and six  guys… typical on this trail), and washed my clothes with soap and a washboard.
Happily they had an electric clothes dryer  to finish the job.   The hikers came together around a campfire for hours.
Well, the day of reckoning had finally arrived: let's go to the Smokies! To add to the pleasure, there was rain (in a story or a book, this would be called foreshadowing ). After an early breakfast with a new friend,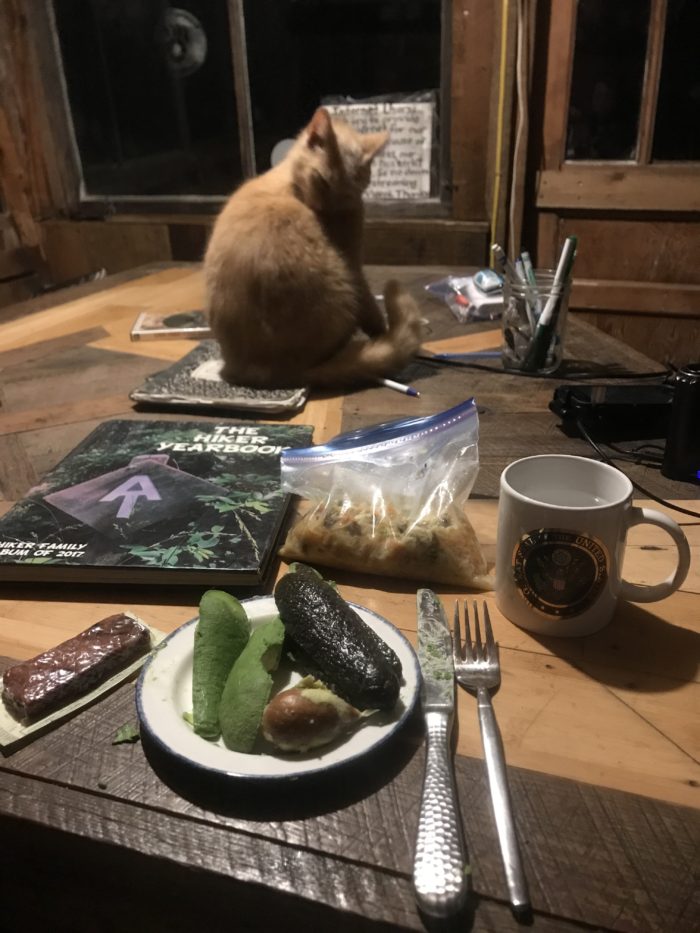 I donned a free poncho found in the hikers' box to  improve the efficiency of my expensive rain jacket.  I was as ready as I'd ever be. Forward,  charge!
First off,  I had the very rewarding experience of walking under I-40. This sounds silly.  However, on the way to Florida many times, I have seen the sign on the highway above indicating the Appalachian Trail passage below.  I had wistfully wondered each time, "Will I ever get there?"  Well, I was there at last.
Now things began to get serious. With the rain,  the trail was less than attractive.
My previously purchased permit for hiking through the Smokies was dutifully placed in the collection box.
I had a momentary diversion, meeting a group of volunteers who were preparing to haul up supplies on this sled to a shelter a few miles up the trail. A new roof was to be installed. The volunteers are amazing people, particularly in this weather.
I now settled in for my day's work:  a grueling uphill for over seven miles, 3,700 feet of  elevation gain, and what must have been 1,000 or more %#$@&!!! steep log steps.  I hated those log steps.
Also the ever present roots and rocks.
Despite my hatred for the present path, there was some beauty to be found close at hand.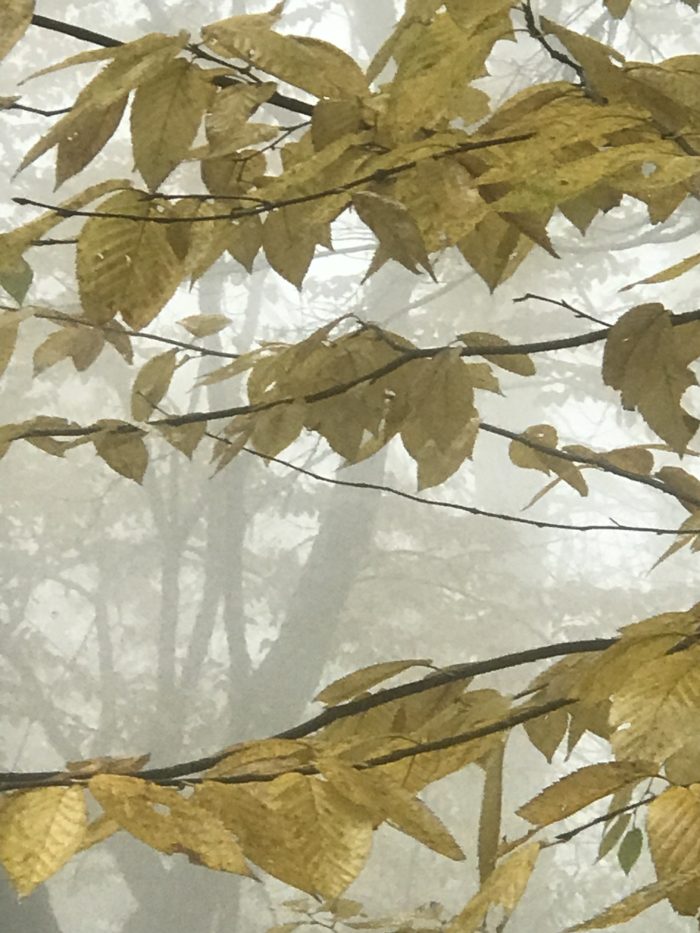 However, the scenic overlooks gave a nice view of white.
Finally, after nearly 11 miles of this "pleasure" (There was some downhill of course, too.),  I arrived at Cosby Knob Shelter.   This was typical of Smokies shelters, at least on the Appalachian Trail:  stone building with an interior fireplace,  two levels of wooden  sleeping platforms, a cable system for hanging food bags out of the reach of animals,  a nearby water source, and a privy (outhouse).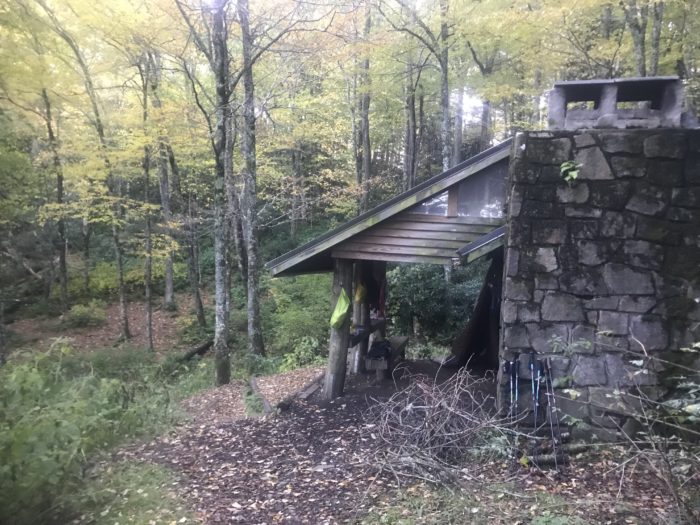 I quickly claimed a corner of the shelter, hoping that would make it cozier and warmer.  The prediction was temperatures in the teens.  We ended up having 11 people in the 12-person shelter, with a roaring fire and a tarp that could be because pulled across the front to help hold in some of the heat.
That was very helpful… for a while. It was a very cold night, certainly in the teens.  The next morning at 8 a.m. it had warmed up all the way to 20 degrees, which made your hands hurt if gloveless.
The next day was very cold, and I walked along bundled up, but admiring the frost along the way. There was some beauty here, I had to admit.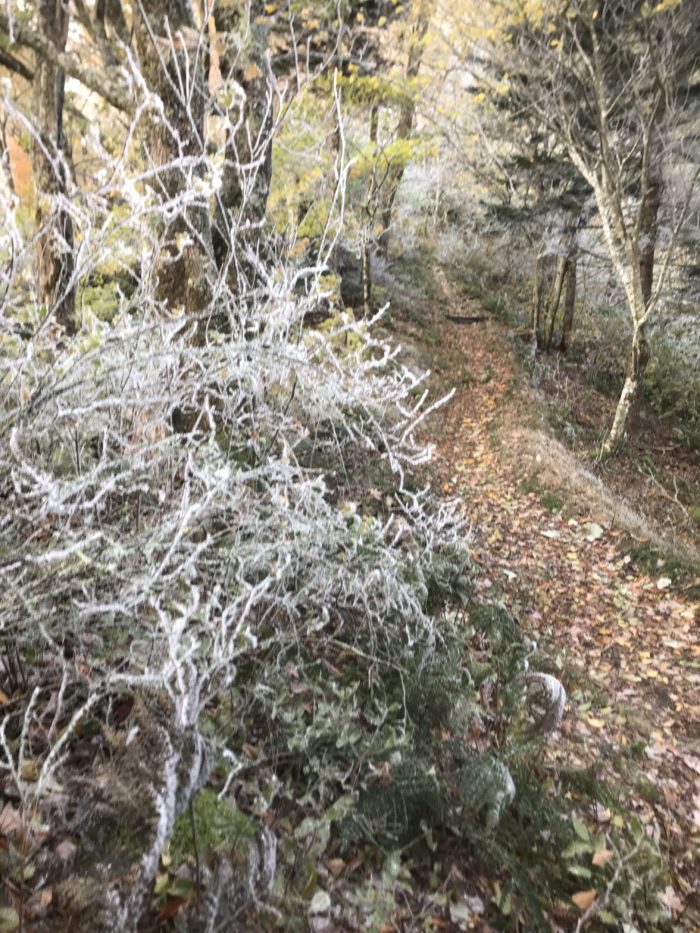 One interesting encounter was with the gentleman I met who is one of the 580 members of the 900-milers club of the Smokies. These people have hiked every mile of the 900 maintained miles within the park in order to get a certificate, a patch, and a bumper sticker. Which is more than I'll get  after hiking the 2,180 miles of the AT.
I found this northern portion of the Smokies to be slightly spooky at times, with its thick growth of pine trees and moss.
The day was slightly longer at 13 miles  and my second shelter looked similar to the first, with some of the same people. We eventually had a full house of 12 people again.  The temps weren't quite as painful, but I still tucked myself tightly into my sleeping quilt.
My third day in the Smokies brought me to  Charleys Bunion, a scenic point where some brave souls sit high atop large boulders, admiring amazing views. I kept my feet firmly on the path.
The main highlight of the day was seeing my dear daughter walking up toward me from Newfound Gap parking lot. We had two nights ahead of us as she shared my zero day in Gatlinburg with me.
At the entrance to Gatlinburg, people were lined up staring up into the trees at two bears that were busy stuffing themselves with nuts for their long winter's  nap. The people were comical, the bears unimpressed. These were my 16th and 17th bears to see in all.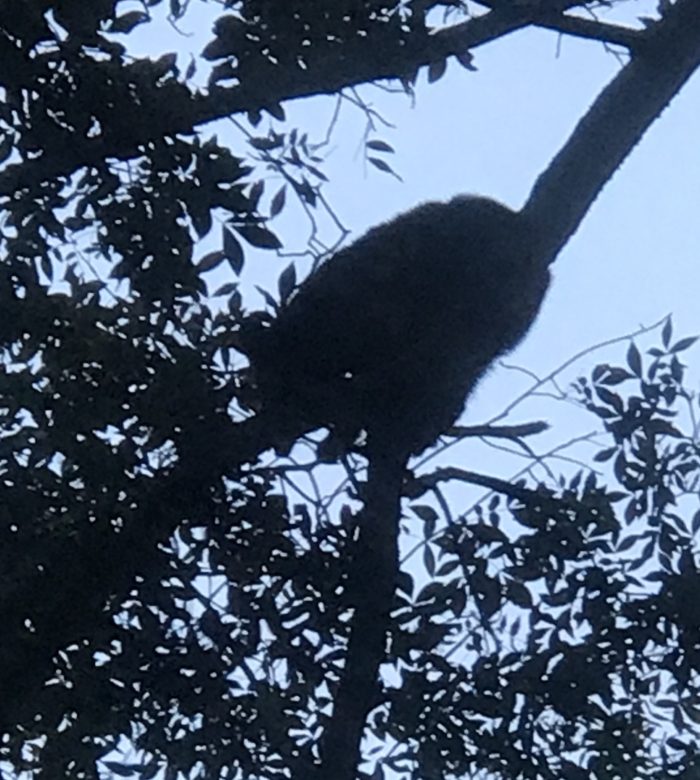 We enjoyed a delicious steak dinner, gluten-free pancakes (oh joy!), a movie ("A Star Is Born"), and walking down the strip in Gatlinburg. It was wonderful.  You can blame this dear daughter for the lack of a blog post last week. We were just having too much fun.
All good things must come to an end, and I had three more nights waiting for me in the Smokies.  After bidding my girl goodbye, I pushed south from Newfound Gap. It was still cold up here but happily dry… for now. (More foreshadowing)
This day involved a continual gradual uphill to get to Clingmans Dome, the circular lookout tower which, at 6,612 feet, is the highest point of the AT. It was a beautiful clear day with a views all around. I was lucky.
This night's shelter was very similar to the two previous stone shelters. But what a fun lively group we had! We topped out at 12 people, which the shelter could handle, and had a fire again, lots of chatter and laughter before everyone settled down by 8:15, a quarter hour past hikers' midnight.
For some unexplainable reason, the trail wasn't quite as hard the next day, but the weather was indicating there would be rain. I was happy to get into my shelter a bit early (yay, short days!) and met Micah, an interesting fellow who has lived and traveled overseas extensively. Needless to say we had a lot to talk about as we watched very bold chipmunks fly about this shelter grounds.
The shelter eventually filled up, as did the other shelters, including a very lively group of six fellows from Florida, who cooked their dinners by the light of their headlamps, due to a late arrival.
During the night, a terrible wind and rainstorm developed. It sounded like branches were being thrown on the roof of the shelter until I realized it was the Florida groups' folding camp chairs blowing around in the front of the shelter. I found myself shaking, not just from the cold but from the fear of the sounds outside and the dread of having to walk in it tomorrow.  I truly thanked God that the shelter was made of sturdy stone and that nearly all of these people would be heading the same direction as I was, so I wouldn't be alone  in these conditions on the trail tomorrow.
And it was a lousy day. Strong wind,  horizontal rain, trails full of slippery wet roots and trails that became streams that you simply had to walk in.  It was the, if not one of the, least favorite days I have had on any trail.
My fifth and final, FINAL, shelter in the Smokies again filled up. The Florida group made a late, soggy entrance, much more subdued than yesterday's arrival. One guy simply opened his sleeping bag, climbed in, and was out cold. The folding  chairs made an appearance again, but this time there was no wind to blow them around.
It wasn't as freezing cold as the past few nights  had been, but it always seems to get colder just before dawn,  right about when you need to crawl out of your sleeping bag. Get me out of the Smokies!
The rain continued all day as I went downhill all  afternoon to Fontana Dam,  the largest dam east of the Mississippi River.  I was happy to say no thanks to the permit collection box that I passed at this southern entrance for the AT.
As I approached the Fontana Resort where I would spend the night in a wonderful, dry, warm bed, I passed one of the nicer shelters on the whole trail. It's affectionately called the Fontana Hilton, because its nearby restroom has flush toilets, real sinks and hot showers, thanks to the hydroelectric dam. There's even a solar phone charger.
My shuttle from the dam to the resort was less than glamorous: the back of a pickup truck, sitting amid some trash. Thanks, guys.
But the resort did not disappoint. I didn't get photos, because I was just  so happy to be in such a clean, dry warm place. At the restaurant,  I saw the Florida group of guys all cleaned up and back to their lively selves, and enjoyed dinner with two other fellows that I had shared two of the shelters with. We were all pleased to be moving on.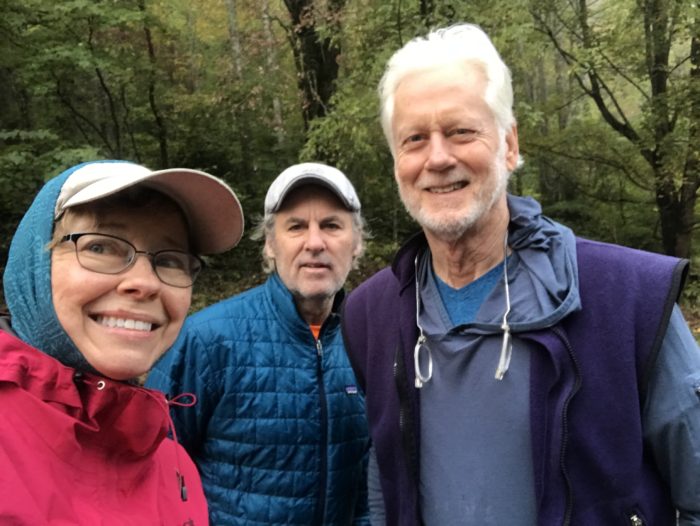 And how was it the next few days after leaving the Smokies? Was it the change that I had hoped it would be?  Check back in about a week and a half for my final post.
One final bit of foreshadowing:
Affiliate Disclosure
This website contains affiliate links, which means The Trek may receive a percentage of any product or service you purchase using the links in the articles or advertisements. The buyer pays the same price as they would otherwise, and your purchase helps to support The Trek's ongoing goal to serve you quality backpacking advice and information. Thanks for your support!
To learn more, please visit the About This Site page.