Day 146 – Its About Notching Time
I was treated to a small thunderstorm overnight. The rain was minimal but the flashing lights were visible long after the storm had passed. Overall I slept pretty well. I got up early around 6ish and was up and walking before 7:30. If the previous days were any indication, today would be another slog.
The clouds from the previous nights storm hung around and left the morning air crisp, cool, and pleasant to hike in. I remained up around 3500 feet in elevation as the trail traversed mountain tops. The morning rays behind the clouds cast a colorful sunrise well past 9AM.
I made the descent into Mahoosuc Notch around 11:30AM. I knew to expect some bouldering and tight squeezes but the scenery took me by surprise.
An absence of wind allowed mist to hang in the air from trees and from breath, visibly lingering in the canyon. Boulders bigger than mini vans are strewn and stacked about like toy cars discarded in a box. Upon these boulders moss and trees grow at angles that defy gravity.
Streams gush in underground rivers beneath the rocks. Sometimes sounding like flushing toilets, sometimes sounding like toilets filling back up. Maybe I just needed to pee?
It took me the better part of an hour to navigate the playground of boulders. Up, over, under and between. Trek poles were tucked away and there were many paths available to take. No right way to go, definitely some wrong ways to go. Some paths lead to steep drops, and to rocks at odd angles below.
Most of the rocks were damp, covered in moss, and footing needed to be measured with each step. It was a fun section, it probably would have been more fun without such a heavy pack I thought to myself. After exiting the Narnia of a canyon, I was greeted with the steep climb up Mahoosuc Arm.
Just shy of 2000 feet in elevation the climb was challenging but my legs felt strong. Along the way I ran into Kodiak. She had flipped up to Maine to start heading SOBO when we were in NY. I had been wondering when I might run into her as we said we'd 'high five' as we passed each other.
Following the crest was a lake I'd been looking forward to for a few days. Speck Pond and shelter are located high up at 3400 feet. I was really impressed with the craftsmanship of the shelter as many of the supports were entire tree trunks with branches incorporated into the roofline supports.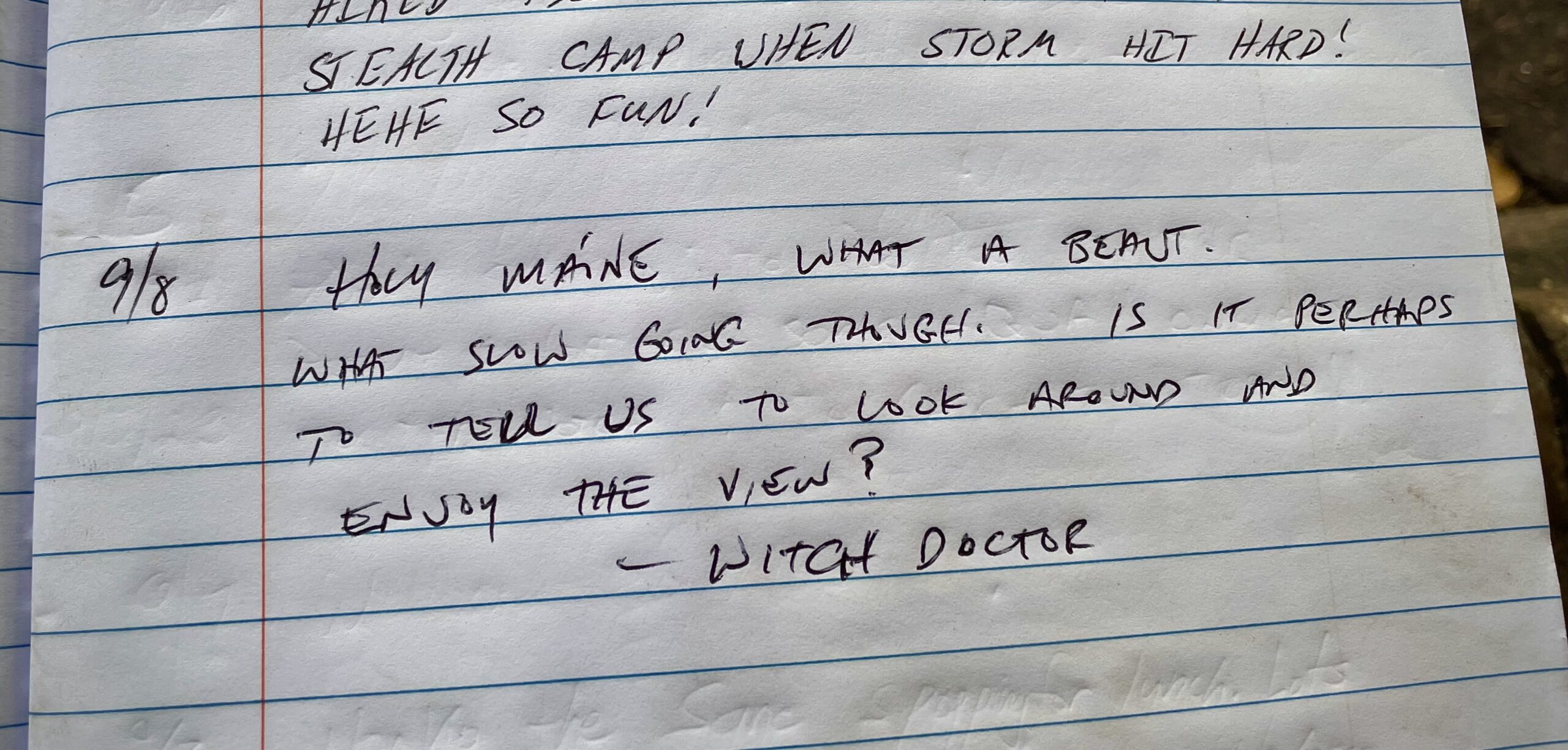 Pony and Queso met me there and we took a dip in the refreshing waters of the pond. There was also a beaver dam we had to walk across to get there which was interesting.
The highest point for the day was the 4k Old Speck Mountain. I got some service at the top and a flood of messages from Hot Feet. He reserved us bunks at a hostel in Andover. Which one? He didn't say.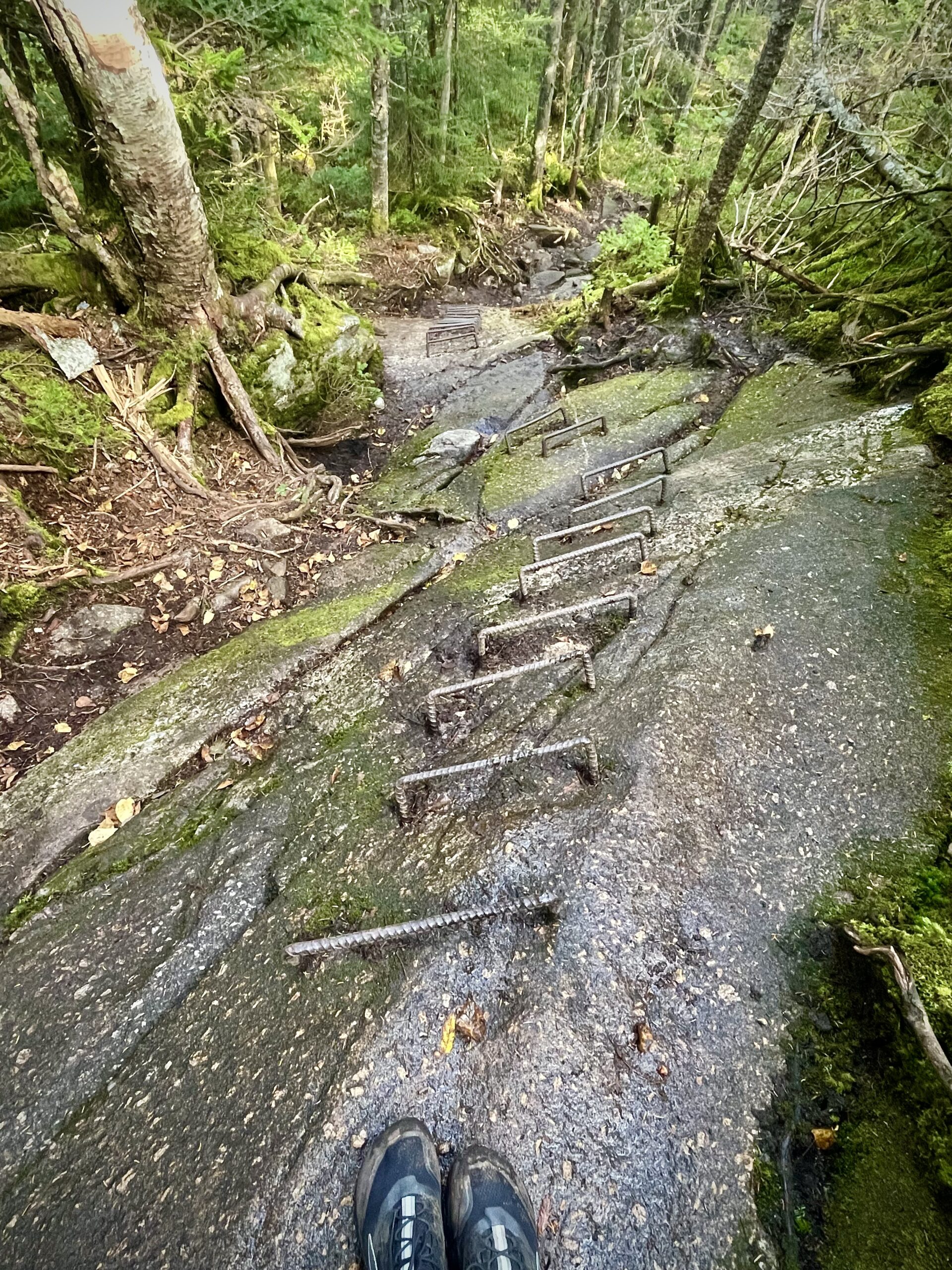 I raced down the mountain hoping to catch a shuttle at the parking lot 3.5 miles below. When I arrived the last shuttle was gone, I had zero service, and 2% phone battery. Pony and Queso arrived shortly after and we managed to get a quick hitch into Bethel, ME.

They were staying at a motel with no additional vacancy. Shuttle drivers we're quoting me 70$ to get to the hostel. I appeared to be in a pickle. The motel owner however offered me to drive me there for 45$ so I took him up on the deal*.

There was no fast food or delivery options along the way or still operating by the time I arrived at the hostel. After a shower, I made some ramen noodles with tuna and butter. The scale said I have dipped below my (personal) minimum acceptable weight of 170 and now weight 168.8. I'm going to need to resupply and will need to pay more attention to high calorie dense foods and force myself to eat more throughout the day.
I downloaded the final map on FarOut for the AT and back flushed my water filter at the hostel. At present I'm 87.85259% complete with the AT. Katahdin is a little over 2 weeks away.
Stow away in my pack for Day 147 on the Appalachian Trail.
Affiliate Disclosure
This website contains affiliate links, which means The Trek may receive a percentage of any product or service you purchase using the links in the articles or advertisements. The buyer pays the same price as they would otherwise, and your purchase helps to support The Trek's ongoing goal to serve you quality backpacking advice and information. Thanks for your support!
To learn more, please visit the About This Site page.