Days 84-92 The Virginia Cruise Part 1- to Rockfish Gap
The one thing Glasgow is missing but sorely needs is a breakfast diner. All good southern trail towns should have a place that serves biscuits and buttery grits. Alas, Glasgow has everything else so I'll forgive this transgression. And we had leftover pizza for breakfast, so it's not like we suffered too terribly. After eating and packing up, we struck out for the trail.
Since we stayed at the town shelter instead of the hostel (lesson learned), we didn't have a free ride back to the trail without hitching. Charlie did ride by once and offered us the $5 ride back.. but we'd already done that once and decided to take our chances hitching. Treebeard and Shadow were also trying to hitch at the same time so we combined forces.
Turns out trying to hitch at 9am on a Sunday in small town Virginia is challenging. We stood on the corner for quite some time… just when I was starting to think we were gonna be taking Charlie up on the ride the next time he came around, Shadow managed to get all 4 of us a ride in a big truck at the head of like an 8 car caravan of kayakers! He dropped us  off about 0.5 mi away from the trail, so we did have a rather sketchy road walk, but it was pretty.
In February Pinky and I did a shakedown hike from Reservoir Road south to the James River Footbridge. It took us two nights. We planned to do those entire 17 miles in one day. It tickled us to be able to do this.
The first climb made me sorely re-think this choice. It was again hot as hell and the climb was *steep* and long. Somehow we made it up and were rewarded with a wide view back over the river and all the way to Apple Orchard Mountain (the Epcot tower made it easy to identify.)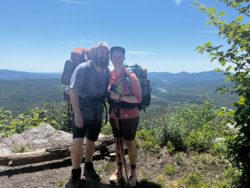 After a break and a good long drink of water we set off again. I continued to struggle on all the climbs across that ridge but the power of The Lord of Rings audiobook kept me moving.
Finally, we made it to the end of the climbing part and began the descent to Punch Bowl shelter. We made it there late and took a long break with lots of water chugging. There had been no water since the last shelter, like 9 or 10 miles back. Did I mention how hot it was that day??
We ate a late lunch and thoroughly enjoyed listening to the hundreds of frogs croaking away in the pond next to the shelter. We considered staying and listening to the frogs all night but we really wanted the satisfaction of hiking this whole section + we wanted fewer miles to do in the morning to our rendezvous point with my mom and Suze. So, we pushed on.
Along the way we passed the 800 mile point!
Eventually we made it to the foot bridge at Reservoir Road, crossed it, and found the most awesome sneaky side trail to a *huge* campsite next to the river. We had the whole place to ourselves!! We ate dinner then fell asleep listening to the water and watching fireflies dance around our tent.
In the morning we only had 6 miles and some change to do. We walked along the reservoir and then down to a beautiful creek, Brown Mountain Creek, which we followed for a mile or two. It had these awesome signs that told stories about the people who used to live in the area. I wish more places had signs that told me about the history.
We made it to our rendezvous point at about 11:45. We told my mom we'd make it between 12-1. We are never early for anything so we were very proud. We settled down with Swiss and Lightfoot to wait. We had been telling them about the trail magic we had coming for 2 days, they were almost as excited as us.
By about 12:30 mom and Suze still had not appeared. I'd texted them when we arrived but didn't get a response until then… Apparently I had not communicated our intended location clearly enough and they went to the wrong place!
I had sent my mom two locations, one our intended meet up and the other a possible location for them to pick us up after we slack packed. I did not include these specifics in the text message. They had attempted to drive moms 21 foot RV, Veronica, up a fire road! And turned around when they hit a downed tree!! I got this info in text messages. I could not call them, I tried for an hour, and I could not tell if my messages including our actual location were going through.
By 1:30 they had still not arrived. I was worried their tenacity had actually gotten them up the fire road and they were up there waiting for us, with no cell service and no way to know we weren't coming. Luckily, a very nice section hiker named Frank's was at our gap doing trail magic. I asked him nicely if he would mind driving me on a rescue mission to the fire road crossing. He gamely agreed and we set off in the big truck he was driving.
We had a very fun drive and I learned he was about to move to Richmond! Unfortunately/fortunately my mom was not on the fire road. On the way back, I got 4 messages from Suze that all said "On the way!"
When we returned, mom and Suze had still not arrived. But I had enough hope to make it through the 10 more minutes before I saw Veronica coming around the corner!! What a relief.
We exclaimed, hugged, and began the business of pulling out all the food and drinks they had brought as trail magic. A few hikers were around and a few more rolled through. I think we had about 6-7 total join us for beers, water, home made banana bread, Miss Julie's Chocolate Chocolate Chip Cake, MYO wraps, and chips!
After we'd all eaten our fill, and mom and Suze had recovered a bit from their ordeal, we decided to make our way towards Buena Vista for the night. Day Owl joined us and we dropped her off at a hotel in town. Then we headed to the city campground.
The campground was lovely. It had a multigenerational pack of geese that we thoroughly enjoyed watching. Pinky and I took showers and put on "loaner clothes," courtesy of Wayne's closet. Mom and Suze made us a delicious dinner. We planned for the next few days.
Mom and Suze intended to spend a few days with us and we wanted to take advantage of this opportunity for slack packing. But, we were going into a section that didn't have a Veronica approved road for 20+ miles. We had to get over and down the Priest before we'd hit a "real road." We didn't really want to do that long of a day.

I scanned through the Far Out way points and found the Fish Hatchery Road. With a 1.9 mile road walk we could make it down to the Montebello campground in 18 miles (16 on trail.) We decided to do this instead of spending one night on trail and meeting them on the other side of the Priest.

That first night we set up our tent next to Veronica and had a lovely night for sleeping outside. In the morning the sky looked clear and beautiful while we were packing up…
But as soon as we headed for the trail, clouds rolled in and we realized we were in for a wet day. It wasn't as bad as it could have been, it was mostly misty. We had a spooky walk across a grassy ridge where people just appeared out of the mist. We took a cold break on some rocks with section hikers Sriracha and Tortoise and shared some clementines with them.
Earlier than expected we found ourselves at the turn off to the fish hatchery road. It was raining. We were longing for the hard roof of Veronica. The walk down the road was steep and we were already dreading coming back up in the morning. We saw nobody on the road until we made it to the bottom.
There, we found 4 surprisingly friendly cows!
We said hello and gave them some pets. We got some licks from their long cow tongues in return.
We found our way to the campground. A few steps in and a man on a golf cart stopped to ask us if we knew where we were going. We had no idea. We told him we were meeting our mom but did not know where her campsite was.. he offered no assistance and drove away. 
Next, we met a hiker we did not know (later learned his name is Gandalf). He asked if we were Pinky and the Brain. He had met mom and Suze earlier and knew of our intended arrival. He did not know where their campsite was. We walked on.
We spotted Veronica across the lake and bee lined for her along the grassy bank. When we arrived we found her locked and empty! The across the street neighbors informed us that mom and Suze had walked away just minutes before to look for us at the road!!
We were too tired to chase after them so we sat down at our neighbors picnic table and started chatting. We learned they used to live in Richmond and have a daughter that almost certainly knows some of our friends through the Extreme Hike for Cystic Fibrosis. Small world!
After a short time mom and Suze returned! We slowly went about the business of showering and eating dinner. Tonight we had my favorite recipe of mac and cheese, courtesy of Suze. What a treat.
Since it still threatened rain we chose to sleep inside Veronica instead of in our tent. It was a somewhat tight squeeze getting all 4 of us in there but we managed quite comfortably.
In the morning we convinced mom to drive Veronica up to the Fish Hatchery to save us about a mile of our retreat to the trail. We got there after the Hatchery opened so we got to take a peek at the growing trout before we started!
The hatchery is run by the state and grows a ridiculously large number of trout for all the rivers, streams and ponds the state stocks with game trout. It's quite the operation.
After admiring the fish we began our "bonus mile" back to the trail. It wasn't as bad as we thought it would be. Pretty shortly we found ourselves surrounded by bright rhododendron and mountain Laurel at the side trail to Spy Rock. Of course we took it.
Spy Rock is a big ass rock with sweeping 360 views of the surrounding mountains. It was incredible. It's a popular hike in Virginia that I have no memory of ever doing. We loved it.
We covered the remaining miles to the summit of The Priest with less speed than expected. But maybe the right amount of speed, in the end. Around the summit we heard thunder and saw rain and dramatic clouds moving across below us, but we hardly got wet.

When we finally made it to the bottom we learned that most of the hikers who came out before us had gotten drenched!
Waiting for us in the parking lot was not only mom and Suze, but also Suze's husband Tom! Tom is not a camper or hiker and has always been very confused by my passion for the woods but he is very supportive nonetheless, we appreciates that about him.
We sat down and enjoyed a beer and some popcorn mom saved for us. They told us about the 35+ hikers (!) who came through over the course of the day. Then we piled back into Veronica and back to Montebello for showers, laundry, and dinner.
Suze went home with Tom that night, we couldn't convince him to stay in Veronica. Maybe next time. We settled in for our last night with mommy.
In the morning we made it back to trail much more slowly than on the previous mornings. We only had like 10 miles to do to Reid's Gap where Hannah would meet us to take us down to Devils Backbone for the night. We were not feeling any pressure.
Maybe we should have felt some. As soon as we began crossing the footbridge I felt a pain on my right hand. I looked down, saw the indistinct shape of a bug flying away and realized I had been stung! It's been longer than I can remember since the last time I was stung by anything! I did not cry. But it did hurt a lot. 
Lucky for me Pinky has been carrying a first aid kit that we haven't touched since a section hike 2 years ago when Venus got stung by something. He pulled out some sting ointment and I was able to get some relief. (Later it was so itchy and starting to swell, I took an antihistamine!) With this bad omen hanging over us we said goodbye to mommy. I actually cried a little over this.
Then we started climbing up the back side of Three Ridges. Other than the Triple Crown, Three Ridges is probably the most popular weekend backpacking trip in the state. It was my first overnight trip many years ago and was the first overnight trip I ever took Pinky on. We were pretty excited to be here.
The most popular way to do the hike is to start at Reid's Gap and do a loop of the AT and the Mau-Har trail. Thru hikers are often fooled into thinking the 3 mile Mau-Har trail is a shortcut… it's not. It's extremely steep, though it does follow a beautiful waterfall. Doing this loop as a weekend trip is great. Doing all of Three Ridges in one day, and northbound, is surprisingly difficult. The climb kicked our behinds. But we had *beer* and *Hannah* at the end, so we did our best.
We got to the parking lot almost at the same time as Hannah. Finally, a good omen. We headed down the mountain and into Devils Backbone camp. After driving around the whole place and into driveways where we did not belong, we eventually found a campsite and moved in. We chose to pay for a site instead of staying in the free thru hiker tent city since Hannah was camping out of her car.
We ate dinner, had some good beers, and got halfway through a very lopsided game of "Trains"- one of our favorite board games (actually called Empire Builder.)
When we returned to our campsite we made the devastating discovery that a MOUSE had chewed through the mesh in our tent to eat the pumpkin bread my mother had sent with me. Between our wet duct tape and Hannah's almost dry rotted trunk electrical tape we managed a sad fix to get us through the night.
In the morning, we finished our game (I *crushed* them), and started to head to the outfitter in Waynesboro to get a fix for our tent. But Hannah's car wouldn't start. Turns out, leaving the trunk open while we were hanging out the night before drained the battery. Luckily, Dylan arrived just in time and gave her a jump. Then we all headed to the outfitter together.
The Rockfish Gap Outfitter in Waynesboro wound up being a much longer stop than expected because they were *so nice.* They let us set up our tent in the middle of the store and helped trouble shoot the fixing of our mouse hole.
More importantly, they had multiple pairs of shoes in Pinky's big ass shoe size for him to choose from! He wound up with a swanky new pair of Altra's.
After the outfitter we got kombucha at Blue Ridge Bucha, amazing tacos from a truck down the street, and headed over to Lake Sherando for some lake floating and cushy car camping.
Dylan cooked the most amazing steaks over an open fire for dinner and we just generally had ourselves a lovely and relaxing evening.
We woke up to rain and packed up fairly quickly. Back to Waynesboro we went to get ourselves the diner breakfast we missed in Glasgow. Weasie's did not disappoint.
We said goodbye to Dylan then Hannah dropped us off back at Reid's gap. Saying goodbye to Hannah and Dylan was the first time I've truly felt homesick on this trip. It's so rejuvenating to be doted on by our friends and family, but I miss getting to see them on a more regular basis, and in our own homes.
After big hugs, we walked back into the woods. We had a chill 14 mile walk ahead of us, crowned with a climb up to Humpback Rocks.
The first hike Pinky and I ever went on together was up to Humpback Rocks. It rained the whole time. We got absolutely soaked and it was objectively not fun, but he is an unfailing optimist. He not only loved it but eventually agreed to go on this crazy adventure with me in spite of all the haphazard hikes we've done together over the years.
It rained on our way up to the rocks. But it was clear and beautiful when we got to the summit!!
We appreciated the view, stuffed some snacks into our faces and marched on to the shelter.
When we were maybe 5 minutes out from the shelter we heard a noise to our right… we looked and I caught the "tail end" of a BEAR!!! It wasn't much but it was our first bear sighting!!! This gave us the energy boost we needed to get through the final push to the shelter.
We were happy to find only 2 shelter occupants, Ninja Turtle and Captain Pack Ass. It was a huge shelter with plenty of space for us. We settled in for the night.
In the morning we got up with the intention of leaving by 8:30 so we could make our 11:00 meet up with Charlotte and Dwight at Rockfish Gap, just 5 miles away. It was not currently raining when we got up, though it had rained on and off all night. At 7:30 we heard the BIGGEST crash of thunder and shortly after the skies opened up. It absolutely poured for the next hour.
Needless to say we stayed put. And so did everyone else, plus a few wet tenters crawled in. We spent a lovely hour listening to a pair of hikers play guitar and sing under the crash of rain on the tin roof. Pinky got in a game of chess with Captain Pack Ass and I read a chapter in my book.
By 8:30 the rain was slowing and we decided to chance it. Within 30 minutes it was hot, humid and no longer raining. We cruised through the five miles and beat Charlotte and Dwight to Rockfish Gap by about 15 mins.
Charlotte and Dwight scooped us up for our most relaxing night off trail yet. We ate lots of good food, drank good beer and mead! We lounged by the pool in the afternoon and had a hot tub soak under the full moon. Without meaning to we slept in the next morning, we were so relaxed. They sent us off with bellies full of eggs, Georgia Ice Cream (grits), coffee, and pastries. Charlotte dropped us back at Rockfish Gap, we felt so ready to start the Shennies!
Affiliate Disclosure
This website contains affiliate links, which means The Trek may receive a percentage of any product or service you purchase using the links in the articles or advertisements. The buyer pays the same price as they would otherwise, and your purchase helps to support The Trek's ongoing goal to serve you quality backpacking advice and information. Thanks for your support!
To learn more, please visit the About This Site page.