The Extremes of My New Hampshire Experience
I'm not sure how to explain all of what I've been through the past 16 days. It feels like so much longer, given the wild range of experiences and emotions I have gone through.
Since last checking in with you, I have successfully followed every mile of the AT on its unbelievable course through the White Mountains of New Hampshire. Why unbelievable?  Since day one in NH,  these mountains have let hikers know in no uncertain terms that the game has changed. Enjoy the smooth trails of the most recent section of Vermont?  Kiss those goodbye, except in very, very brief interludes. Never let your guard down. They'll disappear in an instant when you're confronted with a 20- to 30-foot hand-over -hand scramble up smooth slabs of stone or huge boulders. Or perhaps you're going downhill. If you're me, you cling with a death grip onto protruding tree roots or branches on the sides of the trail as you look for secure foot placement, or prepare to sacrifice the seat of your hiking pants as you cautiously slide down on your butt.
I've never said I like climbing cliffs. Mountaineering isn't at the top of my list. Hiking and being in nature are what brought me out here. But the game has changed.
But the goal hasn't.  Hiking every mile of this trail is still my intention. Oh, but it's hard to not "cheat," especially when there was a gondola ride that would have taken me to a mountaintop and skipped one of the hardest sections of the Wildcat Range. It was highly improbable that any hikers I knew would have seen me descending from the lift. But I would have known.
OK.  Now that I've got that out of my system, let me try to summarize my AT experience through the Whites for you.
First, I have gone nearly three weeks since an actual restful zero day. Big mistake in my part regarding personal energy, but I wanted to get the whole section done during optimal sunny weather. Mission accomplished. Just one rainy day and night of camping.  We have had exceptional weather here.
This part of the trail had several distinct sections:
Mount Moosilauke, which I tackled slackpacking (with a light day pack), heading south back to my previous night's shelter because it was easier and actually fun that way…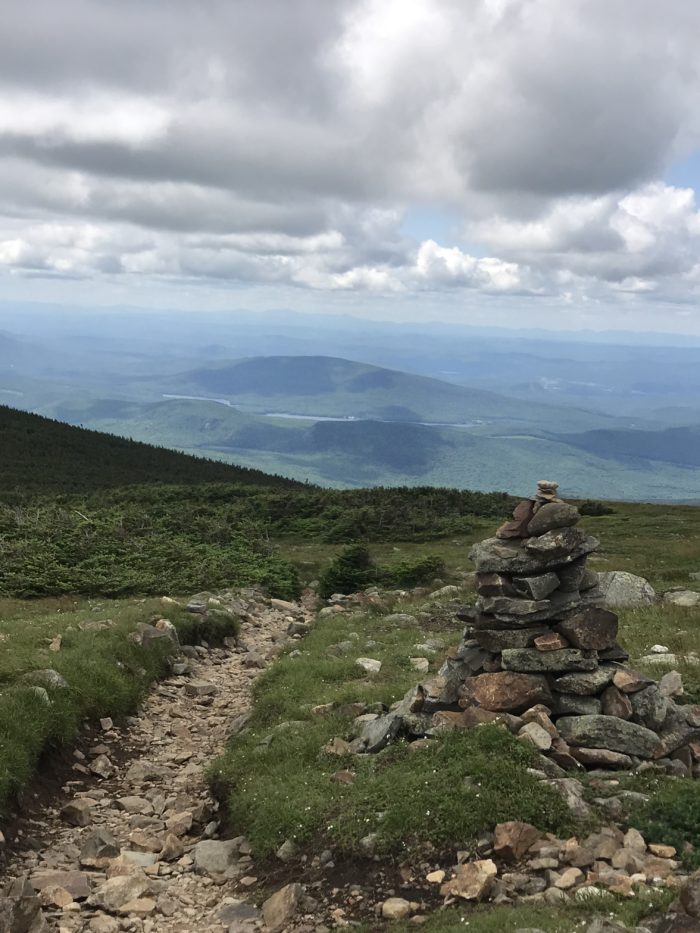 the Kinsman Peaks (whose names will never be uttered by my lips again), with their unbelievably challenging vertical slabs of stone and continuous uphill beds of boulders to climb…
The hours-long, quite popular hike up to the stunning Franconia Ridge, whose top looks flat in photos but truly isn't…
the Presidential Range, named that because you go from peak to peak named after some of our notable commanders in chief, with soaring Mtount Washington as its cherry on top…
.
The endless hike over Mount Madison and then down its rocky ridge, picking the least dangerous footing in the boulders…
the Wildcats, a hellish little range that no one thought to warn me about, perhaps for the best…
leading to the Carters, which aren't as cruel, but exhausted legs and spirits still suffered…
which leads me to where I presently am, hiding out and resting up at the fantastic Rattle River Hostel in Gorham, NH.
With these dramatic mountains as the background for this drama, the settings for these two weeks were amazing.
I camped with new trail friend Kodiak by a stream, while the rain fell and what Kodiak believed to be a bear grunted past our tents during the night.
Setting up my tarp on a wooden tent platform at an AMC (Appalachian Mountain Club) shelter/campsite was a successful challenge.  The shelters are manned by a youthful employee of the AMC in this stretch, keeping the campsite in good order.  Great system, in my opinion.
The arduous  day of summiting and descending from towering Mount Washington was made a bit easier with the knowledge that I had managed to snag a vacant, often fully booked bunk at an AMC hut at each end of that trek, as well a third bunk when transitioning from the hellish Wildcats to the merely tiring Carters.
The evenings at these huts were restorative, with their upbeat crews, delicious meals (customized for me, GF and dairy free), and mixing with families and day hikers.
Exceptional hostels filled many needs, with knowledgeable staff with good trail advice, laundry facilities, nearby restaurants and supplies, and the comradeship of fellow long-distance backpackers.
The cast of characters of this drama were all important.  As I grew wearier and wearier with each day,  my spirits bounced from sky-high elation with the mountaintop views, wonderful weather, and snaring the bunks at the huts down to sobbing alone and with poor unsuspecting southbounders who made the mistake of saying, "Hi, how's it going?"
I staggered into the present hostel unable to do more than cry aloud and slobber on the Popsicle they gave me.
But I managed to get this far because of the marvelous people who were directed my way.
Unfortunately,  most of these usually turn out to be just short relationships, given different speeds of hiking, zero days, etc.
But a new alliance has been formed, which I have great hopes for.  On my first day in NH, I met a Swiss couple that I immediately liked, Freeman and his wife, Maura, who was their English speaker.
Long story short, Maura is back home and Freeman is hiking on with his very limited English.  We have met up again at this hostel and have agreed to go all the way to Katahdin together.  We can both help each other. He is willing to go along with the modest mileage of the itinerary I have for the next month because it still gets him home in time for a family wedding.  I can help him deal with the English challenges of successfully completing this trail.
This partnership is saving my hike.  I was one step away from giving up because of  the challenges of the route  and a recently hurting right hip. I realize now that I was exhausted and frightened of much of the terrain during the 12 miles above treeline in the Presidential Range of the Whites.  But with a partner there with me now,  I feel I can make it.
Thank you, readers, for your support.  I have been approached three times in the trail by folks who have instantly recognized me and told me how much  they have enjoyed following my blog.  Words can't express how much this has meant to me.  Each person came precisely at a moment when I was in dire need of encouragement.
Thank you for  being there for me, husband, son and daughter, sister, friends, readers.  I will give this my very best effort.
Affiliate Disclosure
This website contains affiliate links, which means The Trek may receive a percentage of any product or service you purchase using the links in the articles or advertisements. The buyer pays the same price as they would otherwise, and your purchase helps to support The Trek's ongoing goal to serve you quality backpacking advice and information. Thanks for your support!
To learn more, please visit the About This Site page.