From Section Hiker to Thru-Hiker
The first time I set foot on the AT, I was 23, and I was accompanied by my boyfriend, Burt, and our Norwegian Elkhound, Lola.  It was our first time ever backpacking, but we felt relatively confident to try a section hike because we loved hiking, and we loved camping.  As separate activities. I grew up with the central West Virginia woods as my playground, and had spent a significant portion of my life running around barefoot in the woods, carrying absolutely nothing.  Surely those "skills" would translate to backpacking, right? 
Truthfully, in some ways, they absolutely did.  But I was in for a rude awakening.  
The First Section Hike
Our first section hike was really a leapfrogging act between the northern boundary of the Smokies, and Hot Springs, NC.  We had to ride over six hours just to get to a parking lot where we could ditch the car, then we immediately strapped on our packs and started walking up this giant hill that wasn't even actually the AT, but was an approach trail to get to it.  Although the moment was vaguely shimmering with excitement, we were mostly feeling a sense of urgency because it was already starting to get dark, and we were about to be alone in the woods.  Woods with bears!  And oh! How heavy the packs were! And we were so convinced that we must move as quickly as possible because surely we were in some kind of danger.

It's laughable now how immediately our bodies switched into fight or flight mode. 
Despite the frantic beginning, the three of us proceeded to have a totally freeing, humbling, and fulfilling experience.  Ultimately, I came off trail knowing that I wanted to somehow hike the entire trail in one way or another.  I convinced myself that I probably would never be able to do the whole thing at once because Burt wasn't into that, and I definitely wasn't into backpacking without him.  So I decided we would spend our lives section hiking the AT.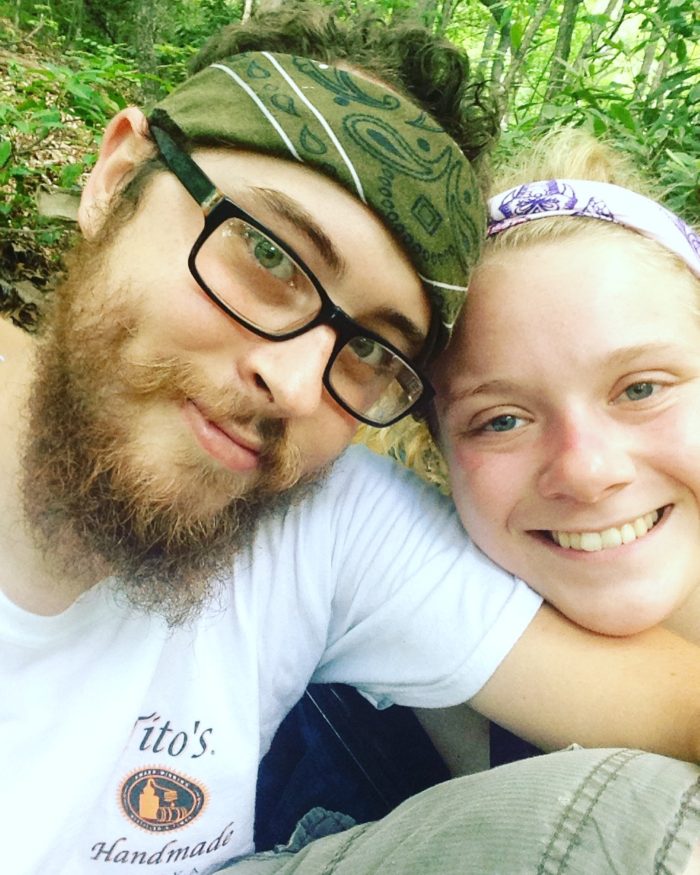 Section Hiking Splendor
We only went on one more section hike together.  It was becoming more and more clear that he wasn't into it, and I was so into it, and I was questioning a lot of things in life because we were so opposite on this thing that was extremely important to me.  I was hashing it all out with one of my yoga teachers, torn because I love him so much, but he doesn't want to do this hike with me.  And she asked me, "Why do you need to hike with your romantic partner?  Why can't it be with a friend? Or by yourself?" 
Her saying that was really all I needed to give me that boost of confidence to conquer this dream as my own dream.  Not our dream.  
The next time I went out, I met up with one of my friends during his NOBO thru-hike.  At this point I was still sure that I was just a section hiker, but he kept telling me I really just needed to let go of any excuses I had, and do the whole thing.  It was convincing, too, because I was able to see such a beautiful change in him since the last time I had seen him before he went on trail.  After a few days together, he was going to keep going north, and I was going to head back south to where I had parked my car.  Totally alone. 
 I was weepy that morning as I hugged him goodbye and we parted ways.  There I was, for the very first time, alone in the AT with no boyfriend, no friend, no dog; just me.  The tears were flowing as I played Althea by the Grateful Dead on repeat for 20 minutes while I texted back and forth with my mom.  Once that initial sadness and loneliness wore off, I came to find that I not only did OK alone, I actually preferred it.  What a surprising relief it was to literally only have to worry about just me.  That was when I began to envision a reality that was me being a solo thru-hiker.
My last section hike was the catalyst for it all.  It was just me and my dog, Lola.  We hiked alone for five days, my head swimming the thoughts of how beautiful it was to be back on the AT.  How long it would take me to section hike this whole trail with weak legs every time.  How free I was in the woods.  How capable I was. How could I really make it a reality? A true thru-hike?  
When the Stars Aligned
When I got home I received two pieces of news that sealed my decision.  1. My income based repayment for my student loans would be $0 a month for 2019. 2. I was not approved for a loan to buy a house.  
What did I need a steady job and whole bunch of money for if I didn't have to worry about those two things? 
I'm very lucky to be in a relationship with someone who has helped me on this journey of unlearning about independence and codependency.  Burt is so supportive of my journey, and having him at home to support me from afar is a huge deal.  
I'm thankful for the three years it took to manifest the stars finally aligning and bringing me here to this moment.  I'm especially grateful that I had the ability to truly realize and honor that this time has come, and it is now or never.  
I'm so excited, and so nervous! I'm ready to experience the hike I am given.  
Affiliate Disclosure
This website contains affiliate links, which means The Trek may receive a percentage of any product or service you purchase using the links in the articles or advertisements. The buyer pays the same price as they would otherwise, and your purchase helps to support The Trek's ongoing goal to serve you quality backpacking advice and information. Thanks for your support!
To learn more, please visit the About This Site page.
Comments
2
I totally understand that desire to do something like this but having a partner that just isn't quite as into it as you. I also relate to the sadness of that initial goodbye before setting off… Good luck!

Thank you for the well wishes! Goodbyes are hard but I know it's how we grow!