Inside the Mind of This Thru-Hiker on a Typical Day
A New Day, the Best of Intentions.
Okay, up and at 'em!  A new day on the AT and it looks like beautiful weather.   I'd love to get 20 miles done today if I can.  Gonna try really hard to cut my usual morning routine of breaking camp down from 1.5 hours to an hour.  I know I can do it.  Stay focused and efficient.
Yeah, right.  You've said this every morning.  You always spend way too much time obsessing about putting your stuff into the backpack in exactly the same spot as every other day.  Would a little change hurt things?
Okay, so it was 1.5 hour again, But, hey, I did get in my yoga in, under the trees.  That's really important for longevity on the trail, isn't it?
And I know exactly where my sunscreen and hand santizer bottles are. Bottom left corner of back mesh pocket of backpack.  In alphabetical order.
Finally on the Trail.
Ah, the trail is so fresh and beautiful at 7:30 am.  I'm so fortunate!  This is so wonderful!   I love life!!!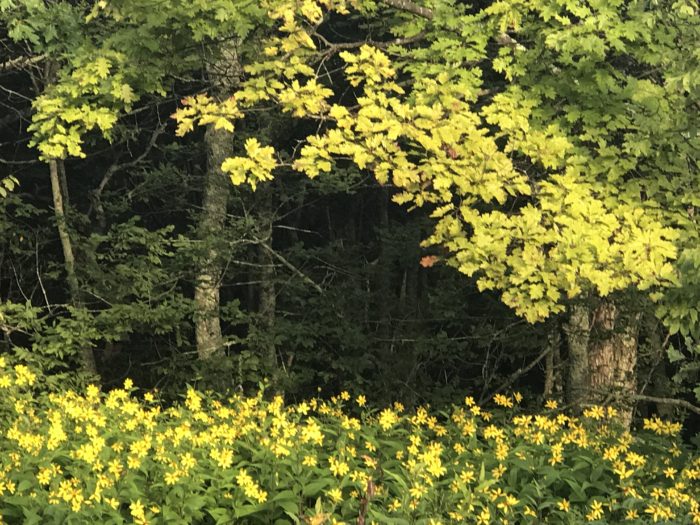 Except that no one else has been on the trail before you this morning, and  you're getting all these spiderwebs across your face.
Wow, this is such a great time of day to see wildlife.  Listen!  Is that the distinctive crack of twigs?  Yep, there's Bear #13!  Stop moving and slowly, slowly get phone out of waist pouch  Got it!  That's gotta be my best bear photo so far!  This is so very cool to be having this quiet moment with a bear in his natural habitat.
Okay, isn't that enough time?  What more are you expecting — for him to put on a clown hat and ride a unicycle for you?  Time to get moving. 
Let the Delays Continue.
It's always interesting to take a couple of minutes talking with other hikers on the trail.  These two lively ladies's foot attire immediately caught my eye.  They are sisters who each had foot pain on opposite feet.  So they traded shoes and all worked well.  They also happened to come from the same neighborhood in St. Louis where my Granny lived.  Conversations can often reveal surprising links with folks.
But you can certainly tell the difference between day hikers and thru-hikers.  The thru-hikers have a more intense,  weary, perhaps haggard look to them.
Hello!  It's also fun to chat with the occasional trail volunteers.
These folks were repairing "water bars,"  rocks or logs that direct rainwater off the trail to prevent erosion.
I sure do appreciate the 31 volunteer trail support organizations that take care of the shelters and 2190 miles of trail.  I hereby pledge to help at Red River Gorge in the future.
Yeah, like that will really happen.      Stop talking to everyone. 
Being in the Moment
Okay, I'm realize that I'm in a daze,  just watching the immediate trail in front of me.  I don't want to trip on something, but there's a whole forest out there to admire.  Gotta be more in the moment.
So, look right…
Now look left….
Looks pretty darned similar to what you've seen the past 300 miles, doesn't it?  Watch the trail and move along.
Ooh, ooh, what a cute little mushroom right by the trail!  Gotta stop and take a photo for our young neighbor, Fiona.  She loves fairies and this looks like it'd totally belong in Fairyland.  Take off pack and get down on all fours to get just the right angle.
Just as you've done countless times before.   Is this really necessary?  The photo isn't going to turn out as brilliant as you seem to think it will.  You're certainly not going to make 20 miles today.
Okay, I've been out a couple hours now.  Time for a snack and taking a load off for a couple of minutes.  Sometimes there's a rock to sit on, but I saw a sign for a shelter ahead just .7 mile.  I've got an idea!  I'll play a game and estimate my mileage as I approach, guessing my speed and counting  down to .6 mile, .5 mile…
Okay, got the math thing figured out.  Just do it and move it.
Ah…nice to sit down and take the pack off for a couple of minutes.  Dig in pockets for one of my two bars for the day.  I feel like being "Kind" to myself this morning.  Ha ha, I love my humor.
Eat and go, please.  You're not that funny.  And you really could have eaten that bar while walking.
Way Too Much Spare Time to Come up with Profound Thoughts
Back to looking at the trail again as the miles slowly roll by.  Uphill, downhill, flattish.  I'm realizing that there are certain surfaces that are easier to walk on than others.  The very best surface of all, IMHO, is dirt covered by pine needles or grasses.  So gentle and springy on the feet.
Just plain dirt is great too.  Even adding a few pebbles don't cause problems, although the feet do think fondly of those previous pine needles.
But when you add gravel and small rocks, especially on downhills, it can become bumpy on the bottoms of the feet (particularly in my trail running shoes), and very slippery when going downhill.
Some folks warned you about trail runners and highly recommended sturdier hiking boots, didn't they?  But noooo….Miss Stubborn wouldn't listen.
Moving further down the Desirability Scale are larger rocks on the trail  This means you've got to carefully place your foot with each step.  Any one of these could be an ankle turner.  But at some point, your mind can wander and your feet still go to the right places.
Or not.  Don't be a fool.  Pay attention.
And when it's piles of rocks, well, that's one of my least favorite situations.
Just do it and stop complaining.  You know very well that the far northern states hold further horrors.  You've heard the stories from other hikers.  You signed on to do this, you know.
Okay, a Lunch Stop is Acceptable.
Ah…..lunchtime.  Pack off.  Sit down.  This log will do.
What's on the menu today?  An orange theme, I see:  dehydrated carrot slaw, dehydrated nitrate-free deli ham strips, dehydrated orange slices, which go well with CHOCO!  I love eating.
And who doesn't?
And look who's sharing my lunchspot today.
Yawn.  Another deer picture.  You can go to the Wyoming Golf Club three blocks from home and get those.
Just Keep the Feet Moving.  You Can Think Whatever you Want, just GO.
Back on the trail.  These past couple of days, the AT has paralleled and crossed the Blue Ridge Parkway several times.  Cool, I can walk right by this support wall for the road up above.   I wonder when this was built.
Look it up later.  You probably don't have cell coverage here anyway.   It'll now be a miracle if you make 18 miles.
Ooh, a view at this intersection with the road!  And even better, a trash can for those extra grams of empty ziplocks and used TP.
Skipping all the photos and chatting would get you to camp much faster than shedding 20 grams of plastic and paper.
Boy, it's getting hot today.  And I had to carry extra water today because of dry water sources.  This spigot from a cistern at a shelter I pass produces no water.
Springing $60 for the Guthook app of the whole trail (with current water sources and more) wasn't such a bad idea, after all, was it?  Told you so.
I really ought to look at my surroundings more.  Let's see how it compares to this morning.  Looking right…
Looking left..
Pretty typical for the "Green Tunnel," wouldn't you say?
Yet More Pictures?  Which You'll Probably Throw out Anyway.
Well, the sun indicates that the day is going to come to a close in just a couple of hours.  Oh look!  There's my shadow, right on the trail!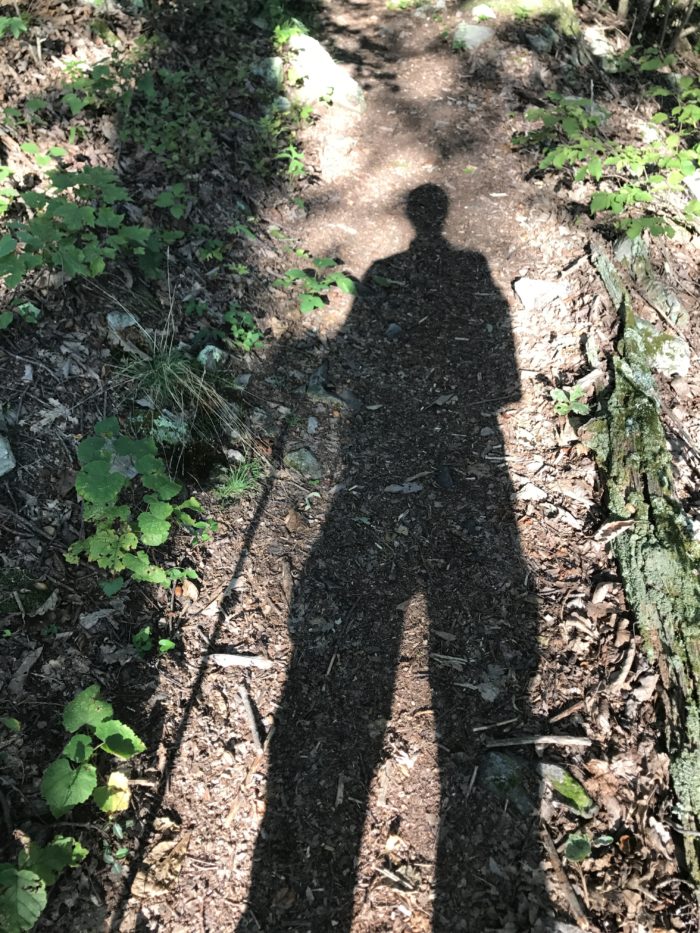 And if I turn this way, I can look like the sign I saw earlier in the day.

Was this really worth wasting 10 minutes of your time?
An End to This Madness, for the Day, at Least.
Okay, I don't know why I never can get the big miles I think I can.  It's time to find a spot to camp.  I feel like skipping the shelter I just passed and stealth camping in the forest again.  The AT is  kinda like a 2190 mile long park, you know.
Hey, here's a great spot not far from a creek that actually has some pools of water.  I can dip out water using  a ziplock, filter it and have enough for dinner, breakfast, and even a bandana bath.  The forcast calls for potential rain, so I've got to set up the tarp with the broadside to the south.  But there are a couple of trees situated just right for that.
Yay, life is still good!
And how many miles did we get in today?
Well, around 18, but I'm totally good with that.  I met interesting people, continued to build up my trail legs, saw wildlife, had enough cell coverage to text Bill, and truly appreciated my time in nature.  Life is good.
Yeah, well, I'll give you that.
STATS:
295.6:  miles of the actual AT hiked
26:  days out
4:  number of zero days
14-16:  typical day's mileage, sometimes 12, sometimes up to 20
13:  number of nights sleeping in my own tarp/net tent combo
5:  number of nights  inside a shelter
4:  number of nights  in a hotel or cabin
4:  number of nights in a hostels with bunk rooms
13:  bears seen directly
2 :  bunnies seen
1: back 50% of  coyote seen crossing trail
1: wild turkey seen crossing trail (not related to above animal's crossing)
countless:  deer, butterflies, bees in meadows, tree frogs croaking incessantly through the night
12, at the very least:  dogs taking their humans hiking
1.5 lbs:  approximate weight loss, despite eating nonstop
Affiliate Disclosure
This website contains affiliate links, which means The Trek may receive a percentage of any product or service you purchase using the links in the articles or advertisements. The buyer pays the same price as they would otherwise, and your purchase helps to support The Trek's ongoing goal to serve you quality backpacking advice and information. Thanks for your support!
To learn more, please visit the About This Site page.