It's All Good: Working Hard on the Trail and Reaping the Benefits
Things happen for reason.
Fate had it that, during the past two weeks, I would have my first two nights' experience of sleeping alone in shelters and a solo night in a meadow.  All of this led to my ability to pass a very safe, comfortable night alone on a mountaintop.  More later…
My rest day also prepared me for my longest and hardest days so far.
My last blog post came to you from the comfort of a Zero Day at Stanimal's 328 Hostel in Waynesboro. It had been a great R&R, complete with an hour's massage in the private backyard of the hostel.  In the background of this photo is the back entry to the house, to the sunroom where I spent most of my time relaxing.
Three other thru-hikers were also staying there a couple of nights, with "Stanimal" on the right.  He thruhiked in 2004 or so, met a local woman while passing through Waynesboro, and ended up coming back and marrying her.  He now operates two hostels and shuttles hikers to and from trailheads.  That's him on the right.
Because of other early morning commitments my host had, my best option for getting back to the trailhead on Wednesday, August 9, was a free lift at 5 am with Stanimal.  After tripping on a concrete step leading to his driveway and bloodying my knee (my only hiking injury so far),  I was driven to and dropped off at the spot where he had picked me up 2 days ago.  I waited an hour there by a parking lot with an informational sign about the Shenandoah (which I practically memorized), till it was light enough to hit the trail safely.
It was very cool to be walking at 6:15 am, with the trail all fresh and new.
I had my very best bear sighting along the way.  I just stood still and watched the bear quietly walk in his natural habitat about 20 yards from me, till he thought that the blurry blue blob he saw could be a human.  But we both just looked at each other till we decided there was nothing more to be gained.
I enjoyed talking to other day hikers who were tackling a steep trail up Humpback Mountain.  What a name.  Along the way, I met a fellow in my age range that was training for hiking around France's Mount Blanc with his friend.  It was fun comparing notes about the beauty of that region, since I've done part of that hike when I did the GR5 in 2007 (see my first blog entry months ago).
I covered 20.6 miles this first day back on the trail.  Add to that effort, my fresh supply of food, which weighted down the pack.  You both hate and love the mail drops.  Love the food, hate the burden of carrying it.
I finally coasted in to my shelter on fumes, with my pockets of snacks and chocolate being empty for the day by now.  One of the fellows who had been at Stanimals was also there.  It's very enjoyable having a community of hikers, although fleeting.  As is my norm, I chose to sleep under my own tarp rather than in the shelter, which is shown here with the pole in front of the shelter for hanging our food bags on.
The next day, August 10, was the 43rd wedding anniversary with Short-timer back in Cincinnati.  And I couldn't reach him for quite a while that day. I was sorry we couldn't be spending the day together out here in nature.  But he was lucky:  I had been prepared for this being a tough day of hiking, and the warnings were right.  First I had to get up and over and down a tough route, one of the Three Ridges section of a wilderness area.
Lots of big rock falls that I had to traverse.  At one point, I called the AT a very unkind name.
Parts of the trail were hard to see, and there were NO white blazes indicating that, yes, this was the correct way.  I checked periodically with my Guthook GPS app to confirm that I hadn't accidently strayed onto a side trail that would take me to Minnesota.
Once I got down this, I had to climb the Priest.  This towering mountain takes you about 4.2 miles to go up 3000 feet.
After crossing a river, getting more water and being assured by some young hikers that I could make it up within 4 hours, I headed up.
The first half wasn't so bad, at an incline that I can do for hours.  So I did.  But the top half, as is the case with most mountains so far, became much steeper and rockier.  In such a case, I shorten my steps to babysteps, and concentrate on breathing with my diaphragm, two steps per breath in, two per breath out.  It really helps.  In fact, almost all the Lamaze childbirth breathing techniques I learned decades ago come in handy.
Made it to the top! 3.5  hours of climbing.  But I made it.
It turned out that I was the only person to stay at the Priest Shelter at the top that night, which pleased me.  My own kingdom again (which I had experienced the previous week at Pass Mountain Hut)!  I chose to sleep in the shelter because it was colder up there, and it would be a quicker exit the next morning.
However, during the night, the playful little mice had a ball playing in some open ziplocks I  had left out to dry…crackle, crackle, crackle! And toilet paper makes lovely confetti.  No pole for hanging my bear bag of food, so I threw my bear rope over a high branch 10 feet out from the trunk of the tree.  I would later hoist my goodies up there and hope for the best.
While my dinner soaked and stewed, I read the shelter journal.  Tradition has it that those who have climbed the Priest can confess their sins in this notebook and be forgiven.  What fun reading!  My entry: "I confess that I have no sins.  Oh, just remembered–pride and stubbornness.  And these are the very traits that will help me complete the entire AT, so I'm not sorry."
Others confessed to throwing apple cores into the bear-inhabited woods instead of carrying them out, not digging the recommended 6″ holes for poop, not purifying water, not using hand sanitizer, hating hiking, cheating on their girlfriend, stealing things, and hiking behind their friends so they could "fart without judgment."  Fun entertainment that night!
Entertaining, but I'll tell you, the AT is tough:  the extreme climbs and descents, sleeping outside, fending for yourself, making decisions, watching and dealing with the weather and missing family.  But so far, so good.
At last, a little easier…
The next day was much easier, although there are always a few breath-challenging steep uphills.  I passed through miles of seas of ferns beneath the trees, so lovely to see.  With a relatively level trail much of the day and a cool, sunny day, it was such a pleasure.
My last desperate northbound thru-hiker passed me this day.  Because he had a delay, he now hopes to get to Mt. Katahdin in the  far north by October 15 by doing 20-25 miles each and every day.  Good luck to him, but those who have done that section say IMPOSSIBLE!  It's just not worth the pain.
I had my next solo camping opportunity that night, in a large grassy meadow with occasional trees spread about and a nearby spring.  Such a nice change from being in the forest all the time. The name:  Hog Camp Gap.  Gotta love some of these names.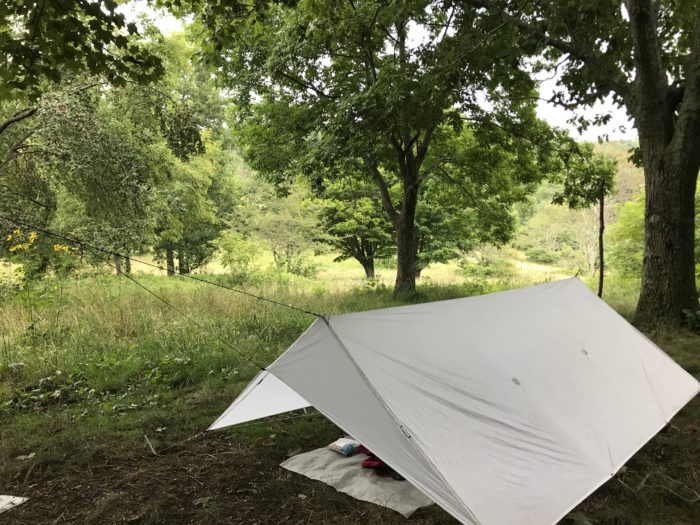 I had arranged to receive another mail drop from some women who own a hostel just down the road.  Staying in the hostel would have also been an option, but it's presently closed for renovation.  For just $5, one of the owners received my package and brought it up the 1.5 miles on a dirt road to where I was camped beneath the trees.  It happened that a father and son who had planned to camp at the meadow wanted to be shuttled back to their car miles away, so the owner was happy to pick up $65 from them.  Folks really depend on some of their income from the hikers, and I'm happy to contribute.
My tranquility ended sometime during the night when I heard others setting up their tent not so far from me.  At first it alarmed me, but then it irked me. "Those darned arrogant night hikers!" I groused (next day:  saw their car parked nearby.  Oops.  Not night hikers.).  I got over it and fell back to sleep.  But a couple of hours later, during a session of wind and rain, I was suddenly awakened  by something banging down on my feet and legs.  I immediately thought my neighbors were clubbing me, and I kicked and shouted to drive them away.  Once I woke completely, I remembered that I had secured that end of my tent to a stout stick, since the tree was too far away for my lines to reach.  I crept out of the tent at 2 am in the rain to fix the matter.  SO much for blaming others.
And now it's looking like the AT calendars.  Meadows. Flowers. Streams.
August 12 was an easier day as well, with loads of wildflowers along the way, and a huge meadow in the early morning with beautiful mountain and cloud views.
For a mile or two, I was walking along a stream, which hasn't happened much before.  There were informational signs telling how this was the Brown Mountain region.  Former freed slaves lived here with their families and scraped out a living somehow.  I could see remanants of some of the walls and buildings across the stream.
Oops!  Where am I going to sleep?
After walking around a big reservoir that was mostly hidden from view by trees, I crossed over a strong river and loaded up with water.  I would now need enough for quite a few miles.  Heading up the next big mountain, I looked for a small campsite that my AWOL guidebook indicated was just .2 miles south on the trail.  Well, wrong-o.  When it never appeared, I realized this was a typo.  I had already passed it .2 miles NORTH of the river on the trail.  We really rely on our guidebooks and apps, especially in regards to water supply and campsites.
The sun was lowering in the sky and I was getting pretty concerned about finding someplace to pitch my tarp.  The trail was crazy steep, the mountainside was way too inclined for sleeping on and I was carrying almost 13 pounds of water on me, since I knew of no source on the way up.
Finally, looking uphill to the left of the trail, I saw blue showing through the trees.  On a hunch, I left my pack and water bags by the trail and bushwhacked my way up through shrubs and little trees.  Voila!  A wonderful, huge flat area with plenty of tree options for securing my tarp.  And it was obvious that local hikers had used this spot frequently, as there was a firering made of large stones.  I rushed down to get my bags and share this news with 3 young men I had met along the trail.  However, they chose to keep going on the trail and eventually found their own spot.
But this one was a doozy.  I happily set up my tarp,
strung up my bear line,
and prepared my dinner.
Surprisingly, I had absolutely no fear about staying alone on this mountain top.  All my other experiences had prepared me for this.  The trail was just 2 minutes down from me, but no other hikers who might pass had any idea that I was up there.  And I hadn't seen any bears for several days.  Plus, I had some Verizon connection and was able to share texts with Bill, which made me feel even better.
I passed a very comfortable night there, so pleased to have found my own secret stealth camping spot.  However,  I am getting a little tired of this crawling out of the tent business to pee every night.
Heading in for another Zero Day.  Gotta love 'em.
The next morning I did my usual morning yoga/stretching and was on the trail by 7:30, my usual time.  I'm convinced that this extra time of taking care of my body, before, during and after hiking, is helping my body perform the ridiculous tasks I ask of it.
Along the way, I met up with the three nice young guys (2 from Columbus, OH) I'd met yesterday.  We all had an early lunch on another mountaintop.
Right by the lunch spot was a memorial to a child of 4 who had wandered from his schoolhouse in 1891.  His body was later found here 7 miles away from the school.  This made me sad for quite a while.
Down, down and yet more down, towards the wide James River.
Near the bottom, I reconnected with the same guys who offered to give me a ride into Glasgow, my destination for another Zero Day.  I was so appreciative, since a shuttle driver I had called couldn't make it.
My zero day "home-away-from-home" is a pavilion constructed just for AT hikers.  As an Eagle Scout project several years ago, a pavilion was outfitted with everything hikers could want:  bunks, covered picnic tables, electricity for charging devices, clean porta potties, an on-demand hot water shower, clotheslines, bbq grills, trees to camp under, and a welcoming community.
Just a short walk away is an Italian restaurant, 2 little grocery stores, a Dollar General, a laundramat, a post office (for my most recent mail drop) and a lovely modern library, whose computer I am using at this moment.
Every community has its claim to fame.  A plastic  dinosaur is this town's.  An "artist"/character who lives in this region loves to play elaborate April Food jokes.  In 2003, Mark Cline arranged to have dinosaur replicas pop up around this town and even printed brochures labeling it "The Town Time Forgot."  One brontosaurus remains along the main drag.
All in a community of 1100 (on a good day, trust me).  So after enjoying a gluten free pizza at the restaurant last night … YAY YAY YAY!…. I'm having a  lovely day at the library, sitting in comfortable chairs, drinking from a chilled water fountain and flushing.
It's all good.
And I look forward to sitting on stones, drinking from sparkling streams and digging 3″ holes (I confess, not 6″) tomorrow.
Affiliate Disclosure
This website contains affiliate links, which means The Trek may receive a percentage of any product or service you purchase using the links in the articles or advertisements. The buyer pays the same price as they would otherwise, and your purchase helps to support The Trek's ongoing goal to serve you quality backpacking advice and information. Thanks for your support!
To learn more, please visit the About This Site page.