Maine – 100 Mile Wilderness to Katahdin
Day 102 – Shaw's Hostel to Long Pond Lean-To
On my way to grab a coffee in the hostel breakfast area, I suddenly ran into my "old" friend Alchemist. We haven't seen each other since Mount Greylock in Massachusetts. "What are you doing here?" we both said almost in sync. He and Flying Camel had been skipping around, first in southern Virginia and now to the 100 Mile Wilderness. The four of us sat down to a great breakfast reunion.
Shaw's staff served an amazing breakfast and then our host, a former thru-hiker, drove us to the trail head. Once the hikers unloaded from the van, he shared some useful information about the upcoming section. He went on to say, "I know everyone is tired and really wants to get to the finish line, but …" Then he lived up to his trail name, Poet, by dispensing some heartfelt words of wisdom and encouragement, including a haiku. We couldn't have had a better send off.
What is the 100 MW? It is a large section of Maine that is bordered by Monson at one end and Baxter State Park at the other. From what I understand, much of the land is owned by logging companies, which lease access to it and to the logging roads for public and private use.
Would it look like the Fanghorn Forest in Tolkien's Lord of the Rings? Would it be dark and foreboding? Much of it actually looked like any other section of woods. But parts of it looked like an enchanted, moss covered landscape of giant rocks and spindly hemlocks.
Five miles in, we ate lunch on top of Little Wilson Falls, a very large, multi-stepped slate waterfall.

A little further down the trail, I spotted an animal about 30 feet out in front. Was it a deer? A moose? No, it was in fact a unicorn. It paused as we approached and made eye contact. Then it gestured to us to sit on its back. But not before offering us trail magic of watermelon and frozen margaritas. Once we were settled on its comfy back, securely holding on to its silky mane, we floated ten miles through the woods and over raging streams. It was nice to keep our feet out of the water. Upon arriving at our destination, the Long Pond Lean-To, we thanked the unicorn for its kind service, and upon departure it hinted that it might see us again. We certainly hoped so.
Day 103 – Long Pond Lean-To to Gulf Hagas Stream Tent Site
Today would be a long 19-mile day covering several ups and downs, first over Mt Barren, then over the rugged, rocky Chairback Mountains. Much of it was one mile per hour terrain. Fortunately, our unicorn friend reappeared and carried us over 5,000 feet of total ascent and descent. What a relief, because big sections contained talus rock fields and tumbling rockslides. We took in many beautiful views of water and woods that spread out around us like a giant jigsaw puzzle.
We arrived tired, but with a sense of accomplishment, at a pleasant tent spot along a brook. And we had it all to ourselves, after we parted ways with the unicorn.
Day 104 – Gulf Hagas Stream to East Branch Lean-To
Our plan was to tent alongside Mountain View Pond, where I intended to go for a swim. But the forecast showed late afternoon and nighttime thunderstorms, so we stopped 1.8 miles sooner at a lean-to shelter. This meant a longer day for tomorrow, and an earlier start, since we had a food pick up scheduled 11.8 miles out at 1:30. But we were glad we stopped early because it in fact stormed mightily.
Day 105 – East Branch Lean-To to Jo-Mary Lake Tent Site
We got up at 4:30 in a puddled tent instead of a dry shelter. The explanation for this is another story, one that could be titled "The risks of staying in a shelter."
Fortunately, the terrain was easy for our rendezvous with the food delivery. We arrived by noon at the road, where the delivery driver was waiting. He surprised us with some yummy apple cider donuts.
We made up for last night's lodging disaster by staying at what might have been the best tent site on the whole trail. We found a private beach spot on the shore of Jo-Mary Lake, where we dried out our belongings, went for a swim, and even enjoyed a sunset with dinner. From my pillow I watched the lake water lap the shore, and I dreamed I was on a tropical beach.
Day 106 – Jo-Mary Lake Tent Site to Rainbow Spring Lean-To
Today we walked along the shores of the very large Nahmakanta Lake. The wind blew across the water, creating a surf that sounded remarkably like the ocean. A camp with small boats sat at one end of the lake, but only a single canoe could be seen on the water.

From here we climbed up Nesuntabunt Mountain, which had spectacular views as well as cell service. This provided a rare and important opportunity to look at weather forecasts and try to plan our Katahdin summit day.
We arrived late at our campsite, but still found a decent tent spot. We met two new friends, Dex and Fan Fave. Then we surprisingly reconnected with O.G., Sideways, and Boston. They took an extra day hiking through the 100 MW.
Day 107 – Rainbow Spring Lean-To to Abol Pines Campground
We made it out of the 100 MW. All seven of us met again at Abol Pines Campground, where we congregated at a picnic table. Everyone tried to figure out the complicated rules that govern thru-hiker access to the Birches Campground at the base of Mt Katahdin. The flow chart only made our heads hurt.

Wednesday was supposed to be windy, overcast, and rainy in the morning. Thursday looked to be a clear, but also windy, day. Do we take our chances and wait to summit Thursday? What if we don't get a Wednesday night spot at Birches? Then we would have to reschedule our flight home. Maybe a Wednesday summit wouldn't be so bad.
Like buying concert tickets or a new Apple product, people line up for the 12 spots at the Birches. We decided to go to the ranger kiosk, at the nearby park entrance, tomorrow morning at 5:45 to secure a Tuesday night camp spot in order to summit Wednesday. We were joined by Dex, Fan Fave, O.G., Sideways, and Boston.
Day 108 – Abol Pines Campground to The Birches Campsite
After a hearty breakfast at Abol Pines, we headed out in the rain and hiked about ten rooty, rocky, muddy miles to the ranger station in Baxter State Park. This stop was another requirement for access to the Birches camp site. By the time we arrived, we were cold and completely drenched. The ranger station was dry, but not heated. It was a small relief nonetheless. Here we paid for our camp spot and received our permit to summit Katahdin.
Kevin filtered water at Katahdin Stream, since the Birches had no water source. Meanwhile, I headed 1/4 mile up the road to secure a shelter spot. On my way out, a nice driver offered me a ride. I was so happy to sit in a toasty warm car, even for a few minutes. I almost wished the drive were longer.
We shared a shelter with Dex and Fan Fave, two young, fast hikers who had met each other 1,000 miles ago. After getting out of wet clothes and settling in, the four of us played multiple rounds of Sweep. Fortunately, it's an easy game to learn. Dex and I tied for first place.
As the game wrapped up, Alchemist appeared at the shelter. He had just hiked 25 hard miles from before Abol Bridge to the Birches. He was worn, drenched, and nearly shaking with cold. Since he had no time to stop at Abol Pines, he was low on food and cell phone charge. We shared some of ours.
A little later, the ranger showed up to brief us about tomorrow's forecast and to provide a few details about the climb. His news about the weather was encouraging. The rain would stop by 2:00 that night, and there was a decent chance the clouds would blow away after 11:00 a.m. tomorrow. For this reason, he suggested, there was no need to get an early morning start. I took a couple of Benadryls to better insure a good night's sleep.
Day 109 – The Birches Campsite to Mt Katahdin, then to 100 Mile Wilderness Inn
It was hard to sleep in, especially when early starts were the norm. By 6:45 we were at the ranger station, where we emptied most of our pack contents into a labeled storage bag. We wouldn't be needing our tent, sleeping bags, and cooking gear today. Then we headed out on the Hunt Trail, which passes alongside Katahdin Stream and its magnificent waterfalls.

From here we worked our way up to the tree line in a light, misty rain. Before we took the last steps below tree line, we suited up in rain gear because we could hear the wind bellowing above us. By this time, Alchemist, Dex, Fan Fave, and the others were all out in front of us.
We carefully proceeded from this point, on an exposed ridge that was extremely steep (about 1,300 ft/mile) and at times technical. The light rain turned heavy, and the wind blew loud and hard, occasionally pelting us with sleet. The optimistic forecast did not pan out at all.
Eventually we met The Gateway, the most challenging part of the climb. Just prior to this is where several hikers, including a few thru-hikers, turned back. We continued on, though, partly because we didn't want to descend via the Hunt Trail.
After passing through The Gateway, the terrain flattened out to a 1.5 mile rock and water-filled walk on a plateau called the Tablelands. We would have had astounding views from this part, but we were in a thick white dome of clouds.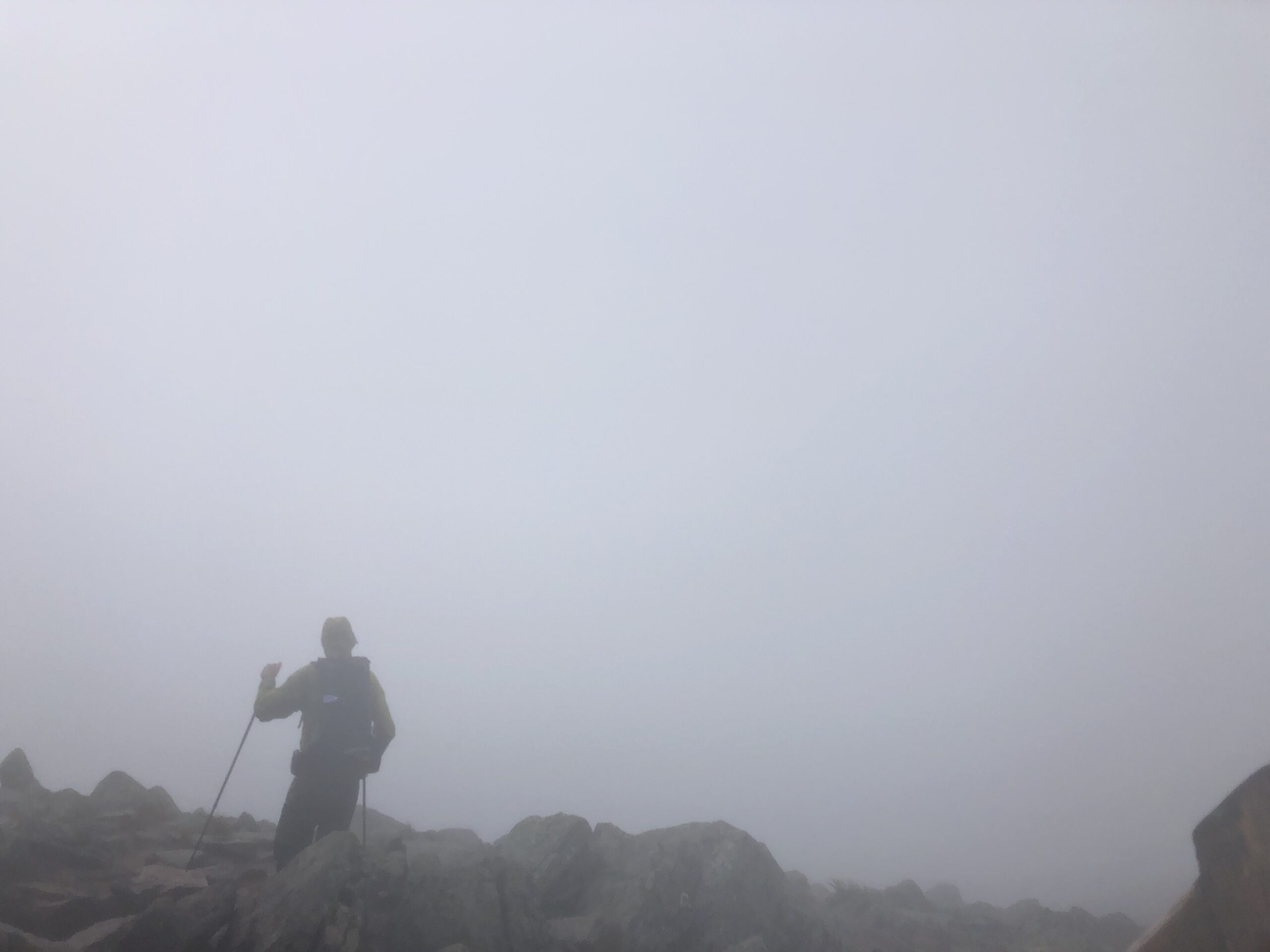 Upon seeing the famous Katahdin peak marker, we snapped a few photos and ate a ceremonial Whoopie pie. Shortly after, a few other hikers showed up and we took each other's pictures.
Then we turned around and descended via the steep, rocky Abol trail. As challenging as it was, this path was considered the safer way down. As we descended I began to recognize just how cold I was. But as the terrain got easier and lower in elevation, I could move faster and warm up. Also, as we dropped below tree line, the clouds began to lift and we had a view looking west towards the 100 MW.
We reached the bottom. We were finally done. At the Abol Campground road we reconnected with O.G., Sideways, and Boston. They were trying to warm up in what little bits of sun they could find while they waited for their shuttle. We said goodbye and left for Millinocket.
Once we arrived at the inn, we drank hot chocolate, took hot showers, did laundry, and went to dinner. We had walked from Harpers Ferry, WV to the top of Mt Katahdin, Maine. Tomorrow we would rest, and get organized for our multi-legged journey home in two days.
This marks the end of my journey. Kevin will continue south to Springer Mountain from Harpers Ferry in September.
Affiliate Disclosure
This website contains affiliate links, which means The Trek may receive a percentage of any product or service you purchase using the links in the articles or advertisements. The buyer pays the same price as they would otherwise, and your purchase helps to support The Trek's ongoing goal to serve you quality backpacking advice and information. Thanks for your support!
To learn more, please visit the About This Site page.