Mile 207.2 – Mile 273.7
Mile 217.3
This morning I woke up in Gatlinburg. I had my laundry going at about 7:45 but lazily cleaned and packed up all my gear until check out at 11.
Water boy's Mom offered to give me a ride back to the trail which was super kind of her.
Today's views were gorgeous. Charlies Bunion look out point is where I'm sitting at below. It's a really popular day hiking spot. I learned that today. I had to hold my pee for an hour because there were so many day hikers. No joke.
 
Three things I think are kind of strange/annoying – it's not first come first served in the Smoky Mountain shelters. Section hikers get priority. Horses are allowed in the park but not dogs. You have to camp at the shelters, no tent camping elsewhere.
RULEZ ARE RULEZ.
I'll be out of the Smokies in two days. That's way soon!
Mile 229.9
I'm not sure why but today kind of seems like a blur. The weather was pretty great – lots of sun and lots of wind. I didn't have a long day today but I'm real exhausted.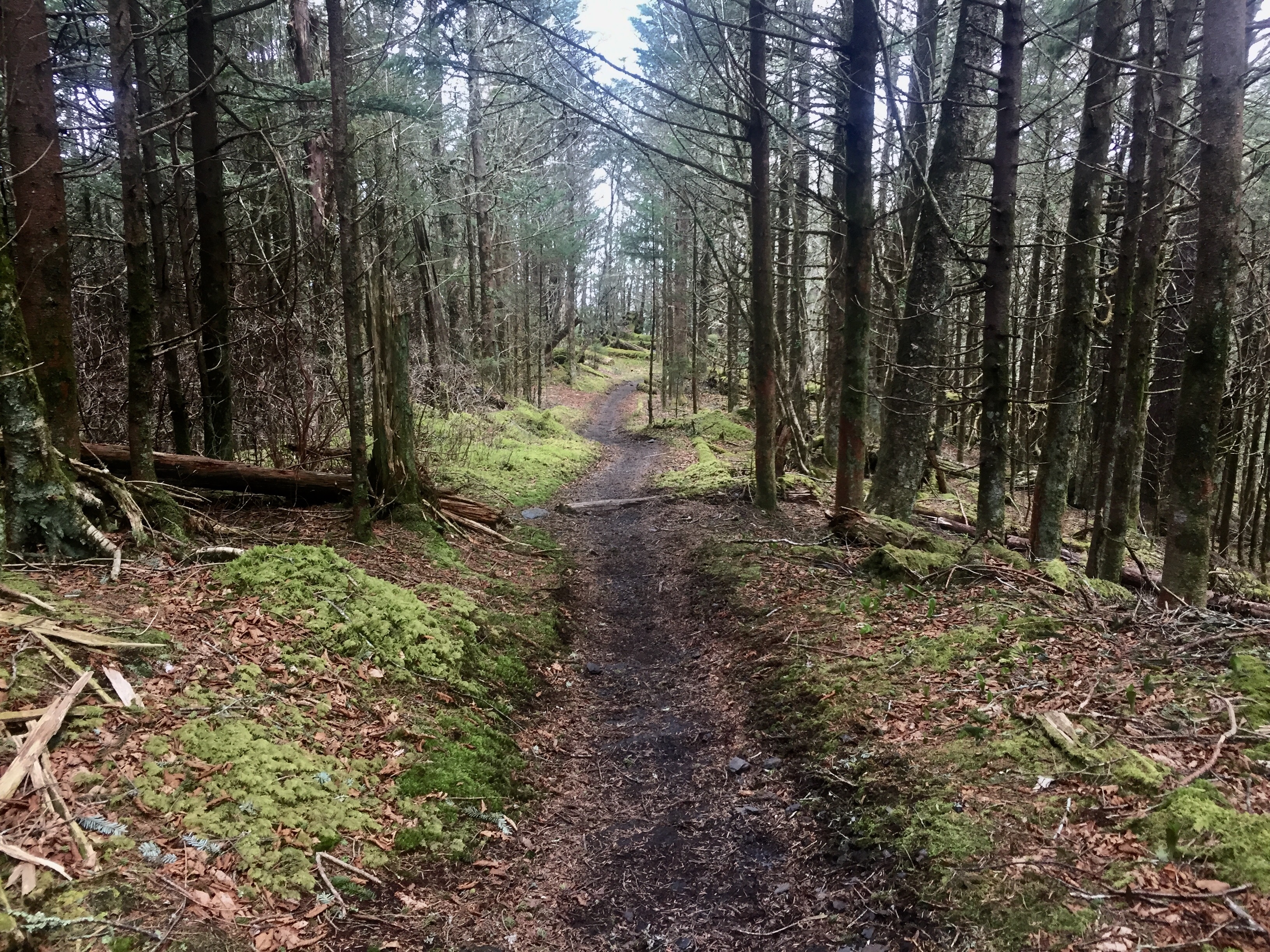 I'm at Cosby Knob Shelter and set up my tent on the hillside. There aren't very many flat spots for tents here. I have had that problem a lot. I'm almost always on an incline. But I usually sleep just fine regardless.
Only 8 more miles until I'm out of the Smokies. It's supposed to rain too. Hopefully it's not all day rain.
Mile 245.0
Today was a good day, even with the all morning rain. I got up at 6 and packed up right before it started sprinkling. Even when it was raining, the sun kept peeking through. It made all the wetness on the leaves shimmer.
Today I went under my first highway, interstate 40. The homelessness really set in then.
Shortly after the interstate crossing, I decided to stop at a hostel that's right off the trail, Sleeping Bear Hostel. It kind of reminded me of Swiss Family Robinson. There were tree houses and so many little cabins that only served one purpose – like a room just to charge your portables. I ended up having lunch there. A microwaveable burger, two muffins, a bag of white cheddar puffs, and a Dr Pepper. I think I probably would never eat all of these things in one sitting normally, but they sounded so good. So yeah, I ate it all.
I got to the summit of Snowbird Mountain and didn't leave. It's a bit windy up here but I put some heavy rocks in my tent and outside my rain fly. The sunset was really pretty and I'm hoping the sunrise will be too.
Mile 260.6
Last night was a little rough. The wind was blowing so hard that my rain fly flew off at 2am. And my tent was bending so much from the wind, it smashed my face. Naturally, I didn't get much sleep. I did though get to see a pretty nice sunrise. I think it was still worth it.
Today the climbs were harder than I anticipated. They weren't gradual like yesterday. They were straight up aggressive inclines.
I made it to Max Patch though! Quite an amazing mountain top. It's an all grass summit. It was originally cleared for cattle and is now maintained as a Bald. So pretty and lush.
I'm 12 miles from Hot Springs. That means 12 miles away from delicious food, craft beer, and Erika. My friend Erika from high school will be joining be on Thursday and will be with me through the weekend.
Other things I'm looking forward to – Duane bought and sent me a zpack chest pack to hold my slr camera and a compression sack for my sleeping bag and it's waiting in Hot Springs (he's. the. best.), a warm bed for a night, a hot shower, and the possibility of actually going in a hot spring.
Mile 273
Made it into Hot Springs! It's pretty great here. I'm staying at Sunnybank Inn and have my own private room and bathroom. I'll also get breakfast in the morning.
The 12 mile hike down here wasn't too bad. There were a few steady climbs but it was mostly downhill. I have realized though, if I think the day is going to be easy, it's definitely not going to be easy.
I saw some mountain laurel that was just about to bloom. And I also saw this sign –
Tomorrow, Erika will join me. I think we may do a short day and camp about 5 miles from town. I guess it depends on how long we stay in town. It'll be fun to have a hiking partner again.
Affiliate Disclosure
This website contains affiliate links, which means The Trek may receive a percentage of any product or service you purchase using the links in the articles or advertisements. The buyer pays the same price as they would otherwise, and your purchase helps to support The Trek's ongoing goal to serve you quality backpacking advice and information. Thanks for your support!
To learn more, please visit the About This Site page.