My Hardest Miles Yet
Day 54: 2,000 ft ascent, 5.6 miles
It was time to get back to the trail after a few days of norovirus recovery. Erik's brother made us some bacon and eggs for breakfast one last time before we headed back out to the trail. We made the 45 minute drive back to Dennis Cove Road where we had gotten off trail two days before. The first part of the trail we were walking headed to Laurel Falls, so Erik's brother joined us for the few miles to the waterfall. It was nice, flat, easy walking most of the way until we descended into the gorge to the waterfall. On another day I would've wanted to go swimming, but today we took some quick pictures, said our goodbyes, and went on our way.
Jake at Laurel Creek Falls.
I knew we had a big climb that day. What I didn't know was that I wasn't ready for it. We got to Pond Mountain and started climbing. Up and up and up the trail climbed. My heart rate was much higher than it normally showed for that amount of effort on my smartwatch. Erik had to stop and wait for me at every switchback. I was struggling.
At one point about halfway up the mountain I started wheezing. Nothing I'm not used to, but I hadn't done it often on the trail. My gym family calls me Wheezy during hard workouts. Normally if I slow down I can get it under control and keep going. Today wasn't normal.
I started wheezing and couldn't stop. I felt like I couldn't breathe. Erik was about 100 yards ahead of me and couldn't hear my attempts to flag him down so he kept walking. I threw my poles down on the ground and wedged myself between the trail and a tree downhill. I figured if worse came to worse and I passed out the tree would catch me. My breathing slowly slowed down after what felt like 10 minutes but was probably only a couple. I slumped to the ground trying to recover. The experience was not pleasant and really had me scared something bad would happen.
By this time Erik was at the next switchback waiting on me, so Jake had come back down the trail to find me. He sat himself down right in the middle of the trail beside me as I was recovering. What a good dog.
Eventually I got myself back up and headed down the trail again to meet up with Erik. We slowly kept on climbing, but this time I made sure to stop every time I felt the wheezing start coming back.
The climb felt never-ending. The only redeeming quality of this mountain was the spring at the top of the climb. How often does that happen? We got some water and came across a campsite at the top. Not one with a view, just a regular campsite you might find anywhere along the trail. Did I mention this climb was a PUD? A PUD is a pointless up and down… there was no view from the top of the climb!
Erik turned to me: "Is this home?"
I was shocked he was asking. I was miserable, but it was only 3:00 p.m., we had only gone five miles, and I had mentally prepared myself for at least two more hours of suffering before calling it quits for the day. Quickly I agreed we had found home for the night. It was a good reminder of how we wanted to hike the trail: push big mileage when we feel like it but stop if we're miserable so we can be ready to go another day.
I knew it was going to take some more time to recover from being sick and get my strength back, but I was determined to keep making progress on the trail. We had 49 miles to go to get to the next resupply and three days of food to get there. The only option was to keep walking.
I enjoyed this part of the trail going beside Laurel Creek.
Day 55: 3,780 ft ascent, 15.9 miles
I was so happy we had stopped at the top of Pond Mountain when I woke up the next morning. I had slept well and was mentally ready to go again. As we made our way down the mountain and around Watauga Lake I was even more glad we had stopped where we had. It was many miles before we saw another halfway decent campsite.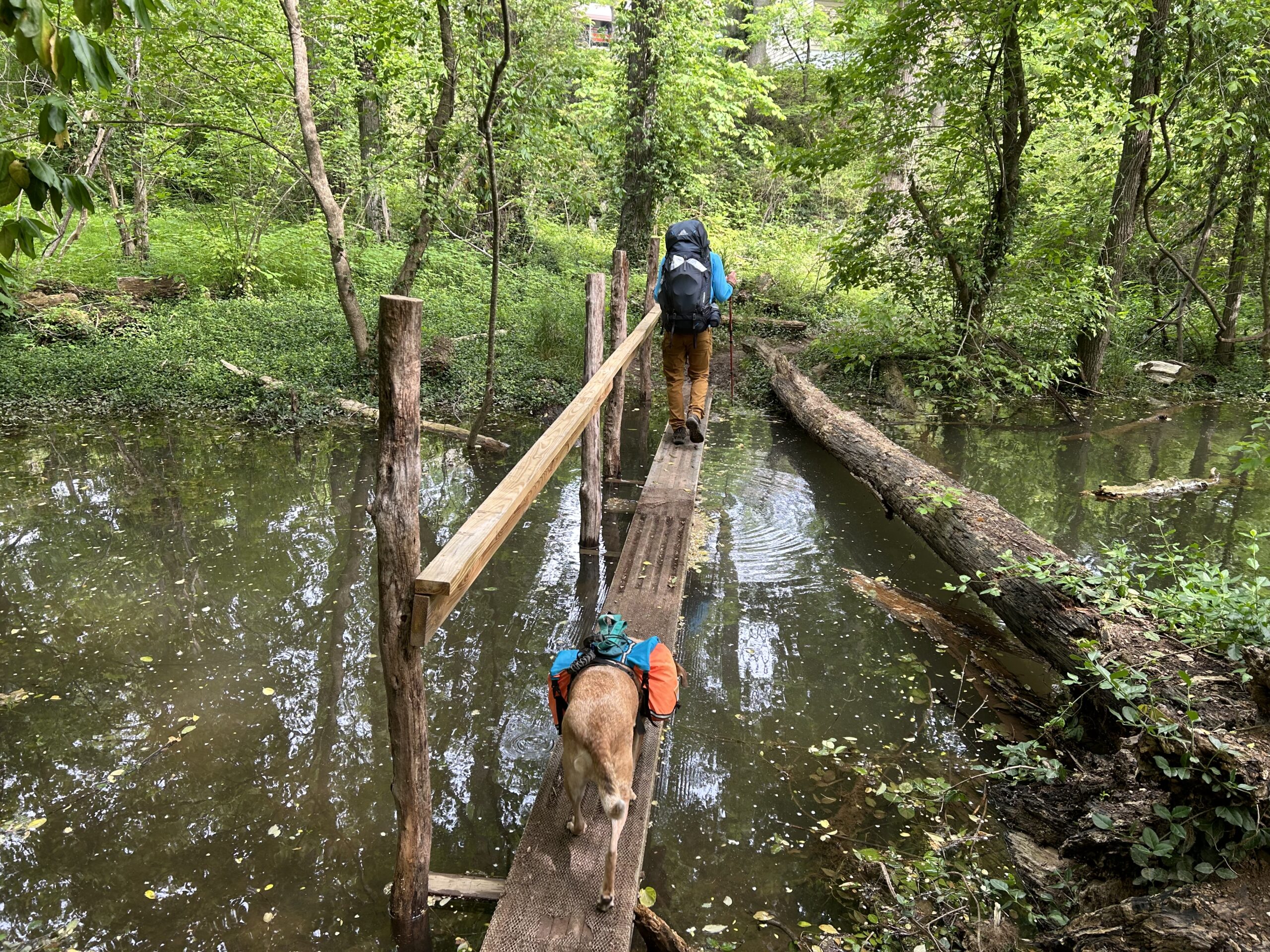 Walking along Watauga Lake.
I was excited about crossing Watauga Dam. A few years ago I had some coworkers in my office traveling to Watauga Dam weekly to complete some geotechnical borings (a fancy way of saying drilling holes in the dam to make sure it was still stable). They had told me about talking to some AT hikers while they were there. I had also heard it was one of the most beautiful views from any of TVA's dams.
The view was as advertised. I had my kid in a candy store face on as we walked across. I'm fascinated by all things civil engineering, and this dam was no different.
The view from Watauga Dam.
By the end of the day, we had passed the 1/5th of the way done mileage for the entire trail! That felt like a huge milestone after the setbacks we had been having the past 100 miles, both planned and unplanned.
Day 56: 2,700 ft ascent, 15.1 miles
We got a little bit of a later start in the morning. We had been exhausted again rolling into camp the night before after a big day and hiking later into the day than we had been.
A beautiful pasture!
The barn in the pasture was 'festive'.
Once we got on trail, we were quickly passed by two women who told us they had already seen two bears that morning. We had yet to see any on the trail! I had read reports of bears in the area at the shelters and some campsites. The women went on ahead, but maybe 30 minutes later we caught up with them. They had just seen a third bear that morning! We were on the lookout to see a bear ourselves all day but didn't see any.
Our favorite bench of the trail so far (even if Erik's face doesn't show it).
We had considered trying to go 18 miles that day to set ourselves up for getting into Damascus by lunch the next day, but exhaustion got us again and we settled on a stealth spot right off of the trail after 15 miles. I was going to be out of food after breakfast, so I went to bed knowing I would be motivated to get to town the next morning.
There were multiple signs posted near road crossings warning of bear activity.
Day 57: 2,400 ft ascent, 15.6 miles
We had a mostly downhill jaunt into Damascus. About mid-morning we passed the Tennessee/Virginia state line! It was bittersweet leaving my home state behind, but it felt good to hit another milestone.
The Tennessee/Virginia state line!
After not seeing any bears the day before, we were unsure if we would ever see any since we were hiking with a dog. I was about five feet behind Erik when he suddenly whispered my name. Something start crashing through the woods. I Erik got a good view of a bear before it ran away. We finally saw one. I looked down the mountain but didn't see anything, so we continued down the trail.
I was excited to walk under the famous sign when we got to Damascus after seeing so many pictures of it! We got into town right around 2:00 p.m. We had decided to just resupply and get back on trail without staying in town. I had some packages shipped to our next planned resupply town (Marion) and both of us wanted to keep moving to make the miles.
Welcome to Damascus!
We set up our town basecamp on a covered stage in the park. I babysat our electronics getting charged while Erik went to the post office and an outfitter. When he came back, I walked the 0.7 miles each way to the Food City to get my next five days of food.
I really must've been craving fresh food. I left Food City with some blueberries, pineapple, strawberries, and grapes (red and green) just for myself. At Erik's request, I had gotten him an apple, banana, peach, and pear. We both were really craving fruit.
With all of our food in our packs we headed to a chicken wings restaurant on the outside of town I had picked out when I had been waiting for Erik. As we walked up to it we saw it was closed! Now what? It was 6:30 by this point and we planned to camp someplace on the trail.
Erik turned around and found our solution; there was a Subway back at the last corner we had turned maybe 400 yards back! Normally we try to have a nice meal when we're in town, but at this point we had limited options if we wanted to get camp set up before dark. Subway for dinner it was.
We quickly ate our Subway then lugged our packs up the trail to the first campsite, about a mile into the woods. We were happy after a long day to set up camp and planned to sleep in the next morning.
Day 58: 2,690 ft ascent, 11.1 miles
We got up and finished all of the fruit we had carried out of town the day before. It was a nice change to have fruit for breakfast instead of oatmeal or a protein bar. I hadn't thought ahead about the fruit I had brought out… the amount of trash I carried for the next 25 miles almost made it not worth doing again. Almost.
Jake was ready for the day!
We got a late start that morning after the commotion of the day before and continued the trek up out of Damascus. Our food bags had us weighed down with five days of food. I'm still struggling to figure out how many miles feels good in a day to plan out resupplies after being sick. I'm hoping to figure it out soon because resupply locations/options look like they'll become harder to come by as we get into Southern Virginia.
Erik did his laundry in the creek. As it was drying on his pack, he got some 'good luck' from a bird.
Affiliate Disclosure
This website contains affiliate links, which means The Trek may receive a percentage of any product or service you purchase using the links in the articles or advertisements. The buyer pays the same price as they would otherwise, and your purchase helps to support The Trek's ongoing goal to serve you quality backpacking advice and information. Thanks for your support!
To learn more, please visit the About This Site page.