Out of Office: Daydreaming, Planning, and Waiting for the Appalachian Trail
"Why on Earth do you want to walk to Maine?"
The Appalachian Seed is Planted
Like many others, my interest in the AT was sparked by Bill Bryson's A Walk in the Woods. My sister Eleni suggested I take it for some light reading on a flight (so Mom, you can thank Eleni for this whole thing). It was the first book I had read for fun in a while. I was working long, stressful hours in finance and real estate development. Sitting in my office staring at computer screens for hours, often surprising the cleaning staff when they came into what they thought would be an empty office, the AT was the polar opposite of my life. And I clung to that idea. I would be outside, in the fresh air with no screens, carrying everything I needed to survive, simply setting out to hike every day and set up camp where I ended up. Instead of hopping on conference calls and running to town halls, I simply had to walk from Point A to Point B.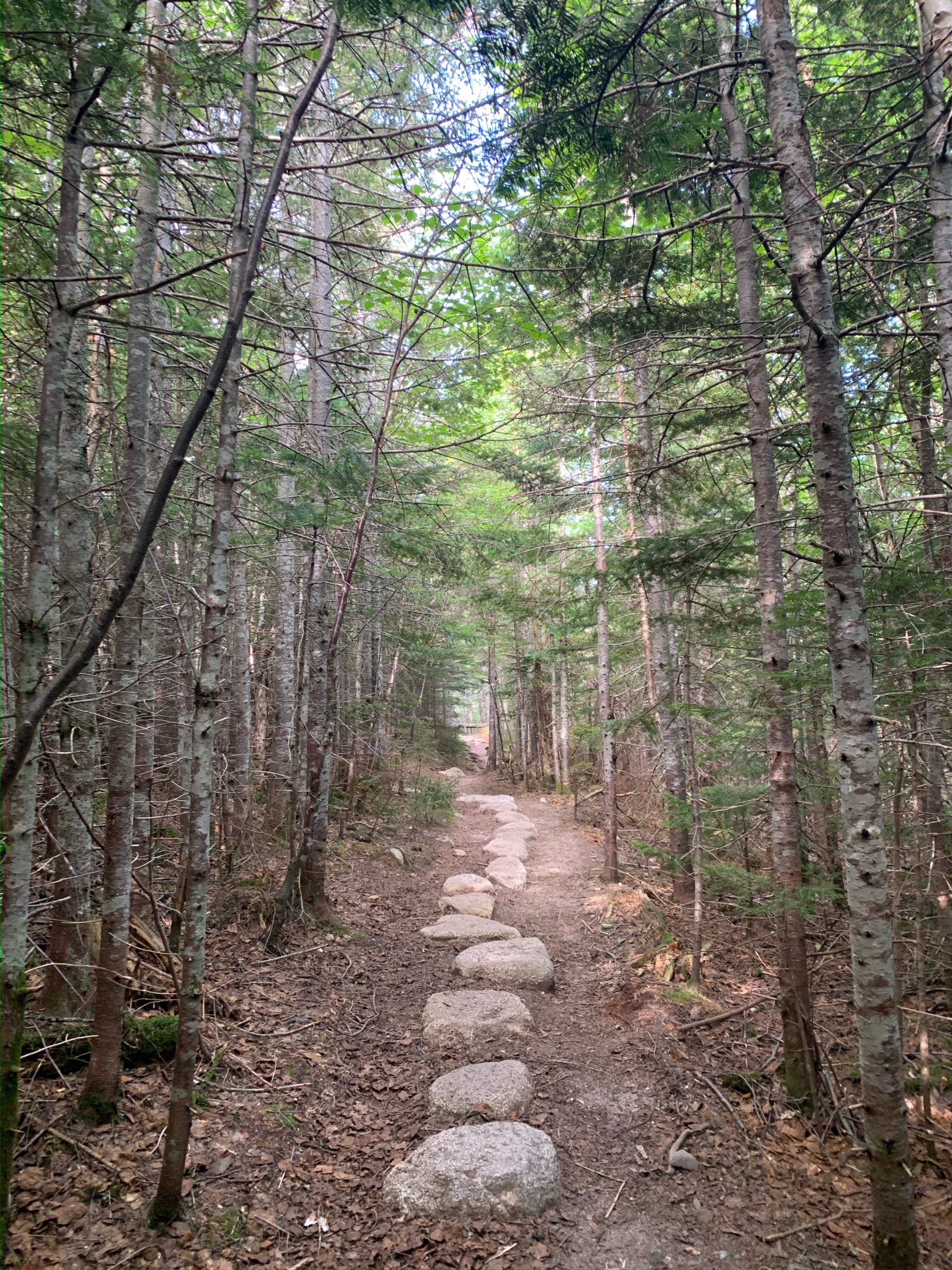 Though I was saving up at this job, I also quickly burned out. Around four years into the job, I went on a last-minute trip to California with my best friend, Alisa. As a Marine, she had just gotten the news that she would be deployed to Japan in a few short weeks. The timing could not have been worse – a closing for one of our projects was scheduled for that same week, and another colleague was also going to be on vacation. But this trip was once-in-a-lifetime and I was not going to miss it. Since she transitioned from the Naval Academy to the Marines, we usually only saw each other briefly during the holidays. I spoke to my boss and did as much preparation as I could before I left.
We were able to arrange our trip so that Alisa would be leaving for Japan the day after we returned from California. We had an incredible time hiking the Upper Yosemite Falls Trail in Yosemite National Park, sipping wine in Napa, and marveling at the view from a hot air balloon over the valley. It was a trip I will never forget.
When I returned from vacation, my boss and I discussed my trip and, ultimately, my future goals. Essentially, if I wanted to keep growing at work, I needed to seriously commit. And if I wanted to hike the world, I should do that. But I couldn't do both.
So, I decided I would hike the world instead. I put in my notice at the end of December in 2019 so I would have a few weeks to prepare for my NOBO attempt in March 2020…
We all know how 2020 went.
Pandemic Planning
The week before the pandemic lockdown began, I was with my sister Eleni in Florida as a pre-vacation vacation. As more news and numbers came in, she got increasingly worried about getting home to Maryland (New York for me). This was when the panic started to set in. After daydreaming about the AT for years, researching and buying gear (props to REI for their return policy <3), and leaving a solid but demanding job, I was stuck.
While my boyfriend Nick worked from home, I waited to see if I would still be able to go on my journey in 2022. We played A LOT of frisbee with our dog Marley (she was THRILLED that we were both home). We had drinks with friends over Zoom. My family and I played trivia every Tuesday night without fail (we eventually also started winning!). I passed the time playing Animal Crossing. I named my island Katahdin and created a hiking trail all the way around the island, complete with trail magic, location-dependent fruit, and privy thrones. I also meticulously re-created my apartment in my character's house. Clearly, I had a lot of time on my hands… And my mental health, already in bad shape, got even worse.
At the end of July in 2020, my parents drove me up to Maine to start a SOBO attempt. This attempt lasted approximately one week. Instead of starting in the cold of Georgia, I was starting in the heat and humidity of Maine (and let's not forget the ridiculously populous mosquitoes). And instead of starting easy and gaining miles, I was starting with the hardest climb of the entire trail: Mount Katahdin.  Without a doubt, Mount Katahdin was the hardest hike I've ever done. Over the following days, I was exhausted, lonely, and knew that this wasn't my time. I ended up getting off trail at Jo Mary Road, and just a week after they dropped me off, my parents drove all the way back to Maine to bring me home.
After moping around at home for a while, I started looking for jobs. This was during the initial pandemic wave where jobs were highly competitive. After a few weeks, it seemed like a switch turned as calls came in for interviews. The worker revolution had begun! I found a job at a title insurance company near my apartment. During my interview, I made it clear that I would be out the door at 5:00 p.m. sharp. More importantly, this job covered a portion of my health insurance. Now with a regular job, I focused on my mental health and prepared for a potential 2021 hike.
But as 2021 rolled around, I realized I would have to wait yet another year to hike as the pandemic raged on. Of course, it's difficult to complain about missing a trip when people are literally dying. But it doesn't make the empty, repetitive days any easier. However, this extra wait turned into a blessing in disguise. My friend/lab partner from college, Amanda, had planned to do the AT in 2021 but had to delay as well (she's also blogging this year!). We realized we were both now aiming for 2022 and would have a buddy! Our next stop: a shakedown hike on the Ocean to Lake Trail in Florida. Spoiler alert: this did not go well either. Stay tuned!
Affiliate Disclosure
This website contains affiliate links, which means The Trek may receive a percentage of any product or service you purchase using the links in the articles or advertisements. The buyer pays the same price as they would otherwise, and your purchase helps to support The Trek's ongoing goal to serve you quality backpacking advice and information. Thanks for your support!
To learn more, please visit the About This Site page.