Pennsylvania- Part 1
Day 7 – Old Forge Park to Quarry Gap Shelter
Kevin woke up at 5:45 on a mission. We knew we were low on fuel, but Kevin gauged the canister to be even lower than we thought – about 1/8 full. It would not even take us to Pine Grove Furnace State Park, which has a camp store and is where we planned to stay Monday night. We didn't buy fuel the day before at Walmart because they sold only the jumbo 16 oz size, which was too bulky and too heavy. So by 6:30 Kevin was back at the Walmart next door buying Heet (methyl alcohol), aluminum foil, a small can of Fancy Feast cat food, and a hole puncher. Why? To make an alcohol stove. After this mission was accomplished, we packed everything up and enjoyed a hotel breakfast featuring hot drinks and a waffle maker.

A local shuttler named Keystone picked us up at our hotel in Waynesboro and dropped us off at Old Forge Park. From there we resumed our northbound journey, with the added weight of our full re-supply.  The air was cool and damp, and before the first mile was over we started a 1,200 ft climb up the misty mountain. We feared our legs would have stiffened up as a result of the zero day, but fortunately we both felt good.
We ended the day at Quarry Gap Shelter, deemed by many hikers to be "the best AT Shelter so far" (northbound). We were excited to see why. As we approached the shelter we passed through a garden of rhododendron arcades, then we met the proud caretakers who have tended these grounds for the past 40 years.

The shelter itself was a dog-trot style structure, with a picnic table in its breezeway middle section and flowers hanging from its beam ends. We set up our tent on a nearby platform where we hoped it would stay drier and cleaner in the anticipated big rain. Then we enjoyed a quiet dinner with a couple of thru-hikers who started in Georgia in January.
Day 8 – Quarry Gap Shelter to Birch Run Shelter
After many hours of quiet, the night rain commenced with thunder and lightning. We slept remarkably well while the ends of our sleeping bags brushed up against the edges of the tent and slowly wicked condensation and rainwater. As a consequence, waking up and getting up were two very different activities. We removed our partly damp gear and mostly dry selves from our little tent and headed for the nearby shelter. Once under roof, we draped our damp belongings over evenly spaced pegs like broken spiderwebs under a porch eave. Then we ate breakfast, thankful to have fuel to cook with.
Since we had only 7 miles to the next destination, we decided to spend half our day in the shelter where we tried to stay warm, read, rested, and hoped that the forecast of nonstop rain might not be entirely correct.
To our surprise several hikers that we camped with before Waynesboro emerged from the dripping woods around noon. They had hiked through the downpour and didn't seem too troubled. In fact most planned to stop only for lunch then continue on. By 1:30 the worst was over, so we ventured out into the intermittent drizzle. We employed our new homemade rain kilts (lightweight plastic sheets wrapped around our waists) and found they kept our legs dry.
Upon arrival at Birch Run Shelter, we decided to forego setting up our tent and instead stayed in the bunks. The night air grew windy and cold with even more rain as the evening progressed, but we managed to play 4 rounds of pinochle where I got 2 flushes in a single hand. That was historic.
Day 9 – Birch Run Shelter to Pine Grove Furnace State Park
After breakfast I decided to sign the shelter register, at which point I realized it was May 1. The sun was shining and the rain stopped, but it was still cold. The morning routine went a lot faster without a tent to put away. We were on the trail by 8, heading for a state park with hot showers. Much of the trail ahead swelled with water or was itself an active stream. Deciding how to get over and around each pooled section was like meandering through a maze that sometimes dead-ended in a leafy bog.
The scenery eventually transitioned to a pine forest before we descended the mountain and entered the state park. After some confusion due to a poorly drawn park map, we found the campground, set up the tent, got showers, charged devices, and even had a bit of cell service at our campsite.
Day
10 – Pine Grove Furnace State Park to a Dispersed Tent Site
The general store was closed on Mondays (yesterday), and didn't open till 11, so we left the State Park Tuesday morning without a fuel canister, but with enough Heet.
The hike out of PGFSP was an easy one, the trail still interrupted by long soggy sections. The elevation was quite low here and the ground was somewhat swampy. We took a long midday break at the James Fry Shelter, then continued on to a dispersed/ unofficial camp site about 8 mi from Boiling Springs. The camp site spanned across the trail, was next to a nice stream, and contained several good tent spots.
Our site was pre-furnished with sturdy wood planks resting on stone bases  (benches) and tree stumps (tables) placed around a nice fire ring. I was hoping to make a fire and was glad to see that Google maps showed we were finally out of the Michaux State Forest, which started at Waynesboro, and had a fire ban in effect till May 25. We set up the tent, got water from the stream, and gathered lots of wood. In the process, 6 more hiker friends trickled in and took the sites around us. They gathered more wood and later joined us for dinner, lots of funny stories, and a fire. The night air felt more like November than May. We were in bed at 8:30.
Day 11 – Dispersed Camp Site to Boiling Springs
I awoke before sunrise, not knowing the time, fumbled for my phone, and decided to spend some valuable battery life playing Wordle. Soon after, my ears picked up the familiar sound of drizzle hitting the tent. Making breakfast in the rain didn't appeal to us and we had enough clean water, so we packed up and headed out by 7.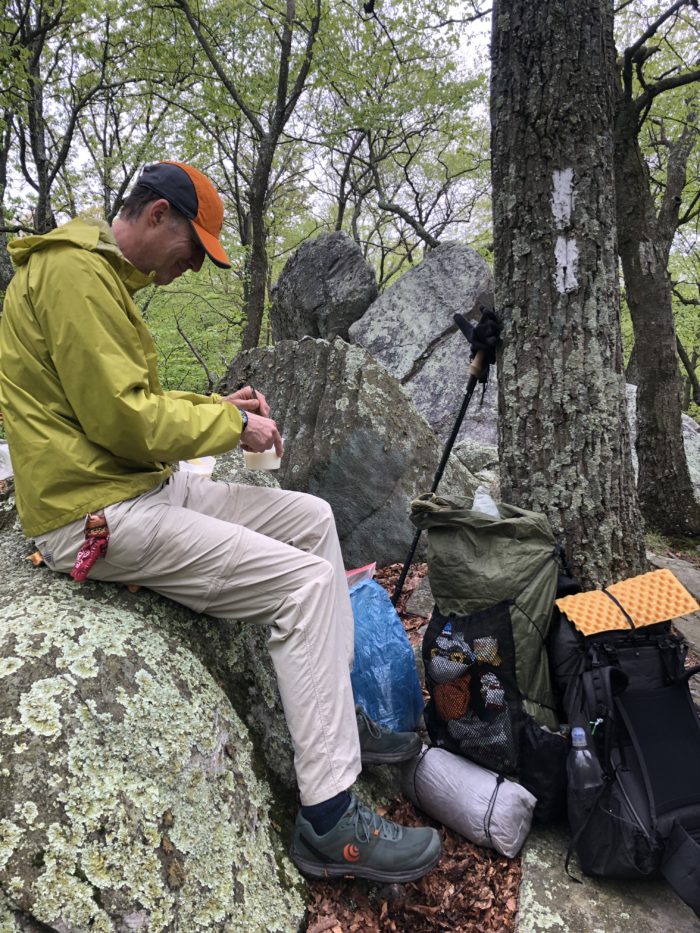 We walked through the chilly air, through what we hoped was last of the bogs, then warmed up by walking up a rocky slope and climbing through several large clusters of rock scrambles. Going uphill is generally considered a bad thing, but I like it. When you walk uphill you feel like you're getting somewhere.
After a few closely spaced ups and downs, we passed Center Point Knob. This would have been meaningful if we had started in Georgia. For us it was "95 mile Point Knob".  From here we descended down the mountain, cut across farm fields, and wound our way into the charming town of Boiling Springs. It felt great to walk into the first store, TCO outfitters, where I paused to enjoy the sensation of indoor heat before buying a coveted 8oz canister of fuel.
We did a few other town things then arranged for our bed and breakfast hosts to pick us up. The rest of our day was spent lounging around a house in the countryside where we watched reruns of Seinfeld while the host did our laundry.
Day 12 – Boiling Springs to Darlington Shelter
Our host dropped us off in town and we embarked on what was so far our longest day, because camping is not allowed in the Cumberland Valley. We walked about 12 miles of easy trail that wove through and around private farmland. Today's views were quite different than the previous ones. Lots of beautiful barns, fields, streams, and cows.
We also crossed the PA turnpike (I76) and I81 in close succession, near where they intersect one another. The last 2 miles of the 14 mile day climbed up a mountain to the Darlington Shelter.
There we met up with a familiar group of hikers. Blackbird brought a bag of marshmallows in anticipation of another fire. Everyone enjoyed that, including a new hiker from Denmark, The Dane.
Kevin and I taught Bedrock and Crapshoot how to play the card game Sweep, something we play weekly at home with my dad. Their team clobbered us, but it was beginner's luck.
Day 13 – Darlington Shelter to Duncannon
We slept in till around 7 and got a relatively late hiking start. After some easy ups and downs we climbed a short but steep section, rising 500 feet in a count of about 460 steps. Once on top we enjoyed a spectacular view of the Susquehanna River Valley north of Harrisburg. The clouds cast animating shadows on the surfaces of the rolling hills and valleys below.
Soon after, the trail quickly turned into a lengthy sequence of jarring rocks that spiked along the ridge like a stegosaurus' spine. We had hit the infamous Rocksylvania section of the Appalachian Trail, which we were dreading, but knew we had to confront. The rocks eventually led us down to Duncannon via a series of steep, tumbling rock staircases. Our feet were hot and frazzled by the time we hit the streets of this tiny old Susquehanna River town of fewer than 1,500 people, once known for making Lightning Guider Sleds. I think we had one of those once.
After buying a peach icee at the 7 Eleven and receiving free tacos at a trail magic booth next to the liquor store, we plopped into seats at the bar of the old Doyle restaurant and hotel.
The good news was that we were heading for a Zero Day and resupply in nearby Hershey, courtesy of my sister and brother in law who recently moved there. To top it off, my brother and his husband coincidentally would be visiting them the next day. For the next 2 days we could forget about the remaining 147 miles of Pennsylvania, most of which is relatively empty but for the rocks.
Affiliate Disclosure
This website contains affiliate links, which means The Trek may receive a percentage of any product or service you purchase using the links in the articles or advertisements. The buyer pays the same price as they would otherwise, and your purchase helps to support The Trek's ongoing goal to serve you quality backpacking advice and information. Thanks for your support!
To learn more, please visit the About This Site page.