Shenandoah Snacking
Day 63
Serendipity said hello when I stepped out of my tent. I used the privy, got a couple liters of water, and packed. Then I hid in my tent as rain came pouring down. I used the time to journal and plan my next 2-3 resupplies. When I took down my tent, the wet rain fly and mud splattered floor didn't bother me like they used to. They will dry and the mud will turn to dirt and fall away.
Late morning found me on a gentle ridge between trees full of bird song. As I hiked I slowly ate a Stinger waffle and felt entirely content with an overwhelming sense that the trail is my home. At a parking lot along Skyline drive I took a lunch break, spreading my tent and other items on the asphalt to dry in the full force of the sun.
In the afternoon I heard a crashing noise and looked over to see a bear's rear end running up the hill and into the woods. I then encountered several deer who were not at all afraid of me. Serendipity texted that she was stopping at a hut for the night. I continued on to the Loft Mountain camp store, which was unfortunately closed. Hobble-It and Come Along were waiting for me there. We caught up briefly. Word of mouth said the campground was full so we continued up the trail.
A brief rain squall poured down hard before we reached camp. We found a nice spot opposite a cliff as the rain kindly ceased. Come Along and I pitched our tents while Hobble-It strung up her hammock tarp. The three of us sat under the tarp to eat dinner, protected from drops of rain that the wind propelled off the trees overhead. Though we all ate our own meals, it was fun to have company and converse. Afterwards, I viewed the final light of sunset from the nearby rock vantage.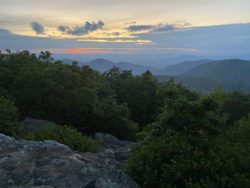 Day 64
I woke to the sound of a camp stove and Come Along offered me coffee. I happily accepted and he passed it under my rain fly. Hobble-It had already packed up, she is fast. I retrieved my Ursack and we all had breakfast. We lingered, chatting. I left my erect tent to dry with my backpack mostly packed inside. While the others set off northward, I walked 1.3 miles back to the camp store.
Since I had time when I got to the store turn off, I walked the AT portion that curled around the campground. I missed it yesterday when I accidentally took a shortcut to meet my friends. Silly to some, but I am a purist and want to walk every step. The camp store opened at 9 am and had few viable resupply options. I got bars, chips, and nuts. A kind section hiker gave me two oatmeal packets.
I quickly returned to camp, packed, and got on trail, knowing I had to do at least 20 miles to catch up to my friends. It was a warm, humid day with little breeze. My shirt was sweat soaked when I took a picture at the 900 mile point. I listened to an audiobook, saw a beautiful black rat snake, and took a lunch break. At the top of Hightop Mountain I stopped to examine my heels. Both inner portions had angry red welts that hurt with each step. I thought the cause might be wearing damp socks two days in a row so I changed into my dry socks.
Hobble-It planned to camp between miles 913 to 914. I stopped at a picnic area just prior to get water, but the pumps were dry. Soon I passed one campsite, then another, both full. It got dark and I turned on my headlamp. A few fireflies twinkled in the woods. At a viewpoint, where I thought I might have to walk to the next shelter and felt too tired to go that distance, I got Hobble-It's text that they were not far ahead. Then I saw the red glow of her headlamp and Come Along's lit tent. My longest day yet, 25 miles! I set up my tent and ate a bag of Fritos. Sleep eluded me for awhile as I had trouble finding a position that didn't put pressure on my irritated heels.
Day 65
None of us had enough water for breakfast so we started hiking. I noticed my stomach rumbling and ate a couple fig bars. It started to drizzle. In less than an hour we reached a spring near a locked cabin. We sat at the picnic table under the porch, filtered water, and ate breakfast. Then we knocked out 11 miles in a light rain punctuated with one heavy pour. Come Along and I chatted most of the hike. He is 57, lives in Shelby NC, does construction, and has bees on his farm.
We eagerly arrived at Big Meadows Wayside during the lunch hour. It was better than I hoped. The restaurant served Beyond Meat burgers so both Hobble-It (vegan) and I could eat them. I got mine on a GF bun, with chips and a delicious blackberry milkshake. The milkshake was a treat I heard raved about in a podcast. With my hunger satisfied, I got more resupply food from the well stocked store. We returned to our lunch table and ate snacks, chatting and charging electronics. Outside the storm had dissipated.
With only four miles to go they passed quickly, though we stopped 1/2 mile early when we came across a couple flat spots on a ridge. A view and good cell signal? Check. It felt like a luxurious day, though we did 15 miles. As soon as I set up my tent, I took off my shoes to air my feet. The red welts were angrier, but Come Along gave me Leuko medical tape to put over them and it helped. He sat in between my tent and Hobble-It's hammock. We chatted and ate more snacks. I gave my parents a quick call as I watched the sunset.
There are two tiny patches of poison ivy on my left forearm. Come Along told me to scratch them then dab up the resulting liquid with an alcohol wipe. That way the liquid doesn't spread the irritated area and the alcohol begins to close the wound. Giving it a try!
Day 66
I stayed up too late making use of the cell signal. Got a lot done, but I know lack of sleep isn't good for my body. Come Along bought a dozen eggs at the wayside. For breakfast he scrambled up four for Hobble-It and I; two for himself in ham fat. This was in addition to my oats, no skimping. We stopped at the shelter we were headed to last night. It had a spring flowing out of a rock. We met a section hiker named Sierra.
As I hike, I hear a lot of bird song and wonder what bird is making it. We met a couple who pointed out the sound of a rare yellow billed cuckoo. Later Come Along spotted one and pointed it out to Hobble-It and I. Five miles walking got us to Skyland Resort. We stopped at the dining hall, which had a large deck with an amazing view into a valley of patchwork fields. Lunch was an hour away so we passed time snacking and exploring. I got a large salad with hummus and quinoa plus blackberry ice cream. The coffee kiosk had free dog treats and I fed one to Goofy.
Following lunch we had about 10 miles to hike. Almost immediately there was a side trail to Stony Man viewpoint, one of the better known views in the park. The rocky protrusion offered an expanded view of what I'd seen from the deck with Skyline Drive visible far below to the right. There was also a large puddle full of tadpoles.
The trail is well graded within Shenandoah. Also, my heels haven't hurt ever since I applied the Leuko tape. Still, I felt my lack of sleep as I got sweaty on sunny hill climbs. We ran into Sierra at the Pinnacle and she hiked with us to Pass Mountain hut. There were a lot of bugs so I ate dinner in my tent.
Day 67
My sweaty shirt was still damp in the morning due to the humidity. Sigh. I put it on to dry from body heat. Yesterday Come Along harvested a Chicken of the Wood mushroom. He fried it with a shallot donated by Hobble-It, then scrambled in eggs. It was delicious. We shared the last few bites with Sierra.
It's been so nice to walk through Shenandoah carrying 1-2 days food, filling up on meals and snacks at waysides. This morning we hiked separately, each listening to audio input. We met at Elkwallow Wayside around 11 am and had an early lunch of snacks. There was a crowd of other thru-hikers, like Goofy and Jerry, Bucket.
In the afternoon we planned to hike separately but ended up near one another. At the cliffs of South Marshall mountain I took a snack break with a view. This encouraged Come Along to snack as well. We watched clouds go by as if hurrying to join a distant rain storm. Not long after we encountered a timber rattlesnake, centered on the trail with an uplifted rattle. Come Along nudged it off the trail with his hiking pole and the three of us gave it a berth as we passed. A brief rain squall made me put on my pack cover and jacket, the latter which quickly got too hot.
After a dry 12 miles we got water at Compton creek then pushed on to the next shelter. The trail was flat and smooth until the northern park boundary where it made a dramatic shift to a steep descent composed almost entirely of rocks. Though the trail flattened back out it remained rocky, requiring the normal vigilance of the AT. It was a 23.6 mile day by the time we crammed our three shelters into a small campsite. Hobble-It and I made it work by leaving off our rain protection, which turned out okay. We ate a quick dinner and watched fireflies, which I am always excited to see.
Affiliate Disclosure
This website contains affiliate links, which means The Trek may receive a percentage of any product or service you purchase using the links in the articles or advertisements. The buyer pays the same price as they would otherwise, and your purchase helps to support The Trek's ongoing goal to serve you quality backpacking advice and information. Thanks for your support!
To learn more, please visit the About This Site page.