SOBO bubble
Day 81
We woke up in Port Clinton near the Pavillion and packed up under head lamp. We made some coffee by the picnic tables and found we were in a SOBO bubble. Several others had arrived later at night. We saw a couple familiar faces, Indy and Wildfire! Wildfire we had not seen since the Lookout Cabin in Vermont (well over 500 miles ago). He had decided to veer off and complete the Long Trail in Vermont then head back to the AT. We also met Cast Iron and Ducky. We seem to still be caught up in a SOBO bubble.
We hiked up and out of Port Clinton. The rocks continued.  The nice thing about Pennsylvania is once the initial climb is completed, we're hiking for miles on ridgelines with limited elevation change.  However,there are also limited views.  When we do get a view, we enjoy looking at the expansive farmlands. We had another over 20 day and it's starting to become routine.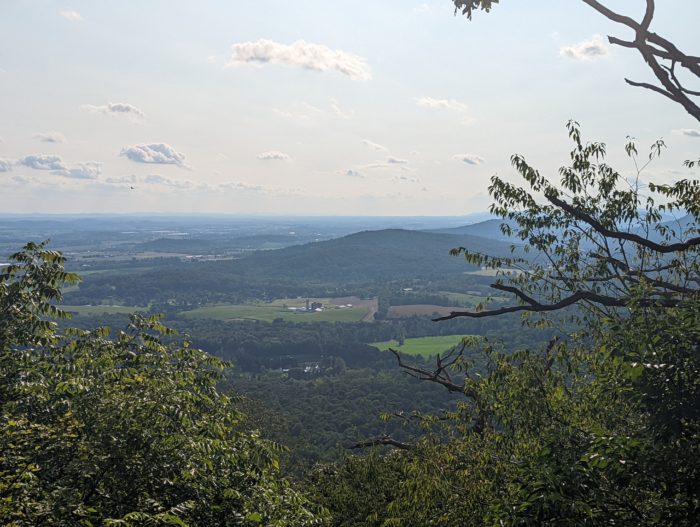 We cruised into the 501 Shelter already buzzing with hikers.  Gourmet, whom we had not seen since Connecticut, was there. We also met Timeless, a flip flop hiker who summited Katahdin a few days ago and is now heading south to Springer.
Mishap and Amethyst were also there.  They have been documenting their hike through YouTube. They originally starting a SOBO hike together but Amethyst got injured so she has been supporting Mishap in their truck. She meets him at roadside crossings and often they sleep in the converted bed of their truck. She is hoping to heal and get back on trail soon.  We recognized them from our time at the Green House restaurant in Warren, NH.  The owner, Gary, put their channel on at the tv over the bar that shared their SOBO experience.  It was fun reminiscing about the Green House, how long ago that was!
Photo cred: Mishap and Amethyst. Follow their YouTube channel: Mishap & Amethyst Hikes
Because of 501 Shelter's proximity to the road, several local restaurants will deliver food.  We happily split an extra large pizza and 2 liter soda with Cast Iron.  We were responsible adults and added a grilled chicken salad into the mix, got to get those veggies when you can. We slept well with full bellies although a mouse was heard rifling through something all night. Luckily we didn't wake up to anything skittering across our bodies.
Day 82
We packed up early with most of the other SOBOs and continued hiking southbound.  We had an exciting milestone only a few miles from camp.  We have now hiked 1000 miles!  That is a wild number. We still remember the joy of celebrating 100 miles back in Maine.
Amethyst met us at the road just after the 1000 mile mark with some trail magic: pancakes, sausage, bananas, and orange juice. Now that's a great way to celebrate 1000 hard earned miles!
Group Photo cred: Mishap & Amethyst
We pushed on, continuing to stumble and trip over the Rocksylvania terrain. We put our heads down and pushed the miles just happy the weather was sunny and clear. We had some nice views and then hit our second trail magic! We hadn't gotten trail magic since Great Barington, Massachusetts and now we get it twice in one day! The parents of Big Catt (a SOBO about 10 days ahead of us) were visiting her on trail in West Virginia and decided to do some trail magic on the way home. We gratefully drank cold sodas and stocked up on granola bars.
We arrived at the campsite just before dark. The site was large enough for several tents and already had a campfire going courtesy of a section hiker going by AT Biker. We enjoyed talking with AT biker, Timeless and Cast Iron about the towns coming up, Duncannon, Boiling Springs and Pine Grove Furnace where we will do the infamous Half Gallon challenge.
Day 83
We listened to a porcupine squabble last night.  Lots of chirping and then a squeal and scurrying. The winner lingered around camp and we caught a glimpse of him under headlight when we got up early in the morning. We all packed up and headed out, we would hike all day and then stay in Duncannon. Eric has many good memories of this town from his NOBO hike.
The day was uneventful, some small views and lots of rocks. Our feet are swollen and in constant agony from the continual exposure to rocks. The small pointy rocks planted in the ground are particularly horrible when your foot strides over them. The yellow jackets are also particularly bad. They just hover near the ground on the trail forcing us to walk past and even over them. Hayley got stung on the back of her calf but Eric has managed to avoid them. We have seen easily a dozen every hour or so.
We leap frogged Timeless a couple times but then lost her. We rolled into Duncannon quicker than anticipated and immediately headed to the ice cream stand (taking a detour to grab a couple whoopie pies being sold at a booth in an antique market. Duncannon is where the Lightening Gluider sleds were manufactured.
After some excellent ice cream we headed to the church on the trail that is extremely thru-hiker friendly. They allow hikers to sleep in the basement and shower.  Hayley also made friends with the friendly fat cat.  This fully stocked basement included Gatorade, bottled water, ice cream, and some chips.  We were hoping for a free home-cooked dinner as noted in FarOut.  Sadly, Wildfire had to deliver the news that this homecooked dinner has not occurred since Covid.
Being the resourceful hikers we are, we all went to one of the many local restaurants.  We claimed a few seats at the the Doyle hotel and also enjoyed some live music. Eric has a lot of great memories from his 2011 hike.
After a few drinks and some great live music at the Doyle, which is one of the last Anheuser-Busch Hotels, we walked back to the hostel.  We realized while at the Doyle that we are thru-hikers and our bedtime is 9! It's easy to get sucked back into regular life the minute you leave the trail.
Once we arrived back at the church hostel, several of the other hikers shared a story of an odd person who had been at the church hostel earlier had joined their table at the pub and then dined and dashed.  While frustrated that this made the thru-hikers look back because he we was in their company, we were not going to let this bring down the positive town vibe. We decided to get more ice cream before headed back to to finally go to bed. We were well past hiker midnight but satisfied with another night with fully bellies.
Affiliate Disclosure
This website contains affiliate links, which means The Trek may receive a percentage of any product or service you purchase using the links in the articles or advertisements. The buyer pays the same price as they would otherwise, and your purchase helps to support The Trek's ongoing goal to serve you quality backpacking advice and information. Thanks for your support!
To learn more, please visit the About This Site page.