Steph's AT Hike: Days Nine to 13
Day Nine: Unicoi Gap to Deep Gap Shelter, 13 Miles
I got an early shuttle out of Hiawassee with three other hikers. We were dropped off at Unicoi Gap, where I had gotten off the trail on Saturday when the big storms rolled in. I was on the trail and hiking at about 7:30 a.m.
The first several miles were uphill to the summit of Tray Mountain. With the temperature being 35 degrees and and some strong winds, it was a chilly morning of hiking. There were even some icy sections of the trail, but luckily by 11 a.m. the temperature had risen to the 50s and melted any remaining sections of ice.
My feet had been hurting off and on the previous few days, but by lunchtime they were causing me some really significant pain. In addition, both of my Achilles tendons felt inflamed so I had a pretty miserable afternoon. It was challenging to try to find the beauty in being outside walking when every step was painful.
Today was also the first day of being fully solo on the trail. I missed having my mom along with me. It helped to put on an audiobook and listen while I kept moving along the trail (pro tip: use one ear bud only so you can stay aware of your surroundings!).
Although there was plenty of daylight left, I stopped with some others at Deep Gap Shelter for the night. Because the temps were predicted to dip down into the 30s, I chose to sleep inside the shelter for warmth. We packed at least 12 people in the dual-level shelter and luckily had no problems during the night with mice.
Day Ten:
Deep Gap Shelter to ~1.0 Past Blue Ridge Gap, 10.4 Miles
Wilson Pickett's In the Midnight Hour is playing on my headphones. I am snug in my wool long underwear, puffy jacket, and down sleeping bag, all tucked in tight in my hammock. The bear bag has been hung, and I'm ready for bed. A slight breeze slowly pushes the hammock back and forth. This is my first night in the hammock and it's so-far-so-good.
Earlier today…
Before leaving Deep Gap Shelter this morning I taped my Achilles tendons in an effort to help alleviate the pain I'm having in my feet. It definitely helped for the first part of the day. I was walking at a much slower pace, and being more careful with my steps on the rocky trail.
It was a glorious morning, the best hiking weather I've experienced yet. Around lunchtime I crossed Dicks Creek Gap, where I took advantage of a shady spot with a picnic table. My breakfast, lunch, and dinner today were nutrition bars from a company called Greenbelly. I wouldn't say I loved them but the flavor was pretty good and they were filling. Not bad for something I got for free in a hiker box 🙂
There was a long uphill climb right after lunch and the sun had really heated things up. The arch of my left foot had begun to be uncomfortable. Throughout the afternoon the pain worsened, and I relied more heavily on my trekking poles. The trail was like a roller coaster, with ups and downs one after another.
I stopped frequently to rest my feet. I took these breaks enthusiastically, and tried to absorb more of my surroundings, not just try to get farther along the AT. At one stop I watched two vibrant yellow butterflies flutter about for almost 20 minutes. Georgia was giving me something to remember other than just steep rocky trails and it was nice.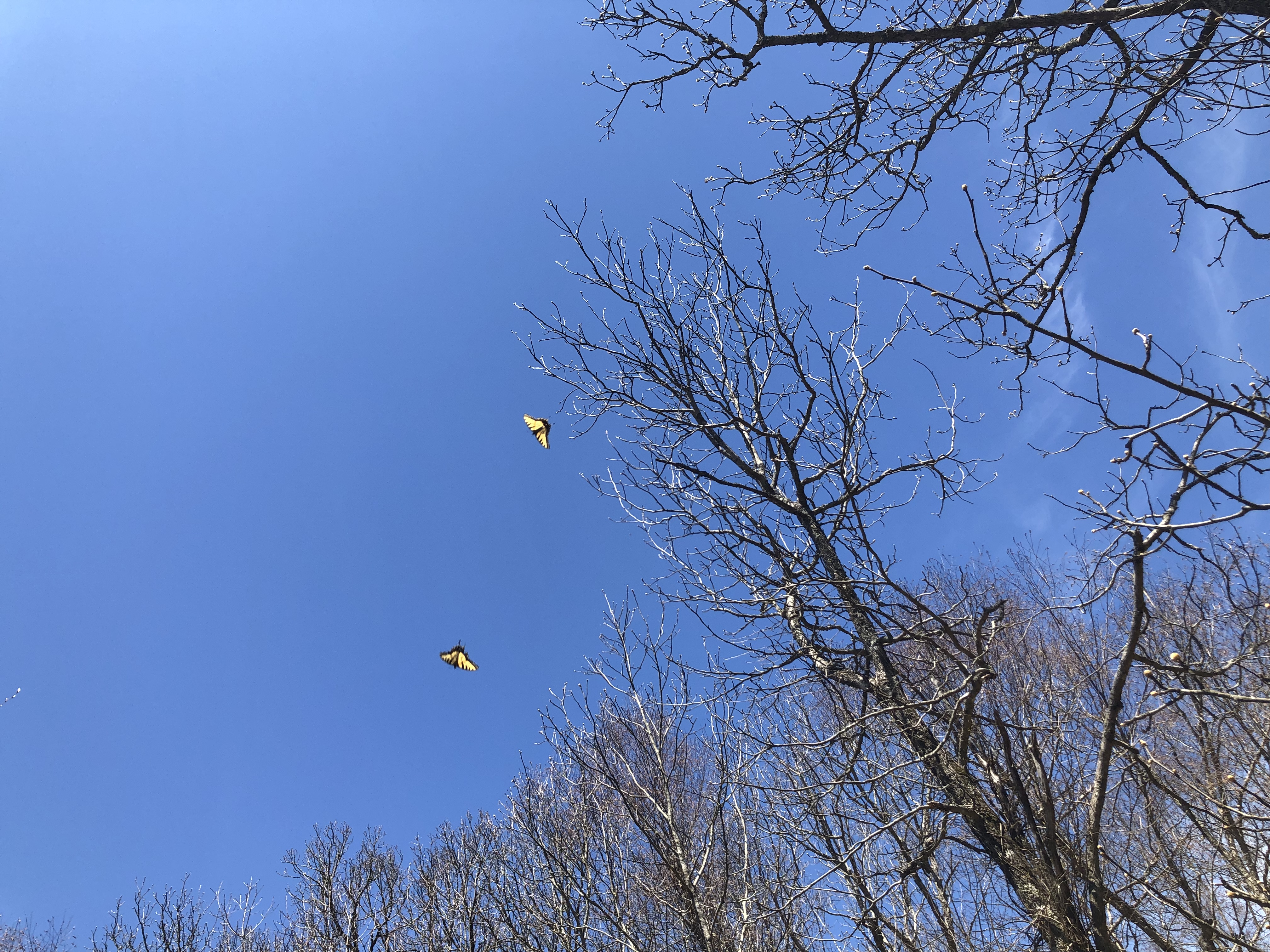 Entering North Carolina and leaving Georgia behind, the AT will take me across the border tomorrow around midmorning. I can hear an owl hooting nearby, and I'm a little anxious about how my feet will feel in the morning. I am satisfied with how I got my hammock camp all set up for the first time; goodnight time now at 10 p.m.
Day 11:
~1.0 mile Beyond Blue Ridge Gap to Standing Indian Shelter, 9.8 Miles

I slept pretty well the previous night, only waking up briefly once or twice. As it was the first time I'd used the hammock setup, I was surprised when I even slept in.
I took my time getting going in the morning and savored the process. I found a flat rock outcropping and dubbed it my own Pride Rock, and spent an hour relaxing and reading before I started on down the trail.
I've been reading Old Lady on the Trail: Triple Crown at 76 by Mary Davison. Davison's stories tell of her journey toward completing the three biggest thru-hikes in the US: Appalachian Trail (AT), Pacific Crest Trail (PCT), and Continental Divide Trail (CDT). I've found this great inspiration for me to read each evening before I sink into a well-deserved sleep.
I doubled up on my coffee consumption and ate a bigger breakfast in anticipation of the hard climb I knew I had coming a few miles ahead. After taking extra time to tape up my feet really well, by the time I donned my pack it was 10:30 a.m. In a few short but steep uphill miles I reached a milestone—the North Carolina/Georgia border.
After crossing the state line and Bly Gap's landmark twisted tree, North Carolina gave me a big welcome with Sharp Top, Courthouse Bald, and Bushy Mountain. Such seemingly endless switchbacks! Parts of the forest were a carpet of green with yellow and white flowers. There were more rhododendron tunnels, too.
In the afternoon I took a break next to Muskrat Creek. It was a nice spot with good, flowing water and spots of shade. My feet were just beginning to give me trouble, but knowing the next few miles would be relatively flat allowed me to continue on.
Once I'd crossed into the Southern Nantahala Wilderness, I made the decision to stop for the day at a campsite by Standing Indian Shelter. I did a little better with my hammock setup, then found a spot to hang my bear bag after dinner. Four squares of Godiva chocolate were the perfect ending for my challenging day.
Day 12:
Standing Indian Shelter to Mooney Gap, 12.2 Miles

When I awoke this morning, the other hikers who'd camped around me last night had already packed up and hit the trail. There was thick fog, but by the time I had gotten ready for the day it had mostly disappeared.
I started out slow and steady, finishing the climb up to the summit of Standing Indian Mountain. The sun poked out from behind the clouds, and I took the opportunity to sit for a spell and enjoy the views. The next several miles were a mixture of steep downhills sprinkled with some blessedly flat sections of trail.
The gossip on trail today was focused on the upcoming weather system moving in on Friday. As I passed other hikers (or a more common occurrence—they passed me) we all discussed the forecast of heavy rain and winds, then snow predicted the following night. If I could get the miles in, I would make it to the next trail town before the snowfall had a chance to begin.
I trudged along today, and grinding out the miles was hard. The eight hours I spent hiking seemed much more of a challenge, especially mentally. I wasn't as able to "embrace the suck" compared to my previous days on the trail. I consoled myself with the remaining chocolate I carried with me. Dark chocolate almond sea salt did the trick.
Day 13:

7.8 Miles

What a crazy storm overnight! I was awakened by the rain at 11 p.m. My hammock was staying pretty much dry under my tarp, so I was able to relax enough to go back to sleep. I woke up again at 2 a.m. to high winds driving the rain almost sideways, and I really thought my rain tarp might just blow away. There was a lot of lightning and I could hear distant limbs and trees falling in the storm. Needless to say, I didn't get much sleep.

There was a letup in the storm around 6 a.m. and since I was already awake I went ahead and packed up and hiked on to the next gap where I could snag a pick-up into Franklin, NC. Another group of three hikers came along midmorning, so all four of us shared the ride into town.
I was soaked completely through by the time I arrived at a hotel for the night. After the rain and storms, all my gear was completely wet so I dumped everything on the floor and spread things around my hotel room to dry. It was so nice to take a long, hot shower! I then grabbed a Subway salad from the shop next door—my first fresh veggies in almost two weeks :/
Too tired to do much else, I flopped down on the bed and worked on a blog post. I haven't had much cell service so far during the hike, let alone Wi-Fi. This has made it hard to get blogs posts uploaded on a timely basis, so I've decided from now on to just do them once a week whenever I get to a town.
Affiliate Disclosure
This website contains affiliate links, which means The Trek may receive a percentage of any product or service you purchase using the links in the articles or advertisements. The buyer pays the same price as they would otherwise, and your purchase helps to support The Trek's ongoing goal to serve you quality backpacking advice and information. Thanks for your support!
To learn more, please visit the About This Site page.