The Logistics of Thru-Hiking with a Baby on the AT
Once in a while, in the midst of the twenty-something year olds, retired adventurers or young couples daring to put their relationship through the ultimate test, lies a rarer demographic on one of America's greatest thru-hikes; the family with a baby.
We're the Wales family, hailing from Australia, and we just reached mile 200 on the AT with our 6 year old Acacia and our 13-month-old baby, Sierra.
No one could prepare us for what the last month has been like; we've had injuries, plenty of tears, a series of emotional meltdowns and exhaustion on all levels.
But we've had some wins too.
Working out the kinks in the set-up, the weight distribution, the right balance of nutrition to calorie intake and the dreaded diaper carry-outs have helped us get to where we are now.
So for those of you out there planning on one day tackling the AT (or most any thru-hike) with your precious little cargo, or you're a curious hiker (and perhaps a touch inspired by the likes of us) and want to know the logistics of how it's done, this article is for you.
The Diaper Situation
The dilemma here is whether or not to go with cloth diapers or disposables. And both have their rightful place.
We initially planned to hike the PCT this year, so cloth diapers had become almost our only option (due to the lack of road crossings, and longer days between resupplies).
But the change to hiking the AT opened up the possibility of disposables. Almost every other day (if not sometimes every day) we have passed a parking lot or crossroad where we've discovered either a trash bin OR delightfully encouraging day-hikers who have stopped to wave at Sierra and chat with us on trail.
This is the moment we choose to ask them, with bashful smiles and a slightly desperate tone,
"If you're about to head back into town, would you mind taking our trash/dirty diapers with you please? It would help us as a family so much!"
The weight of soiled diapers (be it 5 or 10) is REAL. Taking that extra weight off you is a big win.
Side note here: use zip lock bags to place the diapers into, as a courtesy to the trail angels who take the load off.
Another courtesy to both yourselves and to those who off-load for you, is poop disposal within your disposable. Meaning, when bub does their poop, dig a cat-hole and drop it in whenever you can. We found laying a sheet of dry-wipes on top of the diaper helps to catch the poop and separate it from the rest of the diaper.
The melange of smells you will already be issuing out on trail doesn't need one extra scent. Plus, less weight.
And lastly, the porter potty. We took this idea from another trail family (the Netteburg's) who had cut a hole in the bottom and used it to encourage their bub to do their business out of their diaper whenever they had rests. Genius!
Not only does it work, but it gives their little bottoms that much needed air time, AND doubles up as a seat during lunch breaks.
A big win for all.
The Food Dilemma
Keeping up nutrition on any thru-hike is an almost impossible task. With the focus being on calorie intake, what's quick and easy to eat while being light in weight means most 'normal' foods go out the window.
But there are a few cheats that can help bub along (if resupply allows for it).
Breakfast: pre-made ziplocks of oats, greens powder, flax/chia seed mix or some dehydrated fruit is a great starting off point. It weighs-in equal to, if not lighter than, the 2-3 granola bars for each morning and has far less 'mysterious' ingredients.
Veggie/fruit pouches will be both your enemy and your friend. They're weighty, cause a relatively large dent in your trash bag, BUT they will save the day.
Give it to bub to hold and suck as you walk or as a nutrient dense safe-guard before the ever- popular tuna and wraps for lunch.
Avocados and mandarins and tomatoes oh my! Yes, the dreaded fresh produce on trail. It weighs in more than everything else and contains organic peel that you can't bury.
But for the first day or 2 on trail we found it was worth it.
1 avocado for lunch, 1 mandarin as a snack and a punnet of tommy tomatoes for 2 days (no trash leftover) is huge for babies on trail.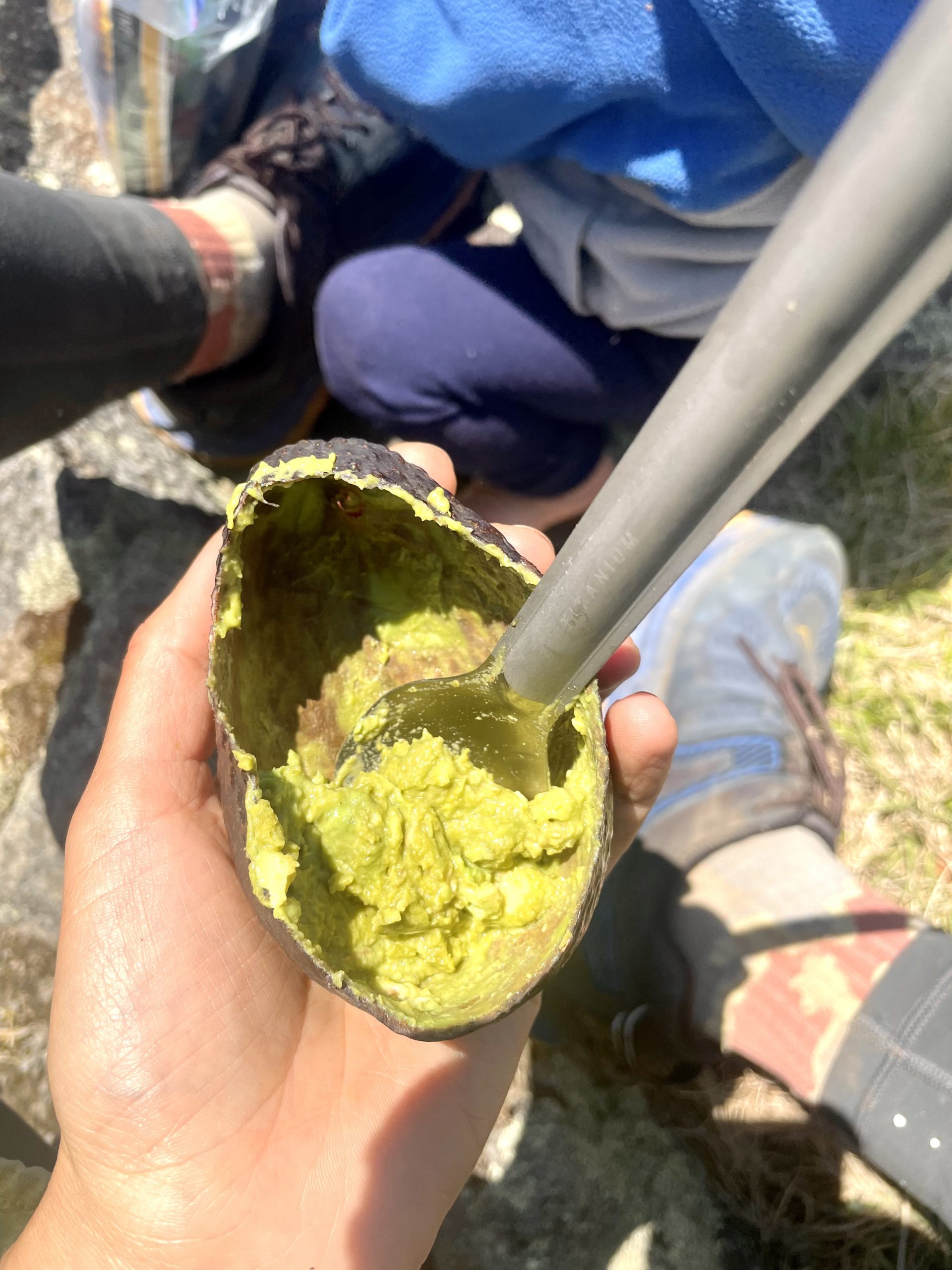 Again, you can only really keep this up for a day or two. Day 3 and 4, 5 and 6 (if that's your schedule) won't allow for that much weight or for produce to stay intact.
And for dinners, we were pleasantly surprised with the dehydrated meals we stumbled upon. There are so many good ones out there with great nutrient dense ingredients and little junk. Bravo to the companies making a difference for us hikers! It's certainly more dear than the Knorr's rice packs but if you can financially do it, it will fill up the fuel tank for the whole family far better.
Our personal favourite has become the Backpacker's Pantry selection. They tend to pay closer attention to their ingredients.
Sidebar; if you're a breastfeeding mama (which I am) keep it up if you can!
Two must-haves on trail for you are:
Electrolytes: keeping up your water intake isn't enough if you've been sweating all day and have depleted your salts. Take a tablet each day in your water bottle and get it down you.

Supplements: no matter what you try you will NOT be getting enough nutrients in your diet on trail, especially if your breastfeeding. So taking a multivitamin is going to be your saving grace.
Deadweight
Let's talk about the obvious now. The deadweight of about 15-25 lbs that may be your baby on trail.
So, when the twenty-something year olds are packing ultra-lightweight at an average of 25lbs all up, where does that put you as a mum or dad?
Forgo the extras. Cut every corner, weigh every gram. If there are ultra-light weights you have to be ultra ultras.
Reverse the undies, cut your toothbrushes, carry only 1 set of clothes. Do whatever it takes to cut down the extra weight so you can better carry that precious cargo of deadweight every day all day.
For us, I carry Sierra (22 lbs) plus the diapers for the stretch of trail we're doing, water, my snacks for the day and waterproofs. All up I'm looking at best 35 lbs. That barely changes.
So that leaves my husband to carry everything else. That's anywhere between 50-60 lbs.

But you WILL get stronger. So the longer you stay on trail the more you'll be able to carry. But to begin with, keep it LIGHT.
The Sleep Set-up
One of the other biggest questions we've had on trail has been "Where and how does your family sleep in the tent?"
We thought we had it all figured out right up until the day we left to fly into Atlanta.
My husband Samuel is a bit of a gear junkie and also happens to be a seamstress.
So after going back and forth he decided to turn our Z-packs Triplex into a 4 person tent by sewing up a side-car into the vestibule of the triplex for our 6 year old to sleep in. It meant that Samuel and I could more comfortably fit inside the body of the tent with Sierra.
That being, two mats tied together at the bottom and a small sleeping pad placed between the pads at the top where Sierra is sandwiched in-between.
Over the top of us all goes a double quilt as well as Sierra sleeping in her Patagonia down onesie.
Everyone stays toasty warm (even in the Smokies below freezing), and there is no compromise with weight.
Lastly, there's one all important factor that will make or break a family with a baby on a thru-hike. The support network.
The AT is a winding path of trail angels, trail community, town support systems, helpful strangers and conservancy ridge-runners who are all desperate and willing to help a family with a little one.
This trail will support you. The PEOPLE will support you. You will never be in a situation where you are stuck with no way out, run out of food and perish in a shelter somewhere, or struggle to find a ride into town to resupply for diapers.
There is a lot of care and attention given to the rare likes of us families with a baby. We are blessed to be on trail and can only truly succeed because of everyone else out there.
Affiliate Disclosure
This website contains affiliate links, which means The Trek may receive a percentage of any product or service you purchase using the links in the articles or advertisements. The buyer pays the same price as they would otherwise, and your purchase helps to support The Trek's ongoing goal to serve you quality backpacking advice and information. Thanks for your support!
To learn more, please visit the About This Site page.