The middle states
Since we are so far behind on our blog posting, we are going to cover a few states in rapid fire succession of highs and lows!
New York (1368.7 – 1458.7)
High
Hands down the best part was our fabulous and unexpected zero day with our friends, the Hampson's. Brian and SueEllen picked us up from Bear Mountain State Park and brought us to their house for a shower, a bed, and a few home cooked meals. It was the R&R that our souls and bodies needed after a busy trip home and a tough re-entry to the trail. Thank you, Brian and SueEllen!
Low
The weather. New York in July is HOT and stormy. We were soaked in sweat all day, every day. We also camped through an epic thunderstorm where our Nemo Dagger tent held up admirably (not really a low, that storm was super cool).
Connecticut (1458.7 – 1508.8)
Highs
Connecticut was beautiful and the terrain was pretty mild. We finally moved out of the bogs of New Jersey and New York and started to get back into some small mountains for the first time in a long time. We took it easy, enjoying the views and not being in a rush. 

We also got to visit one of Jet Pack's buddies, Shiva. He came and picked us up on a Friday night and took us back to his apartment. We relaxed, ate pizza, watched a movie, and slept in before driving back the next day. I feel so lucky to have such awesome friends that have taken such good care of us along the trail.
Low
I honestly can't think of a low. Connecticut was awesome.
Massachusetts (1508.8 – 1599.6)
High
Overall, we loved Massachusetts, but the town of Cheshire was one for the books. We camped in a community sponsored campsite called Father Tom's and found our long lost friend, Easy E. The three of us borrowed three bikes and rode through the town to a local pub, the Bass Water Grille. We caught up with Easy E and chatted with the locals; one man even generously picked up our whole meal tab! We closed the place down, rode our bikes back to the campsite, and looked at the stars. Towns like Cheshire make us wandering hikers feel right at home, and man did it feel good.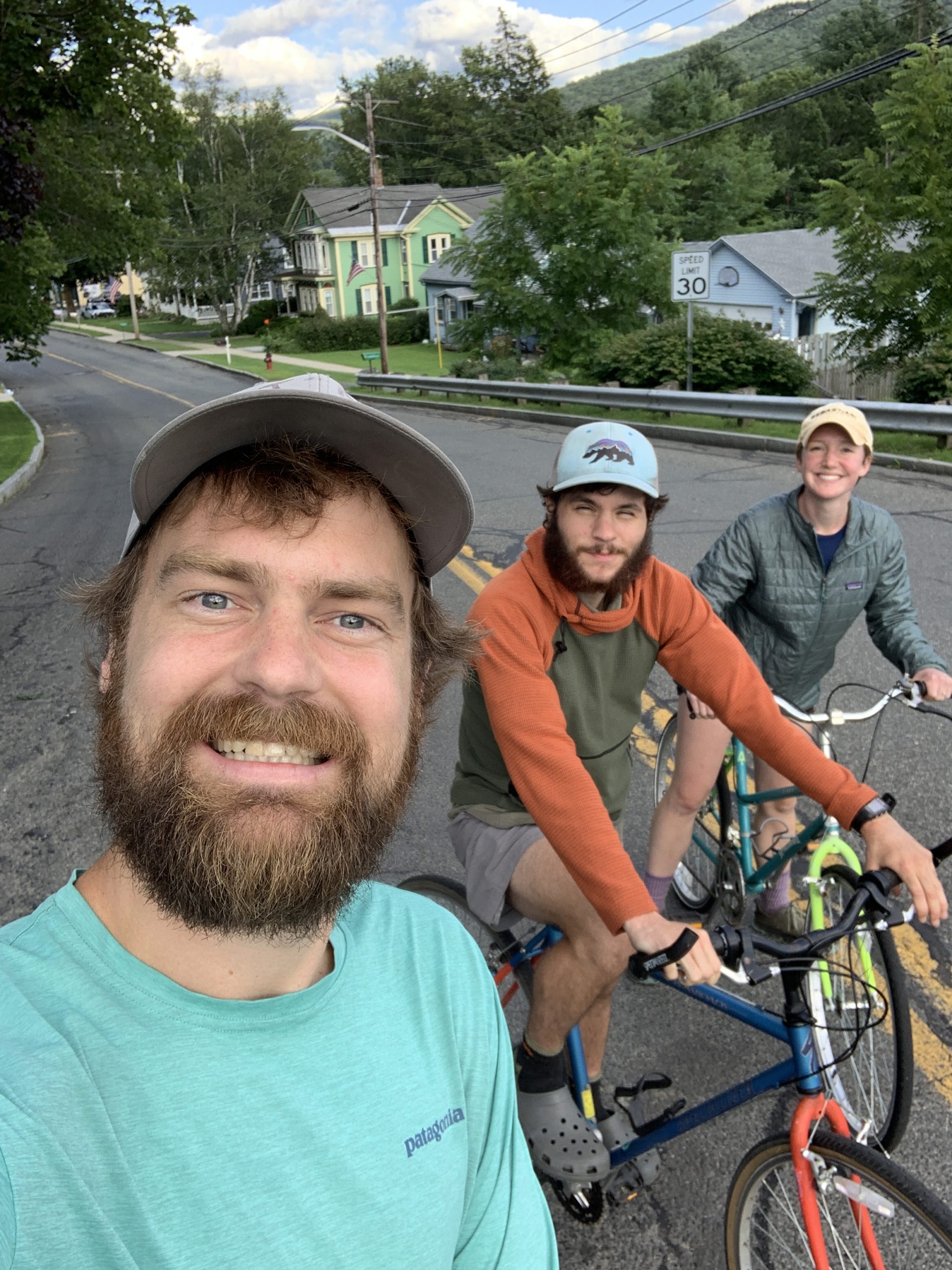 Low
THE MOSQUITOES FROM HADES. You guys. Never in my life have I experienced such a persistent swarm of mosquitoes as I did in southern Massachusetts. We had heard that the mosquitoes were bad and had privately rolled our eyes, thinking how we had already been through NJ and NY, and they couldn't be THAT bad, but oh how wrong we were. 10 miles of trail had flooded and turned into a breeding ground for marshy mutant mosquitoes that couldn't be killed and could swarm you for all 10 miles. Jet Pack and I hiked as fast as we could, bug nets over our heads, swatting like crazy people. We set up our tent, interrupted by each of us running 50 yards away to distract the swarm and running back, and dove into our temporary refuge. Our tent walls were smeared with the carnage of our foes and the buzzing of the mosquitoes lulled us to sleep.
Vermont (1599.6 – 1750.4)
High
As I have mentioned before, Jet Pack and I have hiked with several different evolving trail families over the duration of our hike. Vermont was the first time our trail family had a name: The Enablers. We found ourselves a part of a merry group of friends who easily talked each other into stopping at delis, packing out Natty Daddy's, and taking time to smell the roses along the trail. It was a time full of laughter and working hard to resist the "vortex" of towns.

In Rutland, we stayed in an iconic hiker hostel called The Yellow Deli. Run by the 12 Tribes community, we enjoyed the peaceful and culturally unique atmosphere as we took a night off to rest in town.
Lows
So. Much. Mud. 
A new record (that we were not trying to break) for our longest stretch without a shower- 10 days.
Expectation versus Reality:
Expectation: we would post a blog entry once per week.
Reality: not even remotely close.
Affiliate Disclosure
This website contains affiliate links, which means The Trek may receive a percentage of any product or service you purchase using the links in the articles or advertisements. The buyer pays the same price as they would otherwise, and your purchase helps to support The Trek's ongoing goal to serve you quality backpacking advice and information. Thanks for your support!
To learn more, please visit the About This Site page.