The Secret Life of Trees (or if a tree falls in the forest is it actually plotting to kill you?)
One of the quirkier things my husband has been worrying about as we prepare for our AT thru-hike is getting hit by a falling tree, which amuses me a bit.  It's true that a lot of trees fall over in the forest.  We see them everywhere as we hike, tilting at crazy angles, creaking ominously as the wind blows, or snagged in another tree's branches after being uprooted in a storm.  And it's also true that at least one AT hiker has been killed by a falling tree — and in our area, too.  But of all the dangers there are to worry about — snakes, bears, ticks, and deranged Deliverance-style murderers — toppling trees don't usually make my list.
At least they didn't until I read an article revealing that trees are smart.  It turns out, according to multiple researchers, that trees are much more complex than we once believed.  They can differentiate between species.  They form friendships with each other, protecting and nurturing the weak ones in times of need.  And they actually communicate in various ways – by intentionally making noises, sending out chemical signals, and using fungal networks in the soil called the "wood wide web."  Yes, you read that right.  Those supposedly silent trees are actually abuzz with activity, gossiping like giggling schoolgirls, sending out news and messages as we hike past.  (You can read the article here:  https://www.dailymail.co.uk/news/article-3792036/Do-trees-brains.html)
So what do they talk about?  Predators, for one thing.  When insects or animals chomp on their leaves, they give off a warning gas or electrical signal.  That prompts the trees around them to send bad-tasting compounds into their leaves to keep the hungry critters from getting to them.  Or they release something that attracts the predators of those animals, like calling for backup from a gang of thugs.  Trees can also think ahead, collaborating and strategically coordinating their nut crops so the deer population doesn't explode and do them in.
All of this makes me wonder.  If trees get that alarmed by gentle deer munching on their leaves, what do they think about humans who come bearing axes and chain saws or bulldoze entire woods?  While I'm tripping happily down the trail, imagining that they're swaying peacefully in the wind, are they really plotting my demise, preparing to plunge to earth and slay me in retaliation for my brethren's sins?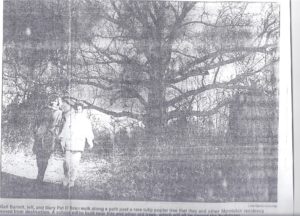 If so, I'd like to explain that I'm one of the good guys.  I love trees.  I spent my childhood sitting in their branches.  I've planted trees nearly every place I've lived.  I even helped get a Virginia school district to save an ancient tulip poplar from demolition.  Surely they can count on me as a friend?
Regardless, I know one thing.  I'll never view trees the same way again.  And before I strap my hammock to them at night, maybe I'd better ask their permission — before they turn homicidal and decide to exact revenge.
Affiliate Disclosure
This website contains affiliate links, which means The Trek may receive a percentage of any product or service you purchase using the links in the articles or advertisements. The buyer pays the same price as they would otherwise, and your purchase helps to support The Trek's ongoing goal to serve you quality backpacking advice and information. Thanks for your support!
To learn more, please visit the About This Site page.