The Whites
Day 136: NH Rt. 25 to Kinsman Notch (9.5 miles, marker 1,808.8)
Today was my first day hiking in The White Mountains of New Hampshire. The hostel I'm staying at provides multiple slackpack options, of which I plan to partake of all. Today was a SOBO hike of Mt. Moosilauke (4802′). I was very happy to be hiking this southbound since it began with a dizzying steep climb up the side of a waterfall.
Besides not wanting to descend this, the other advantage to going up was that I could look at the beauty of the falls the whole way.
The summit was the first real experience above treeline for this journey. The views were incredible, including the upcoming Franconia Range. The wind was chilling and I donned my rain jacket while walking the ridge from the north peak to the south peak.
I finally descended, and arrived back at the hostel. They had just received their mail for the day and my re-supply package did not arrive. My original plan was to also hike the previous 9.7 miles, but since I was stuck for another day, there was no point in pushing it. I chilled out for the rest of the day, giving me lots of opportunity to talk to Legion, the hostel manager and a triple crown hiker, to plan my journey through The Whites and beyond.
Day 137: NH Rt. 25A NH Rt. 25 (9.7 miles, marker 1,799.3)
Incredibly light day today. Slept in to about 7:30 am and then leisurely got ready until my shuttle to my start point took me over around 9:30 am. It was an easy ten miles, summiting Mt. Mist and passing the 1800 mile marker just before the end. Luckily my package arrived so I could move on the next day. Unfortunately the weather the next day looked miserable so I decided for a zero, but I would go to a hostel a bit further north so at least I felt like I was making progress
Day 138: Zero at Kinsman Notch (9.5 miles, marker 1,799.3)
Today was supposed to be a long day of thunderstorms. Legion strongly discouraged hiking The Kinsmans in a thunderstorm, and having been caught in thunderstorms in the mountains before, I couldn't disagree. An impromptu zero was the plan, which turned out to be great timing because my friend Pounce was free for the day and came to visit with me. I hadn't seen her in quite sometime, and while I had known she'd hiked the AT in 2008, I didn't realize she'd triple crowned as well. We got food and drink and caught up and exchanged trail talk for many hours before she finally dropped me at The Notch Hostel for the evening. The Notch was lovely, with a few more rules than the previous place as it also catered strongly to section hikers. Every hostel has it's charm. I loved my stay at The Hiker's Welcome Hostel for it's rustic feel and the incredible wisdom of the area offered by Legion. I loved The Notch for it's elegance and social space. I recommend both to anyone hiking through, and they have a great deal where if you stay at Hiker's Welcome, you can slackpack The Kinsmans NOBO and they will drop your extra gear at The Notch, who will pick you up from the end of your hike.
Day 139: Kinsman Notch to Interstate 93/Lincoln (16.3 miles, marker 1,825.1)
Today's hike of The Kinsmans was a big day despite it being a slackpack day. I got dropped off around 7:30 am by RoadSoda at our starting point, along with JustCuz, HolyShit, and a few other hikers. The hike included summitting Mt. Wolf (3464′), South Kinsman Mountain (4358′), and North Kinsman Mountain (4293′).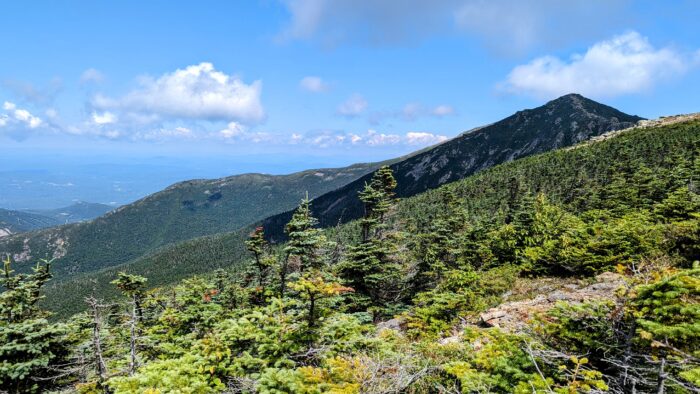 We also passed the southernmost hut in the whites, Lonesome Lake Hut.
There was a fair amount of rock scramble along the way, and as I ascended the final climb, I slipped, slamming my pole into a rock and snapping the second one in half. Again, as I descended with only one pole, I could definitely tell in the opposite knew how much I use the piles to decrease the torque on my joints. Luckily, when RoadSoda picked us up, he had a little extra time and he ran me over to the local outfitter where I was able to get a nice new set of Leki poles with shock resistance and cork handles. This time I went for aluminum instead of carbon fiber. A little heavier, but more resistant to getting banged around. Dinner was takeout Pad Thai as a treat from Bittersweet and Beers purchased by RoadSoda. I wrapped up the evening hanging around the fire with some of the staff, all previous thru hikers and a couple other hikers.
Day 140: Interstate 93/Lincoln to Garfield Ridge Campsite (10.3 miles, marker 1,835.4)
Yesterday was a big day but today was a beast. Even though it was just over ten miles, the terrain was difficult and it involves summitting four mountains. I had the forethought to buy 18 eggs and veggies the evening before, so I started the day right by setting my alarm for 5:00 am (to which I heard someone in the bunkroom exclaim "What the fuck!") and making omelettes for the six thru-hikers who stayed the night at the hostel. We got shuttled back to the visitors center at I-93 and I began my walk with JustCuz and HolyShit. JustCuz led and set a very mellow pace for a steady climb that promised to go on a long time. At the first water stop, I hung a little longer than they were happy with, chatting with a previous years thru-hiker, so JustCuz and HolyShit took of. That was the last I saw of them that day. I continued my climb until finally I reached the summit of Little Haystack Mountain (4780′) from which I could see the dip and rise of the next two mountains.
The next couple hours were spent traversing the windy ridgeline up and over first Mt. Lincoln (5089′) and then Mt. Lafayette (5260′). From the summit of Mt. Lafayette, I could clearly see Mt. Washington in the distance, but I could also see the long descent and then rise over my last mountain of the day, Mt. Garfield (4500′).
The descent from Mt. Lafayette and then the climb up Mt. Garfield and the partial descent to my campsite were very steep, but the view back over Franconia Ridge from which I had come was incredible.
Fair to say when I got to the campsite I was pooped. The campsites in the White Mountains are maintained by the AMC (Appalachian Mountain Club) and have fees and caretakers. The caretaker was busy doing privy maintenance when I arrived, but let me know where to set up my tent. I got set up on one of the platforms which I had to share with another hiker and then enjoyed my dinner with the company of a few other hikers. I returned to my tent to write, but started drifting almost immediately. I was woken back up by Bean, the caretaker, a nice women in her 20s who chatted with me for about ten minutes, collected my $10 fee and gave me a thru hiker pass allowing discounts on camping and food along the mountains. She shared with me some of the details of being a caretaker and I told her some about my hike. I feel asleep almost immediately after she left and slept for the entire night, 11 hours.
Day 141: Garfield Ridge Campsite to Zealand Falls Hut (10.3 miles, marker 1,845.1)
Today's hike was a bit easier. The beginning was an incredibly steep descent that was basically the part of a stream from the campsites spring. As I descended, my right knee woke up with a sharp pain different than any I felt up until this point. I adjusted my stepping and movements to compensate as much as possible, but the pain remained most of the day if I put full weight on it. Fortunately, most of the trail for the rest of the day was a bit mellower, and I was able to use my new poles to reduce the weight I was placing.
I got to the Zealand Falls Hut around 3:00 pm and had a good lunch of peanut butter wraps before resting in my bunk until dinner time. I did take some time to visit the falls and take a bath in the incredibly frigid water.
Day 141: Zealand Falls Hut to Mizpah Hut (10.3 miles, marker 1,859.2)
The staff at the hut wake the guests each day in creative ways. Today, they woke everyone with a terrible but very sweet acoustic rendition of I Can't Help Falling In Love With You. Of course, all the thru hikers were already awake, but the tourists needed this alarm.
They also get weather reports radioed into them each morning at 7:30 am while folks have breakfast. There had been thunderstorms all night, and the report came in letting us know the same was expected for the day, and at elevation the it would be cold with wind gusts between 70-100 mph. I had been considering taking a zero for safety, but the rain cleared up and JustCuz convinced me to at least walk as far as the road crossing at Crawford Notch. The trail was gently graded for most of the walk, but very very wet.
I wrote off having dry feet about five minutes into the hike, which was good since eventually I was simply walking through stream beds and was multiple times stepped up to mid-calf in mud. At the last stream crossing I just took off my socks and shoes and literally rinsed out all the accumulated mud.
When I reached the crossing of Rt. 302 at the notch, I stuck out my thumb and the third car that passed picked me up and gave me a ride to the AMC Highland Center just up the road. The weather continued to improve and I even began to see some blue sky. As I enjoyed the $6 thru-hiker special soup, bread and beer, I called up the reservation desk and moved hut stay from the following day to today. This would set me up to climb Mt. Washington tomorrow, which looks to be the nicest day of the week… fingers crossed. The climb to the hut was steep, but the sun came out and the hike was relatively pleasant. The hut was lovely and the food delicious.
Day 142: Mizpah Hut to Lakes of the Clouds Hut (4.7 miles, marker 1,863.9)
Woke up this morning to rain and wind. The weather report over breakfast did not sound good, rain and wind from 50-70 mph at higher elevation, but sunny and warm in the valley. We were neither at Mizpah Hut, but right between. After much discussion, it looked like many who had reservations at Lakes of the Clouds Hut that day were going to either stay put or hike back to the notch. This gave us the opportunity to hike to Lakes Hut and assess if it was safe to summit Mt. Washington and head to our reservation at Madison Spring Hut 11.8 miles ahead, out transfer or reservation to Lakes Hut since there would now be space (they were previously booked). The backup if they are still booked is either the dungeon, a basement area with a few bunks (no food included) or work for stay. The rain stopped and around 9:30 am we heading out. We climbed steadily until we reached the alpine zone and eventually came out alone the ridgeline. The wind was constant and ferocious, with gusts over 60 mph. By the time we reached Lakes of the Clouds Hut it was obvious the we should not attempt to summit Mt. Washington.
I checked the weather, and they were having sustained winds of 65.4 mph. Luckily, they did have availability for us to stay at the hut, and the rest of the day I spent napping and being social in the common room. Because of the weather, and the lack of safety passing over Mt. Washington, more and more thru hikers piled up at this hut, until eventually there were seventeen of us.
The weather did break briefly in the afternoon allowing for some spectacular views.
Day 143: Lakes of the Clouds Hut to Pinkham Notch (15 miles, marker 1,878.9)
Today was a pretty big and intense day of hiking. We (myself, JustCuz, and HolyShit) started the day with a mile and a half hike to the summit of Mount Washington (6288′). The summit was completely socked in with clouds and we simply followed from cairn to cairn in order to make our way.
We met up with Ronin and Pigpen at the summit. They had been knocked off the summit twice by high winds and just got dropped off again to try continuing to hike for the third time.
We all ventured down from the summit, passing the cog railway, until eventually we made it to Madison Spring Hut.
After a nice lunch break, we climbed Mount Madison (5367′), a half mile straight up hike to the summit and then a long rocky descent all the way down to the notch. Because of the difficulty of scrambling from rock to rock, this took us the entirety of the afternoon and we didn't get into the notch until 6:00 p.m. we were having a hard time getting a ride to the hostel we had planned to stay at, but luckily someone we had met the past two nights at the huts offered us a ride, and we made into town in time for showers, dinner, and a good night's sleep.
Day 144: Pinkham Notch to Imp Campsite (12.9 miles, marker 1,891.8)
Hardest day of hiking yet. Today really beat the crap out of me. We got to dropped off at the notch close to 8:00 a.m., and began hiking up Wildcat Mountain . The hike was extremely steep with many technical areas where we really had to assess how to safely climb up areas. I put my trekking poles away for the entirety of the climb, and simply climbed with my hands and feet all the way up.
After summitting Wildcat, we continue on to go over Carter Mountain, which has multiple peaks. After an exhausting day of going up and down and up and down, we then had to descend from Carter Mountain. The climbs down were incredibly steep, often with water running over them as partial waterfall. The final descent took about 2 hours to complete, and we finally reached the campsite, where we quickly set up our tents, ate dinner, and collapsed, after dinner by an incredible overlook and fantastic sunset.
Day 145: Imp Campsite to US Rt. 2 / Gorham (8.1 miles, marker 1,899.9)
Today's hike was primarily about getting out of the whites and celebrating in town. We climbed up and over Mount Moriah, a pretty difficult climb both up and down, but then continued on a very gentle walk through the woods for the last couple miles, which was quite a treat after all of the climbing up and down over rocks for the past two weeks. I especially enjoyed the mushrooms that looked like bagels.
Once in town, we were able to clean up, do laundry, and eat ridiculous amounts of food. HolyShit needed a day off, so he decided to take a zero the next day, so it would just be me, JustCuz, Pigpen, and Ronin heading out.
Affiliate Disclosure
This website contains affiliate links, which means The Trek may receive a percentage of any product or service you purchase using the links in the articles or advertisements. The buyer pays the same price as they would otherwise, and your purchase helps to support The Trek's ongoing goal to serve you quality backpacking advice and information. Thanks for your support!
To learn more, please visit the About This Site page.