Veering From the Redline
Day 131: US Rt. 4, Rutland, VT to The Lookout (17.3 miles, marker 1,726.5)
I escaped the Yellow Deli this morning to head out for breakfast around 7:15 a.m. They serve a free breakfast, but yesterday's was simple granola cereal, and both Professor Lotech and Kanuck agreed that going out for a good protein heavy breakfast would be better. After some coffee, eggs, and bagels, we caught the 8:15 free city bus back to the trail and started hiking. About five miles into the hike, we got trail magic of cold drinks, chips, and candy bars. We stayed for a few, and I had a Snickers and a Gatorade before packing out two Payday bars. This was great inspiration for our big climb of the day. Another five miles and we got our second trail magic. This one was amazing… Burgers (I had two), pasta salad, chips, beer (also two), and soda which included a delicious Moxie. They were also hanging out with a couple women from the Darn Tough company giving away socks. I indulged in an extra pair. The hike then continued for a few miles before we had to stock up on water for a 2.5-mile water carry to The Lookout, a private cabin hikers are able to use when guests of the Lookout Farm are not using it. This was a great selection, and no one but the three of us were using it, so we enjoyed the space and the sunset from the rooftop perch.
Day 132: The Lookout to West Hartford (19.8 miles, marker 1,746.3)
Today was a good day in spite of the rain. Woke up around 5:15 to catch the sunrise, which was nice but not as good as sunset had been.
First Prof. Lotech and then Kanuck headed out of camp, leaving me alone with the entire cabin. I took advantage of the big open space and took my time doing a full yoga routine. I then hiked the five miles down to Rt. 12/Woodstock where I met up with a couple other hikers, and we all headed the quarter mile down the road to a farm stand that offered lots and yummy drinks and baked goods. Kanuck had walked a bit further on to a place with hot breakfasts, and I ran into him as we were finishing up. After walking through a very buggy and hilly first mile and a half after, we had both independently looked at the terrain and elevation, and decided an equal length road walk would be better than the mosquito laden roller coaster the next thirteen looked to be, even if they were filled with amazing mushrooms.
As I walked this length of road, I said to Kanuck how it would be nice to run across a dive bar, just a couple beers and some chips at the bar. And then road magic happens. Someone walks out of their driveway and invites us for a couple beers. He hiked in 1987, and we shared stories as he served beer and chips. It was a fabulous break. The rest of the walk was on rain, and we got to our destination completely soaked. We didn't really know where in town we would camp, only that it was extremely hiker friendly, but with few services. As soon as we walked into town there were a couple trail angels who made their porch a refuge and served us got food, coffee, and sodas. They also opened up the second floor of their garage door hikers to sleep in. While not the Taj Mahal, it was a dry place out of the rain.
I began a bit of a mental shift today. Up until now I've felt a bit strange about taking road walks. But for some reason I've shifted to a sense of pride about any type of route I choose. Many people feel that they must be "purists." This means following the exact route of the Appalachian Trail as designated by the Appalachian Trail Conservancy. However, this route changes a bit year to year. On the FarOut app, which many people use to guide their hike, the trail is designated by a red line. However, on many other trails such as the Continental Divide Trail, there are many different routes you can take to get from point A to point B. I've begun to view the AT more like this kind of a "choose your own adventure" journey. After all, I've kinda lived my entire life this way. Why not the trail?
Day 133: West Hartford to Hanover (9.7 miles, marker 1,756)
A fantastic day. The rain has stopped, and the hike is short. I traversed through the woods to the long road walk which would bring us over the Connecticut River and into New Hampshire. As I reached the river, I ran into a few other hikers, three of which (myself included) had packed beers out from West Hartford to toast the second to last state.
After a state border celebration, we all walked into Hanover, which being the home place of Dartmouth University was a stark contrast from a gang of skanky hiker trash. Not something they are unfamiliar with, though. We got a good brunch at Lou's Kitchen, which also offers free pastries to thru-hikers. We then went to the Mexican restaurant for $3 margaritas.
We then headed out to find our hotel, which involved a short and slightly sketchy Uber drive to the historic Coolidge Hotel. The price was right and included a double room with three beds for Kanuck, Prof. Lotech, and me. After a visit to the brewery and some excellent BBQ next door, we crashed with intent to get out at a reasonable time the next day.
Day 134: Hanover to Trapper John Shelter (16.7 miles, marker 1,772.7)
The three of us checked out of the hotel around 9:00 a.m. and hopped on a free public bus back to Hanover. Kanuck took off immediately, while I went to the post office to collect my re-supply package and meet Prof. Lotech at the Starbucks for breakfast. He then headed out and I mailed most of the resupply forward to myself at the Hiker's Welcome Hostel. The hike out of Hanover took me past Dartmouth University, which was interesting.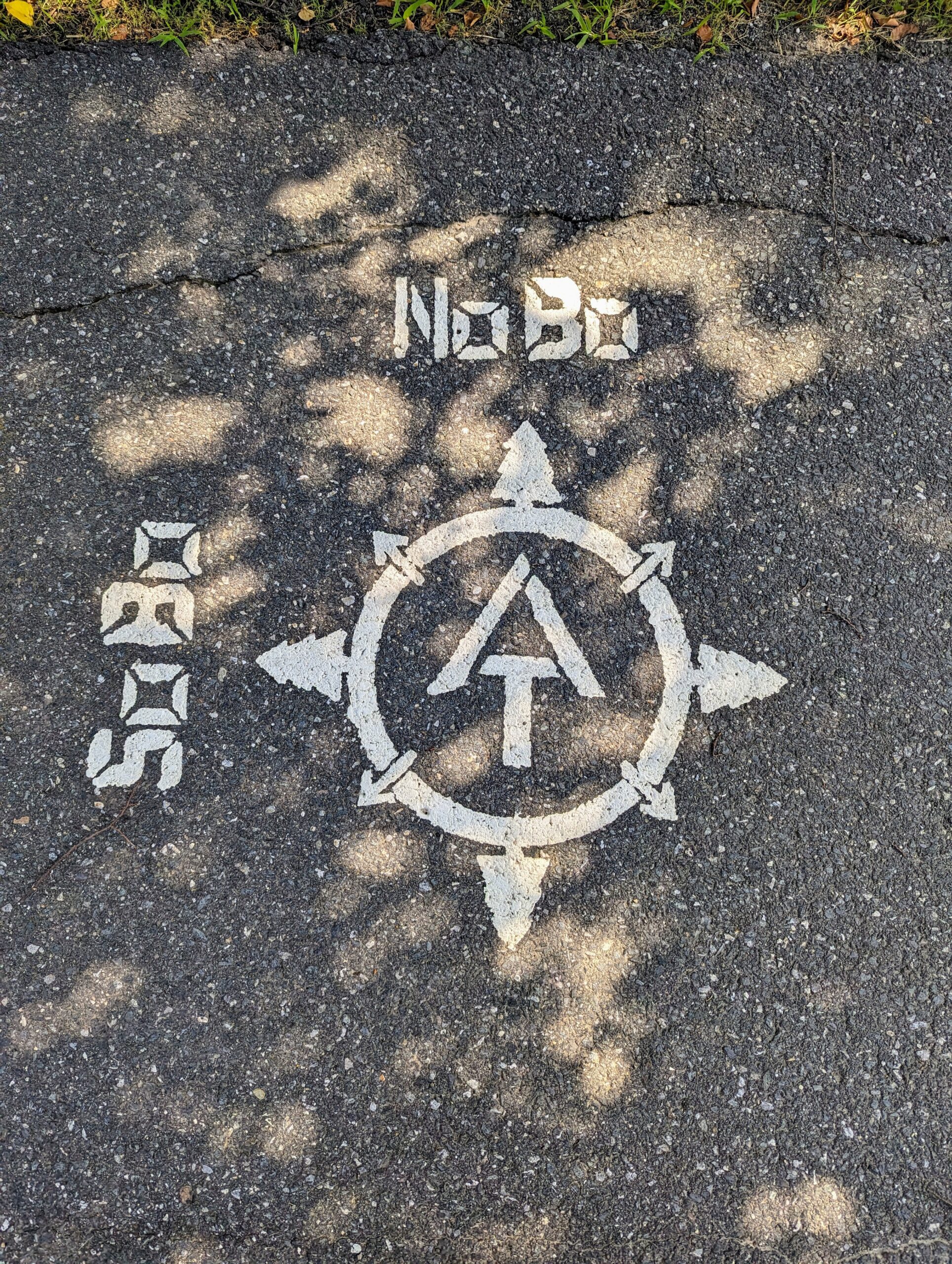 I then entered the woods; the trail was immediately surprisingly steep. The hike was pretty arduous and I was wiped out by the time I got to camp. This was a setup, eat, and straight to sleep kind of day.
Day 135: Trapper John Shelter to NH Rt. 25A (16.9 miles, marker 1,789.6)
Woke up and as usual I was one of the last ones out of camp, though I was not far behind Kanuck, and our plan was to get picked up together at the road crossing to head to the Hiker's Welcome Hostel. Today involved a couple big and beautiful climbs. The first was over Smarts Mountain (3,237′), which was not quite above treeline but had a large fire tower at the top offering some amazing views.
Then it was up and over Mt. Cube (2,909′) which was also not above treeline but did have a bald peak. On my way up, my foot slipped on a muddy rock, bringing my right arm down hard on a large boulder. Besides a thoroughly scraped up arm, I also broke one of my trekking poles in two.
I hiked to the top and as I began to descend I ran into Kanuck, who had just visited the North Peak on a side trail. He said the views were great and accompanied me to check it out. Not only were the views great, but the entire peak was covered in blueberry bushes, which he had failed to notice the first time. We ate our fill before heading back down the mountain.
The hostel's shuttle driver was waiting for us, and we got back, stopping at the local store on the way for steak sandwiches and beer. Luckily for me, the hostel had a huge bin of retired trekking poles, with which I was able to assemble a replacement for my broken one. This is a very social hostel catering mostly to thru-hikers with a few section hikers as well. Much conversation was had with many hikers before collapsing early enough for tomorrow's big hike, our first day in The White Mountains of New Hampshire.
Affiliate Disclosure
This website contains affiliate links, which means The Trek may receive a percentage of any product or service you purchase using the links in the articles or advertisements. The buyer pays the same price as they would otherwise, and your purchase helps to support The Trek's ongoing goal to serve you quality backpacking advice and information. Thanks for your support!
To learn more, please visit the About This Site page.