How to Train for the Thru-Hiker Olympics
Massachusetts is pretty, y'all!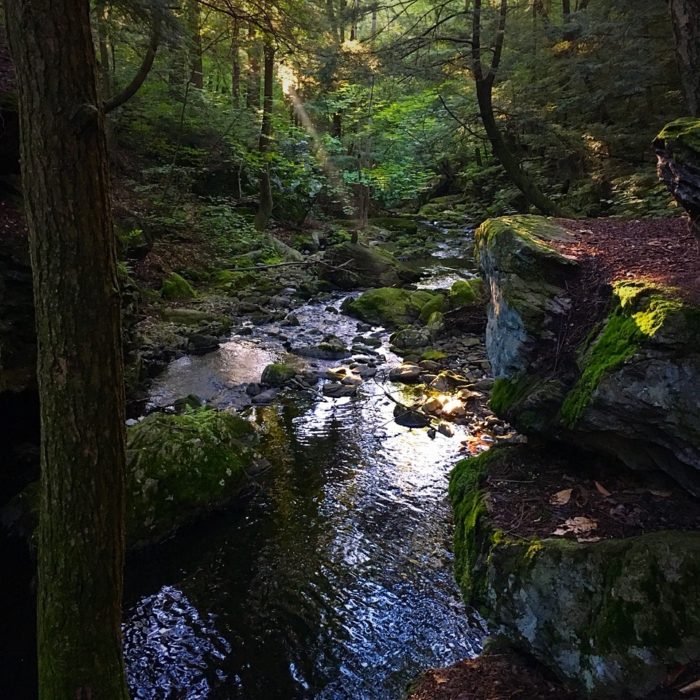 I'm taking a zero today in Great Barrington, MA.
It's my first day off in about 600 miles.
That's a lot of consecutive days of hiking and my feet are grateful. Yet, when I met a hiker yesterday named Stogie, and he told me he'd just had his first zero since Damascus, Virginia (1000+ miles), I somehow felt like he won.
Everything turns into a competition out here (if you let it).
That's right. Thru hiking is a competitive sport.
It's game on from the first day when hikers start asking each other how many miles they did today or plan to do the next day.
So while I've been tearing up the trail and checking off states (namely, NewJersey, New York and Connecticut), I've been dreaming up categories for the Thru Hiker Olympics.
Here's what you'll need to train for in order to compete in this cutthroat world.
1. Daily mileage (and all the various iterations thereof)
As I mentioned, this starts the moment you set foot on the trail.
I've been surprised to see my own average daily miles creep up over time to where 15 miles a day is normal (for me).
When I started hiking I worried that I wouldn't be able to do enough miles each day to make it to Katahdin before it closes on October 15.
Now I only have to average 13 a day to get there by September 21.
I could breathe easy if it weren't for the pressure to go big.
Expectations keep mounting in the daily miles category.
There's pressure from the start to do at least one 20 mile day.
Then, halfway through the hike, 20 isn't enough and people start talking about doing a marathon, or a 26.2 mile day.
If they've done marathons on the past, then it's 30 miles.
One overachiever I met early on planned four back to back marathons!
That guy is in Maine now while I dawdle in Massachusetts and tell myself the last one there wins, not the first.
2. The pack shakedown
Last week I met a happy hiker named Bobcat. He has logged 15,000 miles on long distance hiking and he was basically carrying a book bag and an umbrella.
Bobcat wins the lightest pack category.
If you want to compete in this category, you'll probably want to get some zen training beforehand, because you're going to be extra cold, extra wet and using a rock for a pillow like Fred Flintstone.
3. Bear bagging
This category includes finding the right branch, finding the right rock and meeting the recommended specifications (10 feet up and 4 feet away from the trunk). You choose your method…PCT or traditional.
There's also a Most Creative prize in this category. I think this extension ladder hang is in the running.
4. Wearing your shoes down to a nub
This category will be dominated by the youngsters.
They'll invest in new footwear only when their trail runners are so tattered that the rest of us assume they're hiking in treadless sandals.
That usually means they hike 1000+ miles (and spend weeks trying to shoe goo and duct tape their footwear back together.)
Don't bother attempting this one. Save your feet for more important things. Like finishing your thru hike in one piece.
As a point of comparison, I'm switching out my trail runners every 500 miles. Happy feet!
5. Breaking camp
The faster you're out, the better, whatever it takes.
Skip coffee (or drink it cold) and eat a bar for breakfast (as you're walking out of camp).
Wad, don't roll) your tent into a stuff sack.
Wait till lunchtime to brush your teeth.
These are some things to help you compete in this category.
6. Ice cream eating
I thought I might be in the running for the ice cream consumption category when I started eating ice cream for breakfast back in Virginia.
But then the Half Gallon Challenge at Pine Grove Furnace State Park gave me a new perspective on the sport.
Only the strong of stomach survive.
I'm a lightweight. I opted for the half pint challenge.  In a cone.  With sprinkles.
Besides, my halfway point doesn't happen for another 76 miles.
Wait! What?
I'm only 6 days away from being halfway through!
Woot!
7. Food bag weight.
Can you come into your next resupply point on fumes, with not so much as a Clif bar in your pocket?
Then you win!
And your prize?
Filling up your bag with 4 pounds of Knorr sides, tuna packets, rice krispy treats and tortillas–things you hoped never to see or eat again but which somehow keep fueling this crazy adventure.
So, good luck, everyone!
Train hard and I'll see you on the podium.
---
Leave a comment below if you think of any categories I missed.  Help a hiker gain an edge out here!
Affiliate Disclosure
This website contains affiliate links, which means The Trek may receive a percentage of any product or service you purchase using the links in the articles or advertisements. The buyer pays the same price as they would otherwise, and your purchase helps to support The Trek's ongoing goal to serve you quality backpacking advice and information. Thanks for your support!
To learn more, please visit the About This Site page.