Two-Day AT Training Hike in Harriman State Park
It comes as no surprise to anyone that hiking over 2,100 miles in the Appalachian Mountains while carrying everything you need to survive is physically demanding for your body. I've accepted the fact that my body will be sore and tired after hiking almost all day, every day. It will take time for my body to adjust to my new lifestyle, but this doesn't mean that I can't prepare, both physically and mentally, as much as I can before I depart.
It was hard to do any real overnight training this winter due to a big snow year in the Catskills, but I still got out there for day hikes whenever I got the chance. This is why this past Thursday and Friday I backpacked a two-day, 18-mile loop in Harriman State Park to dial down my gear and test my skills and fitness before leaving. Most people will do a short backpacking trip, often referred to as a "shakedown" hike, before departing for a thru-hike. This trip was my first overnight since traversing the Burroughs Range back in November, so I was pretty stoked to finally get back out there for a night.
I'm also using this post as a "practice blog" so I can practice writing my updates in this style, which I plan on doing when on trail.
Day 1: Elk's Pen Trailhead to Dutch Doctor Shelter, 9.2 miles
After a quick 30 minute drive, I arrived at the Elk's Pen Trailhead just after 11:30 in the afternoon, which was surprisingly crowded for a Thursday. It was 60 degrees and sunny, easily the nicest day of the year so far, and everyone wanted a taste of Spring. I set off Northbound on the AT, wearing my microspikes due to the lingering snowfields and ice patches. The trail quickly ascended up above 1,000 feet to the summit of Green Pond Mountain without giving me the chance to warm up, before dropping back down to the shore of Island  Pond.
1.7 miles in I reached the infamous "Lemon Squeezer" where the trail takes hikers directly through a narrow passageway in between two boulders, followed by a short but steep rock scramble. Before the entrance to the cave-like formation, I was greeted by a day hiker asking if there was an easier way around the strange rock formation. I did not go through myself this time as my route took me off the AT, hooking up with the New York Long Path, which runs 357 miles from the GW Bridge to Albany. I bid farewell to the AT with a "see ya later", and headed on my way.
At this point I took my microspikes off because most of the snow and ice had melted in this part of the park, leaving the trail a muddy, flooded mess. After a mile of hiking through swamp-like conditions with a few short and steep inclines thrown in, I arrived at the "Times Square" junction, an intersection point of four popular trails in the park. I stopped for a quick snack and put my microspikes back on in preparation for my climb up Hogencamp Mountain. It was a short but steep climb to the top, followed by a two-mile ridge walk on the open, rock-faced ridge. This section of trail is dubbed the "Bald Rocks", one of my favorite sections of trail in the park.
Descending from the exposed ridge, the trail followed a stream all the way down to County Route 106, where two back-to-back climbs up Tom Jones and Parker Cabin Mountains awaited me. The climb up Tom Jones was the longest climb of the day, starting off with some switchbacks before shooting straight up the mountain. Following the summit was a brief ridge walk, before a steep and rocky descent down the mountain. Crossing a stream, the trail almost immediately began climbing Parker Cabin Mountain, which was much easier than the climb up Tom Jones. Descending the ridge yet again, the trail followed a stream for roughly a mile and a half before reaching Lake Skenonto, which proved to be the perfect spot for a snack.
I contemplated setting up camp right here on the lakeshore, but decided to push on. The next two miles to my campsite were mostly flat but covered in slushy snow and ice, slowing down my pace significantly. Around 4 PM I reach the Dutch Doctor Shelter, and set up my tent on a flat spot nearby. While filtering water at the nearby stream I met another hiker my age who was hanging out at a campsite close to mine for the day. He had a fire going, so I joined him at his site briefly before he headed out. We chatted about the AT, Winter hiking in the Catskills, and gear before making my way back to the shelter. I cooked dinner, hung my food, and retired to my tent for the night.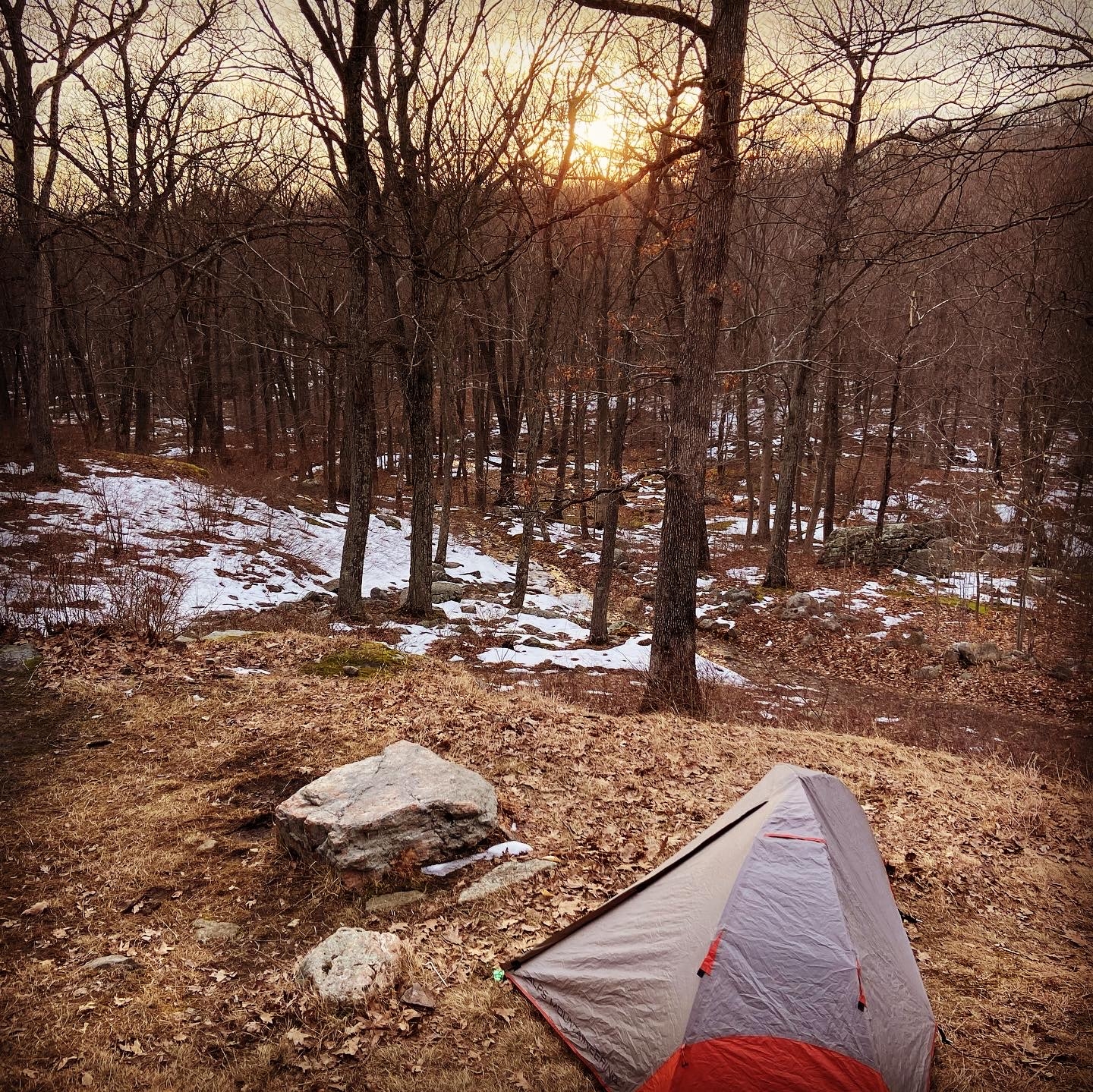 Day 2: Dutch Doctor back to Elk's Pen, 9 miles
I was awake at 6 AM following a decent night of sleep. After breaking down camp, drinking coffee, and eating breakfast I was back on the trail by 8 AM. It was to be another warm and sunny day. A mile and a half of rocky trail led me to the top of Claudius Smith's Den, where I was greeted by some great views of surrounding mountains. Claudius Smith's Den has some really interesting Revolutionary War history tied to it. Any history buffs out there should read more about it here. 
The trail followed the rocky ridge briefly before climbing down to the forest, just to repeat this process. A short and steep climb took me back up to a rocky ridge, then down into the forest again. I then climbed back up Parker Cabin Mountain, but this time on a different trail than the one I took the day before, and was greeted to a stunning view of the park below.
A long and gradual descent took me back down into the woods, followed by a flat couple miles which brought some needed relief to my legs. I wasn't quite in the clear yet; a long and steep climb up Car Pond Mountain loomed. This climb would prove to be the toughest of the whole hike. I put my head down and made it to the top in one continuous push. A large snowfield greeted me on the other side of the mountain. A couple of flat, noneventful miles then led me to the classic down-climb through the Valley of the Boulders, my last test of the trip. It was flat easy hiking back to my car after that, arriving back at Elk's Pen at noon.
Gear I'm Excited About
Other than to enjoy two warm days outside, the purpose of this hike was to finalize my gear for my thru-hike. I'm already comfortable and familiar with most of my gear. My Salomon XA Pro 3D GTX passed the water test; my feet were dry throughout my hike despite the constant wet, muddy, and snowy trail conditions.
The Jetboil Stash is as advertised. It fit easily right in my food bag, and boiled water for my dinner in less than two minutes, and boiled my water for coffee in the morning in about thirty seconds.
Although I haven't received them yet, I'm excited to test out the Chicken Tramper chest pouch and water bottle sleeve. These ultralight pack accessories will make for easy access to my phone, snacks, and water without having to stop and take my pack off. An ultralight wallet from Chicken Tramper will also cut some ounces, as it will be much lighter than my current wallet.
I'm also pleased with my current fitness level and how my body held up during this hike. My legs were pretty tired after the first day, but felt 100% recovered the next day. As I sit here and write this post, I feel only slight fatigue in my legs and very minor soreness in my neck/upper back.
Gear That Needs a Change
I'm overall very happy with just about everything I am taking with me on my thru-hike, with a couple of exceptions. This was my first time using the flex-air pillow I purchased a month ago, which ended up deflating multiple times. Maybe I wasn't sealing it properly, or maybe it was just a crappy design. I'll never know because I'm moving on to the next one. It wasn't a big deal for me because I stuffed unused clothes into my sleeping bag stuff sack to act as a pillow. I think I'll be looking to buy a new ultralight pillow- I heard good things about Sea-To-Summit's pillows so I think I'll browse some of those. If anyone has any recommendations let me know.
My current portable charger has a decent lifespan, but I think I'm looking to upgrade to one that has a longer life that is also as light as possible.
Two weeks away…
In exactly two weeks at this time, I'll be in a car on my way to Georgia. My dad was cool enough to offer to drive me to Amicalola, and is going to hike the approach trail and camp with me for the first night before heading home. Next time you'll hear from me, I'll be making my way North on the Appalachian Trail, and I look forward to sharing my experiences with everyone.
Affiliate Disclosure
This website contains affiliate links, which means The Trek may receive a percentage of any product or service you purchase using the links in the articles or advertisements. The buyer pays the same price as they would otherwise, and your purchase helps to support The Trek's ongoing goal to serve you quality backpacking advice and information. Thanks for your support!
To learn more, please visit the About This Site page.