Ukelady and Possum Rock from Erwin to Damascus
May 20 – 7 miles
Today we picked up a resupply box full of goodies from our amazing friends Gary and Mary, who we met on the trail at the beginning of our hike. Really, we are the luckiest. It's always a fun surprise, opening a box and seeing what snacks you've got. It's our first dehydrated foods of the trail!
We hitched in and around Erwin – we're getting better at that – and then had the good fortune to get a ride back to the trail from the famous trail angel Miss Janet. I feel like we've met most of the major trail celebrities now, which is both weird and cool.
Back on the trail, we had good weather and good spirits. Because of our resupplying we left close to 2, which makes for a short day of hiking. But rather than push through to up our mileage, we camped with some new friends and took the time to cook dinner over a proper fire. Pierogies and Jiffy Pop, the dinner of champions.
May 21 – 10 miles
Rainy mornings mean time for board games in the tent, a nice way to start the day. The first half of our hike was to Beauty Spot, and the path there was lined by beautiful flowers and awesome orange lizards.
We relied on Monty Python and the Holy Grail audio to get us over foggy Unaka Mountain, and ended up crashing in Cherry Gap Shelter with Turtle, Mango and French Fry, the same crew we camped with last night.
May 22 – 13 miles
We have a problem, and it's that we've gotten too good at identifying ramps. They are edible and abundant and it feels cool to eat things you've foraged, but now our cup runneth over and we need to stop finding them. It's too tempting to collect them forever.
Our friends Moonlight and Moonlover are just a day ahead of us, and we've been hoping to catch up with them. Moonlight has been leaving us gorgeous notes in the shelter journals that remind me of the beauty of our adventure and call us ever onward. Today Possum and I actually managed our most miles yet, mostly on accident. There are a lot of places to camp that our guidebook doesn't mention, so we planned to find one of those around the 12 mile mark. Unfortunately there were none for another mile or so, and we almost had to camp in some Jeep tracks, but at least we knocked out part of the climb to Roan Mountain!
May 23 – 11 miles
It's another beautiful day for hiking; we've hit such a good streak of weather lately. What looked like a hard climb up Roan Mountain turns out to be a hilarious series of gently winding switchbacks, and we detoured to Roan Gardens for lunch. I had wanted to stay and wander there more, but Possum and I were miscommunicating so we just went back to the trail. It happens.
The rest of the day was unquestionably gorgeous. We climbed a series of balds with magnificent views, then ended our day at Overmountain Shelter. It's a converted barn with a breathtaking array of mountains spread before you. We thought there might not be room because so many people were tenting, but the shelter turned out to be only half full. I know people are paranoid about things like mice and snoring and personal space, but I don't know how you can pass up something so beautiful and unique.
May 24 – 13 miles
It's a special thing, to wake up and watch the sun idly rise without really moving. Still ensconced in my sleeping bag, the cool morning breeze ripples over my face as I lay curled up on the exposed lower floor of a barn. My brain has woken me up at regular intervals all night – is it sunrise yet? – and finally, it is. Clouds streak pink from left to right, brighter and then more muted in the hazy distance over the mountain.
Possum isn't much for sunrises; it's not that he doesn't think they're beautiful, but the most I can usually get out of him this early in the morning is a bleary acknowledgment before he rolls over again. It's cool, though, because it's nice to have something that's all mine, a little quiet in the morning. And then the sky is blue and the sun is up, and I curl back into my sleeping bag as well. That's the nice thing about taking our time with this journey: you really don't have to hurry anything.
When I woke up again, Possum had made pancakes!
Today hit some cool landmarks. We spent the morning hiking over another series of beautiful balds, which felt like they went on forever (a good thing, in this case).
Then we hiked down through Doll Flats, where we had done trail maintenance with Hard Core just a week ago. We criticized all of our sections and celebrated every burst of nostalgia that came our way. Possum built that stair! I moved this section of trail! Here are the blazes we painted! It felt cool to be so connected to the trail.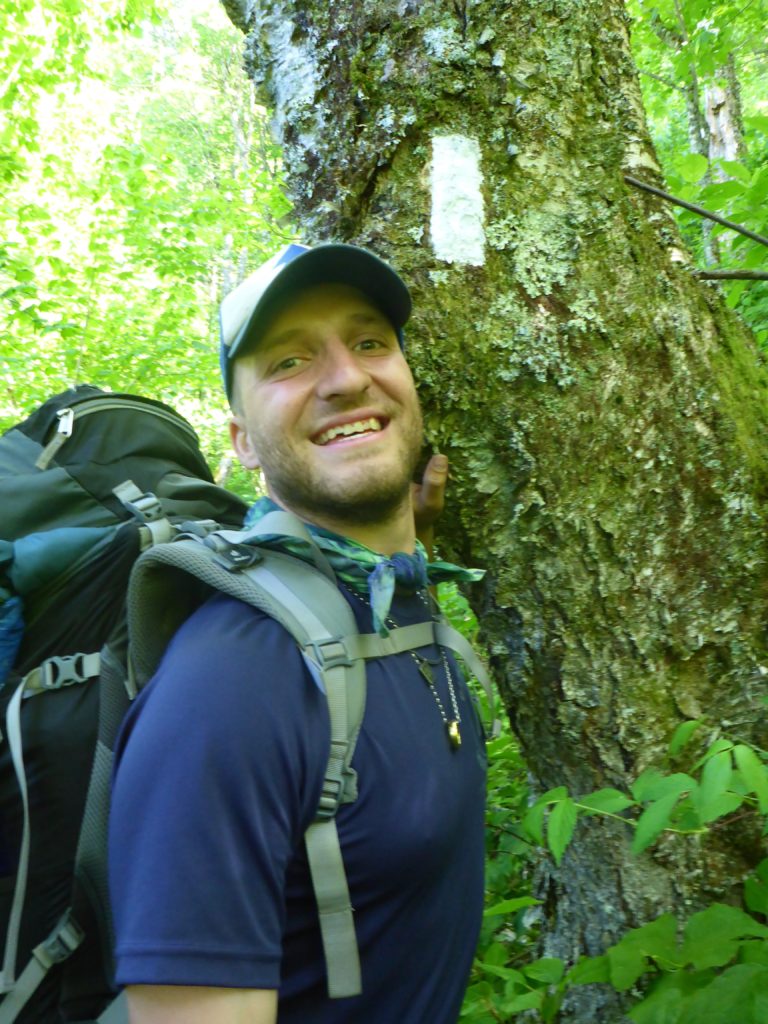 Then we left North Carolina – finally! We've been straddling the edge of this state for ages now. Possum still doesn't quite believe the border isn't lurking quietly ahead of us.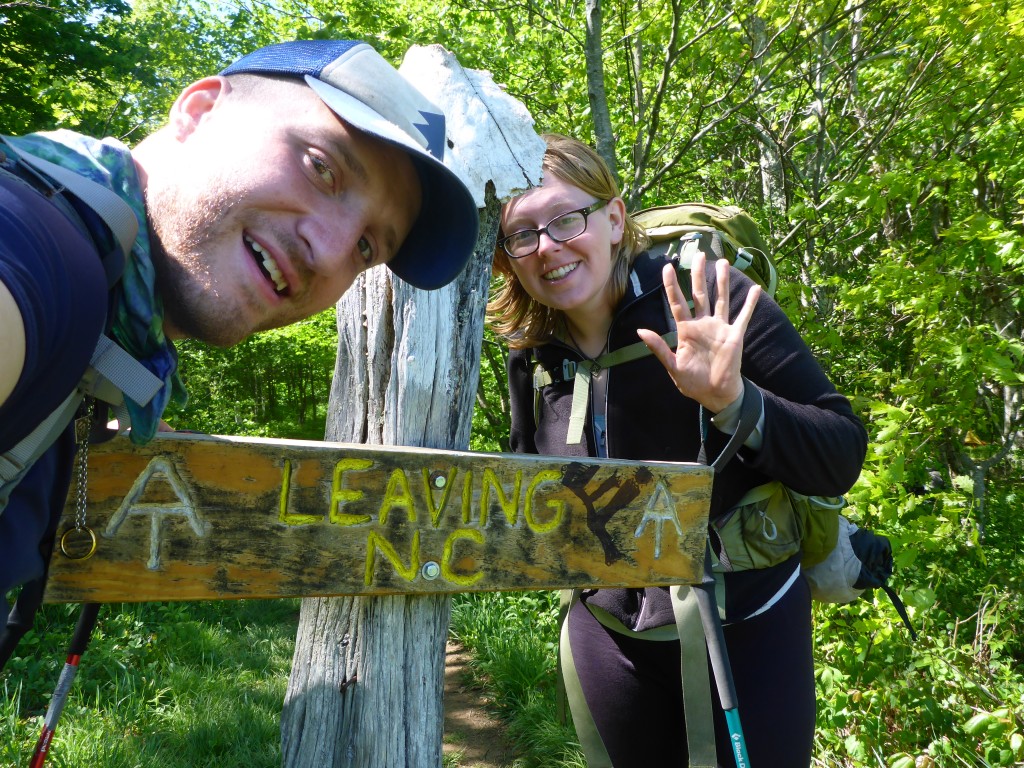 It was a beautiful day, and we pushed ourselves to do more miles than we planned. We lucked into a nice stealth campsite right at sunset, and everything is awesome.
May 25 – 10 miles
Today was a three-waterfall day. As a person who loves waterfalls more than they love most people, it was pretty unforgettable. We swam in the second waterfall, in the basin of a river with the current pulling all around us. Possum took a little coaxing, but he eventually joined me for what is probably my favorite trail experience so far. There's just something awesome about looking up at a thundering wall of water while you're floating below it. Best feeling in the world.
As evening dawned, we decided to check out the Vango/Abbey Memorial Hostel, mostly because our guidebook said it had free wifi and an "astronaut room." Never one to pass up space theming, we went and met Scotty, who runs the place. He's an incredibly nice fellow win a gorgeous piece of property. As the only people there for the night, we happily claimed the Astronaut Room, so named because an astronaut once slept there. Good enough for me!
We spent the night hanging out on the porch with Scotty. He noticed our Hard Core shirts and was really appreciative that we had helped with trail maintenance, so much that he offered to make us hamburgers! People on the trail continue to amaze us with their spirit of generosity. He even went so far as to make little vegetarian me a pizza, and we had a proper feast while we watched the sunset.
May 26 – 12 miles
Today we hiked from one hostel to another, so we are clearly living he good life. It was raining when we woke up so hiking was deferred in favor of watching a VHS of Wayne's World. "Live in the now!" is my current mantra as a result.
After a day of pretty boring hiking – we pretty much just kept walking because we knew we were supposed to, not that there was any particular joy in it – we arrived at Kincora. Two hostel stays in a row is incredibly indulgent for us, but as soon as we arrived it was clear we had made the right choice. We could see the orange of Baltimore Jack's vest on the porch, could smell dinner wafting from the table and then heard a loud excited cry from a girl there. In some twist of incredible fate, Moonlight and Moonlover were spending the night here after a slack pack. We've been trying to catch up to them since Trail Days, but they have managed to stay a day ahead of us. It was a joyous reunion, sharing in pasta and salad thanks to Jack and Bob and listening to Moonlight's incredible stories from the past week. It was a sweet sort of homecoming, and I am very glad to be here.
May 27 – 5.2 miles
We took a leisurely start from our hostel since we planned this day to be a near-o. We had heard Laurel Falls was a pretty nice stop, and I wanted to take my time and enjoy it. Baltimore Jack chided me a bit for our late start, saying we ought to get up earlier so we can get to camp earlier in the evening. I'm not sure why I bristle so much at advice from people, but I definitely have this feeling that I'm playing my own game here, one that seems to have some very different goals and rules than everybody else's. But that's how I got here in the first place, so I suppose I can't complain.
The falls were beautiful but the path was confusing – we met so many people who got lost like we did. It was poorly marked and sometimes just bizarre – we took an unlisted side trail on a quest for exploration and stumbled across a shelter, which we were later unable to locate from the actual A.T. The climb was steeper than I expected as well, and our tiny day just wore me out.
For dinner, though, we at least dined on noodles with foraged ramps and chicken-of-the-woods mushrooms we had traded for. Tasty, but as I wasn't feeling the best I gave half of my portion to Possum. True to his name, he loves eating other people's garbage.
May 28 – 0 miles, quite accidentally
Vomiting is no fun under the best of circumstances. Vomiting out of the side of your tent at three in the morning while contemplating the Leave No Trace ethics of cleaning said vomit is a pretty worst-case scenario for me. I spent the night into the morning being incredibly ill, shaky with chills and fever as my body voided itself of anything that had once resembled food. I thought at the time it might be norovirus, which often will sweep through waves of hikers, but since Possum never showed any symptoms our best guess is food poisoning from a frozen burrito I ate. Devastating.
I kept dreamily saying I'd be ready to hike at eleven, at noon, in another half hour… but the reality was, my body just wasn't up for it. So Possum hung out like a trooper while I slept all day, and then we watched Space Jam together and things felt a bit better.
May 29 – 8.5 miles
I was feeling mostly better, so back on the road we went! Not a great day, though, it rained every hour or so like a ridiculous tease. We came to a lake section and tried to get excited to go swimming, but the whole thing just looked kind of bleak and disgusting so we waded back out. Maybe we've been spoiled for beauty out here.
Our rainy hike took us through an annoying four mile section where walking was fine, but if you stopped for more than a few minutes a bear would come by and disembowel you. That was the vibe I got from the signs, anyway. So we cruised on through and set up camp not long after. Let's hope those bears know about that road boundary!
May 30 – 12 miles?
And we're back in business! I'm feeling better so we are trying to pick up the miles. We are lunch and dinner at shelters and hiked until later at night, for a change. Everyone has said consistently that this section of the hike is an absolute breeze, but that's a pretty strong falsehood. The terrain isn't bad, but the ups still require significant effort. Plus it's hot, and some dude this morning told us there was no water for 18 miles. Sometimes this trail is just full of lies.
Most interestingly, we encountered a raccoon on the trail after lunch. Did you know they can climb up trees? News to me. It looked adorable, its little face peeking around the trunk to see if we were still there. That wasn't enough to shake our fear it might jump down and attack us. We made it, though. Totally ready for a bear.
May 31 – 14 miles!
Another new record! The morning was pretty chill, and then rain and angry bobcat thunder took over the afternoon. We settled into a shelter in case the rain kicked in again overnight, and we should have an easy trek into Damascus tomorrow.
June 1 – 11 miles
We crushed our hike for the day, finishing our planned ten miles before 2:30. Winning! So we are back in Damascus, where we had hung out during Trail Days.
We considered a couple of hostels, but none had quite what we wanted so we splurged on dinner at The Cavalier Cafe. Highly recommended.
It's cool to be in Virginia, which is actually my home state. We're hiking through all our homes! Three states down… many more to go.
Affiliate Disclosure
This website contains affiliate links, which means The Trek may receive a percentage of any product or service you purchase using the links in the articles or advertisements. The buyer pays the same price as they would otherwise, and your purchase helps to support The Trek's ongoing goal to serve you quality backpacking advice and information. Thanks for your support!
To learn more, please visit the About This Site page.