Verging on Virginia Blues in Vermont
When northbound thru-hikers have hiked  hundreds miles north from Georgia, North Carolina, and Tennessee, and are still in Virginia, some of them find that they have a case of the Virginia Blues.  The state just goes on and on (544 miles, more miles than any of the other 13 states), and they need the gratification of crossing another border.
Well, recently I have found myself suddenly in a state of the blues, but they mostly came on IN Vermont, not BECAUSE of Vermont.  Why?  The state lines have passed by quickly lately.  Since last posting on my blog, I have entered CT, MA, and am now in VT, so the lack of a sense of forward movement isn't the problem.
It was because of two hard falls on my right shoulder.  The shoulder blade region had been tight since February, but seemed to have improved.  But falling directly on it brought a lot of pain. It doesn't hurt with the pack on, and I can still use my poles as long as I keep my shoulder close to my body.  But putting the pack on and off, and reaching in a certain way, can bring stabbing pain.
Fear not, things are improving in baby steps every day, so please don't stop reading.  When on my way back to the trail from the family gathering at Watkins Glen, NY, the last weekend of June, I saw a doctor in Ithaca, NY.  A thorough exam and X-rays led the doctor to say that she felt stretches and a set of exercises would eventually set me right.  I had been so down about this issue that I had told Bill I was going to come home.  He knew that he shouldn't argue with this decision (48 years together), but daughter Becky gently convinced me to still give it a try.  So I did, and here I am again, happy to be back on the trail and doing my stretches and exercises with filled water bottles as my weights (2.2 pounds per liter).  On a zero day as I write this, I will happily go for a 90-minute massage in a couple of hours.
So, other than endurance sports car racing and a hurt shoulder,  what happened during my three weeks away from the blog?
A whole lot more hiking!  I have become comfortable with slightly longer distances each day, preferring 12-15 miles now.  I have learned to just accept rocks, boulders, mud (hello, Vermont/Vermud!),
and steep inclines.
On these, I slow things way down, take shorter steps, and keep my breathing even, so that I can easily continue on when reaching the top without a need to take a gasping break.  Works for me.
The trail continues to throw rocks at us, but that's simply the way of the AT, particularly in the north.
I was getting tired of all the big boulders we had to climb in CT, but this has dwindled off… for the time being.  Finding my way around or through huge patches of mud doesn't bother me as much as the possibility of slipping and falling on something hard like a boulder.
I've hiked in pouring rain a few times, but mostly the weather has been pleasant.  Sometimes hot, with sweat pouring down my face and my clothes drenched, but it's true for everyone, so I don't worry about not being able to clean up much when in camp.  I always manage to wash my face and other important parts and floss and brush my teeth, but that's it for hygiene.  My one set of hiking clothes and sleeping clothes get washed well when in a town.  We all stink together.
I really enjoyed the family weekend together in Watkins Glen. Son Jon and his racing partner did such a good job in the race, finishing on the podium with third place, and again on the next weekend in Toronto.
**And I hope all of you have read Jon's entertaining guest post on my blog, which you'll find at the bottom of this one.**
It was so great to have time with husband, son, daughter, and granddaughters.
I feel I have spent more time actually sleeping in shelters the past couple of weeks.
Not counting my family getaway of five nights away, I have spent three nights camping, four in hostels, four in hotels, and six in shelters.  Doing longer miles now, I like a speedier getaway in the morning, and packing up my tarp and net tent adds time.  Getting up around 5 a.m., it usually takes me two hours in the morning to hit the trail if camping, and just an hour and a half (sometimes less) if sleeping in the shelter.  The morning stretching is still vital, adding 15-20 minutes each day, thus the slow exit.
Some fun highlights of the past three weeks:
1. A stop at the cookie lady's house, just a minutes' walk from the trail.  This woman has been baking and handing out free cookies to hikers for over 30 years.
You learn about it through the grapevine or through notes on the Guthook app.  Simply ring the doorbell, hope her hearing aids are in, or open the door and yell really loud, and she'll bring out the cookies or boil you a hard-boiled egg.  Unfortunately, she was out of eggs at the time I came and didn't have the hearing aids in, so I had to eat my own snack and visiting was limited.  But what a fun quirk of the trail!
2. Seeing Lime Rock raceway in CT from the trail.  Son Jon has raced this in the past, and it brought back fun memories of cheering him on.
3. Lots more pine and birch trees.  The forest is changing as we head north.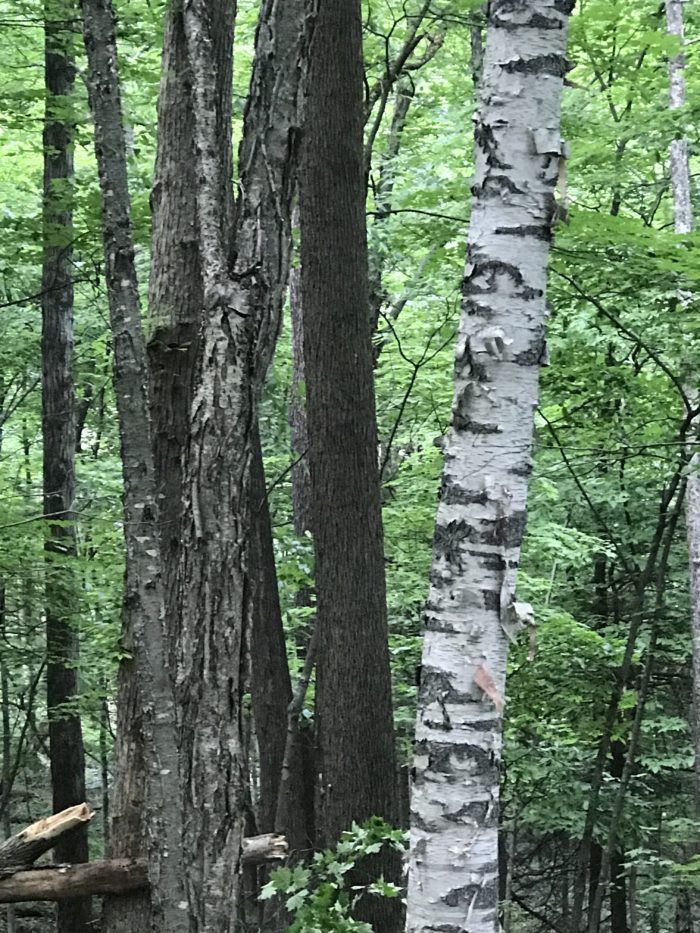 4. Meeting a lot of new folks after my five days off the trail.  I miss the folks I spent time with in the past, but know that I'll probably see them again along the way.
5. Climbing Mount Greylock, the highest point in MA.
6. Seeing darling little towns of New England, when staying in hostels or hotels.
7.  Following a porcupine into the forest for a photo.
8. Great beaver dams and lodges.  This has to be one of my favorite sights. So far, Bucky has stayed hidden.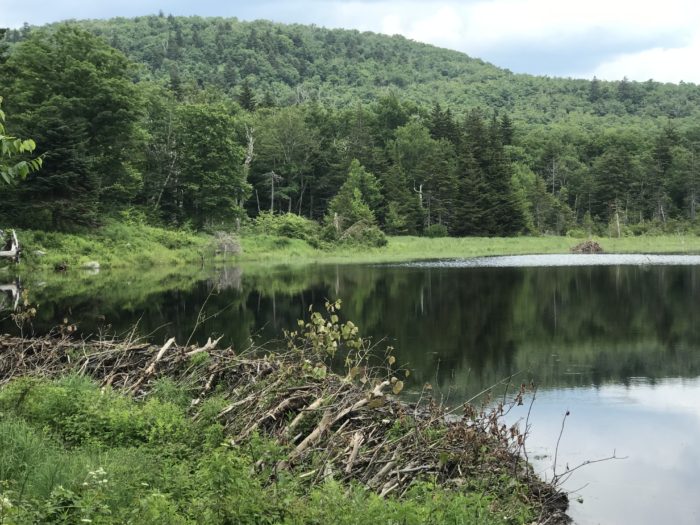 9.  Another successful hitchhiking experience, third vehicle was the charm:  a drywaller's work truck.
10.  Climbing Stratton Mountain in VT, getting up two of the five levels of the fire tower there,
taking the gondola (free for hikers) down to Stratton Mountain Resort Village for a salmon salad lunch,
and later swimming in Stratton Pond.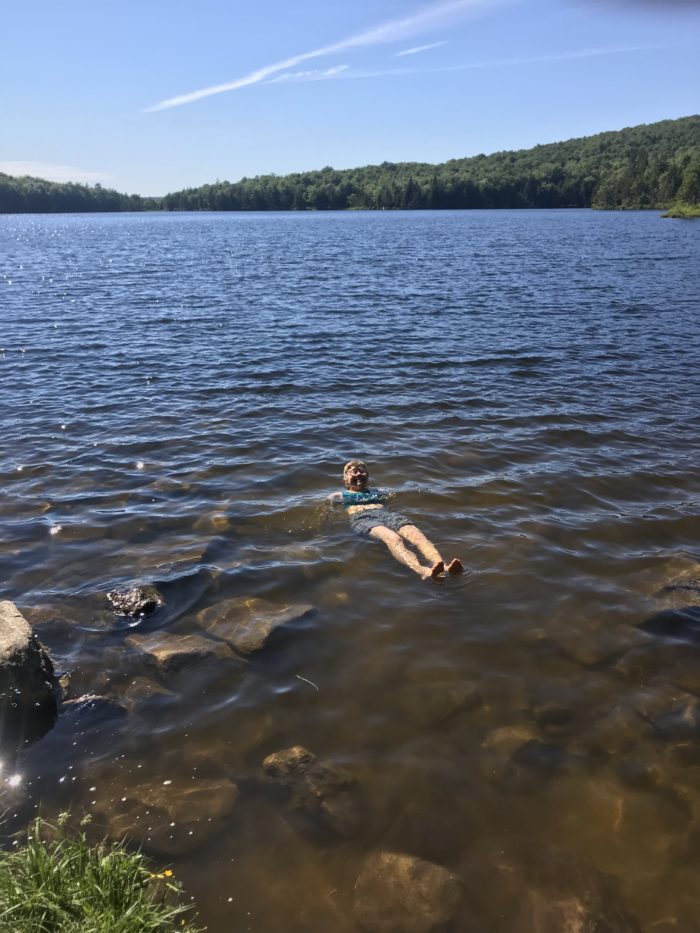 11.  Visiting the birthplace of Bill Wilson, founder of Alcoholics Anonymous, and also Bill's great uncle and namesake.  He was ironically born behind the bar in a hotel in East Dorset, VT, just nine miles from my present hostel in Manchester Center.  Bill and I had visited this before, but it was great to see it again, given the impact this man has had on the world.
12.   I saved the best two for last!  First, I finally had my coveted bear sighting for the northern half of the AT!  I had felt like a bear magnet down south, but hadn't had a single viewing up north.  Until… at Goddard Shelter in VT. There was a good crowd staying in the shelter and camping on the grounds, despite the warnings online about frequent bear presence.  Yep, here came one around 7 p.m., within eight feet of the porch of the shelter!
Previous campers had lined up over 40 rocks along the walls of the shelter and on the shelf intended for food prep.
When Bruno just kept advancing and didn't run from our shouting, folks began throwing the rocks right at him.  One good hit finally got him to head away, but not far.  The privy was his next potential food mart.  After tearing up the plastic covered bale of sawdust outside the privy (used to help activate the composting toilet), he ripped off the simple little lock on the door and wreaked havoc on the interior of the outhouse.  Another bale of sawdust was ripped into and the toilet itself pulled out of the floor.  I have heard of some campers putting food waste in the pit, not knowing this was Bruno's secret deli.  I managed to get these photos by hiding under a nearby bush and hoping for the best.  Don't do this at home, kids.
With a lack of a good snack, he finally sauntered away, but you can bet we were ready to get out of there quickly in the morning, the time frame when he had accosted the last group there.  We heard that they had to grab their packs and run down the trail with their breakfasts in their hands.
13.  Regaining my trail mojo and being excited to be here again.  My shoulder's improving and I keep hearing how beautiful NH and ME are.  My fear of the looming mountains is dwindling, but, trust me, I still understand that it will be very, very hard there.  But folks who have done it keep assuring us Nervous Nellies that the effort is so worth the reward of the beauty of the views and the lakes in ME.
I'll do it as I've done the past 1,652.9 miles:  step by step, day by day.  And before I know it, the remaining 539.1 miles will be done.
Affiliate Disclosure
This website contains affiliate links, which means The Trek may receive a percentage of any product or service you purchase using the links in the articles or advertisements. The buyer pays the same price as they would otherwise, and your purchase helps to support The Trek's ongoing goal to serve you quality backpacking advice and information. Thanks for your support!
To learn more, please visit the About This Site page.