The Virginia Blues Aren't so Blue for SOBOs
Every thru-hiker has heard of the Virginia Blues—that time when a NOBO has been walking for long enough that the "honeymoon" feeling is gone, and the miles just seem to drag on through the green tunnel. It's generally around Virginia where a NOBO finally has trail legs and picks up on miles. Lucky for me I'm a SOBO! Which means that Virginia is full of crisp leaves and expansive vistas that I'm confidently conquering with a full pack and trail legs. Here are some highlights of the 550ish miles Virginia offers the AT—SOBO style.
Front Royal, VA
Front Royal, VA, boasts a new little area called Basecamp. It's nestled between a bakery, brewery, and outdoor retailer. It offers free showers and laundry as well as charging outlets and lockers to lock up your packs while you're in the surrounding shops or resupplying.
Shenandoah National Park
The trails through SNP are maintained so well! It's a joy to walk on them. It's also fun to stop at the waysides (aka little camp stores throughout the park) and buy hot chocolate. The leaves were starting to change here for me and there are so many scenic overlooks. I was basically just drooling all day as I cruised along at three mph not having to step on any rocks. My favorite overlook was SOBO mile 1,296.4 where you can see the next tenish miles you'll be walking. It's one of the few places in the park where you have an overlook that you don't see any surrounding towns in.
Shout-out to the Potomac Appalachian Trail Club for such good caretaking.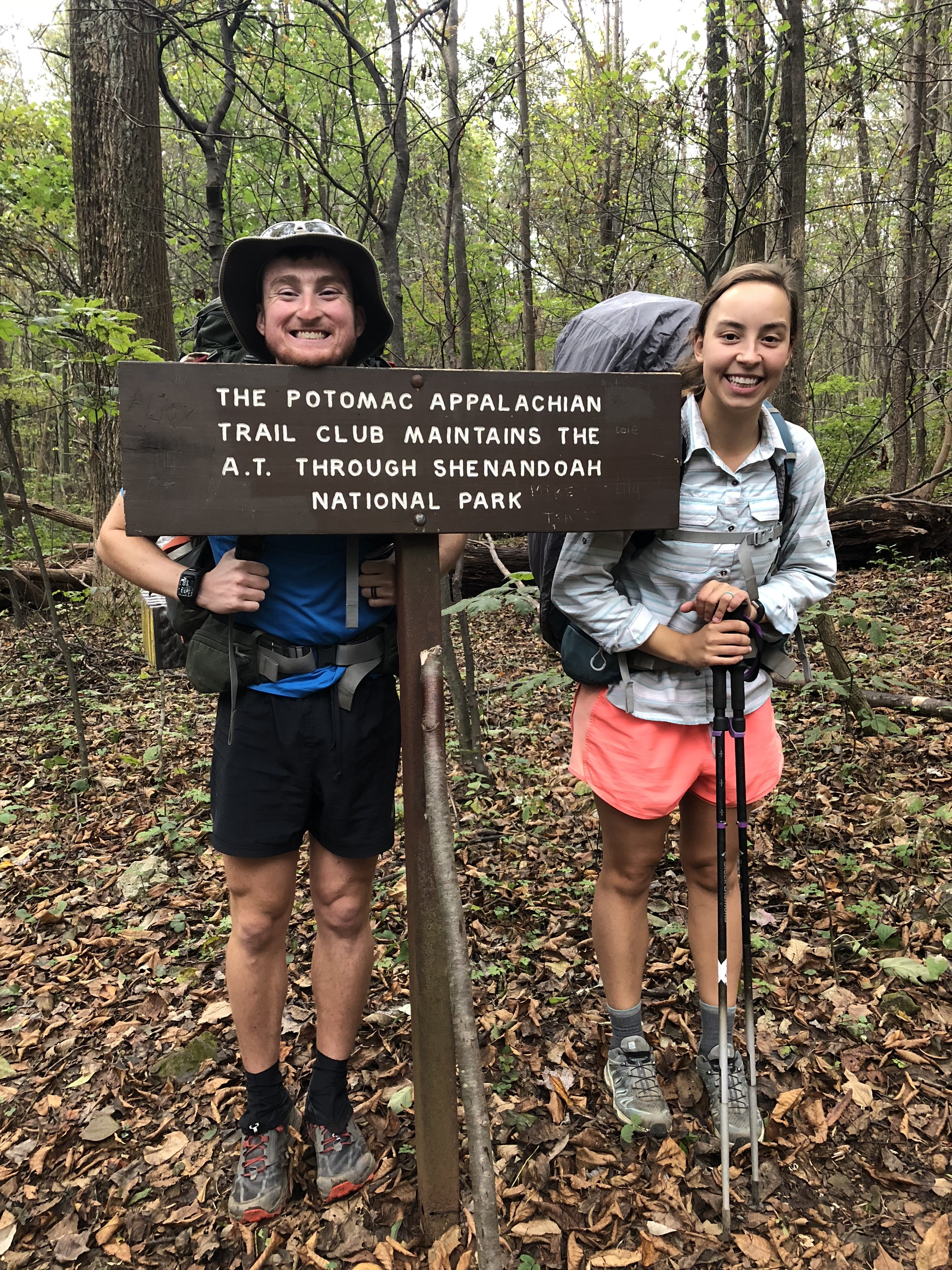 Passing another 100 miles is always something to celebrate!
I got to meet up with a friend from Instagram that is planning a 2019 NOBO thru-hike. It was fun to interact with him in person instead of just over a screen.
Priest Mountain
The climb up to this mountain is hard and long… about 3,000 of vertical to get to the top. It's also rewarding, though, as the views are gorgeous.
Additionally, the shelter log is actually a shelter confession book so after getting your leg workout in you can laugh yourself into a six-pack. Entries begin with "Forgive me, Father, for I have sinned…"
Grassy Fields and the First Real Bald
Shortly after the Priest a bald appears for SOBOs. The sun was shinning and it was warm out when we walked over it. It felt almost magical. There are views all around and you can sit in the grass (or handstand) and just breathe it all in.
The Virginia Triple Crown—Tinker Cliffs, McAfee Knob and Dragon's Tooth
The most famous views of the Virginia AT are within a 20-mile stretch of each other. Tinker Cliffs come first and you're wowed with a quarter-mile walk along the edge of the ridge overlooking gorgeous valleys. The trees are changing and you can see forever.
After descending and reascending (they should really install a zip line here!) you'll reach McAfee Knob. This spot seems like the most photographed spot on the AT and every hiker probably knows what it looks like before they get there. Even so, it's still awesome to finally arrive.
Finally, you walk a while more and get to Dragon's Tooth. The last bit of the climb up reminded me of my time in Maine and made me appreciate walking—not scrambling. Dragon's Tooth is cool.
Above picture is Dragon's Tooth; the picture below is the view from around the tooth.
Hiking on Halloween
We happened to be in Virginia over Halloween, so of course we had to celebrate. We carried these onesies for four days before we got to wear them! That's serious dedication to Halloween, especially since they're not light or space efficient. Either way, we got to wear them and make some hikers' days when they saw us. Who says thru-hikers can't be the spreaders of trail magic too.
Winnie the Pooh: "As soon as I saw you, I knew a grand adventure was going to happen."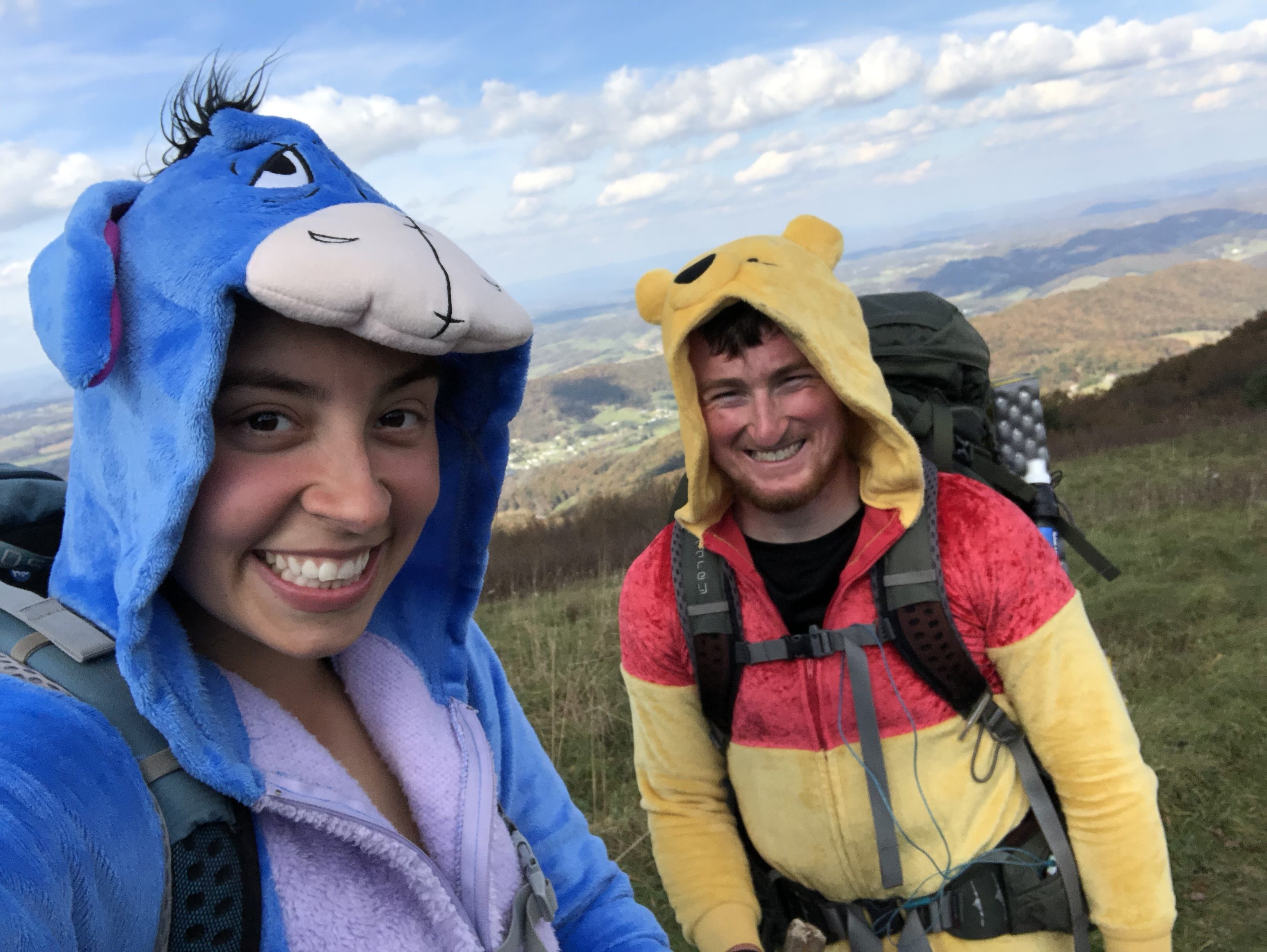 Grayson Highlands and the Ponies
After walking 1,700ish miles I finally got to see the famous ponies. NOBOs told us so many stories of how the ponies would lick the salt off their skin and follow them around. We got rain when we saw them, but that didn't stop them from coming all around us and making my wildest dreams come true. Alex wasn't nearly as enthused with them as I was, so he played cameraman for 15 minutes. If this isn't the face of pure joy, I'm not sure what is!
Seeing a pony on a rainy day is a perfect way to get a moral boost.
Everything you pulled out the ponies wanted to eat, phones included! Grayson Highlands doesn't let you camp around the ponies so that they don't eat your things.
Alright, enough pony pictures…
The Real Virginia MVPs, the New Tramily
Hiking alone is really hard. Even hiking with your significant other, it's easy for morale to get low. In the middle of Virginia our SOBO Ranger tramily with Little RedCoat disbanded as she got off trail because of injury. The weather started getting colder, daylight saving time happened so it felt like we couldn't hike as long, and we got some rainstorms. We were still making miles and knew we were pushing for Georgia but it just wasn't as fun. Lucky for us, we found some awesome other SOBOs to hike, laugh, and hostel hop with. Thanks Sweet, Scraps, Lost and Found, Search and Rescue, Gizmo, and Hot Damn for making the end of Virginia fun again. Onward to Springer Mountain, GA.
Smiling even though we made this room in the restaurant smell like hiker trash!
Sleepover at Woodchuck's Hostel in Damascus, VA.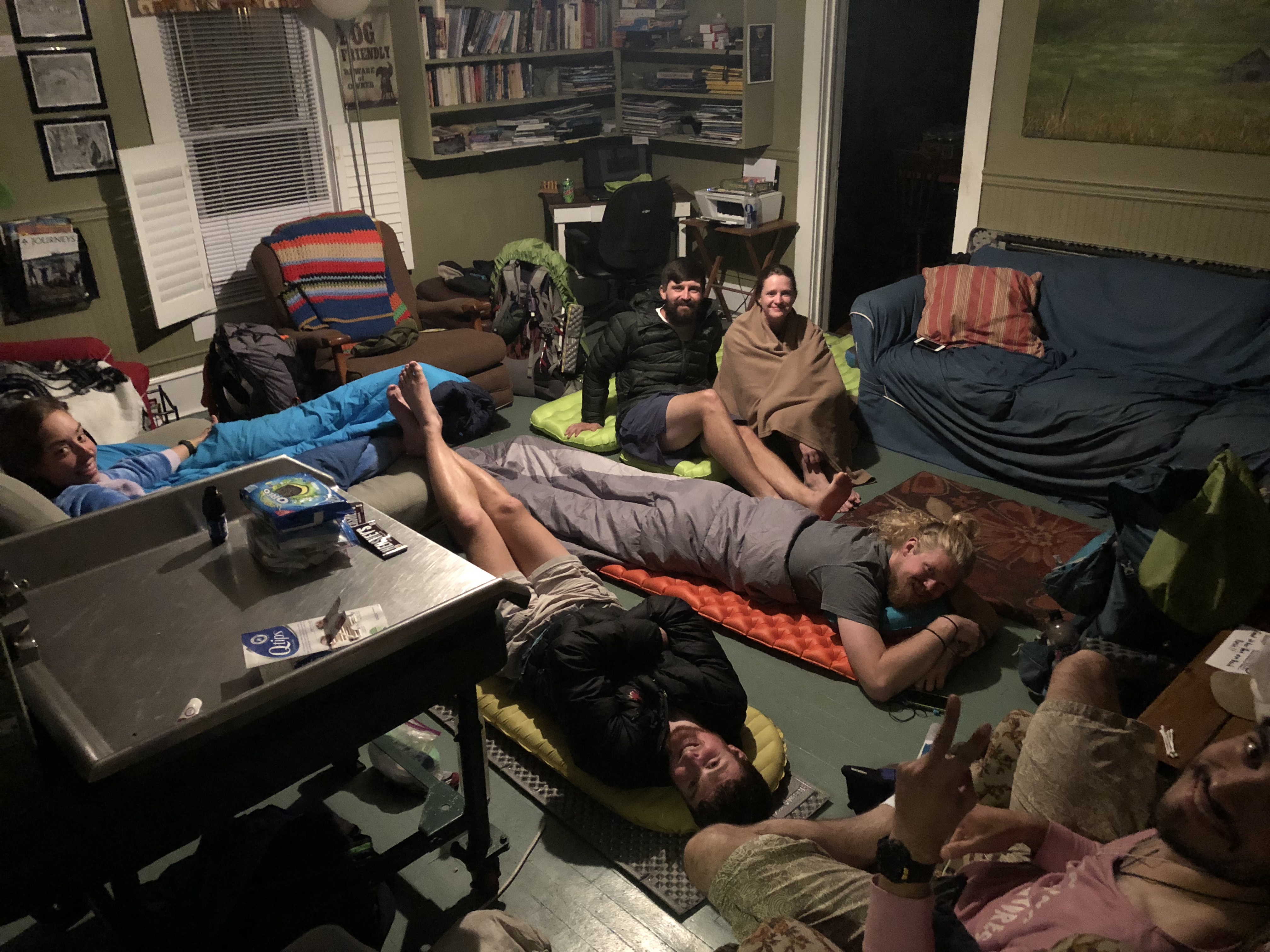 Damascus, VA
OK, had to give this town a shout-out since it's so famous… easy to resupply and lots of hostel choices and outfitters. I was able to get some rain pants since the temperatures are dropping and weather is getting wetter from one of the many outfitters.  Rainy days beginning again as we left Damascus. We'll see what Tennessee brings. (Border is about three miles south past Damascus)
As always, see our daily adventures on Instagram, @adventurous_als.
Affiliate Disclosure
This website contains affiliate links, which means The Trek may receive a percentage of any product or service you purchase using the links in the articles or advertisements. The buyer pays the same price as they would otherwise, and your purchase helps to support The Trek's ongoing goal to serve you quality backpacking advice and information. Thanks for your support!
To learn more, please visit the About This Site page.