We Have a Blackberry Ice Cream Problem
Day 93: 2,710 ft ascent, 11.1 miles
We woke up in Waynesboro with slightly sore throats and minimal visibility outside. We couldn't dodge the Canadian wildfire smoke a second time. It arrived with perfect timing with our entrance into Shenandoah National Park.
Before we left town, we thought it would be a good idea to get N95 masks to hike in. Turns out this was a horrible idea. The masks made it harder to breathe, which in turn zapped our energy almost immediately. We could only go at half our usual pace and had to stop for breaks often.
We didn't pass many overlooks our first day in the park, but the ones we did pass had zero views from the smoke. The forecast called for the haze to clear over the next few days, so we were hopeful our entire Shenandoah experience wouldn't be smoke-filled.
Day 94: 3,510 ft ascent, 15.9 miles
We ditched the masks the second day of smoke and quickly were glad we did. The smoke didn't impact our hiking pace at all and we made great time. It was a stark difference from the day before when we were wearing the masks.
We had a reservation at the first campground we walked by in the park: Loft Mountain Campground. My friend Katie from college lives in DC, so we made plans to camp out with her for a couple of nights at the campground! The campground also had showers and laundry so we could get clean and not subject Katie to our normal trail stench.
At the campground we made our first campfire of the trip! I love looking at fires, but typically on the trail it's too much effort to even think about trying to start a fire in the evening. Laying in the tent is much more appealing. It was a treat to be able to enjoy a fire, and we had s'mores to celebrate.
Day 95: Zero at Loft Mountain
We didn't have any plans other than not hiking. We decided to drive Skyline Drive to a visitor center for something to do. I like to visit national parks, but I had not been to Shenandoah before (Shenandoah is number 23).
We went to the Big Meadow Visitor Center and learned about the park. The history of the park's creation left a sour taste in my mouth. In a nutshell, the park was created because politicians wanted one on the east coast near DC to rival the parks being created on the west coast.
A businessman heard about the plan and lobbied for a national park around his mountain resort. He stretched the truth about the remote nature of the areas, and eventually a thriving community was pushed out to make way for the national park.
As I had walked through the park, I had been trying to figure out why it was a national park. Sure the views were beautiful, but they weren't any more magnificent than the views we had been seeing the past few hundred miles. Reading the history of the park made the rest of my experience feel bittersweet.
The one plus of visiting the visitor center was our discovery of blackberry ice cream. The park has multiple food establishments called 'waysides'. All of these waysides have a small grills that serves burgers and ice cream. We had our first taste of blackberry ice cream as a milkshake and knew we would be getting more before we left the park.
Day 96: 3,740 ft ascent, 15.8 miles
We got out of the campsite and back to the trail at our usual time. Katie had been kind enough to pick up a Walmart order for us so we wouldn't have to resupply in the park. We had five days of food to make it to Front Royal.
With the smoke finally cleared, we got better views as we hiked. We ran into our first ridgerunner since Georgia, Bushman. A ridgerunner is hired by the Appalachian Trail Conservancy to hike the trail and be a resource for anyone they meet.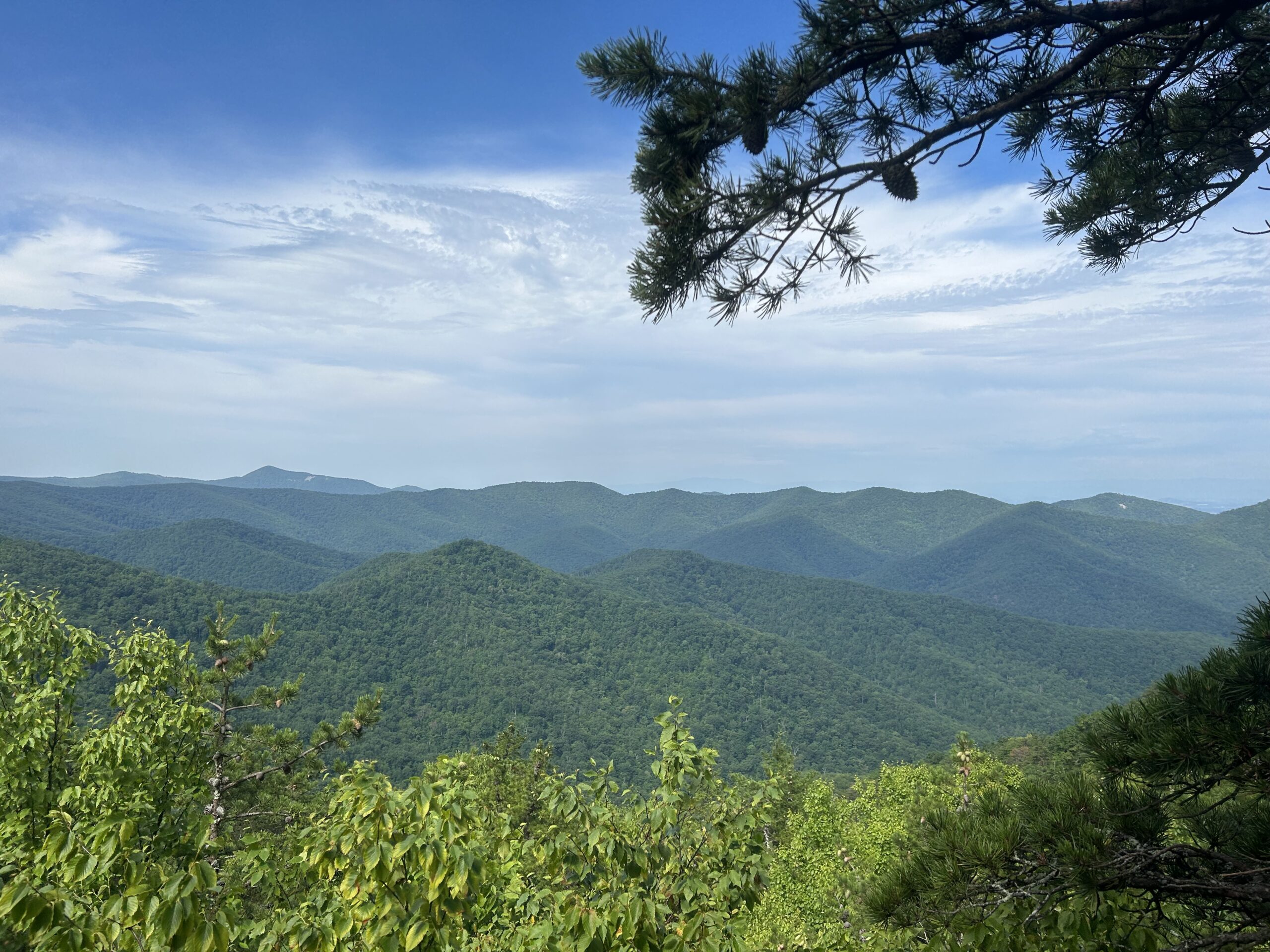 At the end of the day we had a treat: a water source at the top of the mountain! Typically we have to carry water with us if we would want to sleep at the top of the mountain so this was unique. We set up camp 100 steps from an awesome overlook!
I went to watch the sunset from there but clouds didn't cooperate for anything to write home about. We heard fireworks later that would've been neat to see from that prospective, but by the time they went off I was already in my tent ready to go to sleep.
Day 97: 3,910 ft ascent, 19.8 miles
I was inspired to hike when I woke up. Twenty miles up the trail was the Big Meadows wayside where we could get blackberry ice cream again! We got moving quickly in the morning.
We stopped so I could eat breakfast at a road crossing. This turned out to not be a typical stop to eat breakfast. Two separate shuttle drivers pulled over to offer us a ride. A thru hiker pulled over and offered us a ride in his rental car he had gotten to go further up the trail. An older white-haired trail maintainer pulled up in his sketchy van and handed us $5 each in cash because he likes to help hikers but he can't afford to buy them breakfast in the park anymore. It was a magical spot.
We hadn't really done a twenty-mile day yet. We think we may have gotten close before when we were going to Marion, VA, but we don't know for sure because we had to take an alternate high water route since it was pouring down rain. This trip has taught me that I'm motivated by blackberry ice and rain. Put either one of those ahead and I'll start running down the trail!
We made it to ice cream around 6 that evening and spent an hour eating and enjoying our ice cream. We had planned to go back to the trail, but the opportunity to take a shower and do laundry at the campground was too strong. Even though we had to pay extra for both of them at the campground, getting a camp spot made it easier for us to get our chores done and settle down in the evening without looking for a campsite in the dark.
Day 98: 1,670 ft ascent, 8.7 miles
The next day we were slow getting out of our campsite. We hiked about 7 miles and got to the next spot that served blackberry ice cream: the Skyland Lodge. We sat on the chairs outside for hours relaxing and enjoying our ice cream and another burger.
It was a beautiful day and tourists loved stopping to talk to us like we were an attraction.
"It's pretty hot out today to be hiking."
"It was cooler when we started."
"This morning?"
"No, March."
The look of shock that followed was as if we were from another planet. I'm sure we smelled like it but I didn't care. I had ice cream and I was happy.
Day 99: 2,830 ft ascent, 14.9 miles
We typically sleep at random campsites along the trail instead of congregating at shelters. Within the national park there were a lot less of the random campsites on the side of the trail. I had to scour comments in my trail guide app to find potential spots we may be able to stop for the night.
The site I thought we should go to seemed promising. It was a good distance for us and had multiple comments about its existence. The only problem was that four different people had recently left long stories about the deer that come to visit with no fear of humans. We got there and didn't want to push further so we set up camp.
It didn't take long for the deer to arrive. Two does and two fawns. They came right up to the tent. At first it was fun having the deer so close and watching them interact. One got territorial and even chased off another.
The problems started after dark. The deer never left. It sounded like they circled us all night. They grunted, dug holes, and I swear started doing an Irish Jig. It was far from a restful night of sleep. Now we know, heed the stories if multiple people warn you about the wildlife.
Day 100: 3,220 ft ascent, 15.2 miles
We were only a handful of miles away from the last wayside the next morning. We got there a little after 8:30am and ate breakfast. The gift shop was open, but the grill didn't open until 11am.
I finished my coffee and then looked at Erik. He looked at me. We decided to wait the two hours to get one last hot meal and blackberry ice cream in the park. There were great chairs to sit in on a shared porch while we waited. What more could we ask for?
It was worth the wait. The fries were the best we had eaten and the ice cream was perfect. It was the perfect way to finish up our time in Shenandoah.
That evening we hiked to a camp spot my dad had stayed at near the top of the last climb in the park. After we set up the tent we started hearing the usual stomping of deer around. We ignored it until we headed a different kind of louder stomping.
Erik investigated and saw a bear! There was a bear outside the tent. Luckily as soon as it noticed us it ran away pretty quickly. Although we had seen a handful of bears along the trail so far, this was the first one we had seen at our camp. Fortunately the bear didn't come visit any more that night.
Day 101: 790 ft ascent, 7.0 miles
Front Royal, VA was one of our favorite stops along the trail so far. The town has a free shuttle that ventured out of town a few miles to come pick up hikers during peak hiker season. We hiked 7 miles to catch the first shuttle of the morning and got there with about 5 minutes to spare.
The shuttle let us off at the visitor center in the middle of town and we walked to our hotel. We dropped off our packs and spent a few hours wondering the town until we could check in. The town was very clean and very walkable. We got a pamphlet at the visitor center for a walking tour and went into a few of the free historical homes.
The best part of the day was the trip to the ice cream store. This wasn't just any ice cream store. They don't sell vanilla, chocolate, or strawberry. You will get an earful if you try to order any of those flavors, which Erik was warned about at the outfitter and obviously had to proceed to try. After hearing about the owner's ice cream philosophy, we ordered some strawberry Italian ice with a scoop of cheesecake. Incredible! Add this place to the list of places we need to come back and visit.
Affiliate Disclosure
This website contains affiliate links, which means The Trek may receive a percentage of any product or service you purchase using the links in the articles or advertisements. The buyer pays the same price as they would otherwise, and your purchase helps to support The Trek's ongoing goal to serve you quality backpacking advice and information. Thanks for your support!
To learn more, please visit the About This Site page.