Week 3 – Caratunk to Stratton
Feet are healing,  the terrain is getting better, things are starting to look up . . . Or are they?
Day 15 (9am – 2:30pm, 6.9 miles)
Was awoken by loons again this morning and the beaver came to say hi one last time.  I started feeling a little off last night, but I packed up my gear and off we went.  Carrie and I left camp first, followed by Damian and then later Frank.  We start our hike today heading up Moxie Bald Mountain!
As I started up the mountain today, I felt sluggish.  The air was very hot and think and every 20 feet or so, I felt as though I needed to stop and cool off and rest!  I'm drinking plenty of water,  but it's so damn hot!  There's no breeze!  I feel like in suffocating in the woods on the side of this mountain!  But it's ok.  I'll just take my time, and I'll drink tons of water. I should be fine.
As I finally reached the top, huffing and puffing, covered in sweat head to toe,  I took some pics and quickly found some shade to cool off, stay out of the sun, and have a snack.  Phew it's hot today!
We had meant to wait for the boys at the top, but after a while with no sign of either of them, off we went.  The game plan was to go down the mountain and either stealth camp at the bottom, or head into the next lean-to.  We'll play it by ear.
As we started down, my tummy started to grumble.  Not that weird kind of hey I'm hungry grumble. But that you have to find a bathroom soon kind of grumble.  Uh oh!  Something's not right!  But what is it?  Was it something I ate?  What's going on?
As Carrie and I traversed farther and farther down the mountain,  my condition continued to plummet.  By the time I struggled my way down to the bottom I had decided I needed I get out of the heat.
"Carrie, I'm really not doing well.  I'm either going to stealth camp here at this road, or maybe we can find someone to give us a ride to town."
"Ok.  I think a ride to town is a great idea!"
Grumble grumble grumble.  "Uh, I have to use the bathroom again.  I'll be back."  As I left to find a spot in the woods, barely aware of where I was at that time, Carrie walked up the road to the first house she saw.  As I came back out of the woods, Carrie returned with a man and his little beagle in tow.
"This is Colby.  He said he can give us a ride to Caratunk!"
I was overjoyed, as I had really begun to realize I needed to be off trail.  He informed us he just needed to jump his jeep and then we'd be off.  So after a quick jump,  Carrie threw our bags in the jeep and we took a 20 minute bumpy drive to town.  Carrie discussed where we should go with our new trail angel and we all chatted a bit as we were heading to town.
Whats going on with me?  I'm sluggish,  I feel fuzzy,  and my stomach is doing flips.  I'm not as hot now.  Is it possible I have heat exhaustion?
We pulled into the North Country Rivers, grabbed our gear, and walked inausea.  Ahhhhh AC!  But I still feel like I'm going to fall over!
After informing the front desk we were thru-hikers that needed to get off trail due to me experiencing some problems with the heat, the staff looked very concerned at me.  They gave me a bunk room and Carrie took a tent site and off we trudged across the sun scorched field to get to my bunk.  The rest of that day I spent sleeping in my room with the fan on and the windows open, trying to get a cross breeze.  Soooo hot!
After some rest, a cool shower, and a little nibble of dinner,  Carrie and I had determined I must be suffering from heat exhaustion.  We may be here a few days as I ride this out!  Wish me luck!
Day 16 (Time, date, day, whatever I'm not even sure where I am right now! 0 miles)
So I'm still not recovered.  Still rushing to the bathroom all the time, still have the grumbles, still think I'm on another planet.  Ugh I think I have to stay another night!
I sent Damian a Facebook message and Frank a text in case they were worried about us.  Told the family I was off trail.  But where am I?  I thought we were in Caratunk at Northern Outdoors, but apparently not!  We're in Bingham at the North Country Rivers!  Oh boy!
A young girl, Michaela,  that works here has offered to give us a ride to the trail head.  How sweet!  But I'm still not feeling well.  Better text her to tell her we're going to stay one more night.
I was starting to feel strong enough to walk all the way across the field, so off we went to reserve another night.
"I'm sorry, but we're completely booked.  But you can have a tentsite."
Oh no!  Now I have to battle heat exhaustion and stay in the elements!  Oh well.  Carrie was incredibly awesome and helpful and lugged both our packs, full I should add, to her tentsite and set up my tent while I rested in my bunk a little longer.  Once she was done, she came back to get me.  Off we trudged through the sun scorched field again.  I got to my tent and layed down.  But it's already too damn hot!
"I gotta get out of this heat!  Let's go into the main lobby area and stay in the AC!"
So Carrie and I spent the remainder of the day in the AC, playing on our phones, nibbling on snacks here and there, and eventually I got some medicine from the market across the street.  I finally started to feel better towards the end of the night.  The staff kept checking on me to make sure I was doing ok as well.  Nice group of people there!
"Well Carrie, if I continue to feel better, maybe Michaela can drop is off tomorrow?"
After a quick conversation with Michaela,  she was more than willing to drop us at the trail head whenever we wanted the following day.  We repeatedly thanked her and rested the rest of the day.  Fingers crossed I'm good to go tomorrow!
Day 17 (9:39am – 12:30pm, 3.7 miles)
Feeling much better today, we prepared to leave for the trail.  We chatted with Ron and Dean for a little while (good luck with meducation school Dean!), then Michaela (an employee at the North Country Rivers) graciously drove us to the trail head so we could continue on our journey.  Thank you to all the crew at North Countey Rivers for hosting us and checking in on me to make sure I was doing ok!
Knowing the weather was supposed to be HOT again today,  I opted to hike in my sports bra and spandex to avoid an exacerbation of the heat exhaustion I JUST recovered from!  We started our journey and shortly came upon the infamous Kennebec River!
As we waited for the ferryman to return to our side of the river, around the corner came Gray and Emily!  We did not expect to see them again!  We chatted with them briefly and climbed into the canoe and off we went, paddling across the river.
We hiked through the heat that day, taking as many breaks as needed to help keep me cool. During one of those breaks, Damian crossed paths with us!  We were once again hiking with the crew of people we had been hiking with before my little side trip from the heat exhaustion!
That night, we stayed at the Pierce Pond lean-to,  making it a short day, easing back into the hiking.  As we set up camp next to a beautiful pond,  in rolled some dark clouds.
Looking like it may storm soon, and still not feeling 100%, into my tent I climbed, ready to wait out the storm.  It rained for a little, but nothing too intense, so I resurfaced after a little while to join Carrie, Damian, and the other hikers, watching the sunset over the pond and the mountains.
As we sat there, taking in the beauty around us, we chatted with some of the other hikers.  As we discussed the heat we had all been experiencing, I mentioned getting heat exhaustion only days prior.  "Really!  How'd you get that?" one of he hikers asked.
With one eyebrow raised, my jaw agape, and an utter look of disbelief and shock written all over my face, I paused and pondered if he was joking or serious.  Realizing, somewhat dumbfound, that he was in fact serious, I replied, "Well, you see, it was 80-90 degrees out with no breeze what so ever. . . and, well, I overheated!"  Another hiker nearby snickered and buried his face in his arm to keep from laughing as I turned back to the beautiful scenery, now understanding a new definition of educating.
We met another SOBO today too, named Jeep.  He informed us he was taking his time as he worked his way south.  Not sure if we'll run into him again, but good luck Jeep!
That night, as Carrie was cooking in the lean-to, the wind suddenly kicked up and she darn near burned down the lean-to!  As she was desperately trying to maintain the situation, another individual came over and plopped themselves down, almost sitting on her pot, watching as the almost catastrophy unfolded and simply asked, "what are you doing?" As Bill Engvall would reply, "just thought this lean-to could use some color, like burnt umber".  There's your sign!
The NOBOs we crossed today (the ones I got trailnames for at least)
Chef
Rubix
Riptide
Tangerine
Fisherman
Cold Taters
Fresh Breath
Day 18 (7:30am – 5:30pm, 15.1 miles)
I am feeling GREAT today!  We planned on heading for the next lean-to.  Passing a large beautiful pond, we stopped to take lunch on a beach by the water.
As we arrived at the lean-to, a rain storm hit.  We waited it out and chatted with a few hikers, Woodsman, a fellow SOBO, and Sushi, an awesome NOBO.
Since I was feeling so much better today, we decided to move on.  Tonight we stay at a campsite right by the Flagstaff Lake.
Damian parted ways with us today, after getting a late start and really hitting his trail legs.  Not sure we'll see him again but we wish him luck and hope to see him again.
Tonight we sit on our giant rock and watch the sunset over the lake.  The wind is so strong, the whitecaps are crashing on our rock.  Gorgeous end to a nice long hike.

The NOBOs we crossed today (the ones I got trailnames for at least)
Mustard Seed
Bald Whistler
Day 19 (7:40am – 4:30pm, 9.8miles)
Long day today as we summited two mountains that felt more like 5.  One mountain we're still not sure where the peak was!  Avery Mountain was a 2,000 foot gain in just under 2 miles! STEEP!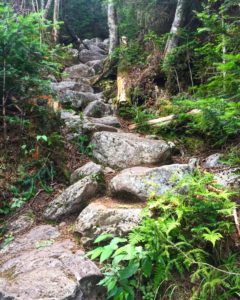 As if the steep climb wasn't enough,  the mountain has several false peeks!  As we crawled to the top, we were lucky enough for good weather and great views.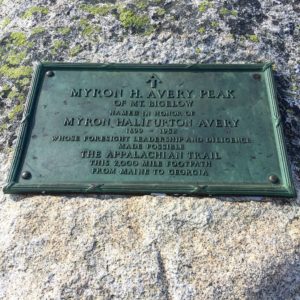 Woodsman has been playing hopscotch with us all day today.  He's going to the same campsite we are, which luckily for us was very close after Avery peak.  As we rolled into camp, the Avery Memorial Campsite, we met two other guys that were section hiking with a dog named Red.  Great guys and an awesome dog!
One more day to Stratton!
The NOBOs we crossed today (the ones I got trailnames for at least)
Day 20 (7:20am – 1:30pm, 8.1 miles)
Today we go to the Stratton Motel!  Along the way, we met another SOBO, Flicker.  She started some time before us, but has done a few work-for-stays in a few towns.  As we took a break at one lean-to, we chatted with a few NOBOs; Suds, Subman, and Rabbit. As we chatted, I realized I had seen a picture of Suds with the 2,000 mile sign the previous day!  Who knew I had known her from Facebook! We also met Blizzard, a flipfloper.
As we settled into the hostel, we were reunited with Damian, Gray and Emily!  We spent the evening chatting with new friends and old, having a relaxing evening.  Some of our new friens were a SOBO named Molasses and a section hiker named El Capitan. We hears a lot about El Capitan from several people on the trail.  Turns out he is a really awesome and friendly guy, which has made him rather popular on the trail.
Molasses told me he had heard about me from Frank and started talking to me about some knee problems he was having.  I took a look at his knee, which was doing much better by the time I saw him, and determined he's doing pretty good now.
The Stratton Motel has been a nice little place to stay, run by a great guy named Marching Band.  That night, we had dinner with Fine Line (another SOBO) and Goat Gas (a NOBO). I ate an entire prime rib and mashed potatoes and had a delicious beer with Carrie. What a great meal!
The NOBOs we crossed today (the ones I got trailnames for at least)
Goat Gas
Suds
Subman
Rabbit
Day 21 (12:30pm – 6pm, 7.5miles)
Getting our stuff together and heading out sometime today.  This morning, I walked into town to head to the post office, and due to the intense heat, started to over heat again.  Upon returning to the hostel, I planted myself directly in front of a fan to help cool off.  Carrie and I passed the time by playing Cribbage and solitaire as I started to feel better.  We waited until afternoon to start, in order to give my system time to recover.
When I finally started to feel better, Marching Band gave us a ride, and off we went.  Along the way, we ran into Damian and Flicker once more and continued our hike with them.  We are spending the night at the Crocker Cirque campsite.  Tomorrow, we have some BIG hikes ahead of us!
The NOBOs we crossed today (the ones I got trailnames for at least)
Well, that's it for week three!  We have some big mountains ahead and some rough terrain!  My feet are benter anso I'm finally healing up from that heat exhaustion.  Check in next time for more adventures of a SOBO on the AT!
Happy hiking!
If you are interested in assisting in my dream, click here to help!
Affiliate Disclosure
This website contains affiliate links, which means The Trek may receive a percentage of any product or service you purchase using the links in the articles or advertisements. The buyer pays the same price as they would otherwise, and your purchase helps to support The Trek's ongoing goal to serve you quality backpacking advice and information. Thanks for your support!
To learn more, please visit the About This Site page.