What a difference a day can make
Day 23
We had cell signal last night and upon checking the weather before bed, noticed that rain was likely in the afternoon.  Also, there was a massive system with thunder and lightning on radar heading for us.  The most up to date forecast had it hitting between 9pm to 5am.  Our strategy, get on trail early and get a spot in the Lean-to we had planned to camp at.
This morning we broke down camp very quickly and started hiking south just before 7am.  We could already tell it was going to very hot and humid.
It was our most challenging day on trail so far.  Lots of elevation gained with steep, rocky, and rooty trails.  Even on a good day it would be challenging to keep a steady pace let alone dripping sweat profusely, clothes completely saturated.
We trudged along looking to beat the rain and have as good a day we could on Saddleback, a 3 miles above treeline ridge walk between two 4000 foot mountains.  When we finally reached the treeline we were greeted with a cool breeze and amazing views.  However, we could also see the rain.
Thankfully we made it across most of the ridge before the rain started.  Just a light drizzle that cooled us down and luckily the rocks were minimally slippery.  It rained at various intervals for the remainder of the hike and we enjoyed the long stretch above tree line. Just as we got into shelter the heavy stuff started.  What timing! We must have someone looking out for us. We probably won't be awake past 8:30 tonight.
Today was easily our toughest on trail, our bodies and minds were feeling the heat and terrain.  Looking forward to sleeping in a bit tomorrow. Thankfully the terrain for the next few days will be gentle and there will be minimal rain.  Today was good preparation for what's to come in Southern Maine and the White Mountains.
Day 24
We slept in, exhausted from the previous day.  The rain stopped around 5am and we enjoyed a lazy, dry morning at the shelter drinking hot coffee exchanging information with some L.A.S.H. ("long ass section hiker", usually done in a couple very long stretches to complete the AT. Whereas a regular section hiker can do as many pieces as they want to complete the AT) hikers heading north.
The AT also has a strange sense of humor.  We got a laugh at the double seat privy complete with cribbage board.
We finally started hiking again around 9am and arrived at Route 4 just before 10am.  The L.A.S.H hikers at the shelter recommended stopping at the hiker hut just .3 down the road.  So that's exactly what we did in search of cold drinks.
When we arrived, the owner had made a run to town.  But we enjoyed sitting on the bench and admiring the beautiful property.  As we started to pack up and head back to the trail, the owner showed up and asked if we wanted an egg and cheese sandwich.  That was an easy yes.  He also gave us some delicious homemade granola bars.  We chatted for a while and learned he grew up in Danvers, MA.  Small world.
About 11, we finally packed up and headed back to the trail.  Just as we started following the white blazes off the road and into the woods, we hear "hey hikers" and turn to see 2 ladies walking towards us with a bag goodies.  Trail Magic!  Soda, cheese balls, donuts, and even a tiny bottle of wine.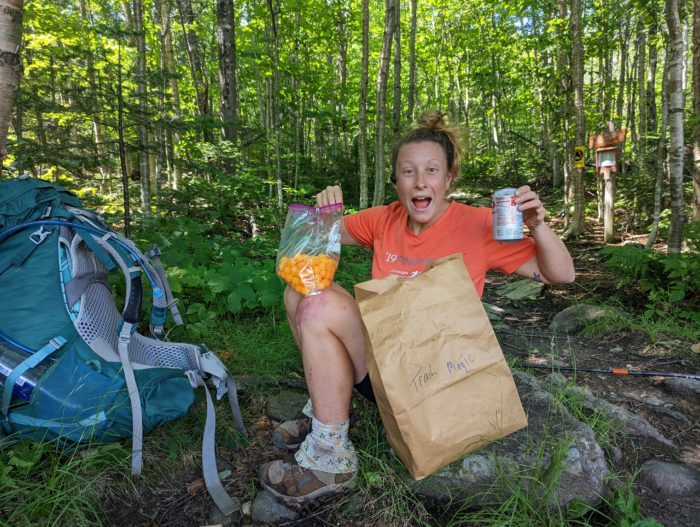 The Appalachian Trail is an amazing place.  Just yesterday, we were struggling up the steep rocky climbs in the crushing heat just minutes from a mental breakdown.  Today, double trail magic and easy terrain with a nice steady breeze to balance the humidity.  The trail can be brutal but there are always better days to come as long as you can hold on.
We enjoyed listening to music while hiking the gradual terrain. Had a good camp spot at the Lean-to which was facing a nice pond. We fell asleep to the calls of the loons.
Affiliate Disclosure
This website contains affiliate links, which means The Trek may receive a percentage of any product or service you purchase using the links in the articles or advertisements. The buyer pays the same price as they would otherwise, and your purchase helps to support The Trek's ongoing goal to serve you quality backpacking advice and information. Thanks for your support!
To learn more, please visit the About This Site page.