CDT Road Walks: It's Not All Paved Highways Out Here!
The CDT between Pie Town and Grants has two major alternate options. In fact, if you were to take both the Cibola and Bonita-Zuni alternates, as Josh and I planned to do, you'd only be on the official route for 34.8 miles.
We set out from Pie Town after eating pie for breakfast and stopping at the post office to send some of our food on to Grants. We had sent ourselves way too much in our boxes, planning for the 110 miles of official trail along the Chain of Craters. Our alternates would make it only 85 miles to Grants.
At the post office we ran into Wing It, sending a cow (or elk?) jawbone to his girlfriend.
Then we were off! On a gravel road, which went off straight into the distance. Sometimes there were rises, small ups and downs. All piñon and juniper, light gray-green-blue grasses, as far as I could see. Sometimes the trees grew more or less dense. Several miles into this infinity Josh and I took a short break, but the miles were easy so soon enough we just kept walking. We arrived at the TLC Ranch at around 2 pm.
Dog Ma had told us they were welcoming hikers, and sure enough they fixed us tacos and beans! I sat around for a while coloring and drawing with a four-year-old. When the papers were crumpled, all of the crayons were on the floor, and she hid under the table giggling, Josh and I decided it was probably time to hike on.
We got to a solar well at sunset, just in time to fill up on water before the pipe stopped flowing.
The next day the trail continued along the same gravel road for a few miles before the turn-off to the Cibola alternate. As I walked along one of the guys from the TLC Ranch pulled up, a middle aged cowboy in a minivan. He gave me a banana nut muffin. It turned out to be kind of frozen, but in that moment, it was better that way.
I put down my pack at the dirt road leading off toward Cibola Canyon and ate some snacks, waiting for Josh. It was all dust and dry cow patties, scratchy grass patches that poked me when I sat on one. Together we went down the very dusty road. We were soon passed by a truck towing a horse trailer with one horse saddled up and four spotted dogs who were also ready to go.
The Cibola alternate took us on single track through a couple of canyons. I had read that there might be 800-year-old ruins in the area. We did come across an old mud brick house and some falling down timber structures.
At another solar well, Josh and I stopped to eat dinner. Another hiker came over from his tent to let us know they'd heard from the Forest Service that there would be controlled burns near the start of the Bonita-Zuni alternate for the next 3-5 days. We decided to do the official CDT road walk instead, noting the west wind would be blowing smoke straight at us if we went that way.
After dinner we hiked on, completing four miles along the paved highway. The air was cool and as the sun set, the colors kept getting better and better.
We noticed what we thought was a herd of horses to the right, across the road just below the mesa. The animals were grazing and occasionally a couple of scouts would wheel around in front of the group, leading them down the pasture. As we got closer we realized it was a herd of 50 or more elk.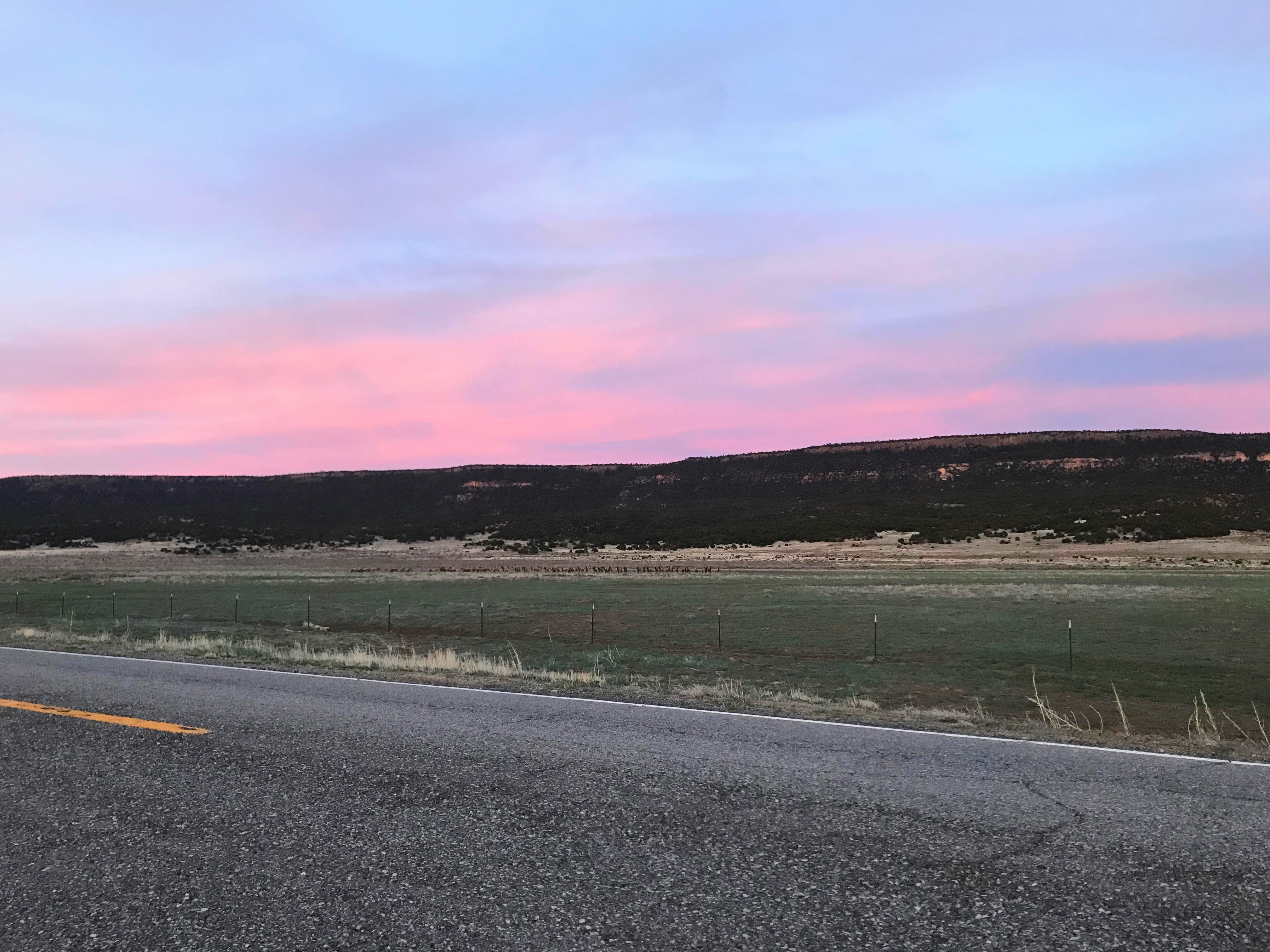 When the whole sky was violet and magenta the herd ran north, and I lost track of them as the light dimmed.
In the morning Josh and I took a short alternate up on a cliff called the Narrows. The road we had been on was a steep drop below us, and we had great views of el Malpaís to the west – a huge expanse of cracked black lava, colonized by trees and shrubs. The sandstone up on the cliff-side trail glittered in the morning sun. Josh said he wished he could paint a room that color, and wake up to it every day. The Narrows trail ended and we were able to find a decent path down, coming out right at the La Ventana arch.
There were trash cans, which are oddly satisfying to use when you've been carrying all your trash with you.
From here on out it was all paved highway walking to Grants. It was really scenic for the first several miles, huge sandstone cliffs and rock formations to the right, many within the Acoma Pueblo. In the afternoon we stopped in at a ranger station to get water and sit around in the shade at a picnic table. (Picnic tables are great!) A man on a road trip from driving from Texas to California said hi and asked us what we were doing.
He didn't know about the CDT, but he wanted to help us out and insisted on giving us some tamales.
Then we took some pictures next to his truck so that he could prove to his son that we were real. It felt like true trail magic.
The road walk got more boring. I listened to Beyonce and picked up the pace for a while. Our feet hurt so we decided to hop the fence into the Malpais National Conservation Area and camp. With just a few miles into Grants in the morning, I think it was a good choice. Josh got a sandwich at the gas station Subway and I called my mom, talking to her for most of the last five miles into town.
I described the houses and buildings I passed along the old Route 66. She looked up how to pronounce Cibola. (It's most likely SEE-boh-la, not seh-BO-yah, like the Spanish word for onion, although Guthook spells it Cebolla.)
Josh and I splurged and stayed at the SureStay for a night, which has sheets that are mid-range thread count, plus a pool and hot tub. We ate at Denny's, where we mixed a custom banana peanut butter chocolate shake, and also had the saddest Caesar salad ever (plus nachos, chicken tenders, and onion rings). Then we resupplied at Walmart. Mostly we just watched Netflix. A couple of trail angels, who we had our extra food from Pie Town sent to, were kind enough to bring it to us at our hotel. (They also stock several water caches in the region – many thanks to the Mumms!!)
Next section, Mt. Taylor!
Affiliate Disclosure
This website contains affiliate links, which means The Trek may receive a percentage of any product or service you purchase using the links in the articles or advertisements. The buyer pays the same price as they would otherwise, and your purchase helps to support The Trek's ongoing goal to serve you quality backpacking advice and information. Thanks for your support!
To learn more, please visit the About This Site page.