High Route Pyrenees (HRP) – Am I Thruhiking In France, Spain, or Middle Earth? (D17-19)
This is just the beginning of a two-part episode.  A lot has happened in this stage between wifi connections!  Part One here is the first three days and Part Two will be the second three days and will likely get posted in my next resupply town three to five days in the future.
Day 17 – Gavarnie to Hourquette de Héas
14.4 miles; 6,916ft ascent; ~3,773ft descent
I spent my second night in Gavarnie at the campsite on the East side of town, it was cheaper than the refuge and offered an uninhibited view of the Cirque de Gavarnie and its Yosemite-like granite cliff faces with thousand foot waterfalls.
The town itself was bustling with tourists and hikers, but not at the hour when I went back in for a baguette.   The streets were empty and all the shops closed, the air was cool with a strong wind but the sky was clear.  I got my fresh French bread and headed back towards the campsite.  A quarter mile past it I turned onto single track and climbed up switchbacks through a pungent forest.
Above the treeline a little higher up a sort of plateau formed and a refuge chalet emerged near the edge, looking into the cirque and out to the distant Vignemale.
Sheep and cows, donkeys and horses were grazing about, so I had a snack too and took in the view for a minute then it was up the final climb of the Hourquette d'Alan.
The pass had a few people tucked in it escaping the strong wind, so I only paused briefly and descended into the valley below the Cirque d'Estaaubé.  The path led down wide switchbacks into a long alpine meadow following a wide stream to a reservoir below.  Through a boulderfield beneath small peaks with the Cirque behind me the path wound around the reservoir, across the dam, and arrived at a trailhead parking lot with 30 cars in it.
Then it was down a steep and narrow switchbacked and paved road to an intersection and slightly up to a no-name hamlet with only a couple houses, an albergue, and a church (partially destroyed by an avalanche in the early 20th century but mostly still intact.)
It was almost three and I hadn't had lunch, so I found a spot in the shade by a stream and ate while I chose my next move between ascending the Hourquette de Héas directly or going on an alternate circuitous and more challenging route to get there.  Noticing clouds building I opted for the direct option, hoping to make it over and possibly to the Lacs de Barroude.
I did not make it over.  Just as I got to the base of the final ascent rain started pelting hard and I heard some nearby thunder, so I quickly threw up my tent in a spot out of the worst of the wind.
Day 18 – Hourquette de Héas to Barranco de Urdiceto
16.7 miles; ~4,000ft ascent; ~6,969ft descent
It rained all night.  About a quarter to 5am I woke to lightning and thunder within to sweconds of each other.  So I rolled over, tried to lay lower if possible, and fell back asleep for a couple hours.  I woke again but this time to hues of blue and sunrise colors on my tent, so I quickly packed to push over the back-to-back passes Héas and Chermentas in case I was just in a small window of cooperative skies.
When I came around the first pass for the day I must have been transported to Middle Earth.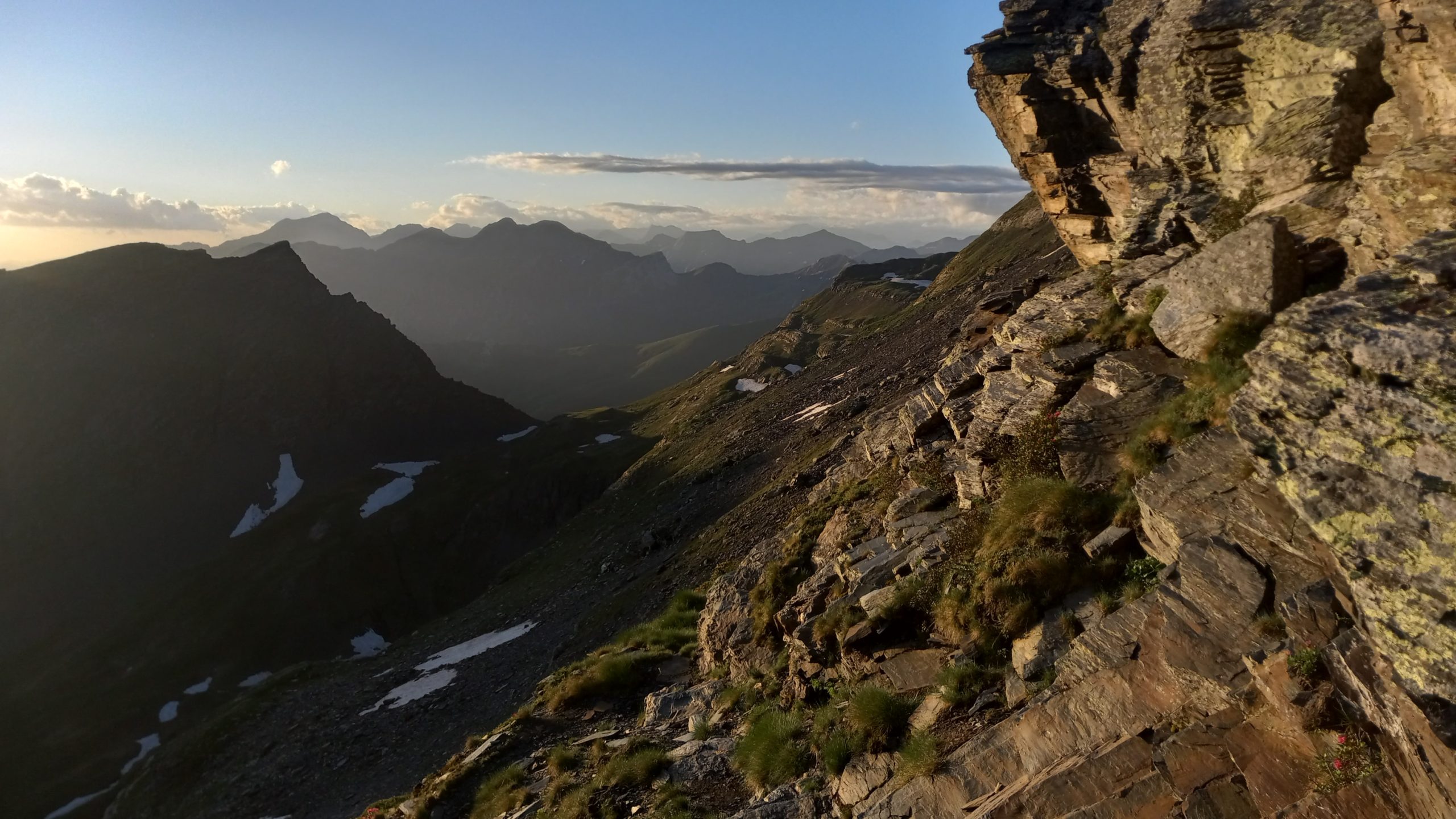 The forests and mountains reminded me of where Bilbo escaped Golumn's clutches and rejoined his party before being attacked by goblins and carried off by giant eagles.
The long and massive, looming, granite cliff wall reminded me of where Gandalf led the fellowship before the battle of the giants brought them to the Mines of Moria.  I even found a troll frozen to stone by the sun looking back to the Lacs de Barroude (you can see it in the bottom left corner):
Nearby Barroude Lakes was a field that looked just like where The Riders of Rohan met three Fellowship members looking for their companions:
Over the next pass, the slightly snowpacked Port de Barroude, the magic shifted again.  I found a cabin surrounded by chamois, a deer or Ibex like animal inhabiting and somewhat iconic of The Pyrenees.  After they were alerted to my presence they fled with great agility and speed up the opposite side of the ravine.
I went down to the cabin to finish most of the rest of my food, knowing I would resupply at the bottom of the valley.  While eating I was surprised by a couple of elderly humans and I awkwardly offered them places at the table with the knife I was using to cut my sausage and cheese.  I probably gave them a scare, they didn't come in.
I continued down to the road and followed it to the edge of Parzán, where there was one of the largest supermarcados I've seen in weeks.  Resupply mode got the better of me, I forgot to snag a picture of the eight oak casks full of port and wine!  But yes, I certainly did fill a two-litre plastic growler with a '45 Porto Rojo for €6.50 because I love Spanish grape juice.
Lugging my jug and my heavy pack, I went back up the paved road for a mile then branched onto a dirt track (joining the GR11) to climb back into the mountains.  A couple miles up and away I found a solid stealth spot tucked down off the road by a waterfall on the Barranco de Urdiceto.  I built a little dam to chill my wine and waited for a storm that never really showed up.  I think it sprinkled some late that night, but I expected worse.
Day 19 – Barranco de Urdiceto to Col d'Aygues Tortes
13 miles; 5,668ft ascent; 3,339ft descent
The morning was misty but cleared up quickly and the first pass was an easy one.  Up at the top was an unmanned cabin called Refuge del Paso de los Caballos:
The long descent afterward passed through several different valleys and eventually led to a closed until July campgroumd and the Refuge de Viadós, which I did not go into.
I once again noticed dark clouds building and wanted to beat them over the next pass which didn't seem that far (~1.5 miles?) but what I failed to fully realize was also back up to high elevation (~3,000ft ascent?).  About halfway up, and/or a third or less of the elevation gain, was another small unmanned cabin which I found occupied by a few GR11 hikers.
I stayed and talked for too long because when I finally started the steep ascent up a very faint and unwaymarked path those dark clouds were hot on my heels.  The climb was so steep and the routefinding so tricky.  The slope kept revealing false summits and I got exhausted, then the rain and wind picked up and I heard the booms that mean "get low", but not like at a rave.
I found a small flat spot tucked under the pass with some stones built up against the prevailing wind.  Pitching my tent quickly I still got wet but it was thrilling, in a sense.  I jumped in my snug little shelter and rode out another evening of blustery driving rain counting seconds between flash and rumble while sipping port and eating stinky cheese.
At some point the hard rain stopped but the wind was still strong so I peeked out of my tent and found I was in the cloud, a damp bluishish gray whiteness with no farther visibility than a stone toss.  An eerie night was in store, and a questionable morning.  Would you pack up your gear and hike in this?
To be continued …
Affiliate Disclosure
This website contains affiliate links, which means The Trek may receive a percentage of any product or service you purchase using the links in the articles or advertisements. The buyer pays the same price as they would otherwise, and your purchase helps to support The Trek's ongoing goal to serve you quality backpacking advice and information. Thanks for your support!
To learn more, please visit the About This Site page.