Hiking the Hebridean Way in Scotland
Day 1
After finishing the Skye Trail on the Isle of Skye, I'm taking a ferry to Tarbert in the outer Hebrides to hike the 295km/185 miles Hebridean Way.
I'm planning on hitching all the way to the butt of Lewis, the Northern Terminus.
It's raining, but I don't even wait 5 minutes before getting a ride to Stornoway, the biggest city on the islands.
When dropping me off, the lady who gave me a ride gives me her card and tells me to call if I need anything.
I get some fish and chips for lunch, do some grocery shopping before going for my next hitch.
Another really easy one with a nice lady who offers to drive me all the way even though it's not where she was going.
It looks like I landed on the Isle of awesome people…
The trail starts with some really pretty coastline before going on a dirt road and then disappears.
This northern section is not actually finished, and it's very swampy and very slow going.
It takes me much longer than I thought it would, and I end pitching the tent at 11 p.m. just because I can't find a decent spot.
Day 2
A lot of roadwalking today!
A lot of people skip the section between the butt of Lewis and Stornoway, and I can see why.
I finally arrive in Stornoway in the afternoon, get some coffee, and ressuply for 5 days.
I do more roadwalking before finding some trees that will protect me from the wind.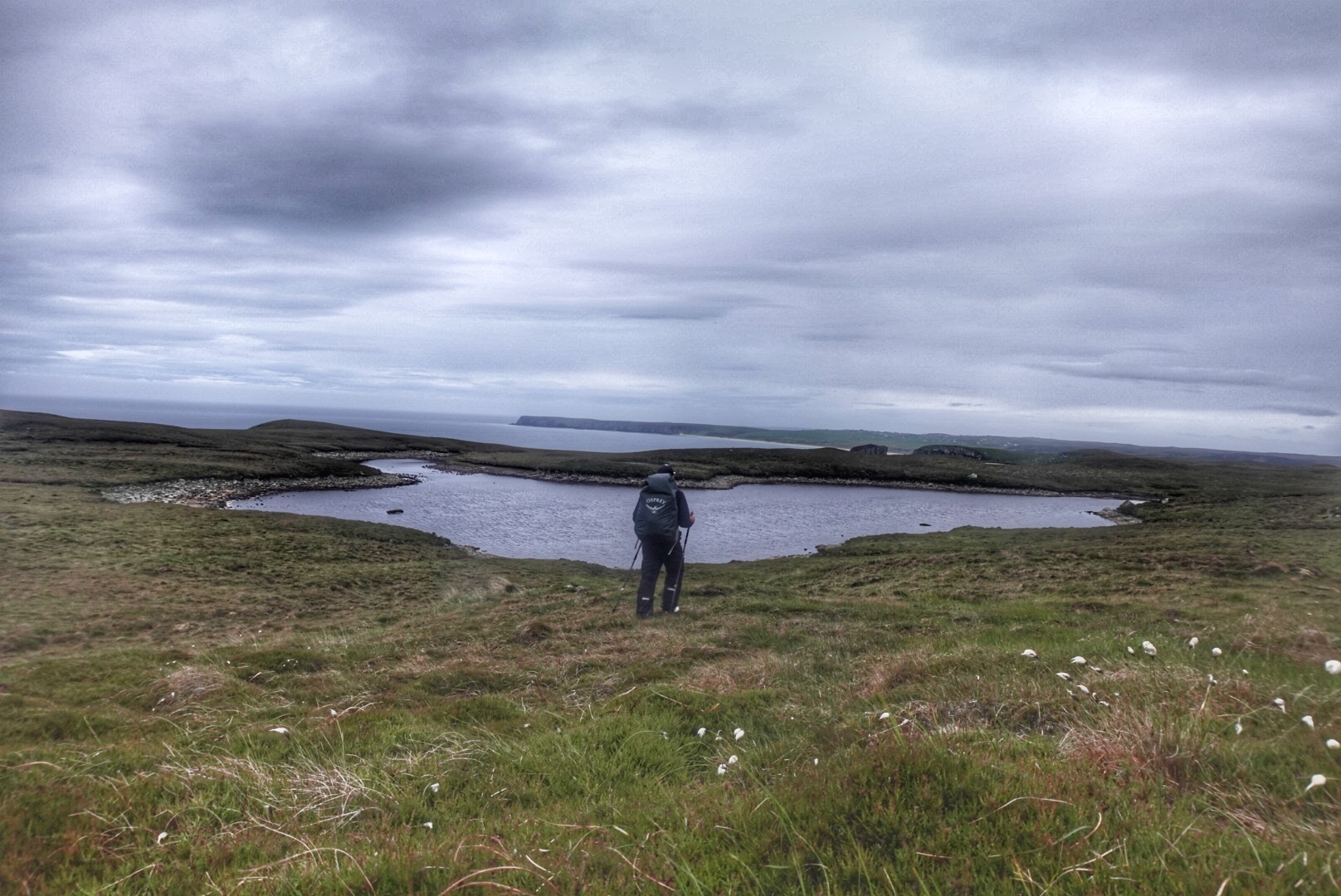 Day 3
After an hour of hiking, I try to hitch to Callanish, which is world-famous for its standing stone circle.
It's only 10km away so it would be silly not to go.
But this is a really quiet road and it takes 55 minutes to get a ride.
I know that because 5 more minutes and I would have given up and kept hiking.
This is an amazing spot, but after standing all that time in the cold and rain, I'm still pretty cold.
I hitch back to the trail (30 minutes this time) and find some pretty difficult terrain that's very slow going.
In the afternoon I meet my first other hiker, going in the other direction, and we talk about how challenging it is to find spots to pitch the tent.
He says he gave up and takes a bus back to a town after every day of hiking.
The trail takes me then to a beautiful moor, where it's pretty muddy underfoot.
I actually had 2 really bad falls today.
It's a miracle I didn't injure myself on the first one, because that was a really bad one.
At the end of the day, I find a nice tiny hut and it's absolutely perfect timing as the rain was starting to get bad.
Day 4
What a day…
Looking at the weather outside from the hut's window, I'm wondering what I'm doing here…
The weather has been so bad for so long, I'm really questioning if it's worth staying on trail and in Scotland in general.
Going out of the hut, it's absolutely horrible.
The wind is insane, and at 10 a.m., I feel more exhausted than after a hard hiking day in the mountains.
Of course it's also cold and raining, but really, it's the wind that drives me crazy.
I should arrive in Tarbert in the afternoon, and I decide I just can't keep hiking in these conditions and that I'll take a ferry out of the island and probably a flight back home to France, even though I had 3 more weeks of hiking planned.
I bump into 2 hikers, and one is trying to tell me something, but it's absolutely impossible to hear a thing because of the wind.
I'll never know.
As I'm having lunch, the weather clears up, and I'm getting some proper views for the first time in 4 days.
I absolutely didn't realise at all that the island is actually really beautiful.
That cheers me up a bit, and I decide to keep hiking, even though I'm not sure I'll finish the trail, because if there's no more fog, the wind is still here.
I have to say it was a stunning afternoon despite the weather.
But the road walks are insanely dangerous.
I always thought that people exaggerate how dangerous road walks are in general.
I personally never felt in danger on the many road walks I've done over the years on different trails.
But this is crazy.
It's a tiny two ways road with only one line, and because of the wind, you can't hear the cars behind you.
That was pretty scary.
Day 5
Well, the wind surely didn't stop and it's still as crazy as ever.
I thought I would easily make it for the 4 p.m. ferry going to Berneray, but I quickly realise that with the wind and difficult terrain, it will have to be the 6:30 p.m. one.
At some point, the wind gets so intense that I have to stop and sit.
To give you an idea, in 2005 in Lewis, a driver got a sheep blown across his windshield.
Not only this story does not surprise me, but if I had read that it was a cow, it wouldn't have either.
I have some time before the next ferry, and luckily, there's a waiting room to escape the wind.
It fills up quickly with a dozen 20-somethings that are planning to stay here for the night drinking beer.
The ferry is pretty late, and someone tells me that it broke down and that they're sending a small boat, as it was supposed to be a passenger-only ferry anyway.
The ride on this small boat on a very rough sea is actually pretty fun, as luckily I don't get seasick.
Strangely enough, the ride was free, and after telling the driver (captain? I'm not sure how you call someone driving a boat in English…) that I'm going to pitch the tent wherever, he tells me that considering the weather, I should sleep in the toilets on the pier.
In pure hiker trash fashion, when he said "toilet," I heard "Versailles."
And it is indeed.
Anything is better than the tent with that kind of wind…
Day 6
After leaving my palace, I check my GPS and realise that the boat took me to a different place than the ferry terminal. Luckily it's only 2km more to walk.
After a few steps, I realize that the wind is not that bad for the first time in a week (maybe even 10 days).
It's just a breeze…
It is the best feeling ever.
I feel like I've been in the rinse cycle of a washing machine for 12 hours a day, for a week.

To be honest, I was starting to have a wee breakdown and questioning myself a lot about why I was still on trail when I was having such a bad time.
Well, I guess in the end it was worth it.
Today is an easy day terrain-wise, and it's absolutely beautiful.
I'm actually really enjoying myself for the first time on this trail.
And it gets sunny and totally wind-free in the afternoon.
I guess that part of the reason I stayed is that even in the worst conditions, the outer Hebrides have something magical about them and a very strong "far away from the world" feel that I only experienced in the Tasmanian South West and on the Northwest Circuit of Stewart Island in New Zealand.
Day 7
Well, back to the crappy weather…
Though not nearly as bad as what it's been if I have to look at the glass half full.
I have no idea what scenery I've been walking through today.
There's been some beach walking.
Some moors.
I'm hoping to spend the night at a hostel, but when I get there, I see that it's been closed for years.
But, there's an old bike shed.
And a tap.
It's all I need for the night.
Good timing; as soon as I get in, it starts pouring down seriously.
Later on, a cyclist who got caught in the rain has the same idea and joins me.
Day 8
No wind today!
And it's very flat and easy.
Though it stinks all day long, probably because of some seaweed.
I take the ferry to Barra, the last of the 10 islands the trail goes through.

At the pier, there's a waiting room/toilet that looks fine for the night, and a couple of German cyclists seem to be thinking the same thing.
They've been cycling for a year and it doesn't look like they're stopping anytime soon.
Next they're going to Spain, then they'll take a boat to Florida, cycle the US east coast, Canada, the US west coast, and some more.
But someone comes over telling us that they lock the place at night, so we have to move and pitch the tent a bit further.
Day 9
Last day on the Hebridean Way.
It's only 22km to the Southern Terminus, and on a good day, I guess you get beautiful views.
But it's pretty foggy so the views are limited.
From the terminus, I get a ride pretty easily to Castlebay, from where my ferry leaves tomorrow at 7 a.m.
The hostel in town (like every hostel in Scotland at the moment) is full, so I look around for a place to pitch the tent later.
I find a spot next to a church that will do just fine.
Next, beer.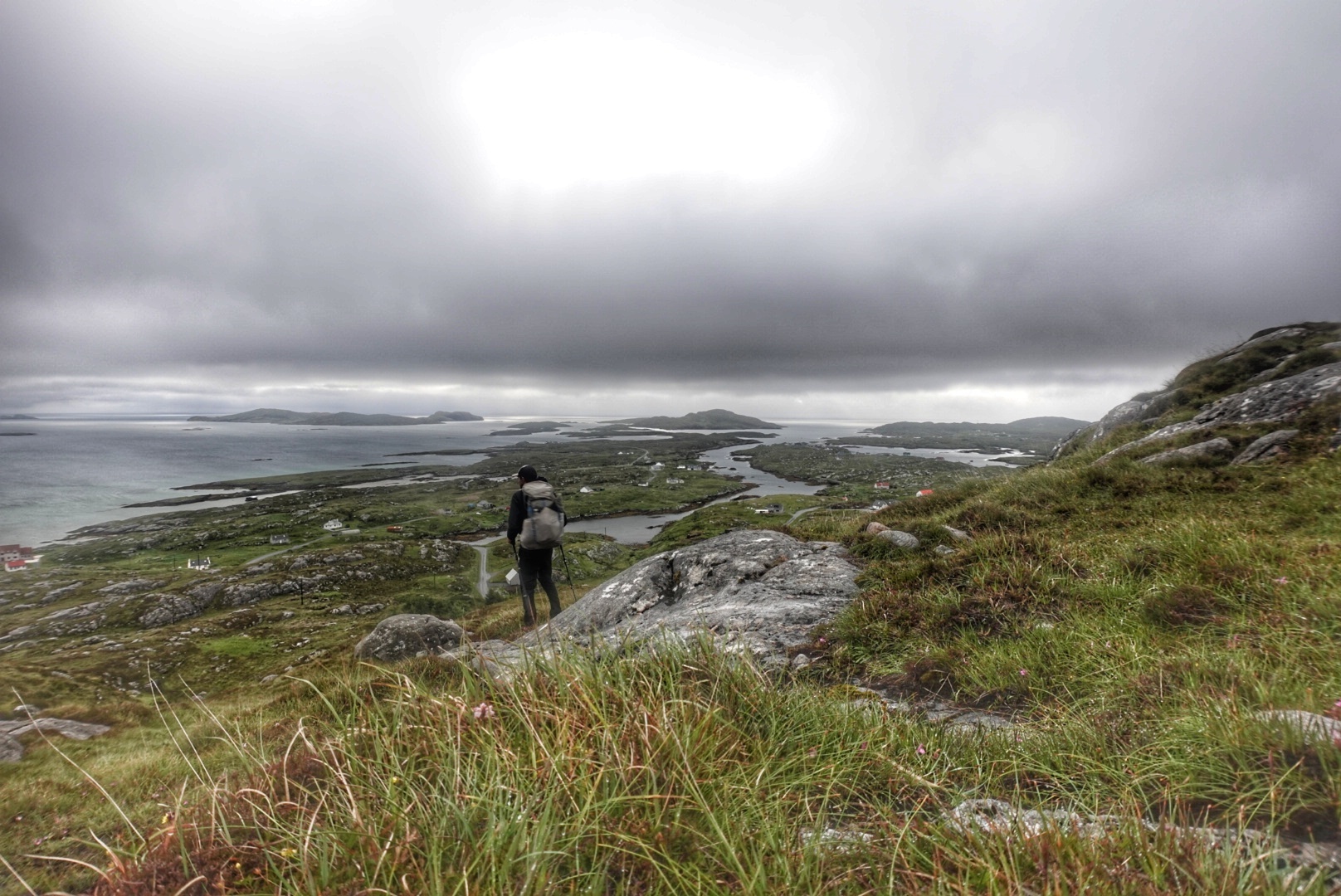 I'm not going to sugarcoat it, I have very mixed feelings about this hike.
I've been hiking in crappy weather for a month and a half now, and the last 2 weeks have been the worst by far.
I guess I was just not mentally ready for this kind of wind going on for so long.
Though I'm following some other hikers on Instagram who are hiking other trails in Scotland at the moment, and it looks like it's the same everywhere.
Everyone keeps telling me that May and June are always the best months but that this year is the worst they've seen in a long time.
I'd imagine that hiking this trail in decent conditions would actually be amazing.
It's just a matter of luck.
My next two trails in Scotland (the last ones), the Great Glen Way and the Speyside Way, should be a bit less exposed, which is good because its doesn't look like the weather will improve much.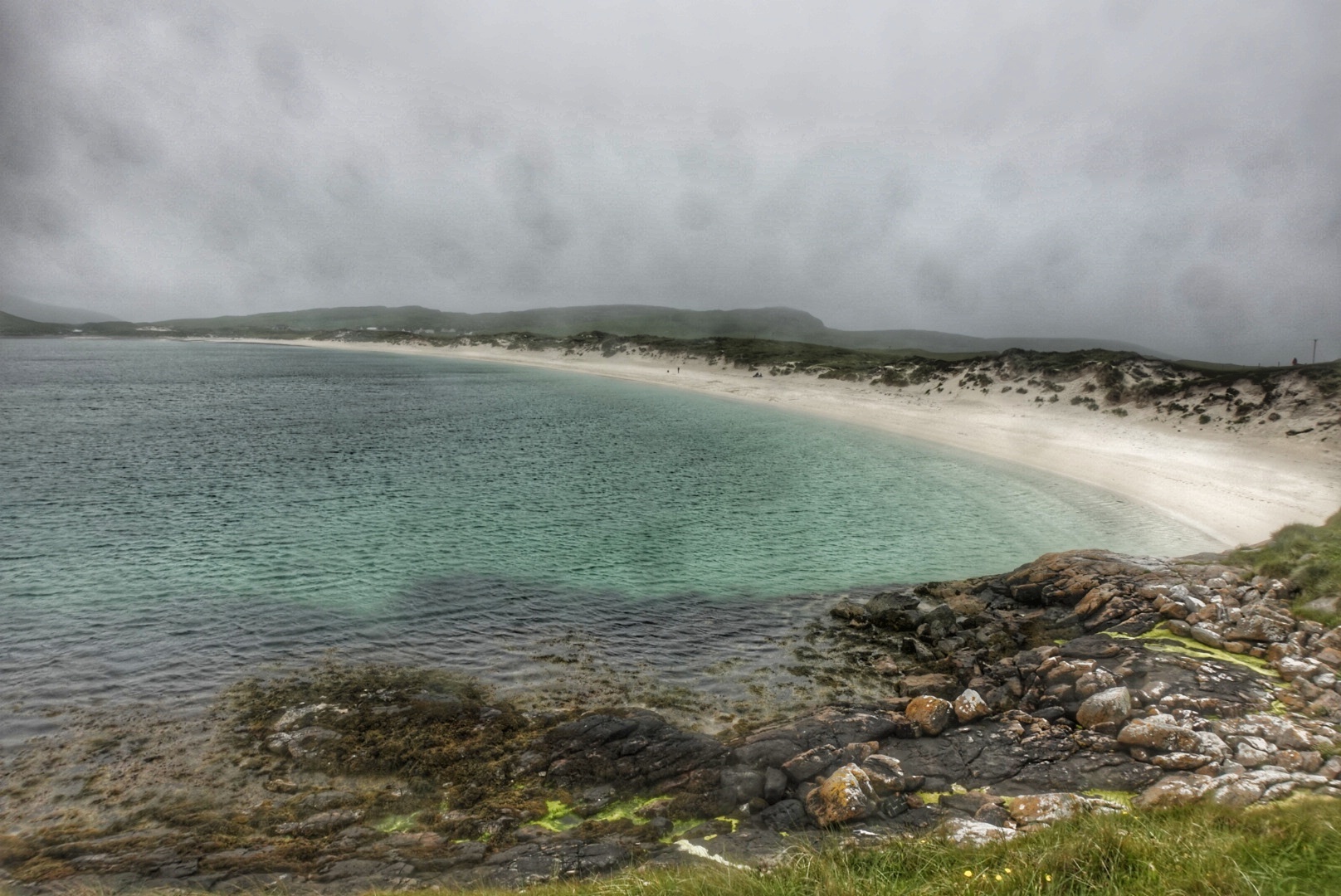 Affiliate Disclosure
This website contains affiliate links, which means The Trek may receive a percentage of any product or service you purchase using the links in the articles or advertisements. The buyer pays the same price as they would otherwise, and your purchase helps to support The Trek's ongoing goal to serve you quality backpacking advice and information. Thanks for your support!
To learn more, please visit the About This Site page.