Intermission: The Oregon Coast Trail
The hostel in Ashland is full of hikers and all anyone can really talk about is the heat.
It's my birthday the day I arrive and I invite myself to dinner with a group of hikers that's heading into town to eat. We hit the Indian restaurant where I have the best town meal I've had all trail. It is neither another shitty veggie burger nor another shitty vegetarian pizza. Success.
Afterwards, I go to the Shakespeare festival at the outdoor Elizabethan theatre.
I knew Ashland had a Shakespeare festival. But I thought it was the kind of small-town summer, amateur deal common to other small and artsy towns. It's not. The festival has been running for 105 years and the theatre is as large, permanent and beautiful as any I've been in before. I see The Tempest. It's wonderful. It is also very hot. They've delayed the week's program late into the evening, but at 11pm when the show finishes my watch says it is still 36C (98F). I haven't had to wear a mask for a while, and by the time I leave it is soaked right through.
The next morning I wake up to a message from Rabbit (a friend who had just gotten back on trail at Seiad Valley). She tells me they've been evacuated from the trail.
The McKinney fire started the previous afternoon and had rapidly expanded. Hikers in the hostel are scrambling to get back on trail. They are worried about the trail north of Ashland being closed because of fire danger – it's only 30 miles south of us. It's still 110F (43C) and the addition of a fire that close means I know I won't be hiking out of Ashland. When other hikers hear me say the fire is too close for comfort, they tell me they plan to walk fast. They're going to outrun a wildfire.
By the afternoon it's raining ash and hikers are flooding into Ashland, trying to decide what to do next. With updates about the McKinney fire and the Tolo fire starting to indicate that much of the trail in Oregon will shortly be closed, more people are deciding not to continue in this section.
The woman in the bunk above me asks me if I'd be interested in heading West and hiking the Oregon Coast Trail instead.
Her name is Saved It and within hours we've sorted out a ride and have recruited at least twelve more hikers. We're going to the coast. We get a ride to Brookings – one of the southern most towns on the Oregon Coast Trail. When we arrive it's foggy and wet, cool and glorious. It's 60F and there are no mosquitoes in sight.
We hike 2.5 miles out of town to the state park campground. Camping on the OCT is mostly limited to campgrounds. Dispersed amping is banned within the city limits of the 28 towns the trail passes through and most of the beaches are protected areas.
When we go to bed early that night, it's just us and a few bikepackers.
When I wake up the next morning there are so many tents I feel like I'm at a festival site. The PCT has arrived.
We collect a few more hikers and starting walking along the beach. Everyone keeps repeating how glad they are to be here. Walking on the edge of the ocean, the waves pound into the sand next to our feet. The salt spray is indistinguishable from the rainwater hanging in the air in a dense fog. All of it coats our clothes and faces with wonderful cool damp. Everyone's hair is curly and we are smiling. The sensation makes me realise I haven't really smiled for a few weeks.
We pass many vans and RVs parked at the trailheads on the road. A miniature goat is tethered to one RV and we stop to say hello.
The OCT is not flat, not in this section anyway. On the first full day we still climb 4000 feet, mostly in densely misted forest. The ground is soft and spongey; it makes a hollow thump as our feet hit the ground. The sound echoes down through the spaces made by dense coastal root systems, layers of pine needs and moss.
The intense humidity makes everything grow and die and grow again.
Enourmous mushrooms rise up from the leaf litter. Fungus spreads over anything that has even begun to think about dying, engulfing it in hungry little clouds.
The snakes are smaller here, and they have legs: centipedes weave across the trail, disappearing under decaying leaf litter. Giant slugs coat the path in slime and crawl into our gear if it's left alone too long. In the morning when I'm rolling up my ground sheet, a giant banana slug falls with a squelchy plop onto my shoe after spending the night trying to reach the heat of my body inside my tent.
The tasks that are so familiar now on the PCT feel odd; the change in setting throws me off balance. I sit on a limpet-encusted rock in an estuary to filter my water and it feels like the first time.
Sweat, rain and saltwater bead and run down my face and body. I'm soaked through and nothing I have with me will fully dry out for the next few days.
In the afternoon the sun burns away the fog. At the first beach we come to, I run in. It's freezing and I'm holding together my torn underwear – victim of the Yreka laundromat – with one hand. Afterwards I wash off the salt in a waterfall by the beach while Saved It sits perched on the cliffs nearby cleaning sand out from between her toes.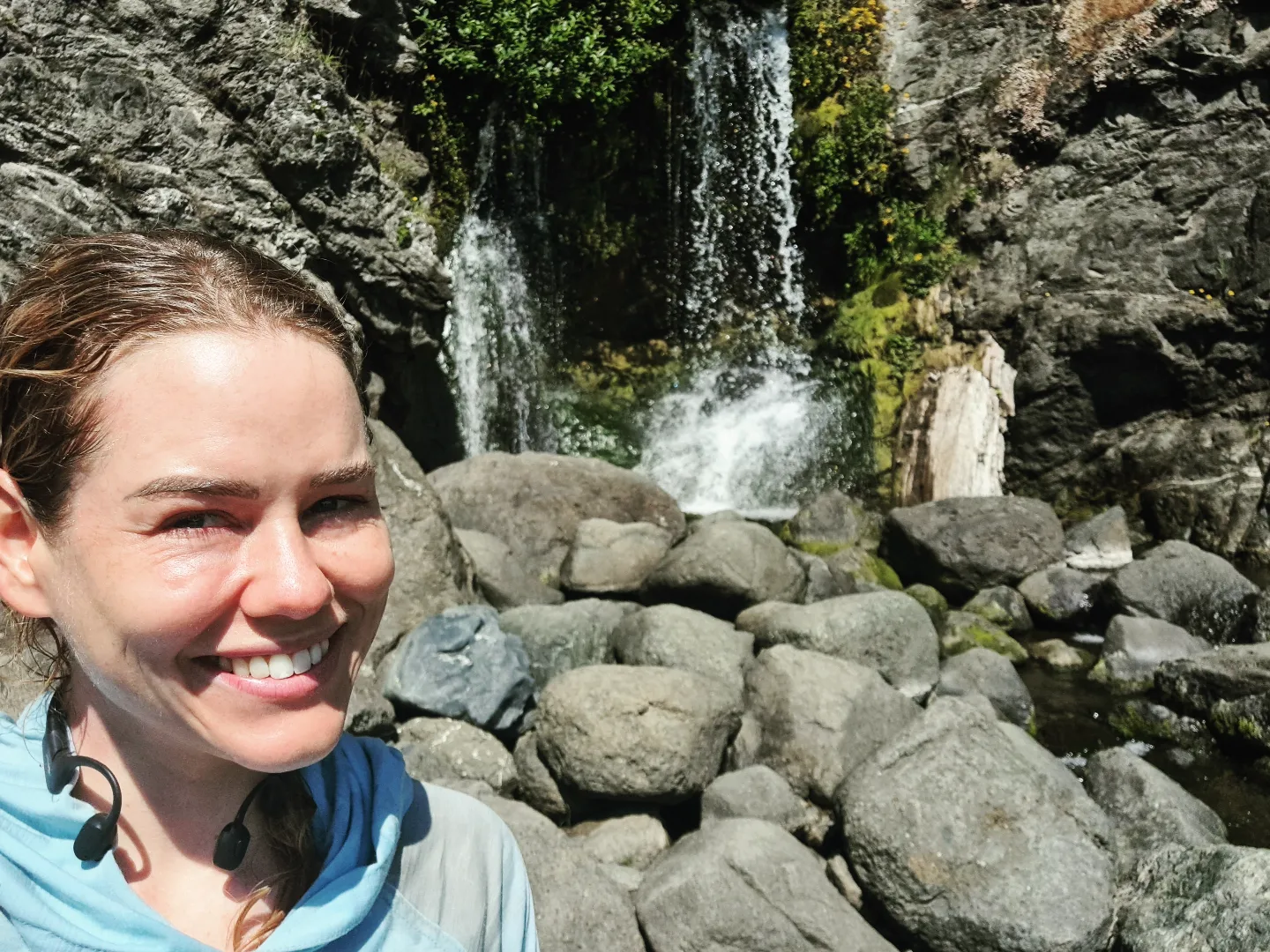 The OCT isn't well marked in the southern section and the trail weaves and intersects with other trails, back roads and beaches. Sections of what appear to be the actual OCT are so overgrown that it's difficult to move through it at all. The grasses, blackberries and thistles are so high that Saved It, who's hiking in front me, disspears completely every few seconds.
And then there are long beach walks. I could walk on the beach forever.
The shore is covered in clear, crystaline jellyfish and the bleached exoskeletons of crabs and shellfish. As we walk shells crunch and seaweed bubbles pop satisfyingly under our feet. On one stretch we take off our shoes and walk barefoot on the water line for hours, the sea foam washing up to meet us and bubbling over our toes.
One afternoon we are supposed to walk a 9 mile stretch of dunes.
The northerly winds are murderous and the sand is deep and grainy.
After an hour, we decide to bail off the beach.
There's a cow pasture between us and the road. As we approach, the cows start to circle together, as if being herded. I'm looking for the source of their behaviour when I notice an enormous black bull facing off against us. Head down, he is pawing the ground as the cows all crowd together behind him. As we back towards the gate, all THREE of the bulls that I didn't see in the field start bellowing. We get the fuck out of that field as fast as we can.
We walk along the fenceline and up a road to the main ranch. It is full of junked cars and yellow weeds that remind me of canola fields. The farmer, who we have been nervously hoping to avoid as we're definitely tresspassing, cheerily says hello as he drives past us in his truck, appearing to give absolutely zero fucks.
For the rest of the day we traipse along back roads towards the trail where it bypasses the dunes. We end up on a private road and every single resident stops us. "You're on a private road" they tell us. We apologise and each of them lets us pass anyway. We are also warned that the owners of the cranberry bogs ahead of us are 'arseholes' and when a large dog runs barking at us across a field I have a moment of panic. But then the owner comes out and waves us on.
There's an endangered plover that nests in the dunes of the OCT.
We hear and read a lot about it because it means camping is prohibited on many parts of the beach. It's also the reason ATVs are banned in large sections of the dunes.
Saved It and I meet Mary when we decide to road walk a section of Dunes that are particularly rough. She's at the trailhead in a pale blue raincoat next to her truck. We chat to her about the trail and eventually ask her for a ride into town. Mary has silver hair cut above her shoulders and she has worked for the BLM for eleven years, most recently surveying the endangered plover. She moved to the States from England in the 70s and spent her first years here hitchhiking alone across the country. She hiked thousands of miles between seasonal work before settling in San Francisco and marrying her first husband.
When we finally see the plovers on the beach, we are delighted by them.
They are unexpectedly tiny (Are all plovers small? What did I think a plover was anyway?). They rush into the water en masse as the waves retreat to peck madly at the insects in the wet sand before scurrying back as the water returns, their tiny legs peddling madly. The sand is full of holes from their digging, their tiny shallow footprints barely visible alongside.
There is so much death on the beach.
Bones wash up everywhere, and vultures – the first real vultures I have ever seen – haunt the shore in packs, flying down to pick at the many carcasses of smaller birds. Their heads tilt back as they stretch lengths of gut and sinew taught, breaking off chunks that they fly away to the dunes when we approach.
I don't even notice the body of a dead elephant seal, I walk past it thinking it's an enormous log until I hear the others talking about it later. Living seals bob in the waves in packs, ducking under the water and reappearing to stare at us as we walk along the sand. Their many brown eyes are fixed on us until we're out of sight.
Roadkill decomposes differently in the coastal air and I take a photo of what was once a deer, that now looks like an art installation.
There are towns almost every day on the OCT.
We find it hard to adjust to one day resupplies and get carried away every time. Bottles off wine, loaves of bread, and bags of salad are shoved under the straps of our packs.
The towns themselves are beautiful, artsy and full of brightly painted buildings and nautical puns. Noone here knows who we are or what we're doing and they stare at us openly when we stride down the main streets. We have a lot of trouble hitching, even with signs. So when we do get the offer of a ride, we cram more people into a truck than can actually fit. My leg is wedged in so awkwardly next to Heaps' that I worry a bump in the road will snap both our limbs.
As we hike into Winchester Bay, the roads suddenly fill with ATVs, RVs, trucks and trailers.
They're all flying multiple flags, mostly with an anti-government theme. Kids on four-wheelers screech down the gravel ATV lane that runs alongside the 101. A hiker in our group who wears a pink trucker cap with a rainbow on the front stuffs it into his pack out of sight. We have arrived in Winchester Bay for Dune Fest, a 4 day off-road vehicle festival.
We're hiking in a big group when we hit Florence. A yacht is crossing under the bridge and we dance in the road in front of the barrier until the gates lower and the bridge is in one piece again. Big Toe bought a speaker in the last town and has been playing Harry Styles on our road walk in.
We buy picnic supplies and head towards the park. The grocery bag Heaps is holding gives way and a bottle of Rosé smashes on the ground. We both kneel down to rescue the rest of her food and the spilled wine runs down across the ashphalt between her legs and into the gutter.
At the park, we drink wine from the bottle and potato salad from a 3lb container.
Someone has bought a whole watermelon but we don't have a knife. Sprocket digs out a tiny swiss army knife that Jupiter uses to slice the the rind and then breaks it open with his hands.
Sprocket has also bought a jar of vegemite and makes me an epic sandwhich. Pyro is trying vegemite for the first time and someone asks if marmite or vegemite is better. Heaps and I give different answers at the same time. Yeah nah.
I get to Florence on the OCT. Its about 170 miles from Brookings, though I've hitched at least 30 miles of it. I get a message from a friend. They're skipping up to Timberline now and suggest I head east again and join them.
I'd intended to hike the whole coast trail first. But the idea of finishing the PCT earlier than I'd planned is appealing. I won't have to worry about the weather turning in Washington or having time to sort out my shit before my flight.
Lil Hamster, my hero, picks me up from Florence and takes me to Portland. I fucking love Portland.
After washing my clothes at a laundromat that is across the street from a brewery in a converted church, we make a last minute decision to go to a gig. Banks is playing at the Roseland Theatre. We put on Lil Hamster's town dresses and our Hokas and drink hard blackberry lemonade out of solo cups while Banks sings, dances and cries on stage. We wonder afterwards weather the crying is part of her show or if she's just having a really rough day.
The next day we eat our way through Portland's food scene and I drink one of my favorite beers so far: a habanero sour that I eat with a hibiscus flavoured donut from Voodoo. Heck Yes.
The Wishing Tree is on the nature strip in front of someone's house. They have an RBG sign in their yard. The wishes on the tree are mostly for people's families, wishing them health and prosperity. Some of them are political. Some ask for an improved democracy, one wishes Trump a painful death.
Affiliate Disclosure
This website contains affiliate links, which means The Trek may receive a percentage of any product or service you purchase using the links in the articles or advertisements. The buyer pays the same price as they would otherwise, and your purchase helps to support The Trek's ongoing goal to serve you quality backpacking advice and information. Thanks for your support!
To learn more, please visit the About This Site page.