Palmetto Trail Day 27 – Wateree Passage
So a weird thing happened last night.  While checking my food after dinner I realized, I had only one day of food available for the next four days. This lead me to check places where I can get some food before starting the next Passage.  Luckily for me the town of Eastover is a simple six mile walk and it has a Dollar General.  It has rained most of the night and still raining this morning. My walk along highway 163 is uneventful but soggy.  I resupply with three days of food which should get me to Santee, SC. After resupplying I follow highway 764 to highway 601.  This will be an additional four miles until I hit today's Passage. The plan is to get to Poinsett State Park. I should have filled up with water before leaving town but I was to busy stuffing my face with a large pizza and soda at the local gas station.
The rain has stopped and and when I make it to the trailhead I stop for a break. At each TH, I always look what is posted, study any maps, and take a look at the area. I noticed a plastic container in the ground behind the kiosk.  When I open it up, there is water.  I was so surprised. I fill up my two bottles and pack up.  While it's been pavement all morning I'm on a dirt path now covered in pine needle.
I don't think I got a mile in when I ran into two people hiking.  We stopped and talked for a short while when another couple showed up with five dogs. They took the dogs off the trail so I could get by, and then I continued. About 2.5 miles in is another parking lot before I go through the Wateree Swamp.  I decide to stop here for lunch and dry what I can out.  This is where I take off my rain gear.
The next six miles follow a trail across the swamp.  Alot of bridges and one huge boardwalk. In between was an old railroad track. I have not hiked in Swamps before so I am excited and nervous.  The scenery is amazing with the trees living in water. I also spy some Ingrets and Cormorants, but the two most prevalent things were mosquitoes and catapillers.   My can of bug spray kept the mosquitoes off me with no issues. The catapillers were everywhere, especially on the bridges, they just covered them for miles.  I did run into two black racer snakes. I believe there are 4 venomous snakes in the area but I did not run into any of them.
I stopped to take a break at a kiosk, but I could not sit down.  The bench that was empty was soon crawling with catapillars all inching there way towards me. It did not take long before I found them all over my pack also, so I decided to just keep going. Getting off the swamp and on to dry ground was the next mile. The trail is now dirt through the trees and starts to get hilly here.
I have three miles before I get to the State Park and I am tired.  A couple miles in I happen on a large open area next to the swamp that looks like you can put a canoe in.  There is a shed with a sink nearby.  I decide to take a break here knowing there is only a mile left.  As I snack I spot a raccoon that is real interested in me but slowly wanders down towards the water.  When I am done I pack up and continue the last mile to the Ranger Station.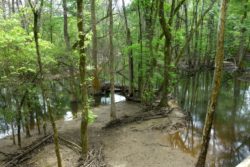 Unfortunately,  the office closes at 5 and I am here at 20 after.  A sheet lists a duty Ranger so I call and leave a message and find a drinking fountain to replenish water.  The Ranger calls back soon enough and make arrangements to get me a campsite for the night.  I'm excited to end the day but find out it's another short hike to get to the campgrounds. When I'm finally set up I am so happy.  Overall this section was very nice and I would gladly bring Birdy here to come do it.
Affiliate Disclosure
This website contains affiliate links, which means The Trek may receive a percentage of any product or service you purchase using the links in the articles or advertisements. The buyer pays the same price as they would otherwise, and your purchase helps to support The Trek's ongoing goal to serve you quality backpacking advice and information. Thanks for your support!
To learn more, please visit the About This Site page.