The Best Backpacking Packs of 2020
Your backpacking pack is one of the most important things you can buy for your backpacking setup. Your style of pack goes hand in hand with your style of hiking, and they need to complement each other, regardless of whether you're a luxury camper or an ultralight fast packer. We based our 2020 list of best backpacking packs from Trek writers, our gear testing team, the 2019 Appalachian Trail thru-hiker survey, and an extensive comparison of price, weight, features, durability, and intended use. That said, there's no one-size-fits-all. There are a lot of styles of backpackers, and a lot of styles of packs.
Remember that gear trends come and go, and ultimately it's up to you to decide what capacity and style works best for your packing style and intended use. Did we leave out your favorite? Feel free to yell at us in the comments. We're always open to testing new gear.
Before we get to it, here are a few tricks to choosing the best pack for you and your hiking style.
What Capacity Pack do You Need?
This depends on what you're doing. If you just have one pack for all your outings, a 50L pack (or thereabouts) is the safest option. 50-55 liters will carry everything you need for the majority of treks and between most resupplies, while preventing you from overpacking. A smaller pack (35- 45-liter range) is only smart for experienced long-distance backpackers with ultralight setups. If you pack heavier items, or your trail requires longer water carries, time between resupplies, or extra gear, look for something in the 60- 65-liter range.
One of our spec categories is "maximum load capacity," but keep in mind that we've found manufacturers tend to be a bit generous when listing maximum weight capacity for their packs. Err on the side of caution when loading the bag. If our reviewers recommend a weight, it means they've personally tested it and can attest to the load limit, but again… these are not scientific load recommendations.
What are the Most Important Backpack Features to Look For?
It depends on how much on-the-go convenience you want. Here are a few features (mostly pockets, let's be real) to look for when you choose a pack.
Brain: Perhaps one of the best components for organizing gear. Brains (or "top lids") have more space than hip belt pockets, more protection than front mesh pockets, and are a great addition for mid-size items you don't want getting lost in your pack. When I went to a more lightweight pack, the top lid was something I definitely missed. Many top lids are removable with zippered pockets on the top and bottom.
Hip belt: A hip belt is a must for many hikers. It offers support and weight distribution, especially critical if you are carrying a heavier load. Look for a padded hip belt with easily adjustable buckles. You'll probably go down a size or two on a thru-hike, and if the belt doesn't cinch all the way down, it won't offer enough weight distribution to make it worthwhile. Pockets on the hip belt are clutch, perfect for a headlamp, small water filter, and grab-n-go snacks. Some ultralight hikers opt out and use fanny packs, which can be carried around in town to keep valuable close by.
Sternum strap: Another way to keep your pack load close to your body and relieve pressure off your shoulders. This is easily adjustable and should sit flat under your collarbone. The new Six Moon Designs Swift X has two sternum straps, which provides double the surface area for weight distribution, and our tester said reduced chafing.
Load lifters: These are important for heavier loads, as they attach to the pack body (or frame, like the Zpacks Arc Haul) and shoulder straps, and can tighten to secure the pack load closer to your body. Release the load lifters for descents to counterbalance a steep descent, and tighten it against your body for steep climbs to keep the weight close. These are often found on mid-range to fully featured packs.
Side pockets: These are where your water bottles go. If you like to be able to reach your water bottles while walking, look for side pockets with an angled cut (the side closest to you) so you can grab them and put them back without asking for help. Material should be stretchy but durable, and comfortably fit at least a one-liter bottle of water. Also they should be tall enough that a water bottle won't fall out.
Shoulder pockets: Shoulder-strap pockets are great, and I think it's kind of a bummer that they aren't on more packs these days. Do I sound old? I loved the stretchy mesh pockets on my 2015 Exos. I kept my phone in there for quick access for pictures, and also gummy worms. You can buy shoulder pockets separately from a few different companies (I have this one from Hyperlite) but they can be clunky.
Fully Featured, Ultralight, or Somewhere in Between?
This depends on your packing style. People with a sub-10-pound base weight can confidently carry a frameless pack, but if you're hitting a trail with long water carries, remember that water weighs two pounds per liter, and will bring up your total weight.
Lay out all of your gear. Now weigh it. Do you carry over 20 pounds as a base weight? You'll need a burlier pack like the Osprey Atmos or Gregory Deva. Ten- to 15-pound base weight? A mid-weight pack like the Gossamer Gear Mariposa or Granite Gear Crown 2 will work swell. Less than a ten-pound base weight? You're a candidate for smaller capacity, frameless pack like a Pa'lante Pack or ULA CDT.
We've written at length about the temptation of going ultralight, but if your hiking style and pack load aren't conducive to a 35-liter frameless pack with no hip belt, you'll be ditching it at the next road crossing and hitching a ride to the nearest gear shop. That said, the weight of a 70-liter, fully padded pack can be six pounds or more empty. While these packs are great for carrying heavy loads, thru-hikers ditch enough gear within the first few hundred miles to not warrant the extra suspension and padding. Mid-range models like the Mariposa, Exos, or Swift X have enough features and suspension to carry around 30-35 pounds comfortably, but without the beefy buckles, memory-foam hip belts, and enormous capacity to bring your base weight too high for happiness.
PSA: Packs Come in Different Torso Sizes
A pack is something you wear, therefore they come in different sizes. This may sound obvious, but it came as a surprise to me when I bought my first backpacking pack (and apparently I still can't figure it out). Your shoulder straps should extend straight out from your shoulders, not drop down (torso too short) or extend up (torso size too long). Having the wrong size pack means the pack won't distribute the weight as it was designed to, and you will feel fatigue in your shoulders as it pulls back, while not sitting correctly on your hips.
Also! Don't assume that because you're a certain size in one brand, you're that size all around. I am a Small in Hyperlite Mountain Gear and ULA, but a Medium in Gossamer Gear, and I blew it by ordering my G4-20 in a small. If you can, it's always better to try the pack on. If you can't try it on, most companies have reference pages where you can measure your torso and know what size to order, along with instructions for measuring your torso to their specifications.
Best Backpacking Packs of 2020
ULA Circuit
Capacity: 68L
Weight: 2.5 pounds
MSRP: $255
Maximum load capacity: Up to 35 pounds (per manufacturer)
What We Love
The ULA Circuit has been the highest rated pack according to Halfway Anywhere's annual PCT thru-hiker survey for three years running, and for good reason. While it might not be the lightest pack on the list, it makes up for this in comfort, carrying capacity and durability. The pack has an excellent carrying capacity, coming in at 68 liters and a max load of 35 pounds, making it one of the roomiest packs you can get—perfect for longer carries or dry stretches common on the PCT or CDT. An aluminum stay, carbon fiber loop and dense foam panel form a rigid frame that molds to your back over time. This makes the pack incredibly comfortable, keeping weight stable and as close to your back as possible. The circuit is made from 400 Robic Fabric, ULA's fabric of choice due to its toughness per ounce. ULA's famous customer support also means that once you've given your pack a thorough beating by means of a thru-hike, you can send the pack back for a free tune-up to get it back to full health.
Features
Roll-top closure and compression straps: The roll-top closure pared with the top and side compression straps gives this bag flexibility based on the volume of your bag. This allows for big carries out of town, but a more snug pack when returning to civilization.
Dual hip belt pockets: The large hip belt pockets are big enough for the largest of phones and the hungriest of snackers.
Large side pockets: The side pockets are big enough to carry two SmartWater bottles each, can be cinched down with the built-in drawstrings and are positioned well for easy reach when hiking.
Large mesh front pocket: The elastic front pocket and drawcords allow for easy access to rain-gear or storage of bulky items
Padded contoured shoulder straps and back: The padded back panel and shoulder straps are very comfortable, if not a little sweaty
Hydration bladder, hand loops, stash pocket: The pack comes with a few extra features that can be removed to save about 3 ounces (85 grams) of weight
What We'd Change
This bag isn't the best when in wetter conditions as the fabric soaks through and gets heavy, in addition to the need to carry a bag liner/trash compactor bag. The back panel and shoulder straps can get very sweaty and are a dirt magnet so make sure to put the pack down on its front/bottom.
More packs like this: ULA CDT, ULA OHM 2.0, Mountainsmith Zerk 40
Capacity: 40L + 15L
Weight: 25 – 32 ounces
MSRP: $315+
Maximum load capacity: Up to 35 pounds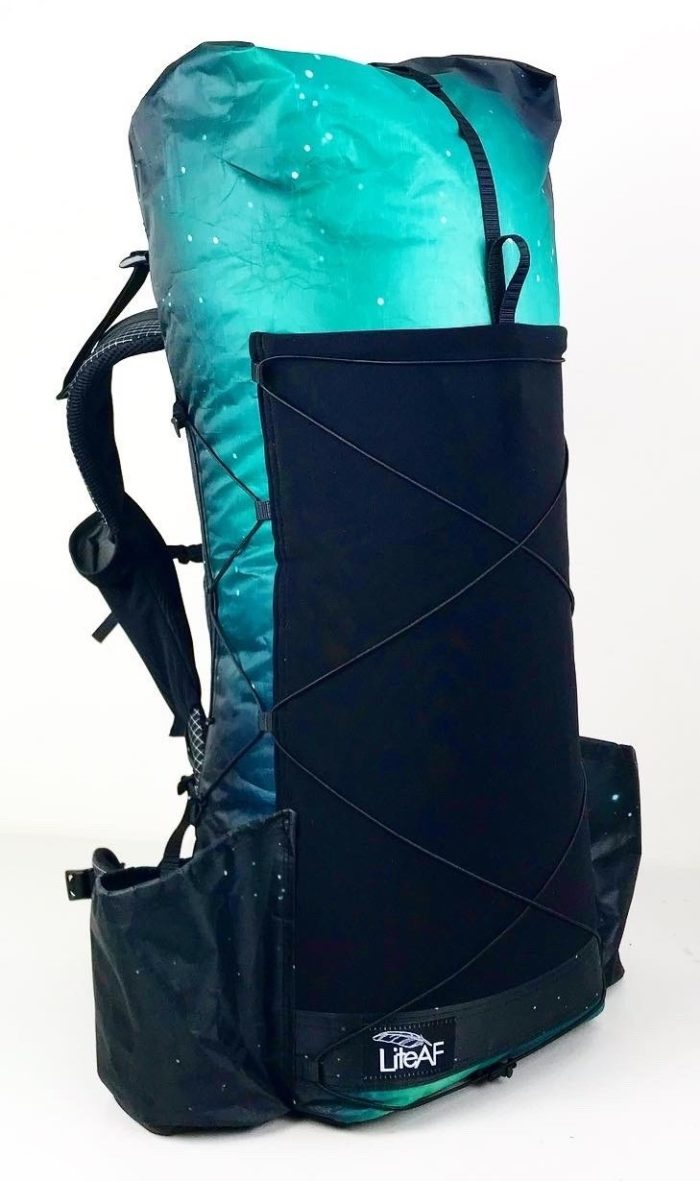 *These specs are for the stock 40L Curve. One of LiteAF's primary selling points is that all packs can be customized, and all are made to order.
Details
The Curve 40L is designed with both comfort and simplicity in mind. The five-point side compression, S-curve shoulder straps, and the Dyneema sealed internal pocket both protect the contents and carry them easily. The water bottle pockets were designed with thru-hikers in mind and are expandable with shock cord to hold two 2L Smart Water Bottles. Four trekking pole loops, shock cord, and a spacious back mesh pocket easily expand to carry another 15 liters worth of gear on the exterior of the pack. I used a custom version of this pack to hike both the John Muir Trail and the Long Trail. Despite experiencing inclement weather on both thru-hikes, I never had an issue with the contents of the pack getting wet. After over 2,000 miles the pack is still watertight.
Features
Removable frame: The pack can be converted from an internal frame to a frameless style by removing two curved aluminum support stays (3 oz.)
Back foam panel: Quarter-inch closed cell foam is incorporated into the back of the pack to offer more comfort, especially when packing a bear canister. The back panel support is not removable. 
Adjustable hip belt: 4" wide hip belt with the same quarter-inch closed cell foam as the pack allows substantially more weight to be carried than the customizable option without the hip belt. 
Wide shoulder straps: The wider shoulder straps keep the pack in place when less weight is carried and more comfortable when it is fully loaded. The S shape mimics the natural curve of the body and is designed to stay stagnant. 
What We'd Change
Hip belt pockets have become a large part of what I look for in packs, and the model I had made incorporated them into the design. Also, throughout months of use, I have never used the shock cord on the back and have since removed it. There is also a 12-week lead time for most of their packs, so if you're ordering one, plan accordingly. 
More packs like this: Gossamer Gear Gorilla, Hyperlite Mountain Gear 2400 Southwest, Zpacks Arc Blast
Capacity: 55L
Weight: 2 pounds
MSRP: $345+
Maximum load capacity: Up to 35 pounds
Details
The Southwest is one of Hyperlite's keystone packs. Rugged, durable, and with a capacity of either 40 liters (2400 Southwest ) or 55 liters (3400 Southwest ), this pack has the ability for larger carries. A minimal internal frame keeps the pack close to your back and the wide hip belt is comfortable over long miles. The pack is built from Dyneema Composite Fabric (DCF), which is waterproof and abrasion resistant. The sealed zippers on the hip belt pockets keep items secure, and the pack has a lightweight mesh holder for a bladder, with hose ports for easy access. The roll-top closure means the pack size can be adjusted based on how much you're carrying, and the webbing and buckles are easy to adjust on the go. I chose the larger size because you get 15 liters more capacity for four ounces, and it was worth it to me for extended trips.
Features
Foam shoulder straps: Straps are built with Hardline / Dyneema and have closed-cell foam padding.
Hip belt pockets: Large and smartly shaped. Zippers are sealed, and the pockets are generous. A standard smart phone will easily fit, along with snacks.
Generous front pouch: The front pouch isn't stretchy, but it has a built-in expandable bottom that gives it plenty of space. It's also built from Hardline / Dyneema—highly durable for rough travel.
Large side pockets: Sensing a theme here? The pockets on this pack are clutch. I can fit a SmartWater bottle and a large Gatorade bottle in just one side pocket. I usually throw my tent poles and random items in the other side pocket.
What We'd Change
Your back will get sweaty; there's no getting around it. There is nothing keeping the DCF off your back, and while a damp back won't kill you, sweatier hikers might want to opt for mesh or some other type of suspension. The pack also doesn't come with shoulder pockets, but you can buy them separately. I have the shoulder pocket for this pack, and it's convenient, but still feels somewhat clunky. I also can't reach my water bottles on the go, but we've started to think maybe I'm just not flexible. It would be nice to have stretchy front and side pockets, but then again, you'd be compromising the durability. Personal preference.
More packs like this: Hyperlite Mountain Gear 3400 Windrider, ULA CDT
Shop the 3400 Southwest at Garage Grown Gear Shop the 3400 Southwest at REI
Capacity: 48 liters (also comes in 58L)
Weight: 2 pounds, 9 ounces
Price: $200
Maximum load capacity: Up to 35 pounds
Details
Osprey redesigned this popular pack in 2017, using a more durable face fabric and updating the mesh front pocket, but removing the hip belt and shoulder pockets. Still, this pack remains one of the most popular thru-hiking packs and an ideal middle-of-the road model. It strikes a nice balance between luxe and lightweight, built with lighter materials and some pared-down features. Durability increased with their update on both the face fabric and the mesh pockets, one of the issues with previous iterations. The Exos's suspension is famously comfortable, with the ventilated system keeping your back cool while holding the pack tight against your body. The Exos also comes in a 58L variety, and the women's version can be found here. Even though the Eja was released a few seasons ago, the Exos has worked well as a unisex pack since its initial release.
Features
Removable top lid: The "brain" is a luxury we don't often get with the lighter weight packs. This version has two zippered pockets. It can be removed to save weight, and hikers can instead utilize the flap underneath for protection over the top of the pack.
AirSpeed suspension: Osprey's proprietary suspension system is comprised of tensioned mesh with generous space for airflow in every direction.
Adjustable hip belt: Osprey's update to this pack came with an adjustable hip belt, good for hikers dropping serious pounds on a thru-hike.
What We'd Change
We're all wondering where the hip belt pockets went, and some of us (me) are wondering where the shoulder pockets went. Additionally, the updated material on the side pockets can be tight and tough to get water bottles in and out of while moving.
More packs like this: Osprey Eja, Osprey Levity, Gregory Maven
Shop the Exos at Backcountry Shop the Exos at REI
Capacity: 65 liters
Weight: 4.5 pounds
Price: $270
Maximum load capacity: Up to 50 pounds
Details
The trend is lighter weight, simpler packs, and each year, even new thru-hikers are leaning in that direction. However, for backpackers looking for more comfort, padding, and organization options, this is a great option and continues to be one of the most popular fully featured packs on long-distance trails. Osprey's classic suspension system comes into play for bigger loads, and the ultra-padded hip belt and shoulder straps mold to your body for added comfort. The Aura comes in 65 and 50-liter options. The Atmos is the men's version of this pack, and comes in 50 and 65-liter options.
Features
Front opening: The front opens vertically for easy access to the main compartment.
Pockets on pockets on pockets: A pack that weighs 4.5 pounds comes flush with pockets and organizational options.
Top lid: Two zippered pockets are ideal for stashing quick-access snacks and small items.
Anti-Gravity suspension: The mother of all comfort for beefier packs.
What We'd Change
This pack weighs 4.5 pound empty, which is more than many people's tents weigh. That's the main thing working against it, but we'd also love to see some stretchier side pockets to make it easier to get water bottles in and out of.
More packs like this: Gregory Deva, Gregory Baltoro, Osprey Aether
Shop the Aura at REI Shop the Atmos at REI Shop the Aura at Backcountry Shop the Atmos at Backcountry
ZPacks Arc Haul
Capacity: 62L
Weight: 22.6 ounces
MSRP: $299
Maximum load capacity: Up to 40 pounds, per manufacturer
Details
Known for their Arc Frame suspension system, this taut mesh frame provides stable weight transfer from shoulders to hips while keeping the pack suspended off your back for air flow—much needed during hot or humid hikes. The Arc Haul has the option for add-ons like the hip belt pouch, front pouch (think fanny pack), and the pack itself has plenty of options for size adjustments. The hip belt is removable and highly adjustable, and the load lifters attach to the frame for maximum impact when tightening or loosening. The shoulder straps are adjustable to account for a variety of torso lengths, and the back pocket is stretchy mesh for stashing wet or quick-access gear. The Arc Haul opens from the top, and features a roll-top closure, and the body of the pack is made with durable gridstop fabric with a waterproofing coating on the inside. Overall, Zpacks' suspension system continues to impress, and the Arc Haul carries weight extremely well for something so light
Features
Absorbent, padded straps: UL packs often sacrifice strap padding and comfort to save grams, but these shoulder straps and hip belt multilayer mesh absorb sweat while helping keep you cool
Roll-top closure and seam-sealing: This bag is highly water resistant, with taped seams and a waterproof coating on the inside of the material. The roll-top closure lets you shrink your pack as your load lightens between resupplies.
Fits most standard bear canisters: The Arc Haul fits most bear canisters except the BV500.
Angled side pockets: Durable side pockets fit several liters of water, and are angled to help you grab water on the go
What We'd Change
We like hip belt pockets, and you'll have to buy those separately with the Arc Haul. More than other brands, Zpacks gets knocked for a lack of durability, with repairs on the suspension being an often-reported issue.
More packs like this: Zpacks Arc Blast
Mountainsmith Zerk 40
Capacity: 40L
Weight: 1.75 pounds
MSRP: $220
Maximum load capacity: Up to 30 pounds (per manufacturer)
Details
This pack has gotten quite a bit of hype over the past year, including a coveted Editors' Choice Award in 2020 from Backpacker Magazine. The Zerk 40 offers hikers a totally different feel and fit. As a piece of gear that gets worn for hours on end day after day, this different fit offering can be a total game-changer. The pack is designed with inspiration from running vests, giving it seriously beefy shoulder straps that help disperse weight across the chest. In addition to these unique shoulder straps, the other defining feature of the pack is the ludicrous number of handy pockets. There are two layers on each shoulder strap, as well as an extra mesh pocket that sticks out from the traditional water bottle pockets. That makes for six extremely handy pockets that are easily accessible without taking the pack off. The Zerk 40 is made for hikers who love to crank out miles and are willing to carry a little extra pack weight in exchange for more comfortable shoulder straps than other highly UL packs offer. See our review here.
Features
Shoulder straps: Wide ultrarunning inspired shoulder straps offer a totally different fit and feel than traditional shoulder straps. They also offer excellent weight distribution across the chest.
Seriously SO many pockets: This pack is made to be worn for hours on end without being taken off, so that after piddling through Northern California, you can crush miles and beat the winter to Canada (speaking from experience).
Still keeps the classics: Traditional features like the roll-top closure with opposing buckles and classic mesh stow pocket on the front keep this pack feeling familiar.
Accessories: The Zerk comes with a few optional accessories that can be used depending on your environment, like straps to attach a bear canister on top and a removable hip belt.
What We'd Change
Clip-on webbing doesn't exactly make for the best hip belt. Our tester could barely tell a difference while wearing it. Also the big red "Zerk 40" logo on the side isn't the most weatherproof and can rub off pretty quickly.
More Packs Like This: SMD Swift X
Six Moon Designs Swift X Hiking Backpack
Capacity: 45L
Weight: 2.3 lbs
MSRP: $270-$290
Maximum load capacity: Up to 30 pounds (per manufacturer)
Details
The Swift X is the anniversary edition of the original Swift by Six Moon Designs. It's a pretty standard roll-top-closing, midweight pack, with the standout feature being its optional vest yoke. The pack uses a dynamic six-point connection system to attach the vest to the pack. The top of each side is connected to the top of the pack in a standard configuration, but the bottoms are free to move on an adjustable piece of webbing. This means that the pack is able to shift to conform to your body as your pack weight leans back and forth as you hike, making for more consistent dispersion of the weight. In addition to its dynamic nature, the vest is just that, a wide expanse of shoulder strap to evenly disperse weight across the torso. This ample material space means lots of room for pockets, and SMD managed to fit three fully functional pockets on each side of the vest, making for six pockets right there in your peripherals.
Features
The vest: This is the defining feature of the pack, hands down. It was designed to help the company's founder hike more comfortably after a bout with cancer, and that comfort is top notch. This pack has a unique carry that really is something special.
The pockets: Technically part of the vest, these pockets make organization of snacks, headphones, cameras, and trail trash a real breeze.
A REAL optional hip belt: The removable hip belt on the pack is as good as the hip belt on pretty much any other pack of a similar size. There is a normal pocket on each side, the adjustment straps are easy to use and functional, and the internal frame configuration legitimately works and transfers weight.
What We'd Change
The roll top closure does NOT have side compression straps as an option, meaning that you have to buckle the pack shut to itself. It works, but it isn't as sleek. Also the vest (by far the standout feature of the pack) is not standard issue. To use this pack optimally, it'll cost you an extra $20.
More packs like this: Gossamer Gear G4-20, Mountainsmith Zerk 40, ULA Ohm 2.0
Gossamer Gear Gorilla
Capacity: 40L
Weight: 1.9 pounds
MSRP: $195
Maximum load capacity: Up to 30 pounds
Details
There are lighter 40-liter packs on market, but none that carry a full load as comfortably as Gossamer Gear's Gorilla. The Trek's founder has squeezed a bear canister, five days of food, and a sleep system suitable for subfreezing temperatures into this pack, and was surprisingly happy with how it carried. The large rear mesh pocket is a dream, making it exceptionally easy to grab your filter, rain jacket, and/or a full day's worth of snacks.  For those who want to shave ounces off this pack, you can ditch the hip belt and removable sit pad, to get it down to 18.4 ounces (for a medium).  Badger has carried this pack for more than 3,000 miles, and it's still going strong.  A feature rich, quality pack at fair price.
Features
Hip belt: Belt with added stiffener and stay integration for superior load transfer and comfort.
Side pockets: Two large side mesh bottle pockets accessible while wearing pack.
Customization: Three hip belt size options for a more custom fit
Breathability: Air-mesh fabric on shoulder straps and hip belt for less friction, more cushion and more comfort
Attachments and extras: Trekking pole hardware for storing them outside the pack, plus a lash loop for ice axe, a SitLight pad, and a removable stay
What We'd Change
Capacity: 48 liters
Weight: 17 ounces
MSRP: $230
Maximum load capacity: Up to 25 pounds (per manufacturer)
Features
Side mesh pockets: Pockets are deep and can hold water bottles as well as bladders.
Padded shoulder straps: For a UL pack, the Prophet has some seriously comfortable shoulder straps. Straps are three inches wide, made of SuperWick mesh lined with foam padding.
Roll-top closure: A Y-strap cinches down over the top of the closure, compressing the load as it decreases between resupplies
Hybrid design on front pocket: The classic large front pocket on ultralight packs is a hybrid between durable ripstop and mesh for draining.
Details
Mountain Laurel Designs has gained steady popularity on long-distance trails over the past few years, based on their customization options, customer service, and made-in-the-US designs. Hikers can customize pretty much anything their heart desires, but again… be sure you're ready to commit to a UL, frameless pack before taking the dive. The hip belt provides ample cushion for a pack of this weight, and the generous pockets allow for external organization. The pack can hold a standard bear canister, and has a roll-top closure with a Y-strap to secure gear on top of the pack. It sits close to your back for stability, and the 2017 update to the side panels increased the curve to keep it fitted more closely to hikers' torsos. The pack is unisex, but the curved shoulder straps fit comfortably on most men and women, and the pack offers enough sizing options that finding the right fit isn't an issue. The Prophet is built with reinforced 210D coated nylon ripstop, with added reinforcement on high-abrasion areas.
What We'd Change
Plan ahead when ordering and customizing this pack. Lead time can be up to two months depending on season. Also, we've noted this, but this pack is for ultralight hikers. Heavier pack loads won't feel as supported.
More packs like this: Pa'lante Packs V2, Mountain Laurel Designs Burn
Shop the Mountain Laurel Designs Prophet
More of the Best Backpacking Gear of 2020
Affiliate Disclosure
This website contains affiliate links, which means The Trek may receive a percentage of any product or service you purchase using the links in the articles or advertisements. The buyer pays the same price as they would otherwise, and your purchase helps to support The Trek's ongoing goal to serve you quality backpacking advice and information. Thanks for your support!
To learn more, please visit the About This Site page.