Appalachian Trail Thru-Hiker Survey
What better way to prepare for a thru-hike than by learning from those who already did it? We survey hundreds of completed AT thru-hikers every year to learn about their habits, preferences, and behaviors on the trail. The surveys cover everything from demographics, resupply strategies, and gear preferences to hikers' favorite/least favorite spots on the trail.
This project has grown and changed throughout the years along with our changing times. Thanks to everyone who has participated over the years—your contribution helps future hikers and the general public to understand the trail.
Planning to hike the AT? Don't miss the next thrilling installment in the Appalachian Trail Thru-Hiker Survey (or the chance to participate yourself!). Sign up for our newsletter to stay up-to-date with this year's survey.
The 2022 AT Thru-Hiker Survey
Read this one if you want to learn about:
Hiker demographics
Start/finish dates and hiking pace
Success rate and reasons for stopping early
Budget
And so much more!
As in previous years, the majority of 2022 survey respondents favored trail runners. Hikers showed a strong preference for trail runners from the start: about three-quarters of hikers began the AT in trail runners compared to just 14 percent in boots.
While the majority of hikers still choose to use freestanding tents, there has been an increase in trekking pole tent use over the past few years. 20 percent of all survey participants used trekking pole tents in 2022, up from 13.9 percent in 2019. About one-tenth of all hikers used hammocks, which is typical of what we've seen in past years.
Quilt use is continually growing each year. This year 51 percent of hikers in our survey used quilts, up from 45 percent in 2021 and 33 percent in 2019. Meanwhile, 40 percent of hikers this year used a traditional sleeping bag.
Similarly to the past few years, internal frame packs are used by over three-quarters of hikers. Frameless packs seem to grow in popularity by a small amount each year, growing from 16 percent of all backpacks used last year to 19 percent this year. Five percent of respondents this year used an external frame, the same as last year.
We asked hikers how often they filtered the water they took from natural sources. The vast majority filtered all of the water they took. An even more overwhelming majority (97 percent) almost always filtered once you count the 5 percent that filtered most of the time and the 5 percent that filtered all sources except springs. Only two hikers said they never filtered, while seven said they occasionally filtered their water.
The 2021 AT Thru-Hiker Survey
Read this one if you want to learn about:
Hiker demographics
Start/finish dates and hiking pace
Success rate and reasons for stopping early
Budget
And so much more!
Boots continued to decline in popularity in 2021, and while Altras remained incredibly popular, HOKA One One is gaining on them rapidly.
A significant number of 2021 thru-hikers went one size up when selecting a tent. Popular trekking pole setups from cottage companies Zpacks and Gossamer Gear were the most popular individual models this year, although big-name freestanding tent brands Big Agnes and NEMO were still more popular overall. Perhaps unsurprisingly, hikers using more complicated trekking pole setups reported a higher rate of dissatisfaction than those sticking to user-friendly freestanding tents.
Quilts outstripped traditional sleeping bags in popularity for the first time this year, with a staggering 63% of hikers including a quilt in their sleep system. Interestingly, quilts from just one cottage manufacturer dominated the trail this year, finding a place in the backpacks of nearly two-thirds of survey respondents.
Base weights this year ranged from just six pounds to more than 30. The majority of hikers were satisfied with their backpack choice, and those who were not weigh in with the reasons they wish they'd switched.
We learned this year that the overwhelming majority of hikers filter their water every time and very few respondents reported contracting a waterborne illness. Interestingly, a much larger percentage of the hikers who only filtered sometimes or never reported getting sick than those who consistently filtered, though we really don't have enough data to be sure.
Your one-stop-shop for everything we learned from the Class of 2021—and to make things more interesting, we also report data on hikers' favorite and least favorite sections of the trail this year.
The 2020 AT Section Hiker Survey
Long overlooked in our annual surveys, Appalachian Trail (AT) section hikers were the focus of this year's survey. This post focuses on the logistics of section hiking, like trips per year and how long section hikes usually take.
This post focuses on the demographics of section hikers, including comparisons to thru-hikers. We also zero in on section hikers' behavior and preferences when it comes to hiking with a partner vs. solo.
This post focuses on resupply, types of food carried, and transportation to and from the AT. Using data from the 2019 Thru-Hiker Survey, we also compare section hikers' responses to thru-hikers.
The 2019 AT Survey

We collected data on hikers' favorite AT hostels for the first time in the 2019 survey. Changes from last year also include several new resources hikers used to prepare for the trail.
Trail runners continued their steady rise in popularity in 2019. Altra Lone Peaks were (unsurprisingly) the most popular trail runner, while Salomon was the dominant brand among boot-wearers.
In the 2019 survey we collected data about shelter choices among hikers with canine companions. We also got into the nitty-gritty details of ultralight tarps.
We asked 2019 respondents about the sleeping bags they used, as well as quilts and sleeping pads. We also looked at our data over time and noticed a trend that's becoming more popular each year. For the details, keep reading.
We asked hikers about the frame type, capacity, brand, and model of their backpacks. This year a different brand and model emerged as the top choice ultralight pack. In the past, we've found that the load within that pack affects hikers' perceptions of the backpack itself, so we've also looked into the weight hikers carry. Hikers this year packed a little differently from how they did in previous years.
We surveyed 365 section or thru-hikers about their stove, food, and water preferences and their experience of illnesses on the Appalachian Trail in 2019. We found some interesting differences in stove and resupply choices among hikers with dietary restrictions.
Same questions, different cohort. Because SOBO thru-hikes are so much less common than NOBO itineraries, it took several years of data collection to get enough responses to analyze SOBO trends specifically. In this post, we compare southbounders' demographics, hiking speed, gear preferences, and favorite sections of the trail to those of northbounders.

The AT experience changes radically from year to year as the trail grows in popularity and gear and technology continue to evolve. Have you ever wondered how demographics, gear preferences, etc. on the AT are changing over time? This is the post for you.
The 2018 AT Thru-Hiker Survey

All the usual demographic goodness, including a detailed look at Leave No Trace adherence and littering practices on the AT. 2018 thru-hikers also weighed in on their favorite and least favorite (and hardest/easiest) sections of the AT.
Fun fact: these surveys originated in 2014 when several of us who write for the website were discussing our surprise that we saw so few traditional hiking boots on our thru-hikes, even though most of us had worn hiking boots until our first long-distance hike. Five years later, the trail runner trend continues to grow, and some of the trends with brands and models have changed each year.
A look at the types shelters used by 2018 thru-hikers, including a detailed breakdown of preferred brands and models of tents and hammocks.
Read through to the end for a detailed breakdown of hikers' favorite brands and models, as well as specific recommendations depending on your start date and the direction you're hiking.
In the past, we've found that the load within that pack affects hikers' perceptions of the backpack itself, so in 2018 we also looked into the weight that hikers carried along with their favorite brands and models.
This year, enough hikers with dietary restrictions were surveyed that we found some differences in their stove preferences. Check out the posts for graphs, details, and a handy summary of our findings.
The 2017 AT Thru-Hiker Survey

This post covers our 2017 data on the timeline of hikers' treks, their favorite sections of the Trail, the sections they found the most difficult, their hiking partners, and their adherence to Leave No Trace practices, their budgets, and participation in hiker festivals and check-ins.
Data on hikers' preferred shoe brands and models, plus a closer look at how often and why thru-hikers replaced their shoes. Recommended reading for anyone who's wondering how many pairs of shoes they'll go through on their upcoming thru-hike.
Ah, the olden days before cottage brands like Gossamer Gear and Six Moon Designs were major players in the thru-hiking tent market. Take a trip down memory lane to see what shelters hikers preferred in 2017.
This year, we compared northbounders' and southbounders' sleeping bag preferences and took a closer look at the lowest temperature thru-hikers encountered on their treks.
Anyone else still think fondly back to when the Osprey Exos still had hip belt pockets? Click to see what packs 2017 thru-hikers preferred.
The 2016 AT Thru-Hiker Survey

2016 was the first year we collected demographic data as part of the thru-hiker survey. For the first time, we also took a look at the timeline of hikers' treks, their favorite sections of the trail, the sections they found the most difficult, their hiking partners, and their adherence to Leave No Trace practices.
Trail runners were still more popular than boots in 2016, but it wasn't nearly as cut-and-dried as it is today. Though the majority of 2016 hikers finished in trail runners, nearly half of them started the trail in boots or hiking shoes.
Most hikers this year were satisfied with their choice of shelter, though many wished they had tested their tents on longer backpacking excursions before starting the AT. Words of wisdom from the Class of 2016.
What temperature sleeping bag did hikers start with in 2016, and what temperature bag did they ultimately swap it out for when the weather warmed up? Click to find out.
Plot twist: this year we took a closer look at what gear items hikers added or discarded from their packs along the way. If you're on the fence about taking a certain item with you on your hike, you might want to check out this post to see how previous hikers felt about it.
In addition to hikers' favorite stoves and water filters, check out this post for tips on avoiding Lyme disease and waterborne illness.
The 2015 AT Thru-Hiker Survey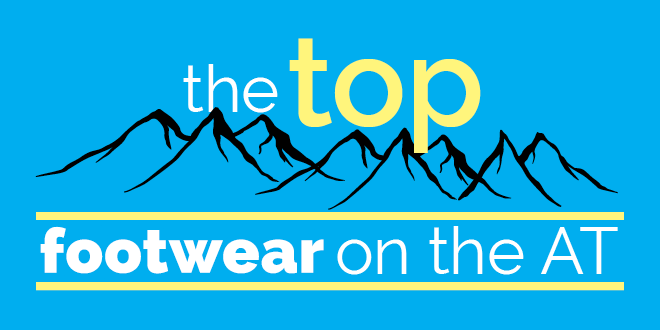 You know it's a vintage survey when Altra Lone Peaks aren't even mentioned once. Brooks Cascadias were the preferred trail runner model in 2015.
We looked more closely this year at hikers' satisfaction rates with their shelter system compared to other types of gear. In other news, Hennessy dominated the hammock game in 2015 and trekking pole tents weren't really a thing.
This year we looked at hikers preferences between natural, treated, and synthetic down. Quilts were still something of a novelty on the AT in 2015, and Enlightened Equipment—though still popular among quilt users—hadn't yet risen to its current domination of the thru-hiking sleep system market.
We looked at foam vs. inflatable, hikers' preferences by shelter system, and overall most popular brands and models of sleeping pads in the 2015 AT survey.
We looked at pack capacity, top brands and models, and whether/why hikers swapped their packs along the way.
The 2014 AT Thru-Hiker Survey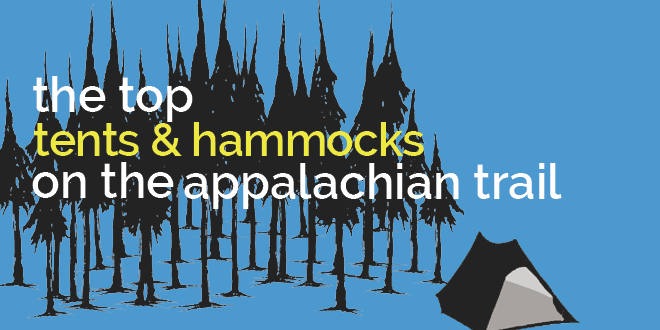 Our first-ever AT survey, and it all started with the age-old question: "boots or trail runners?"
Big Agnes dominated the tent world (and the vast majority of thru-hikers opted for tents), Hennessy lead in the hammock department, and most tarp users opted for a hybrid Tarptent model by Henry Shires. The Zpacks Duplex wasn't even a thing on the AT in 2014—weird.
"Should I switch sleeping bags in the summer?"
"How warm of a sleeping bag do I need?"
"What kind of sleeping bag should I use?"
We attempted to answer these questions empirically for the first time in the 2014 AT survey.
Featured image: Graphic design by Chris Helm (@chris.helm).