Ah, so THIS is the Pennsylvania everyone warned us about! (Days 96 to 100, Port Clinton to Delaware Water Gap)
---
Day 96
Start: Blue Mountain Road Trailhead / Hamburg
Finish: Eckville Shelter
AT Miles Hiked Today: 14.5
Overall AT Miles Hiked: 1,232.0
Miles To Go Until Katahdin: 956.0
I woke up expecting a bit of a headache from the late night of beer, pool and karaoke, but surprisingly I was feeling great! I went down to breakfast around 6:30 to eat and await the shuttle back to the trailhead.
Eventually Cavs, Peter Pan, Reindeer, Dutch and Strider came down to eat as well. Reindeer was taking his time packing up and would meet me up the trail later, so the 8am shuttle back to the trail was just me and Strider.
Did I mention in my last post that there was a heat wave coming to Pennsylvania? Today and tomorrow will be pushing mid 90's. I wanted to get an early start, in case there were exposed rocks with no tree cover to cut the heat. Despite the early start, I was sweating through my shirt as I climbed the 1,000 feet back out of town into the mountains. I'm carrying 5 days of food on my back, enough to get me to Delaware Water Gap. It's so heavy.
The terrain for the first part of the day was 50/50 between absolutely terrible shitty rocks, and just kind of terrible shitty rocks. Tricky footing. I was moving slow. Despite my slow pace, I managed to trip and start falling a few times, barely catching myself with my trekking poles.
My first stop was a great water source 6 miles into my day. I chugged a liter and ate a few snacks. The water for this section of trail will be tricky. Lots of dry sources in Pennsylvania right now. The result is lots of water on my back, because the only really dependable water sources are those near shelters.
I got up to The Pinnacle, the highest point on the AT in Pennsylvania, in the early afternoon. It was PACKED with day hikers. I turned around without getting much of a view and hiked off down the trail. Too many people on the trail kind of makes me anxious.
After the pinnacle, the rest of the day was mostly downhill, and mostly along an old road bed. Nice easy hiking! I took a long break around 2 at a water source to chug a few liters and rest from the heat. It was so darn hot. Last week my friend Jason brought me electrolyte tablets, and I took a few of those today, hoping it would help replace some of what I was sweating out.
I rolled into the shelter around 3. I could have kept going, but the water coming up may be dry, and I wanted a sure thing. This shelter is next to a caretakers house and has a spigot and plenty of tenting, so I decided to take the afternoon off and wait for Reindeer to show up. I stretched and napped the afternoon away in the grass near my tent.
Reindeer arrived around 6, so we ate together and listened to a former hiker named Trix regale the group with stories. He is an old buddy of Baltimore Jack and had us all rolling with the shenanigans he has done on trail over the years. All in all a really fun night. We put our bear bags in his truck and got to bed around 8.
Day 97
Start: Eckville Shelter
Finish: Bake Oven Knob Shelter
AT Miles Hiked Today: 17.4
Overall AT Miles Hiked: 1,249.4
Miles To Go Until Katahdin: 939.7
I tossed and turned most of the night. I'm not sure if I was imagining it, but it sounded like bugs kept dive bombing my tent all night.
Reindeer and I were up around 6:15 and on the trail around 7:30. It was hot and muggy already. The air was so thick! The first 1,000 foot climb back to the ridgeline was our only big climb of the day. I was happy to knock it out early in the day, but even with the early start, I had to stop and catch my breath. I was sweating through every article of clothing I had on.
It was awesome to hike with Reindeer again today. After meeting on day 2 of our hikes at Gooch Gap shelter, we hiked through Daleville together before he got off trail for a few days. We hadn't seen each other in 500 miles. We caught up, in between cursing the rocks.
And the rocks got bad today. Between the top of the ridgeline and Allentown Shelter, we were picking our way through, around and over rocks. So THIS is the Pennsylvania everyone warned us about! It all makes so much more sense now!
The bugs were terrible today as well! I was rocking the headnet while hiking. All in all, not a fun start to the day.
We got to Allentown Shelter hoping to find a good water source, but the spring was stagnant and not flowing, with lots of bugs. We sighed and took a break nearby anyway. We were both nearly out of water, with 4 more miles to go until the next source. Some southbounders passed us and told us there was trail magic up ahead. We threw our packs back on and flew down the trail to discover a nice setup at a gap! The hiker named 44 is thru hiking next year, and getting some good karma for his hike by spoiling the hikers this year. I had Gatorade, Coca-Cola and a few bananas. Awesome.
A few miles down the trail we crossed PA 309, and we walked over to the hiker-friendly Blue Summit Restaurant nearby. Reindeer and I were planning on just grabbing water from the spigot and hiking on, but then we looked at the radar, and it looked like bad thunderstorms were rolling in. There was a treacherous, exposed section of rocks coming up, so we decided to wait out the rain inside the restaurant.
The restaurant turned out to be more of a bar, so of course we got some booze with our meals. Reindeer finally got his gin and tonic that he has been craving since Pearisburg. I got a yuengling, and we talked with other hikers and the bartender.
The rain ended up never materializing, and Reindeer and I hiked on the last 6 miles to the shelter. I'll let these pictures speak for themselves. We went up and over Knife's Edge and Bear Rocks. Both were just as treacherous as we thought they would be. Straight up boulder scrambling!
We rolled into the shelter around 6:30, and found that the water source was 0.4 down a terrible steep and slick trail. We sighed and went to get water, a 30+ minute ordeal. Reindeer ate shit while hiking down and fell into what looked like poison ivy. Not a good way to end the day! But, at least the spring is flowing strong here.
We are camping near Poke, Lupin and Ranger tonight. Tomorrow will be difficult again, and we have a long dry stretch to end the day. For now I'm just ready for bed, after the brutal day of Rocksylvania.
Day 98
Start: Bake Oven Knob Shelter
Finish: Delps Spring Campsite
AT Miles Hiked Today: 17.5
Overall AT Miles Hiked: 1,266.9
Miles To Go Until Katahdin: 922.2
Awful, wet day of hiking today.
I woke around 2:30 to the sound of rain hitting my tent. Something didn't feel right, though… I couldn't quite place it. Then, I remembered that I never brought my shoes back under the cover of my tent. I got on my headlamp, got out of my bag, unzipped my tent, and there were my shoes, safely under the cover of my tent. I sighed, shook my head, and went back to sleep.
The morning was no better. It was drizzly and foggy as I emerged from my tent. I grabbed my food bag and jumped back into my tent to eat. Reindeer and I both slept in this morning, and we didn't get walking until around 8:15.
We immediately emerged back into rock city. It took us a few hours to pick our way over 4 miles. At this rate it would be a very long day.
We stopped a few times to pick wild blueberries alongside the trail. What an unexpected boost to my morale! Anyone who knows me knows that I go crazy for wild blueberries. All I wanted to do was sit there and eat for hours. So delicious! We killed 15 or 20 minutes in the bushes.
I should mention that it was still raining, and my shoes quickly became swimming pools. Every step was just squish, squish, squish. I sighed, knowing that the entire day was forecast to be wet. We arrived at the Outerbridge Shelter, 7 miles into our day, to find a Southbounder who was taking a trail zero to wait out the rain. Reindeer and I were sorely tempted. We aired out our feet for 15 minutes, wrung out our socks, and ventured back out into the rain.
When we crossed Lehigh Gap and started ascending the steep Blue Mountain Ridge, we heard shouts from the parking lot. Trail magic! Three thru hiker friends from last year came back to do magic for hikers this year. The crazy thing is one of the girls knew Reindeer! It's a small world, this thru hiking community! Thank you to Trail Mom, Cloppy and Tink.
It was an awful ascent. Super steep and super exposed. Fortunately it was just foggy and a bit drizzly now.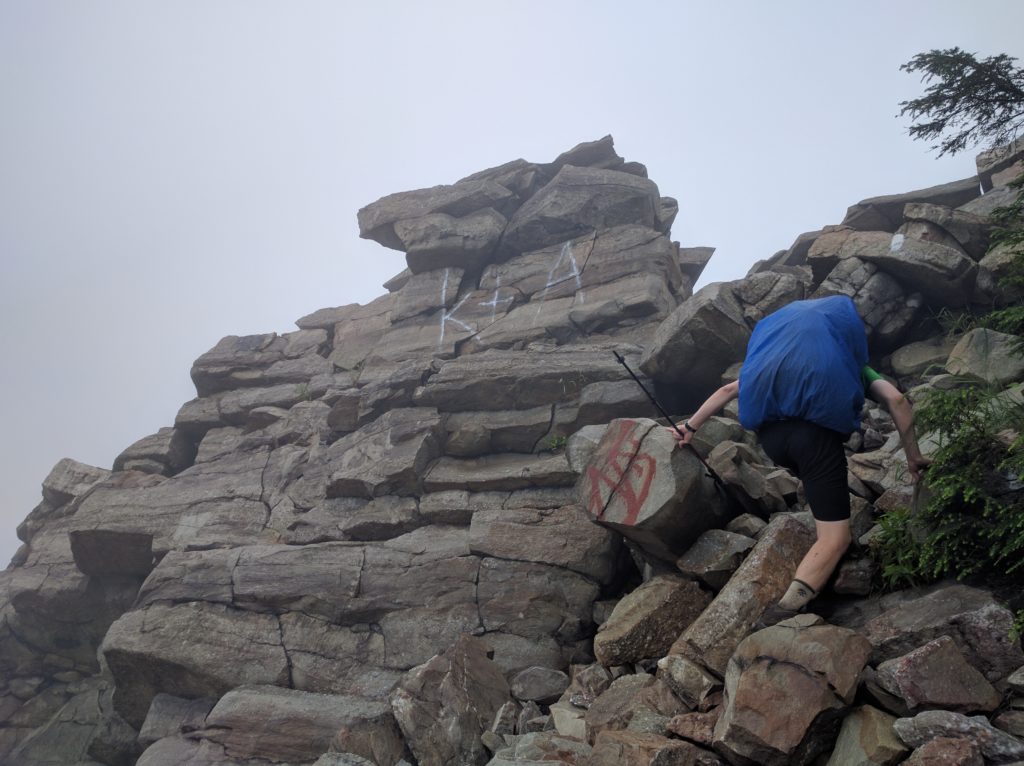 We got up to the ridgeline and started cruising. We knew we had to make up for some lost time, and we hustled along. This was a dry stretch of about 16.5 miles, so we had lots of water on our backs. We weren't going to make it to the next water source for the night, and we were conserving for camp.
At Little Gap Road, a trail angel had stocked the trailhead with giant drums of water. Awesome! There were some super thankful southbounders there, and we took the chance to rehydrate as well. We packed out a few liters for camp.
We made it another 5 miles before the incoming darkness forced us to stop. The fog was killing the light around 7, plus there were some concerning rumbles of thunder in the distance. I barely got my tent up before the heavy thunderstorms moved in. For the second time today I found myself eating alone in my tent waiting for the rain to pass.
Reindeer swung by later to tell me got his bear line stuck in a tent. Crappy end to a crappy day! Once again I am so happy to be in my tent.
My feet look like a haunted house. So soggy from being in wet shoes and socks all day. Hopefully they look better in the morning. The weather is supposed to be warm and sunny again tomorrow and the next day, so hopefully we can cruise into Delaware Water Gap nice and dry!
Day 99
Start: Delps Spring Campsite
Finish: Kirkridge Shelter
AT Miles Hiked Today: 19.7
Overall AT Miles Hiked: 1,286.6
Miles To Go Until Katahdin: 902.5
Today was all business. I woke up at 6 and was all packed and ready to hike by 7, but Reindeer was sleeping in. I swung by and told him I'd be gunning for the shelter around 20 miles away. We had to go that far due to a 13 mile dry stretch to end the day.
I cleared the first 7 miles by 10am and took a nice long break at the water source, an ice cold spring about 0.3 down a side trail. I loaded up on 3 liters and headed out.
Fortunately, the walking was a lot easier today. Plenty of small rocks, but my light pack and my thick shoes allowed me to cruise without much thought to my feet. Plenty of other hikers were hurting, though. If you're gonna hike Pennsylvania, be sure to get thick-soled shoes.
A few miles out from the spring, I ran into a trail maintainer painting blazes. He offered to let me paint one. Well, I'm not gonna turn down an opportunity like that!
I was feeling good and cruising. It was nice and cool today, and I didn't even need to drink all 3 liters during the 13 mile stretch.
I definitely lost steam about a mile from the shelter. I'm almost out of food, so I had to watch how much I ate today. I think the calorie deficit combined with the long day hit me like a brick wall. I stumbled to the shelter, set up my tent around 4:30, climbed in and took a nap.
Reindeer showed up a few hours later. We made a reservation for tomorrow night at a hotel, and I climbed into bed around 7. I'm ready for town again, this section definitely kicked my butt. They weren't lying about Pennsylvania being tough! It all hits in the northern half though, especially this last section. I'm ready to get out of this this state.
Day 100
Start: Kirkridge Shelter
Finish: Delaware Water Gap
AT Miles Hiked Today: 6.4
Overall AT Miles Hiked: 1,293.0
Miles To Go Until Katahdin: 896.1
Windy, cool night last night! When I woke up I had my puffy on all morning. It felt great.
It was a really nice walk into Delaware Water Gap. Much of the way was flat and along a forest service road, which let us fly down the trail.
We were in town before 10, which is always a treat. The trail goes right through town, so we took a turn off downtown and headed for our luxury hotel for the night. From the outside it looked like a repeat of the Hiawassee Budget Inn (read: terrifying) but once we got inside it as pretty nice! We dropped out packs in the room and went to get breakfast at a local restaurant called the Apple Pie Cafe. Wow, this is my favorite restaurant I've eaten at all trail! I left my phone in the room to charge, but will get some shots tomorrow. I ate an avocado goat cheese and tomato omelette. Amazing.
Reindeer and I spent the rest of the day lying in bed watching Archer, then South Park. It was a brutal section of trail over the last 5 days, and we are both in general feeling a little burned out. We are sore and weary. Our feet are especially torn up right now, and we limped around the hotel room like old men all day. Today is day 100 for both of us, and we are showing some signs of wear and tear.
To help counter this we decided to spend the upcoming weekend in NYC, going in on Thursday on a bus from Port Jarvis, double zeroing for Friday and Saturday, then returning to the trail on Sunday. We both need some time off and I'm super looking forward to seeing some old friends and relaxing.
So the next three day of hiking should be pretty easy, followed by a fun weekend! Things are looking up. Plus, tomorrow morning we leave Pennsylvania behind for good! Farewell, Rocksylvania. I hope to never hike in your state border again.
Until next time, happy trails!
-Slice
Affiliate Disclosure
This website contains affiliate links, which means The Trek may receive a percentage of any product or service you purchase using the links in the articles or advertisements. The buyer pays the same price as they would otherwise, and your purchase helps to support The Trek's ongoing goal to serve you quality backpacking advice and information. Thanks for your support!
To learn more, please visit the About This Site page.