And So the Journey Resumes
The journey of a thousand miles begins with a single step.   —Lao Tzu
On May 1, 172 days after summiting Mount Springer in Georgia, my feet once again touched the soil of the Appalachian Trail. This was the fourth time for me to begin a journey on this trail, the third time it would be of considerable distance.   Lacking was the newbie's excitement of the unknown.  Existing was a quiet joy and familiarity as I returned to a cherished environment and culture.
All the prep work that could possibly ever be imagined had been done.
The day had arrived. Backpackers, start your engines!
Down the picturesque streets of Harpers Ferry (the sentimental "almost midpoint" of the AT), past historic houses, and then over the Potomac on a footbridge.
This was all familiar territory  for me.  The ground Short Timer and I would cover was part was part of my exploratory shakedown hike in April 2017.  The nervous excitement and trepidation of that initial launch were gone. This time it felt like coming home.
The first three miles were a good warm-up, as we walked on the completely flat canal path.
Although lovely, it was a relief to finally leave the flat path and get back on the familiar, undulating trail. We were surrounded by brilliant spring green.
We often passed huge expanses of mayapples. It is such a joy to experience this trail in so many different seasons.  It wasn't so long ago that I was surrounded by autumn's flaming glory down south.
There were perhaps even more large swaths of new, delicate ferns.
In every walk with nature, one receives far more than he seeks.  —John Muir
After ten miles of hiking, it was time to call it a day.  We enjoyed eating our dinners in the company of an assorted group of male hikers. As is often common, I was the only female present, but I'm used to that ratio on the trail. Every male has been respectful, and I enjoy joining in on their good-natured banter.
We pitched our tents not far away on the grounds of the shelter. We find sleeping on leaves and duff (the lower layer of decomposing matter) so much softer than a wooden floor,  even with air mattresses. And it's nice to separate ourselves from potential loud snorers.
What a  lovely sight to wake up to!
Lucky us!   Our second day had equally fine weather, nice and dry, despite the forecast.
Night two was spent at a campground strictly for backpackers, maintained by the Maryland state park system.  Very convenient, being just  a step or two off the trail, with lots of conveniences not at shelters: hot showers, flush toilets, a water source that didn't need filtering, and electricity for recharging phones and using hair dryers (just kidding).
A local chiropractor dropped by and offered free services working on hikers' aching bodies.  I happily took advantage as she worked on a trigger finger that I have on my left hand. She showed me ways I can  work on it myself to loosen up the tendons. A very nice lady who simply refused any kind of payment. This is called trail magic.
After a hot shower and a good night's sleep, off we went under clear skies again.  However, storms were forecast for that night.
Where was the first Washington Memorial built?  Here on a hilltop in Maryland, 60 years before the construction of the familiar one in Washington, DC. It's obviously having some preservation work done right now.
The hosts of the park live in this wonderfully retrofitted former school bus.
This clawed-up tree by the trail indicated a very hungry bear was digging for insects.
We crossed a busy four-lane highway via a fenced-in pedestrian bridge.  There we found two sections of love locks.  Sweethearts bolt their lock to a public bridge or fence to declare their love.  We figured our nearly 45 years of marriage was enough of a statement.  Anyway,  all we had were little one-inch carabiners to hold our bandanas to our pack straps.
Camping this third night was at Pogo Memorial Campground, still in Maryland.  This state forbids any "wild camping" along the trail,  as do a few other states.  One must stay in a designated campground or shelter. This campground,  dedicated to a young hiker who passed away in a drowning incident,  is a rather rough slanted affair on a hillside. There was a group of young volunteers working hard at making level camping spaces. Unfortunately they weren't ready yet.  We finally did manage to find two little spots that were relatively flat farther up the mountain.
Aware that  a thunderstorm was rapidly approaching, we quickly readied our tents and bedding and had our dinners by a fire ring left by other campers.
Bill securely hung his bear bag of food.
I deposited my locked bear canister between rocks and a tree.  Both the bag and canister  were good distances from the tents just in case some bears decided to do some explorations during the night.
And then the storm hit!  Wind and pouring rain.  We ran for Bill's tent, which barely had room for two.
While waiting the storm out, we pondered how to fill the time.  Then we let nature take its course and we did what any couple still together after all these years would do in such an intimate situation…
Oh course!  Gin rummy!  I'm sure that's where your thoughts went, right?
Both my tarp and Bill's tent held up well during the continued storm through the night. When we strapped our sopping wet lodgings on the outside of our packs, they'd left their dry "footprints" on the ground cover.
The entertainment in the morning of this day four was watching hikers fly by during the annual hike across Maryland. They were all attempting to do the approximately 40 mile N-S length of Maryland in one day.  Some were still enjoying it by this one-third point.  Others had apparently had enough of all the mud left from the storms.
We try to follow the practices of Leave No Trace.  These are ways we can help maintain the wilderness and this trail.  One is to try to stick to the actual trail, even when muddy or full of puddles.   If everyone avoids the bad spots, the trail continues to get wider and wider.   Our Gore-Tex boots do a great job keeping our feet dry.
At lunc time at a shelter, I got to meet the first northbound (NOBO) thru-hiker I had knowingly seen this year. Lightfoot left Georgia on Feb 23.  I know he must have dealt with  very cold temperatures and snow during his first four to six weeks. But he was very casual about it all and curious about my tarp, which I dried out during our break.
Happily,  the day was dry. Bill found a spot with good cell phone reception and we watched the results of a car race that son Jon was participating in at Mid-Ohio Raceway. Very, very happily, Jon and his driving partner came in second in their car division.  This certainly made the rest of our day very cheery.
Approaching our shelter for the night, uphill as they almost all seem to be at the end of the day,  we stopped to collect water from a waterfall. It felt like this could be a new Pilates move, but a name for it escaped me.  Any suggestion?  River Reach?  Water Wiggle?
Because of  severe storms predicted for the entire night, we chose to stay at the shelter. Bill preferred sleeping in his tent so he set up on the grounds. I wanted to be under a solid roof so I joined the other ten people already there. Both of us survived the night just fine.   I must be getting used to storms, because, with my earplugs firmly inserted, I slept through the  storm and a snoring neighbor quite nicely.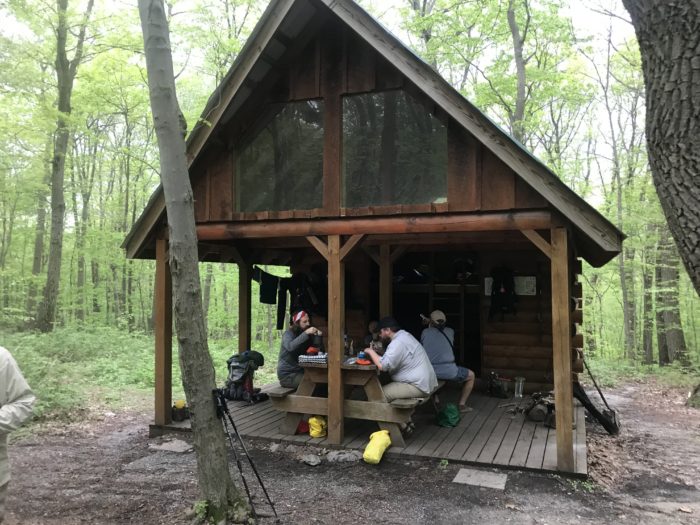 The height of going-to-the-privy-in-the-rain fashion.  Many thanks to another hiker for the use of his umbrella.
These next two photos pretty much sum up hiking this last day together:  water, water everywhere, with plenty of rocks thrown in just for fun.
Well,  all good things must come to an end. We came to the point where it was time for Bill to leave. A shuttle driver took us and other hikers down to a hotel in a nearby town where our car awaited.
Our spotless hotel room quickly turned into hiker trash, as we aired out wet tents and drying laundry.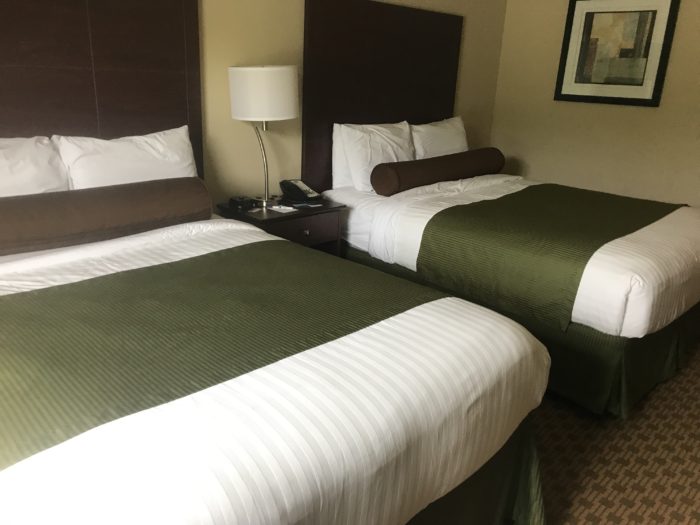 After a filling meal at a local buffet and a night of rest, Bill headed home to Cincinnati. I'm now on my own, and will miss him a lot till our next reunion. But I've already connected with some folks on the trail and will meet many more.  I won't be alone.
Two of these new friends we met at our last shelter. We enjoyed the buffet dinner with them and, after Bill left, I helped Dan with a backpack shakedown,  an effort to reduce the weight of a backpack for more comfortable hiking. Dan had already removed several items he really didn't need, and together, we achieved even more painless reductions.  This bag of items went home in the mail this afternoon, thereby removing four pounds from his original pack weight. That will make the mountains a bit easier.
Woman does not live on meat, veggies and fruit alone.  When in town, it's fun to get a special treat.  In looking for frozen gluten free waffles, I found the one small section that Walmart admits is healthy.
I didn't do too badly:  fresh organic blueberries, coconut water, and GF chocolate chip cookies.
So now it's off to my comfy hotel bed for one more night of easy sleeping, before hitting the trail again tomorrow morning.
I'm so ready for this adventure to continue!
Affiliate Disclosure
This website contains affiliate links, which means The Trek may receive a percentage of any product or service you purchase using the links in the articles or advertisements. The buyer pays the same price as they would otherwise, and your purchase helps to support The Trek's ongoing goal to serve you quality backpacking advice and information. Thanks for your support!
To learn more, please visit the About This Site page.